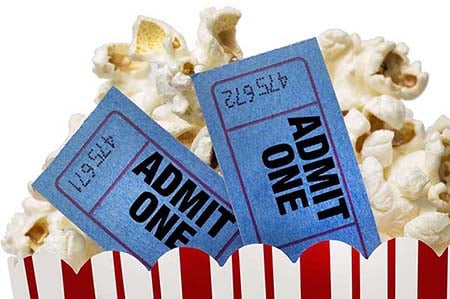 Manifesting inspiration is the remedy for clearing creative blocks.  Have you ever found yourself saying "I just need some inspiration"!  Whether it be a positive affirmation, listening to music, baking some delicious gluten-free cookies or watching a movie - inspiration can come from anything.  One of the ways to manifest inspiration is to be open to inspiration.  Watching movies is a great way to do it.  Sit back, enjoy the show and allow your mind to be open for ideas that can come to you while you are enjoying rather then over thinking and analyzing.  By simply watching inspiring movies, you can learn how to manifest your own abundance.  How exciting is that?
Just go with me for a second...
Bad mood?  Remedy: Inspiration
Bad breakup? Remedy: Inspiration
Creative block? Remedy: Inspiration
See where I am going with this?
Movies can be ridiculously inspirational.  I am all about being in nature and seeing the world, but there are some days that are absolutely perfect for that movie marathon.  Movies, like books give you a chance to escape from over obsessing about your life, where it is going, or where it isn't going and allows you to relax.  Key point!
Movies can be comforting, relaxing and filled with enough fantasy (main point) to take you out of your current element and let your mind rest.  While watching a movie you don't have to think about anything else except what is on the screen in front of you.  It's the only time besides the gym and yoga that your phone is off.  No distractions possible.  And this is when creativity and inspiration is born, when you let it FLOW.
One of the best pieces of advice I have ever gotten was from a Life Coach I saw last Winter who simply said "do less".  I thought, do less?  What do you mean do less?  I can't do less, I have things to do, a purpose on this planet, I have got to get moving - but at the same time I was SO BLOCKED, I couldn't.  And she just said "do less".  When I allowed myself to stop working 24/7 and actually allowed less to manifest by enjoying the little things like movies…I got my inspiration back.
Have you ever left a movie feeling like that issue you couldn't solve is now solvable?
Have you ever left a movie feeling happier? More relaxed? Inspired?
Hashtag #joy.
Below are my top 12 movies that will provide ridiculous inspiration to bust through your fear blocks, and get that inspiration back!
1. Yes, MAN-starring Zooey Deschanel and Jim Carrey.  This movie is about being open to possibilities.  It's about what happens when you start saying YES to your life!  In this movie you get to see it both ways.  Living life with doubt and negativity and living life with a positive zest!  You also get to see the transformation when Jim Carey's character changes his life and start saying YES to opportunity after a co-worker invites him to a spiritual guru's cult-like seminar. Watch his life unfold in mysterious and positive ways.
Why I love it-Hello inspiration!  By simply saying yes, our world can open up and shift in a powerful way.  This movies reminds me to stop playing small, that if we want something out there in the world, all we have to do is take steps towards it.
2. Don't Tell Mom The Babysitter's Dead-starring Cristina Applegate.  A 1980's themed movie about a 17 year-old girl who pretends to be a working woman while her mom is on Summer vacation.  Fake it till ya make it is the motto in this movie, but what happens is that Christina's character finds her passion and her zest for life in unexpected places.
Why I love it-Hello inspiration!  This movie reminds me that we can find our passion anywhere if we just let go and see where life takes us.
3.  School Of Rock-starring Jack Black.  This is about a music teacher that feels unworthy and ends up teaching a music class of young students that also feel unworthly.  It's about finding that inner light you lost within, getting back to your roots and realizing that what you love, your passion, is what will take you farther then you ever imagined.
Why I love it-Hello inspiration!  This movie reminds me to remember that we are all good enough in our own unique ways!  We each have our own creative light that needs to shine.  And when we allow our uniqueness to shine, beautiful things can happen.
4.  Julie & Julia-starring Meryl Streep.  This movie is about passion, and gaining confidence.  While one character hates her current life and longs for change, the other character is overly excited on her journey but scared.  What do the two characters have in common?  They both start to make small shifts that grant them bigger powerful positive shifts and both of their lives change in miraculous ways.
Why I love it-Hello inspiration!  Each character did not start out with all the answers and it wasn't easy for either character to make it happen.  This movie is about being stuck, getting out of stuck, making moves and creating a life of desire.  I actually cried after watching this movie.  It's not sad by any means, but it's filled with confidence building inspiration to show you how to make your dreams come true.
5.  Simply Irresistible-starring Sarah Michelle Gellar.  This movie is about a young woman who works at a failing restaurant her late parents owned that is about to shut down.  Sarah's character can't cook because of her lack of confidence. She doesn't think she is good enough, and therefore has no inspiration, until one day she goes to the Farmer's Market and meets a magical Crab Salesmen and her entire life and the restaurant changes for the better.  Sarah's character gets her groove aka inspiration back and miracles start to happen.
Why I love it-Hello inspiration!  About cooking, finding your creative light, believing in yourself and following your instincts.
6. SCOOP-starring Scarlett Johansson, Hugh Jackman and Woody Allen.  As far as Woody Allen movies go, this one is by far my favorite!  It's a peculiar mystery that takes place in London, that involves an unlikely love story between an American Journalist pretending to be an actress who takes it upon herself to solve a murder mystery and simultaneously falls in love with the killer. It sounds scary, but this is actually a comedy!
Why I love it-It completely takes your mind off life entirely!  It's a darling comedy that is about following your instincts by paying attention to the clues right in front of you, and how to use them creatively to your advantage.  It's a movie I can watch over and over without getting sick of it.  The Italian music alone is enchanting, and Mr. Hottie Hugh Jackman makes my heart flutter every time! : )
7.  House Guest- starring Sinbad.  This movie is about changing your life and wanting your life to go in a positive direction even if you are unsure of how to get there, and even if you didn't plan on your life changing.  Suddenly each character ends up in a place where they have the ability to make solid life-altering changes that not only better themselves, but the characters around them.
Why I love it: Confidence building, love and friendship.
8.  Shallow Hal-starring Jack Black, Gwyneth Paltrow, Jason Alexander and a guest appearance by Tony Robbins.  Years after seeing this movie I learned that Tony Robbins was actually a real person, and not just a self-help guru played on Shallow Hal.  This movie is about seeing inner beauty and love.  It's about understanding that it's the inside that matters not the outside.  It's also about confidence and what beauty means to each person.
Why I love it: At the end of the day we ALL have insecurities and rough times in life, and this movie always reminds me that we are each amazing as we are, that there is someone out there that will completely appreciate us as is.  There are two sides to seeing what we want to see.  Either we use it for the good or for the bad.  If we choose to see positive, we see exactly that.
9. The Way Way Way Back- starring Toni Collette, Steve Carell and Allison Janey. So many lessons in this movie about confidence, standing up for yourself, fear, loss and light.
Why I love it: I love a movie where someone stands up to a bully!  Being bullied growing up gives me an extra soft spot for these types of movies, and instead of this type of movie holding me back, or bringing me back to a time where I didn't have enough confidence to stop them, this movie actually inspires me.  It's never to late to stand up for yourself.
10. Troop Beverly Hills - Starring Shelly Long.  There are so many lessons in this girly 80's tale; like confidence, standing up for yourself, being ok with your insecurities and finding ways to stand out that are comfortable for you.  In a nutshell?  Come as you are, and be ok with being different.
Why I love it: Duh! When you stay true to yourself, you sparkle and shine.
11.  The Best Exotic Marigold Hotel - starring Judi Dench and Maggie Smith and Bill Nighy.  I'll tell you now that everything you are thinking about this movie, I thought too.  I thought, ugh I don't want to see that, it's a movie my mother would see, right?  Before you judge this movie listen up!  If you are on a spiritual journey, or stuck in life, or need guidance or are questioning your life at your age right now whether you are 35, 40, 80 or a very spiritual 25 year old, THIS movie has your name written all over it!  It's about a bunch of random British Retirees who are all traveling to India for a vacation to what they think is a luxurious hotel, but upon arrival they realize that they have been duped.  This hotel appears to be a total dump, and they are in India.  As stuck as they are, throughout the movie they finally come the the realization that they are not NOT stuck, that with the skills they were born with, and the beauty they each possess deep down underneath their fears, can shift their lives.  This is a movie about spiritual paths.  Their trip to this dumpy hotel in India proves to be the catalyst for their spiritual journeys to unlock.  The portal to the shift in perception, the portal to a state of happiness they each didn't deem possible.
Why I love it:  It's about finding yourself under the most unlikely circumstances, even if you think you are too old to find yourself.  It's about learning to flow with change through a transformation process: anger, frustration, anger again, frustration again, trying to change the circumstance even though it is out of their control, and then learning about flow, which in return gives us the ability to find happiness.  A shift has been created.  It was beautiful to watch the transition process, because we all at one point in our lives or even often go through this process ourselves.
12.  The Chef starring Jon Favreau, Sofia Vergara, Dustin Hoffman and Scarlett Johansson.  It's about a Chef that looses his Restaurant job as Head Chef and starts a Food Truck business.  But wait!  It's never that easy right?  Because we never think we are good enough to do it.  Our fears come in with a huge force telling us that there is no way we can do this.  And that is what this movie is about.  It's a transformation movie.  And with transformation comes a bout of transition that feels like we are in the worst place possible.  The anger, the frustration, the sadness of being unemployed, even though we thought we deserved better plays a huge role in this movie with the lead character.  But we all go through this right?  We don't listen to flow, and instead play the victim for a while before deciding it is safe to give ourselves another try without the feelings of guilt and judgement.  And what happens when we try with something we are truly passionate about?  Watch to find out!
Why I love it:  It's about reinventing yourself and pushing through your fear blocks, without knowing how it will turn out.  It's about going through the whole process.  The good, the bad, the ugly and the amazing.
13. Silver Linings Playbook - Man I wished I listened when I was told to watch this years ago.  I now own it because it is so inspirational for anyone going through mental health issues.  It's about two people who are deeply struggling in their own ways and how they both move through it.  Wildly inspiring, a total tear jerker in the good vibes department and Robert De Niro stars in it along with Jennifer Lawerence, and hottie Bradley Cooper.  It's actually one of his best non-funny roles.
Why I love it:  It's a gentle reminder that we are not alone.  And it empowers me to move through my "stuff" anyway.  You have to live no matter what.
14. Joy - Long, but madly inspiring.  It's a movie that's all about HOPE.  Also starring Bradley Cooper, Robert De Niro and Jennifer Lawerence - These three are magical when they work together as they were in #13.  Magical.  This movie is also magically inspiring.  Jennifer Lawerence is so bad ass American Style in this movie.  It just goes to show you can come from anywhere and still go somewhere.  You can still be who you want to be but you have got to believe you've got that spark to make it happen.  Watch Joy.  She made it happen.
Why I love it:  She made it happen.  And Jennifer Lawerence is kick ass in this movie too!
You may think these are girly or odd choices, especially Shallow Hal but these are my feel good inspiration movies because they each share special lessons if you are open to seeing beyond the superficial layer.  All of these movies share one thing: HOPE.  And when you believe?  Magic happens.  Flow happens.  Creation is born.
Love and movies!