My healthy Superfood Chocolate Bark has every nut-free superfood topping you can imagine!  Still giving you that nutty crunch with hints of sweet coconut, berries and of course dark chocolate.  This yummy recipe is gluten, dairy, vegan & nut-free.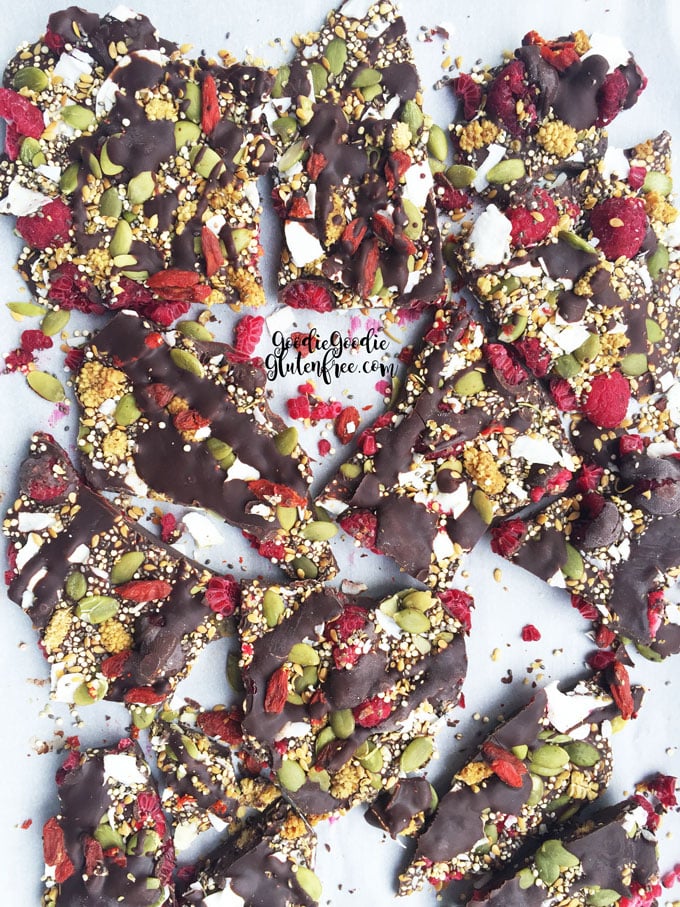 Superfood Bark! It's creamy. It's delicious and it's loaded with nutritious seeds and gluten-free grains.  Covered in chocolate this bar is like cocoa crack!
If you know me, then you know I always sport superfood chocolate bark with me to the movies.  I don't buy it.  I make it.  And this is it!  Superfood Chocolate Bark has saved me from hating chronic illness.  During those moments when I could barely enjoy something like this, I had this as a treat.  I would add TONS of superfoods because:
A.  I could tolerate them and
B. They are super nutritious.
It's made of dark chocolate.  It is to die for!! And it's secretly healthy too.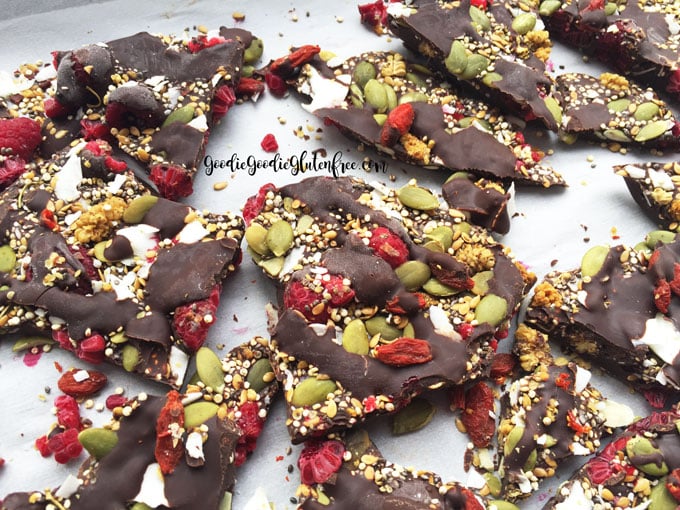 The first few times I made this it was all quinoa and pumpkin seeds.  In fact, circa 2014-2016ish I was all about the pumpkin seeds.  (Then I developed a massive food sensitivity to pumpkin seeds (oddly not pumpkin) and had to give up on the pumpkin love).
I even a few times did it with gluten-free carob when I couldn't have chocolate.
Then I started adding more to the bark.  The next few times I made this I added goji berries, coconut, hemp seeds, pumpkin seeds, quinoa, mulberry berries and chia seeds.  Oh and frozen raspberries! Hello yum!  My sister would say, yeah but that's like all healthy and stuff.  And Yeah it is!  All treats do not have to use bad ingredients, that's the story behind a clean treat.
And most recently I used black quinoa and sea salt.  I eliminated the coconut, goji, and raspberries.
And I wish I could tell you what was best.  Truth?  They are ALL good.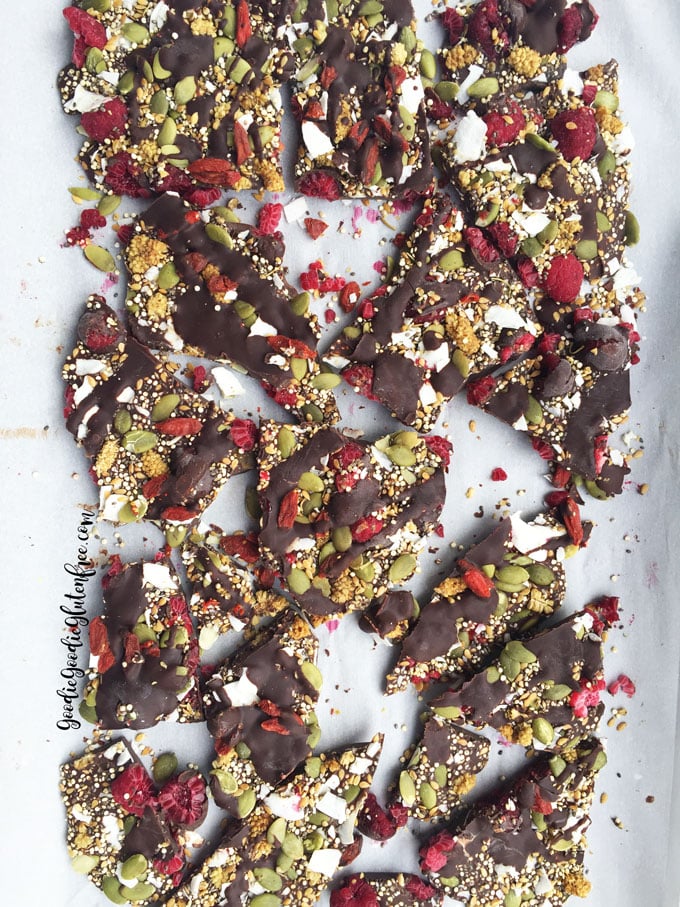 This was my perfect treat during bouts of eliminations diets.  Basically what I could eat went into that bark.  And the higher the nutrient level the better!
It's important to eat nutrient dense food when in recovery.  You want to be as clear and vibrant as possible to be your best you.  Eating whole foods helps your body stay optimal.
I bet you didn't know that these little tiny seeds and grains have some of the best nutrients in them did you?  Don't feel bad if you don't know.  Prior to 2013, I didn't even know what a chia seeds was and were they related to a chia pet?  Maybe.
So a little nutrient education here – just a sneak peek at what you're eating:
SUPERFOOD NUTRIENT EDUCATION
Hemp Seeds: High-quality plant-based protein and high in iron.  I love to sprinkle these into everything.  They are my perfect nut substitute.  Rich in Omega 3 and Omega 6 – It's really great to have both!
Quinoa: Shocker I know!  One of the most nutritious seed/pseudo-grains there is!!  This naturally gluten-free grain is a complete protein.  That means it contains everything you're body needs and it's not derived from an animal source.
Chia Seeds: high in calcium, iodine, thiamine and many more.  I love chia seeds for a healthy gut and digestive tract as it helps keep things moving along.  Chia seeds are known as an Omega 3 powerhouse!
Pumpkin Seeds: high in zinc and magnesium.  Zinc is a powerful mineral for hair growth, nail growth and the stimulation of clear skin.  Pumpkin seeds are also a delicious plant-based protein.
Goji Berries: High in vitamin A and beta-carotene, this yummy dried berry is known for eye health.  These little berries are also high in vitamin C.
Coconut: A yummy healthy fat to add to the mix.  Coconut meat has been known to lower sugar cravings and has been used in replace of sugar when it comes to combating cravings.
Raspberries: high in antioxidants, low in sugar.
Cacao: Extremely high in calcium, magnesium, and iron from a plant-based origin.  That's the sugar-free kind, you guys!  Don't go eating tons of sugary chocolate.
Of course, now the chocolate that I use is slightly sweetened, but back then it was all about that sugar-free 80% type and hey!  It was still delish.  These days I go 69% or higher, but you don't even have to decide.  You can do this recipe with any type of chocolate including carob.
Ever notice how chocolate bark is like an adult treat?  I don't think ever as a kid did I beg for chocolate bark.  And if there were peppermint chunks in it, then I ate those chunks and left the rest.
Now if I have chocolate bark in my freezer I'm like SCORE!  But seriously.  No seriously.
Are you ready to make beautiful music together?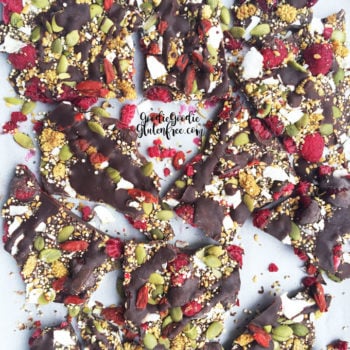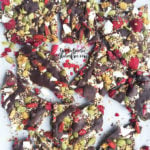 Print Recipe
Superfood Chocolate Bark
My healthy Superfood Chocolate Bark has every nut-free superfood topping you can imagine!  Still giving you that nutty crunch with hints of sweet coconut, berries and of course dark chocolate.  This yummy recipe is gluten, dairy, vegan & nut-free.
Equipment
microwave or double boiler
Ingredients
2

cups

dark chocolate chips

gluten-free

3

tbsp

coconut oil

1/4

cup

quinoa

black or white

1/4

cup

hemp seeds

1/4

cup

pumpkin seeds

raw

1

tbsp

chia seeds

1/4

tsp

pink Himalayan salt or sea salt

1/4

cup

dried goji berries or mulberries

1/4

cup

coconut shreds

1/4

cup

frozen raspberries
Instructions
In a double boiler on low/medium heat melt the chocolate.  Once the chocolate is semi-melted add coconut oil and blend well. Once blended, reduce temperature to low heat.

Line a baking tray with parchment paper and grease with coconut oil. Pour chocolate mixture into the lined pan. Spread the chocolate into the pan by lifting the tray and moving it from side to side.

Sprinkle the sea salt evenly into the bark.

Add all the superfoods (except raspberries) by spreading them evenly into and across the entire piece of melted chocolate bark. Lastly, add the raspberries.

Using the bottom of a fork or utensil mix all the superfoods into the chocolate.  It will look like a mess.  It won't freeze this way and it will taste divine. Freeze bark for 4 hours to set.
TIPS:
I get my superfoods from nuts.com – They have a gluten-free section that is measured at 10ppm and totally Celiac safe!  I get my Quinoa from Alter Eco and my Goji Berries from Navitas Organics.  You can store this treat in the freezer for up to 8 months.
If you LOVE chocolate bark then you'll LOVE my Peppermint Chocolate Bark too!