Vegan Tropical Papaya Popsicles!  Lush and full-bodied tropical flavor with a sorbet texture, and consistency.  Juicy, hydrating, and refreshing.  Easy to make, made with no sugar, sans nuts, dairy-free, paleo, and gluten-free.  A healthy and fruitful snack or dessert for any occasion.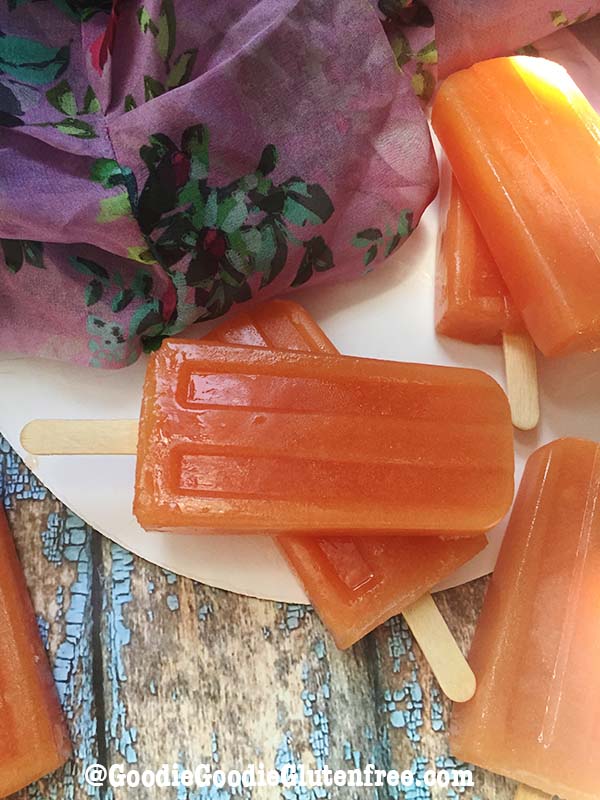 More recently I have grown to LOVE papaya.  These days I make green smoothies, popsicles, juices with papaya (and the fiber), and yogurt for breakfast topped with papaya or just plain luscious slices as a snack. Before my Tropical Papaya Popsicles were born I first had a few experiences where I vowed never to eat it again.
MY PAPAYA STORY
Back in 2012, I went to Puerto Rico and every morning the hotel served fresh papaya juice.  After chatting with some of the staff I learned that papaya was used for centuries in healing acid reflux, helping indigestion, and often used as a digestive enzyme.
To my surprise, the juice was delightfully fresh.  Once I learned that papaya could aid in the healing of Acid Reflux and indigestion I went on google to find out what else this super fruit could do.  As it turns out, quite a lot.  That vacation changed me - I learned that Papaya is delicious in a juice, has healing properties.
When I started Nutrition School, I invested in a Nutribullet to make smoothies (naturally!).  And once I learned to make nut-milks in the Nutribullet I quickly learned I could make juices too, instead of buying a juicer.  My first juice was papaya.
But with Papaya, it also turns out that because of the thickness it could easily coat the esophagus, and between the healing properties of the papaya and the thickness, it REALLY does help Acid Reflux and indigestion!!  Acid reflux is something I have suffered with on and off my whole life, so this was an awesome tool to add to my box of healthy healing tools.
The idea of Tropical Papaya Popsicles because of its healing benefits and flavor became an instant recipe.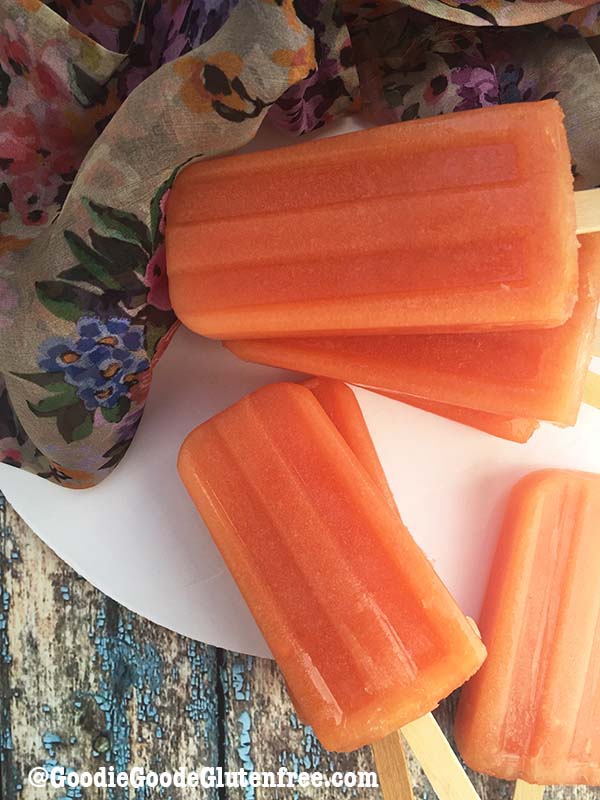 PAPAYA BENEFITS:
Aids in healing Acid Reflux, Indigestion & promotes digestion
Excellent source of fiber
Loaded with Vitamin C, Vitamin A, Folate, Potassium and Magnesium
Boosts immunity
Rich in Beta Carotene - gives your skin color
Beta Carotene is simply the colored pigment found in red, orange, and yellow fruits and veggies.  Greens have it too, but it's more concentrated in the rainbow colors.  Eat enough of those and you will get a spanking fake tan that looks real, natural, and non-toxic.
Promotes hair growth and healthy skin giving it the name: Skin Fruit
Can give your smoothies that luscious creaminess that a banana or avocado would do
PAPAYA TIPS:
Cut up the pieces of fresh papaya and add a slice of lime in the container during refrigeration it not only keeps it fresher, but it brings out the flavor and makes the fruit really pop in taste.
INGREDIENTS THAT COMPLIMENT PAPAYA
Raw coconut water
Fresh organic lime juice
Water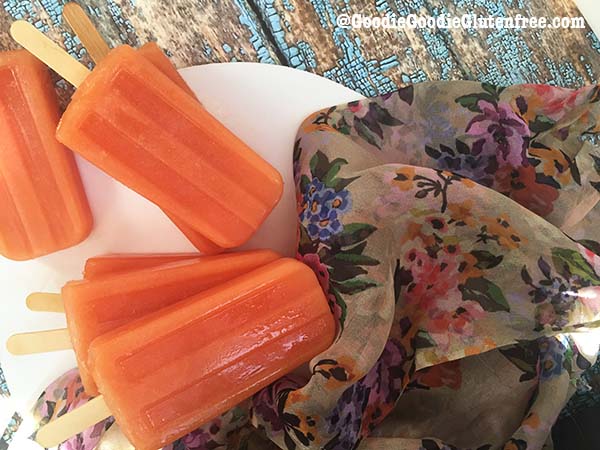 RAW COCONUT WATER BENEFITS:
Keeps you hydrated (knowns as your natural Gatorade)
Naturally sweet - non-refined sugar used to sweeten smoothies naturally
Hangover savior : )
Raw Coconut water uses no additives so its taste is PURE
Has more potassium than a sports drink
Cholesterol free
READY TO GATHER YOUR INGREDIENTS?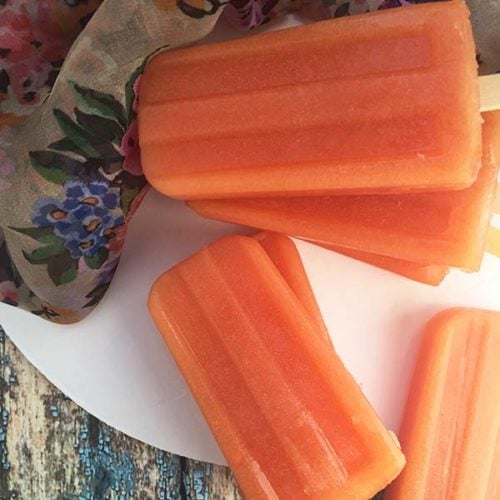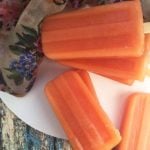 Print Recipe
Dairy-Free Tropical Papaya Popsicles
Dairy-Free Tropical Papaya Popsicles!  Lush and full-bodied in tropical flavor with a sorbet texture.  Fulfilling and juicy, hydrating, and refreshing.  Easy to make, made with no sugar, sans nuts, dairy-free, vegan, and gluten-free.
Ingredients
2

cups

fresh papaya

ripe

¼

cup

spring water

¾-1

cup

raw coconut water

2

teaspoon

lime juice
Instructions
Cut up papaya into chunks and marinate them in the lime juice. Set aside for 10 minutes in the fridge.

Then put all ingredients into a high-speed blender and blend until smooth.

Once blended pour into a measuring cup and then pour into popsicle molds.

Fill each popsicle mold with the mixture, cover the mold with the lid, and add popsicle sticks.

Freeze for 6 hours overnight.

Once frozen, run the mold under hot water to loosen the lid.  Then run the bottom of the mold under water to loosen the popsicles.  Store popsicles in a ziplock bag in the freezer for up to 4 months.
Notes
I prefer to use raw coconut water because it tastes as if you just opened the coconut.  I do not like processed brands because they taste fake.  You want to go with the coconut water that only uses 1 ingredient.  You do not want to use coconut water from concentrate, or any that use added sugars.  Added sugars would be listed in the list of ingredients.  My favorite brand is Harmless Harvest.  I love both the clear color and pink color.
Sometimes fresh papaya that is not in season or ripe can taste bland.  To bring out the flavor, cut it up and store it in a sealed container with 1 slice of a lime overnight and the flavor will pop!  Then when you go to use the papaya in the recipe, ditch the lime juice process and the actual lime.
Love & Papaya,