If your mission is to find tons of gluten-free makeup products, then the Indie Beauty Expo is NOT for you.  As gorgeous as the show was, what you will find at this Expo is a huge awareness for Indie beauty; clean beauty, green beauty, certified vegan, Leaping Bunny approved beauty.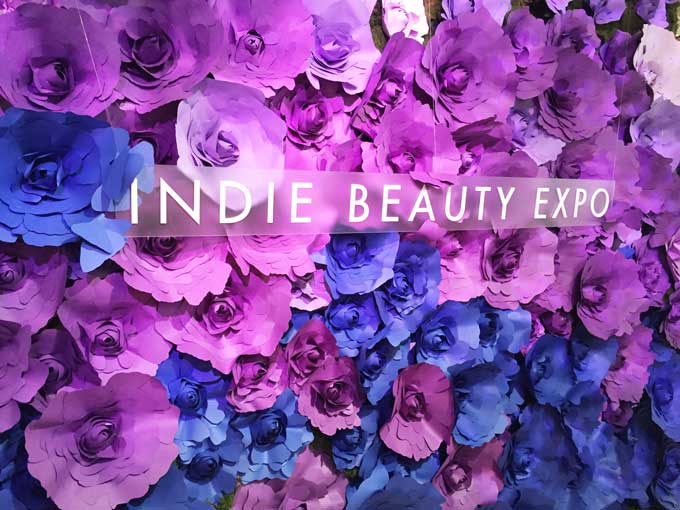 But certified gluten-free?  Nope.  Gluten-free ingredients?  Some.  Knowledge of the gluten-free lifestyle? Barely.  I wish.  I wish more brands understood the importance of being certified gluten-free, or having gluten-free ingredients with tight cross contamination policies.  I wish.
If I were only attending this show for a relaxing day of quote and art seeing, then this show would have been great.  But I had a mission.  I was on a mission to find great gluten-free brands that were also free of other allergens.  I was so excited to see what gluten-free brands I could find, which new products were emerging out of the wood works, and I wanted to share this info with you guys!  First this was already three years into my food sensitivity, environmental and chemical sensitivities AND one year into my cosmetic allergies so I was looking for me.  My main mission was to find brands I could wear that didn't make me react, breakout, hive out, rash out - you get the drift.  So I admit my expectations were high.  I mean look at these awesome quotes!!  How could this show not be good right?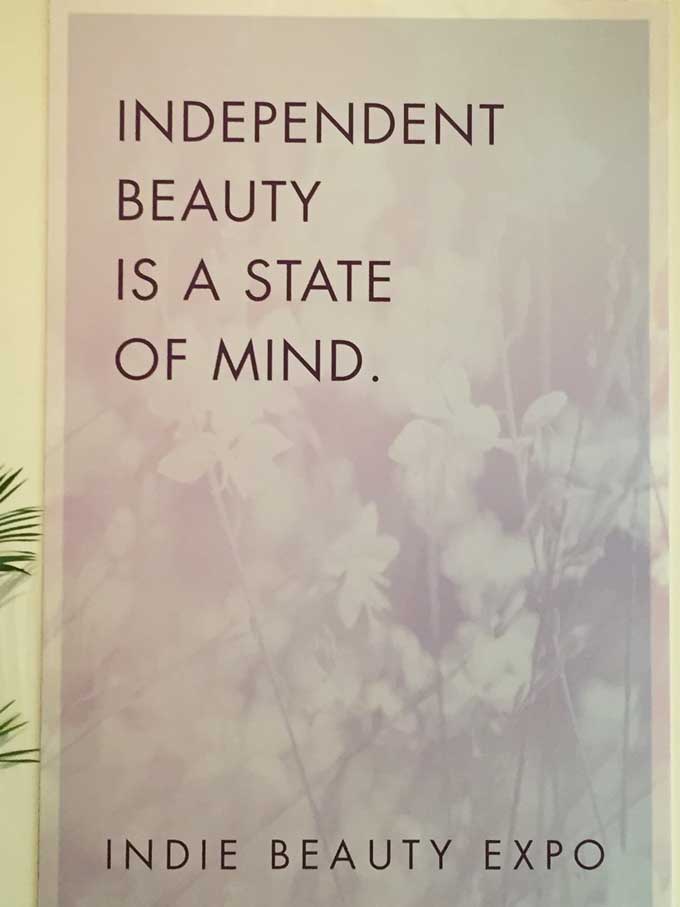 Powerful quote right?  But good is relative.  What I learned: Independent Beauty does not mean gluten-free beauty, or certified gluten-free beauty.  Independent Beauty from this 2016 Indie Beauty Expo means green, clean, minimal ingredients.
Upon arrival there was this wall covered with a huge heart on it covered in little notes.  The heart wall.  The deepest wish wall.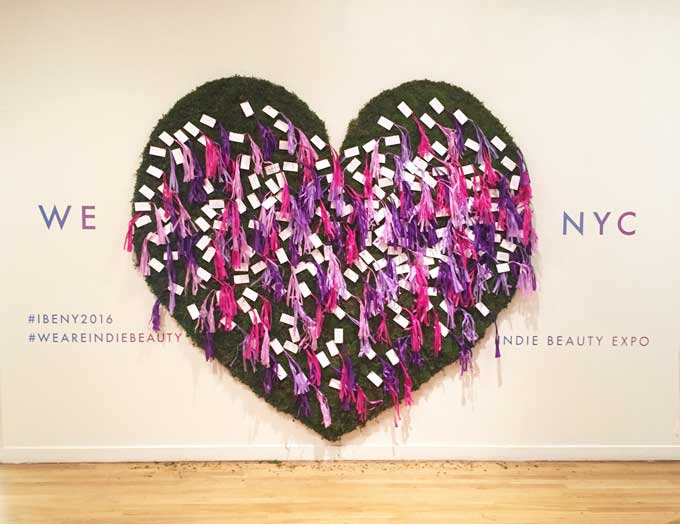 So this is the wall I got to pin my deepest desire to.  I didn't know that I would barely find anything gluten-free.  My deepest wish was "I wish there were more gluten-free certified beauty brands".  And it's not my deepest desire obviously, but it's my deepest beauty desire.  : )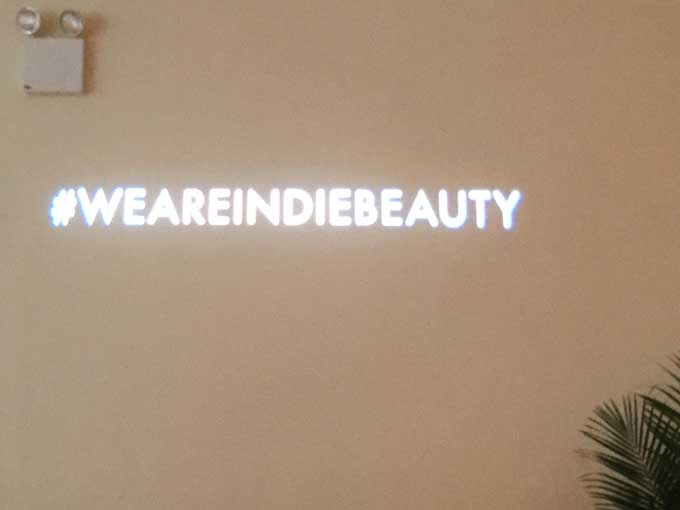 So this show was great for anyone vegan or living a plant based diet, clean diet or a green beauty lover. But for gluten-free, I only found a select few brands that were using gluten-free ingredients or/and gluten-free raw materials from certified gluten-free vendors.  The only gluten-free certified brand was Keeki Pure and Simple.  But I knew about this amazing brand (that I use their gorgeous nail polishes) long before this expo so even though I list them here, I don't count them as part of my newly discovered Indie finds.  The other brand that was certified gluten-free was a brand that is no longer in business as of 2020 - MPWR - Teen Skincare.
What I didn't like besides the fact that gluten-free makeup brands are not promoted enough, but a lot of the reps working the booths didn't know certified gluten-free from just gluten-free ingredients.  Many said they were certified gluten-free, but then when I asked again - retracted.  One said - " I don't know about the vitamin E, I just know it's fine".  (No lady, it's not fine.  It's not fine because if you don't know for sure, and I'm eating your product through lipstick or lotions (hands to mouth) and I get glutened, I'm screwed - okay, rant over).  Most vendors said their product was gluten-free even it it contained contaminated oats, and it wasn't until I pointed that out that the vendor would then say, "Oh, well not that one".  You get the drift here?  When it came to gluten-free, most vendors didn't know the difference, especially when it came to Vitamin E and it's derivative.  When I asked that question, it fell on deaf ears.  When I asked that question, I was starred at like I was an alien.  As most Celiac's know (and newbies beware!!), vitamin E is often derived from gluten and wheat. Gluten-Free awareness in beauty products is basically non-existent!  There is not enough word on the street about gluten in makeup and the education behind it.  I really hope this changes.
But hey you!  If gluten is not your issue then this show may be to your liking.  If I didn't have so many allergies, I would be able to try any makeup I wanted, and I bet that would be fun and filled with ease.  Ya know, to not worry?  So if that's you, then onward and have a great time!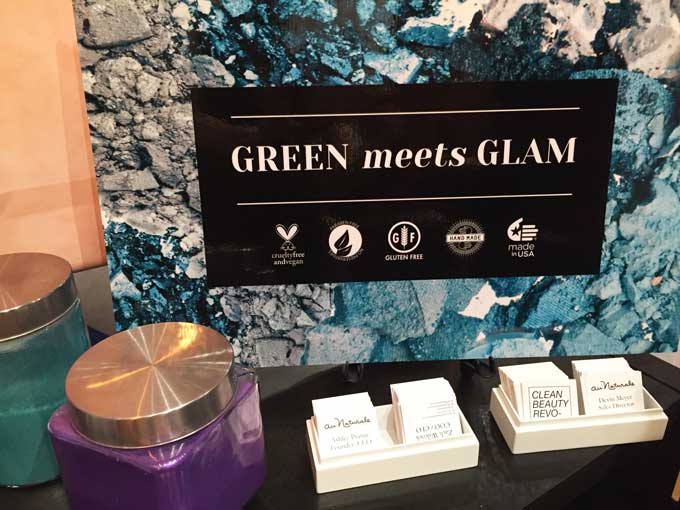 If you can believe it (and I bet you can), I walked out of the Indie Beauty Expo on Benadryl.  Word to the wise?  Do not go there if you are sensitive to scents and have allergies.  You'd never know that the air would do that to your body, but anything is possible when your body is in an allergic state.  I honestly didn't think the smells would bother me.  It didn't even cross my mind.  And it was such a huge show in a huge space, the odds for me I thought were slim.  I.  Was.  Wrong.  Lol.
So after all this, what did I get out of this show?  For me, not a lot.  For you guys?  8 newbie gluten-free makeup brands (out of the 132 total vendors) that are worth a second look.
Gluten-free, soy-free, acetone-free, paraben-free, Leaping Bunny approved, vegan, cruelty-free
Safe for pregnancy, safe for Cancer patients
Known for toxic free nail polish and happy, vibrant colors
Fav product: Raspberry Sorbet and Watermelon Punch nail polish
Sold online and at various stores across the U.S.
Gluten-free, vegan, cruelty-free, certified organic, paraben-free
Free of fillers and synthetic ingredients
Gets raw materials from certified gluten-free vendors, but is not certified gluten-free.  They are working on getting their gluten-free certification
Known for their vibrant colors and vibrant mineral makeup
Fav about this brand?  Their customer service and video tutorials!!
Sold in their home state Iowa, and online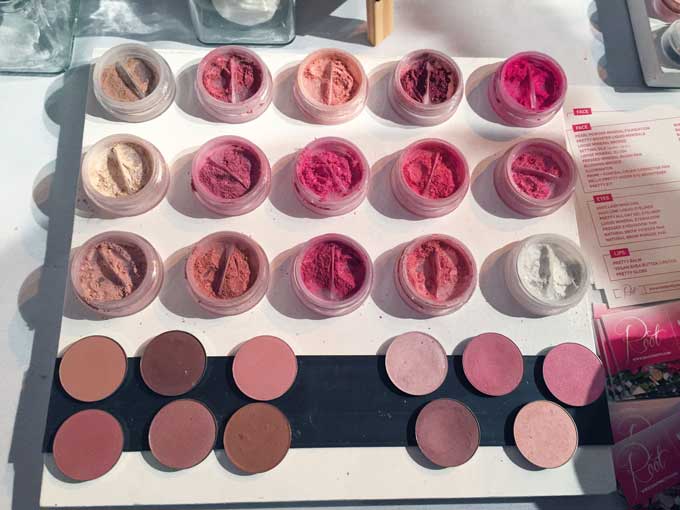 Aren't these colors so super vibrant?!!! I'm loving them so much!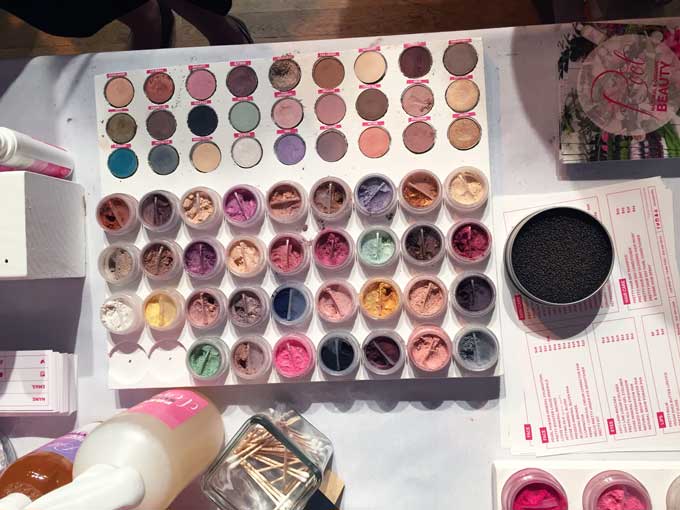 Gluten-free facility/Gluten-free ingredients
Proud of their gluten-free stance
Organic, vegan, cruelty-free, PETA certified
Free of ingredients like talc, dairy, parabens
Known for Farm to Face beauty, or green beauty meets glam beauty.  Simply meaning all products come from suppliers who are in the mid-west and cater to the organic and 100 percent natural.  All products are made in small batches
Sold online, select stores in Mexico and the U.S.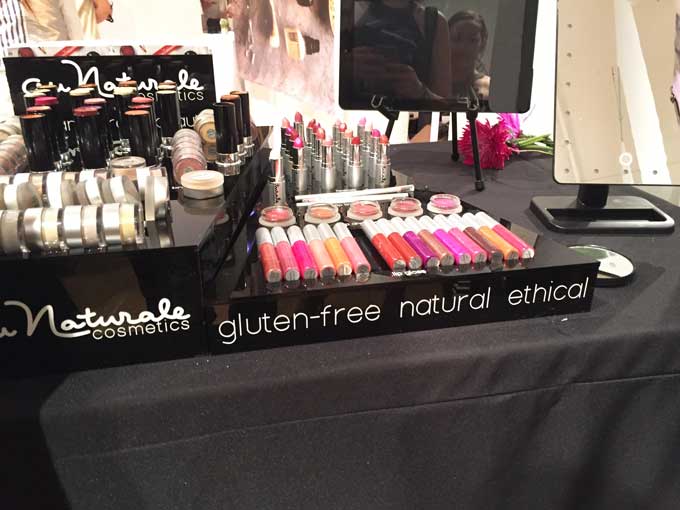 MPWR: Clean.  Green.  Teen. :
The only brand at this show that was certified gluten-free
Made with certified organic ingredients, clean ingredients
Formulated carefully for teen skin
Leaping Bunny approved, certified vegan, cruelty-free, certified organic, certified gluten-free by the Celiac Sprue Association
Made with real food ingredients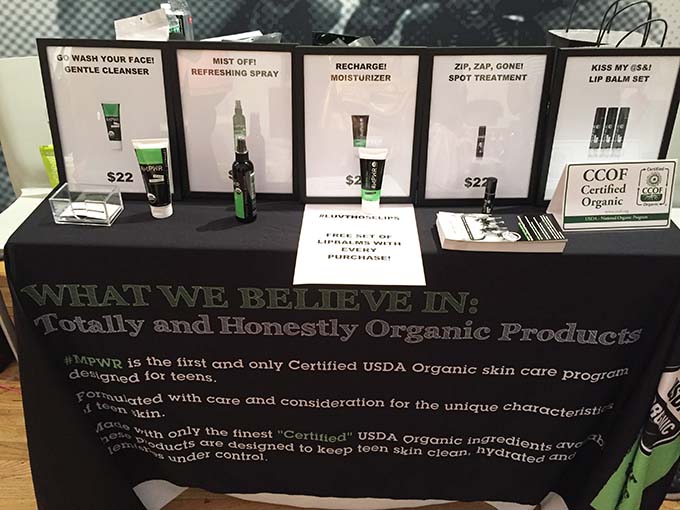 Gluten-free, vegan, cruelty-free
No animal testing, or animal ingredients
Free of phthalates, parabens, sulfates, propylene glycol, mineral oil, petroleum, peanut oil, triclosan
7-Free Nail Polish is free of: toluene, phthalates, xylene, camphor, formaldehyde, resin and animals
It's as simple as it looks
clean beauty, gluten-free ingredients
No phthlates, parabens, DEA/TEA/MEA (hormone disrupting chemicals), no color pigments, formaldehyde, preservatives, isopropl alcohol, mineral oil, PEGs, propylene glycols, sodium lauryl sulfate, triclosan, tac or petroleum
Known for being Zero Chemical Skin Care
One product uses oats, that is not gluten-free
Made and created by a mother daughter team after her daughter suffered from unknown medical issues and chronic illness
I love this brand because they will custom make anything for you, using ingredients that work for your body
Gluten-free ingredients in most products
Made free of the most common 109 allergens based on published results of thousands of allergy patch tests
Great for people with allergies to both food and chemicals
Sold at their store in Soho
This is in beauty and at the Expo because Collagen protein and Gelatin are both amazing for your skin, hair and nails
Gluten-free, rBGH-free, Kosher, Paleo, Non-GMO, Whole 30 Approved
Made from grass fed cattle
Collagen Beauty Greens is not gluten-free, it has barley grasses in it, but all others are
Update: Recently Vital Proteins had to go through a gluten-free certification process to get into one of the food shows.  I'm waiting for double confirmation on a certification
Gluten-free ingredients, vegan
Known for their vibrant colors
Made from clean, real food ingredients & safe less toxic chemicals
Free from parabens, Petrochemicals, nanoparticles, dyes, sulfates, silicone, PEGs, mineral oil, triclosan, petroleum, coal tar, phthalates, artificial preservatives, fragrance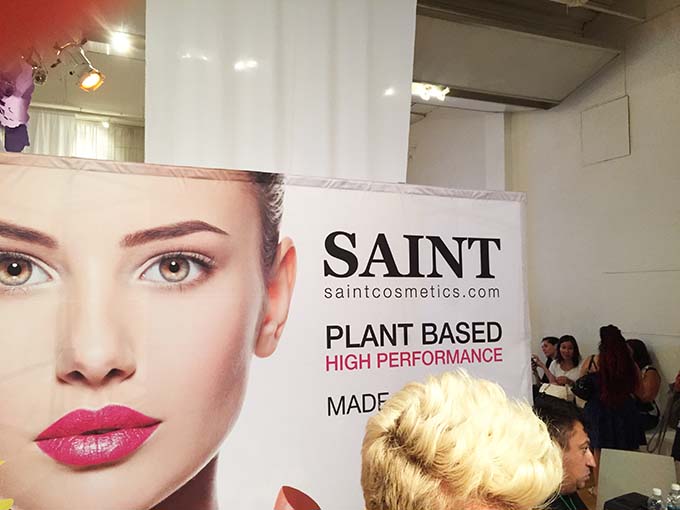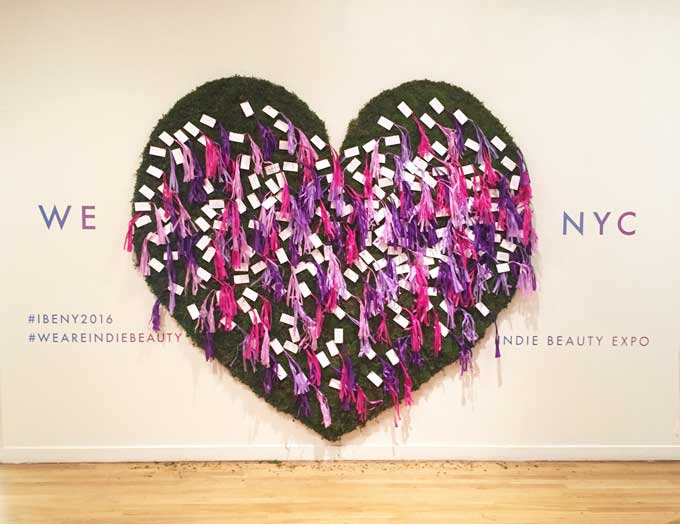 Let's just all put out positive vibes to get more gluten-free certified brands out into our world!
Want more gluten-free makeup brands?  Check out my GF Makeup post HERE.