If you have ever experienced hair loss, Telogen Effluvium, or dermatitis of the scalp then you know how stressful and painful it can be.  I am finally sharing this magical recipe on how olive oil can cure a dry scalp and promote hair growth naturally.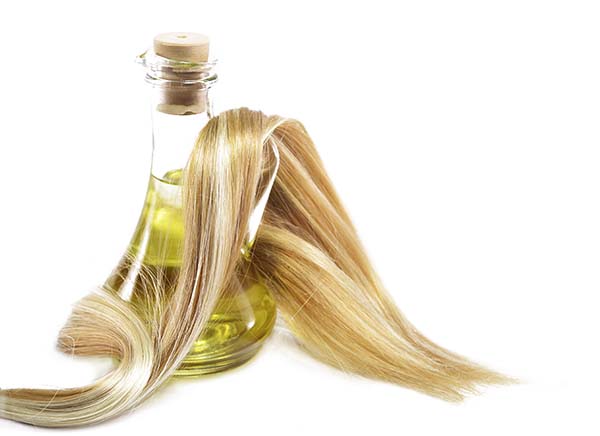 I am about to share with you my most magical secret on how to heal a dry scalp, hair loss, and promote hair growth.  
But this is a daunting topic to talk about because it means I have to share something really personal with you guys (the world) that not a lot of people know about.  But I'm willing to share this because if this simple ingredient can help what you are going through in any way, then I want to be of service.  The secret ingredient is Extra Virgin Olive Oil. 
MY HAIR LOSS, HAIR GROWTH, AND SCALP CONDITION STORY
I started losing my hair in August of 2012.  Well.  It was shedding. 
The hair on my pillow, the hair on my floor, hair in the shower.  But not enough that I was balding, so I didn't take action even though I knew something was up.  And It wasn't just hair shedding that was my issue, but it followed with a very inflamed red, itchy scalp that had formed a bump where the ponytail holder would sit, and when I touched it, it was swollen and hurt.
Strangely, I thought it was allergies as I was volunteering at doggie daycare at the time.  And as time progressed into 2013 my hair was paper thin and I went from shedding to losing.  At first, it was a small clump here and there, strands always coming out of my hair if I ran my hand through it, or hair that would gather on the back of my sweater depending on the nature of the sweater fabric.  What The Frick!  What was going on?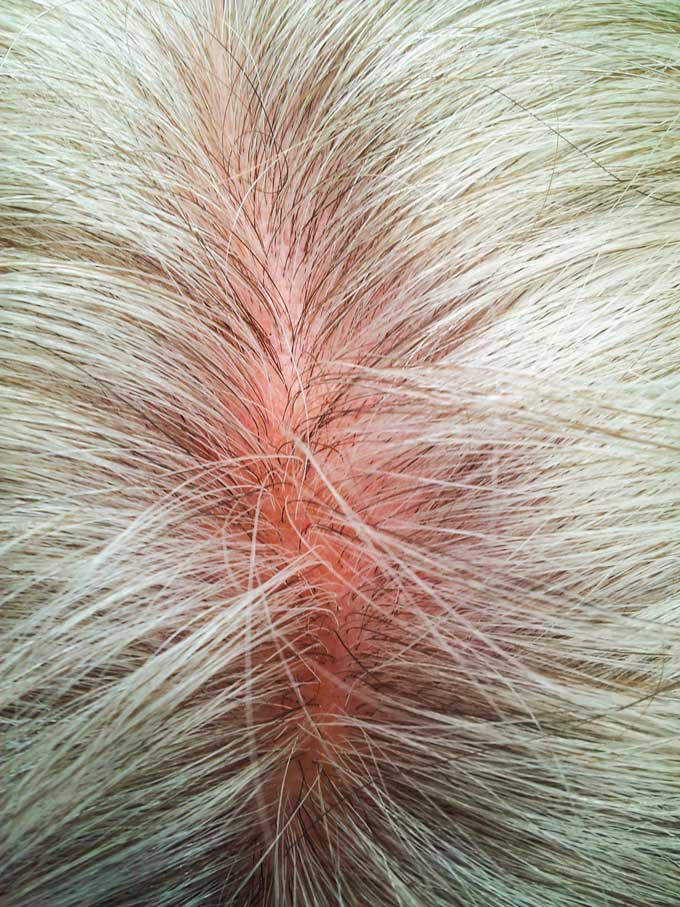 I started seeing hair doctors both holistic and western and other then prescription strength vitamins to fix my uneven vitamin levels like Ferritin and other B vitamins, cortisone shots, and a generalized healthy diet (Diets and lifestyles should cater to the person, rather than a buzz word), there were no other strategies.
Into 2014 it got so bad that I was sitting home crying for half of my life wondering why this was happening to me, wondering how I would go out into the world as a Health Coach with hair loss, wondering how I would date knowing my hair was falling out and at that point was wearing a bun daily, so anyone I was dating couldn't tell what I was going through unless I took my hair down or verbally spoke about it.  But I knew, and it made me feel so insecure.
The Paleo diet slowed it down, as the removal of foods allowed my nutrients to absorb – Horray!  However the Paleo diet introduced other medical concerns, so I went off of it.  From then on circa May 2014 to January 2016 I was using 2 prescription-strength cortisone shampoo's and an overnight cortisone prescription-strength foam to control the inflammation of the scalp, and to get it to stop falling out, almost daily.  This worked, and I had good phases where my scalp was calm and my hair was growing, and then bad phases where everything hurt, was a constant bother and my hair was falling out. For the most part, it kept everything at bay along with a clean, whole food sugar-free, dairy-free, minimal grain-free, and of course gluten-free diet.
Still, the treatment left my hair super coarse, and rough.  And I kept thinking this cannot be the only way!  I kept thinking I cannot be on cortisone shampoos for this long!!  There has got to be something natural I can use that will make my scalp feel better and make my hair grow!  I was determined.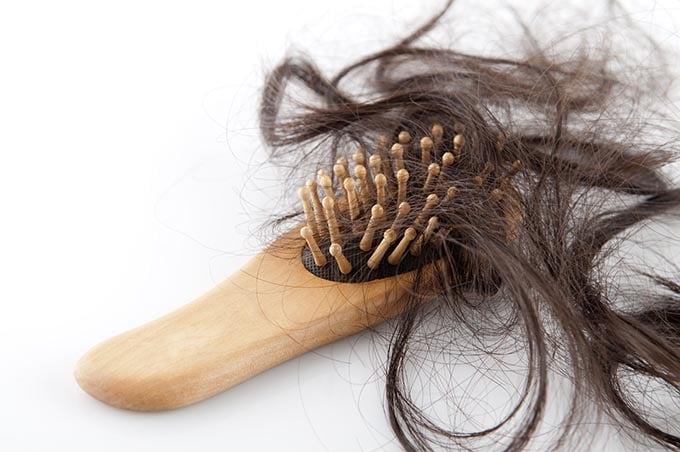 My diagnosis for my scalp was Seborrheic Dermatitis and for my hair loss chronic Telogen Effluvium which is a general term for a non-permanent form of Alopecia. This all started a little after I turned 36 and it was something that I never expected to ever have to handle.  It was also something I never ever thought to Google.
HOW I CAME TO EXTRA VIRGIN OLIVE OIL AS A TREATMENT FOR HAIR GROWTH AND DERMATITIS
After a lot of frustration with my own hair loss, scalp irritation, and dermatitis I started researching and plugging keywords into Google like scalp dryness, seborrheic dermatitis, inflamed scalp, hair loss, holistic scalp remedies, natural remedies to hopefully find some different approaches, doorways if you will to heal my condition or at least try something different with the end goal of feeling better.
To my surprise, there were SO many natural and holistic remedies out there! It was really fun to read about.  A lot of remedies included honey, eggs, coconut oil, tea tree oil, and baking soda.  A few mentioned olive oil but it was always mixed with something, but with all of my sensitivities I really just wanted to start simple.  My allergist had mentioned that he uses Extra Virgin Olive Oil on babies for Cradle Cap, and It got me thinking…
It got me thinking that I could try Extra Virgin Olive Oil.  It's so natural.  I eat it all the time.  I am comfortable with trying just plain EVOO.  I just knew it was not going to hurt me or cause some ungodly reaction.  It felt safe to me.
A lot of the EVOO remedies mentioned warming the olive oil, because it opens your pores and more gets into your skin where you need it, like a deep conditioner.
Many articles said to put it in your hair for up to 45 minutes, but trying that actually didn't work for me. I found my Extra Virgin olive oil hair mask bliss at 20-25 minutes.
**
It was actually fun going into my kitchen, breaking out the Extra Virgin olive oil I pour on my salads and measuring out 1 tablespoon into a small dish, and warming it in the microwave for a few seconds to use on my hair.  I headed into the bathroom and dipped my fingers into the warm oil and little by little massaged it into my scalp.  I parted my hair multiple times and ran it through the straight lines of my scalp and then I added it to the back of my scalp where a lot was falling out, and anywhere it really felt I intuitively needed the extra care.
HOW TO HEAL A DRY SCALP AND PROMOTE HAIR GROWTH WITH EXTRA VIRGIN OLIVE OIL STEPS
Measure 1 tablespoon of Extra Virgin Olive Oil into a microwaveable cup.  If you need a little more because your head is larger go towards 2 tablespoons.
Heat it for around 15 seconds or until warm not hot.
Let it cool ever so slightly.
Part your hair in all places so that the extra virgin olive oil reaches the scalp and the roots.
Then massage it in.  You can even apply it to the ends of your hair.
Set the timer for 20-25 minutes and allowed it to seep in.  I just used a clip to hold my hair up, but placing a towel on your back works wonders as well so the oil doesn't seep into your clothes.
While the oil sets and sits into your scalp you can multi-task.  Do your dishes, yoga, meditation, watch t.v., do some bills whatever you need to do, you have 20-25 minutes to do it.
Make sure you use Extra Virgin Olive Oil and not regular full fat olive oil.

Then get in the shower and shampoo and condition, as usual, just making sure you really rinse it out. 

Do this remedy three times a week consecutively.  Once it calms down you can apply it less.
Note that your hair WILL be greasy for at least 1-2 days.  After 1-2 days, it will be normal again, beautiful, shiny, and soft.
Always remember to test this on your arm if you are concerned you'll react to it before you put it all over your head and scalp.
MY MAGICAL RESULTS FROM USING EXTRA VIRGIN OLIVE OIL FOR HAIR GROWTH & SCALP IRRITATION
First, my hair for the first time in EVER was so super silky smooth and shiny.
In addition, and at first, I was able to drastically REDUCE the amount of prescription shampoo I was using, while using the EVOO.
Eventually, after a few months of a daily mask, I scaled down to a 3 x a week mask, and after that, I was able to eliminate my prescription shampoo and just use the EVOO.
At times when it feels super sensitive because I have a condition, I'll know to step it up with the extra virgin olive oil, but I'm so happy I have gotten to a place where I don't have to rely on the prescription shampoos.  I use my gut instincts to decide when to stop what and when to continue what.
The EVOO softened the irritated and hardened skin on my head enabling the pieces to fall off and allow hair growth and even start to heal.
I haven't had full head cortisone shots in over 4 months!
Thirdly, after multiple EVOO masks (daily masks) my hair started to grow.  The moisture and fatty acids from the EVOO were desperately needed in my scalp and hair follicles to repair the damage, that the damage has started to reverse.
HOW TO APPLY EXTRA VIRGIN OLIVE OIL TO YOUR SCALP 
I created a short and quick video on Youtube to teach you and show you how I apply EVOO to my head.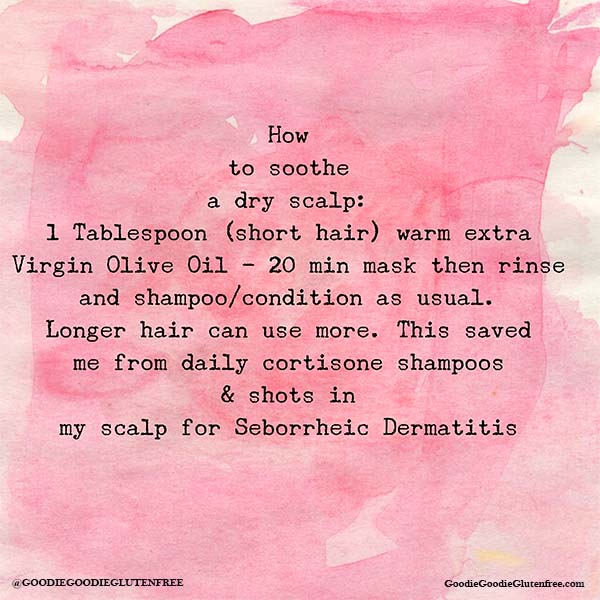 EXTRA VIRGIN OLIVE OIL FOR HAIR LOSS, HAIR GROWTH & SCALP IRRITATION THROUGH THE YEARS
2016 – My hair still has a ways to go.  I have years of damage, chronic stress, vitamin deficiencies, leaky gut, celiac disease, SIBO and Yeast Overgrowth in my small Intestine and so much more that I have to maintain it daily, that it will take time to get my hair back to the way it was before, but the use of the EVOO has given me the hope that I can get it back to the way it used to be. And to this day I still do the EVOO masks almost 5 times a week. I use this EVOO hair mask for new hair growth, hair loss, and scalp irritation.
2020 – To this day I still use this remedy for new hair growth, hair loss, and scalp irritation, just less often.  Sometimes it's months before I need it and other times I need to use it for 2 days.  It will always be my go-to remedy to heal my scalp and hair loss.
HAIR LOSS FACTS
It's a known fact that natural remedies like EVOO can aid in the healing of Seborrheic Dermatitis, dry scalp, Cradle Cap, Dandruff, flakey scalp, and even promote the growth of hair by activating the hair follicles.

HOWEVER, it is an aid, not a miracle remedy and it helps heal the symptoms NOT the root cause, which means if you have underlying issues that are the cause of your hair loss like vitamin deficiencies; Iron/Ferritin, Vitamin A, Vitamin D, and B Vitamins specifically it is important to get your levels checked at least every 6 months.

If you have other diseases, disorders, food allergies, food sensitivities – know that all of these medical issues CAN contribute if not cause hair and skin conditions and it is important to get yourself seen by a doctor to determine your situation in those cases and make sure you are monitoring your case while using the olive oil to help your symptoms.
EXTRA VIRGIN OLIVE OIL BENEFITS
Been used for centuries as a natural conditioner.
EVOO is a healthy fat and healthy fats are moisturizing.
It has anti-inflammatory properties (pain relief) similar to prescription inflammatory drugs.
Extra Virgin Olive Oil has an abundance of antioxidant properties that leaves the scalp feeling healthier and can actually reduce and reverse the damage by other hair products.
It can cure an itchy scalp.
EVOO If used heated,  it can turn into a deep conditioning treatment for the scalp.
It can be used as a natural remedy to treat seborrheic dermatitis.
By adding the oil and using it as a mask for 20 minutes or more and then taking a soft brush and combing gently, it will remove or loosen dandruff, scales, and flakes caused by dermatitis, and cradle cap.
I know it seems SO WEIRD to add Extra Virgin olive oil to your head, but trust me it is amazing! It is of the earth, it is natural.  And it works.  If allergists use it on babies for Cradle Cap and know it is safe for even the purest skin of a baby, then I know it is safe for me.  I believe you'll find relief from this hair mask as well.  
*I am not a doctor or a nutritionist.  I am a board-certified health coach, and my information is from research and my own personal experiences.  If you are unsure about the remedy above discussed please consult your doctor.  Never ever end or stop medical treatments that your doctors have prescribed unless you have spoken to your doctor.
Love & natural remedies!