Easy Lemon Poppy Bliss Balls with the dreamiest sweet lemon taste that you won't be able to resist!  Made with luscious whole food ingredients like sunflower seeds, coconut, poppy seeds, grated lemon, and honey.  One of the best treats that can be made for breakfast, snack, or dessert, guilt-free!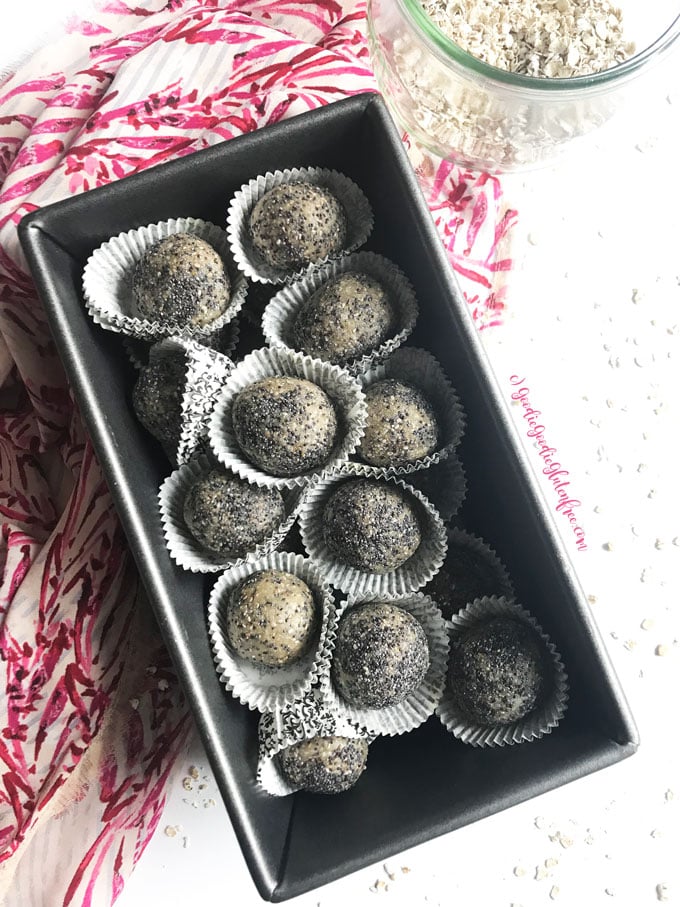 I have a slight obsession with lemon when it comes to desserts.  I'm pretty much starting to think that adding fruit to desserts is a total "adulting" moment.  You'll reach a certain age and then suddenly dessert is fruit alone, or fruit in chocolate or fruit inside desserts.  You'll ask yourself, when did this happen?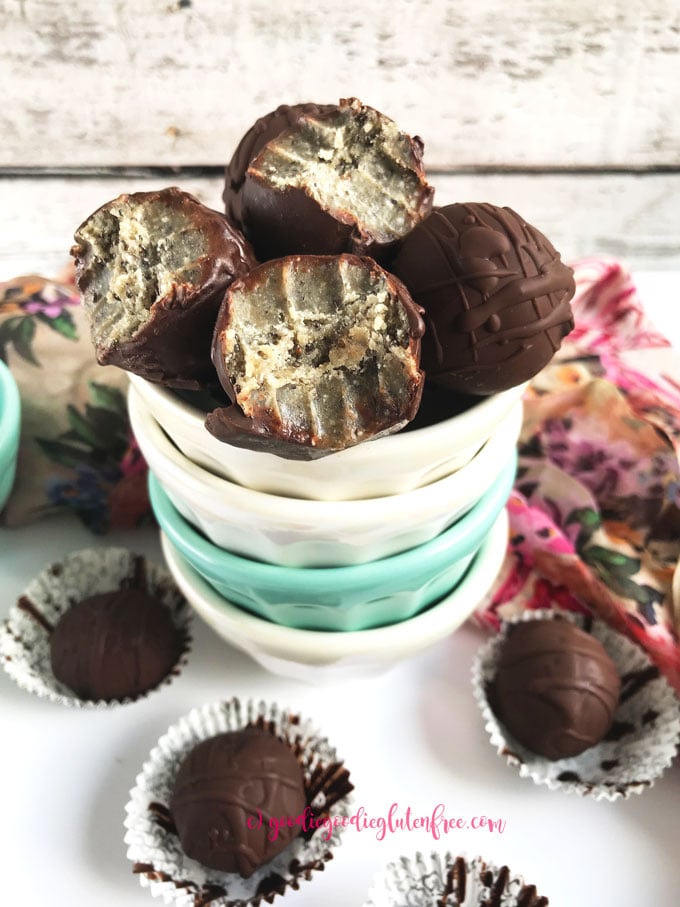 Lemon and sunflower seeds are this magical combination I knew nothing about until I made it.  While I say that honey is the true sweetener of this bliss balls recipe, sunflower when ground omits a sweetness, as does the lemon.  I am basically saying that the sweet isn't necessarily coming from sugar, which in itself is pretty cool.
Thrown into the food processor and ground together creates this smooth cake-like consistency and texture that is hard to top.  Who can resist subtle hints of honey or a light, airy, and sweet taste?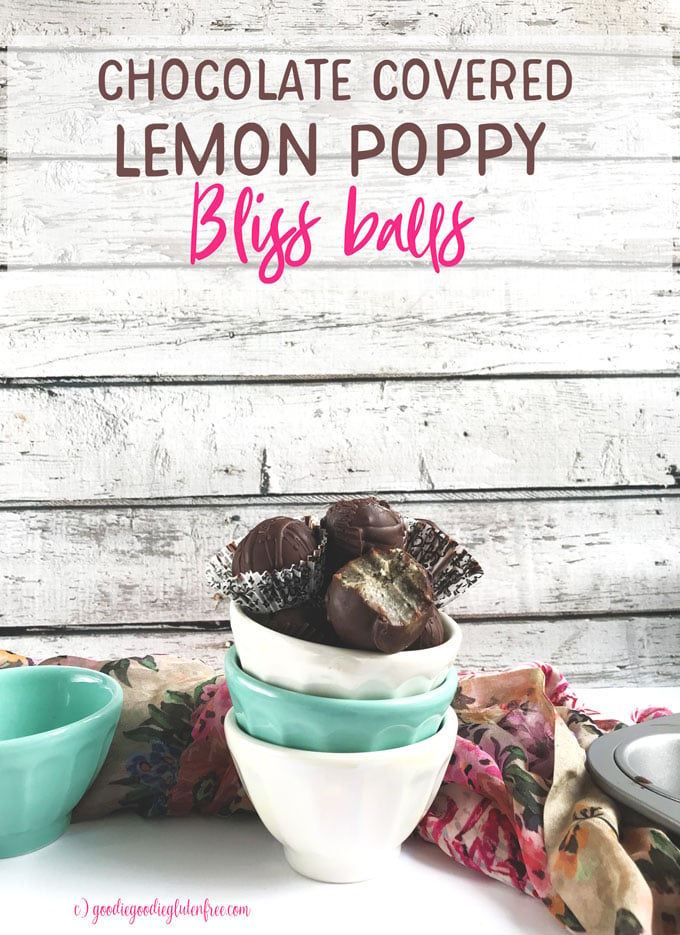 If you do not add lemon to this recipe you will be missing out completely.  Using lemon in a no-bake bliss ball is a taste-changing experience!  The missing piece to any dessert puzzle.  Furthermore, if you dip these bliss balls in chocolate you have a totally different dessert.  It seemed so natural to have lemon zest inside these bliss balls.  Tasted like perfection.  As if this was the missing ingredient, and I have to tell you?  It was.  Lemon zest always compliments sunflower seeds, coconut, and honey as if they were never meant to be apart.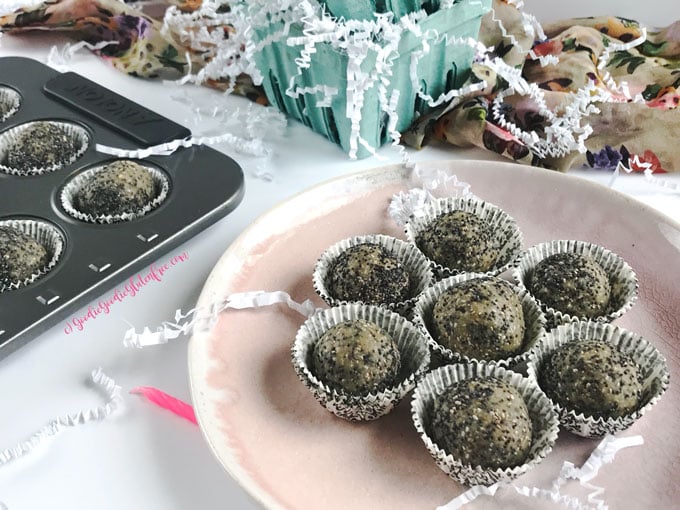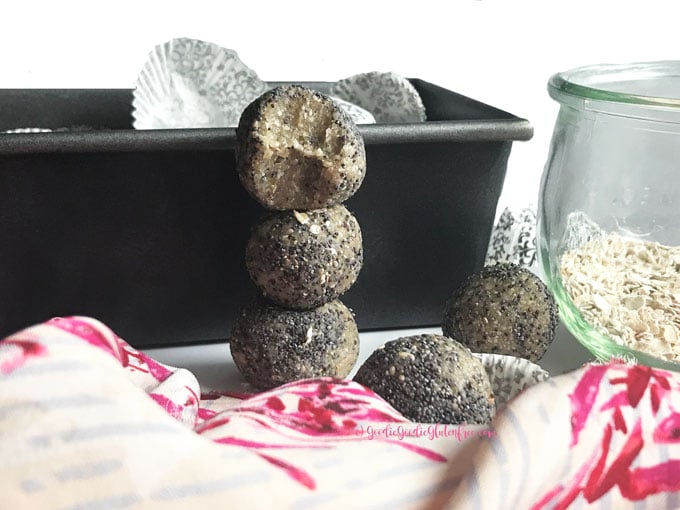 BENEFITS OF LEMON POPPY BLISS BALLS
Ground-up sunflower seeds act like almond meal for a nut-free substitute
Poppy seeds have a natural "relax" component to the seed, the same way dark cherries have natural melatonin inside them as a nutritional benefit and can make you sleepy.  I feel so chill when I eat them
Coconut shreds act as your healthy fat keeping you full
Seeds are loaded with protein
Honey is your sweetener alongside its anti-bacterial properties
You'll have this batch for over 3 days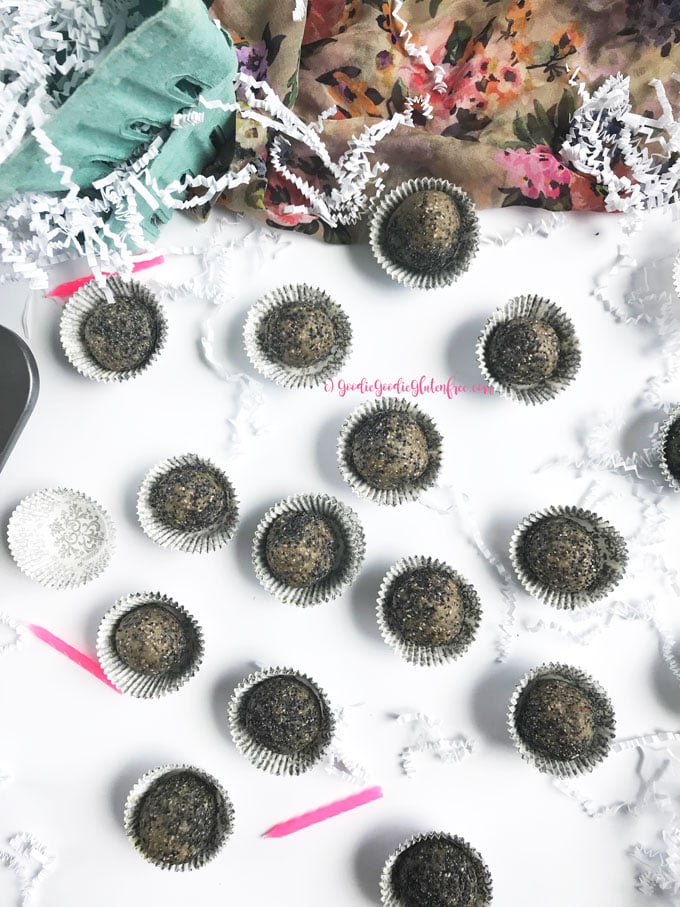 HOW TO MAKE THE BLISS BALLS SO PERFECTLY ROUND
Using a tablespoon measuring spoon take a large scoop of the dough
In between your hands, roll the dough into balls
Dab your fingers in water to get the consistency smooth
Then while still wet from the water roll them into the seed toppings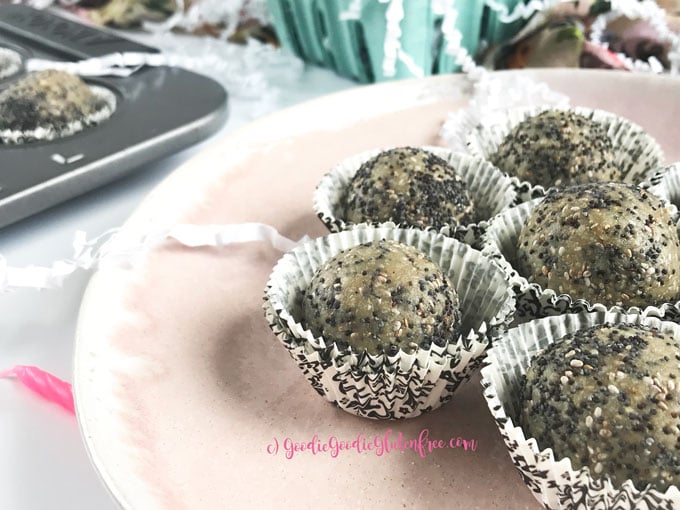 LEMON POPPY BLISS BALLS TIPS
Always use gluten-free oats.  The gluten-Free oats I used are Bob's Red Mill
Organic when it comes to dried spices and herbs, I love this brand of poppy seeds
When grating your lemons make sure they are also organic.  Use this handy cheese grater
READY TO GATHER YOUR INGREDIENTS?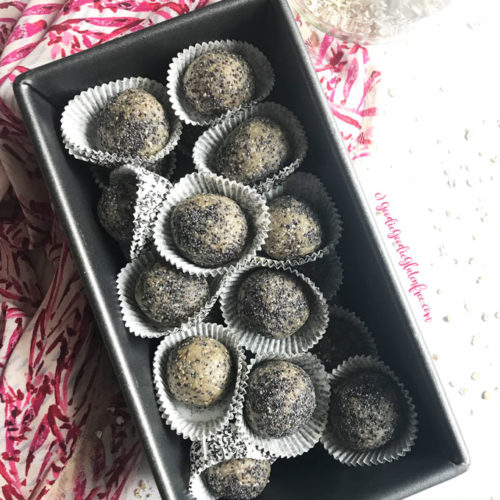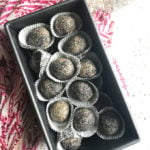 Print Recipe
Lemon Poppy Bliss Balls
Easy Lemon Poppy Bliss Balls with the dreamiest sweet lemon taste that you won't be able to resist!  One of the best treats that can be made for breakfast, snack or dessert guilt-free. Gluten-free, dairy-free, refined sugar-free too!
Ingredients
1

cup

unsweetened coconut shreds

packed

¾

cup

sunflower seeds

raw

2

tablespoon

gluten-free oats

certified gluten-free

1 ½

teaspoon

fresh lemon zest

organic, use a grater

¾

tablespoon

poppy seeds

1

tablespoon

chia seeds

3

tablespoon

honey

or maple syrup for vegans

1-2

tablespoon

water

spring
Chocolate Sauce
½

cup

dark chocolate morsels

1

tablespoon

coconut oil

packed, solid
Instructions
Blast sunflower seeds on high in a food processor for 3-4 minutes, occasionally scraping sides and bottom with a spatula or spoon.  You'll want to process these until you get a cookie consistency.

Then add all the other ingredients except the water and blast on high for an additional 2-3 minutes.  Set your timer.

In the meantime prepare to make the chocolate sauce if you want to make your bliss balls chocolate covered.  For the chocolate sauce microwave chocolate chips and coconut oil in a microwavable bowl on 20-second intervals until melted.  Max 1 minute. Mix well in between each interval.  Set aside.

Then add the water to the food processor 1 tablespoon at a time (max 2) until your mixture forms into a ball or is sticky enough to roll into balls.

Prepare a cupcake tin with liners.

Form 12 balls from the mixture.  Roll in poppy seeds or just cover in melted chocolate and freeze for at least 4 hours before serving.

Stores well in the freezer. Keep in the freezer for up to 6 months.
Notes
When rolling the dough your hands will be sticky.  Rinse your hands with warm water in between each roll, it makes the bliss ball smoother.
You can also roll your bliss balls in grated coconut shreds, or chia seeds.
All time frames will differ depending on the power of your food processor.  Plan accordingly.
Gluten-Free oats I used are Bob's Red Mill
I also love to use these poppy seeds that are organic 
I grate my organic lemons myself using this handy cheese grater
Health and love,