Easy Lemon Poppy Bliss Balls with the dreamiest sweet lemon taste that you won't be able to resist!  One of the best treats that can be made for breakfast, snack or dessert guilt free.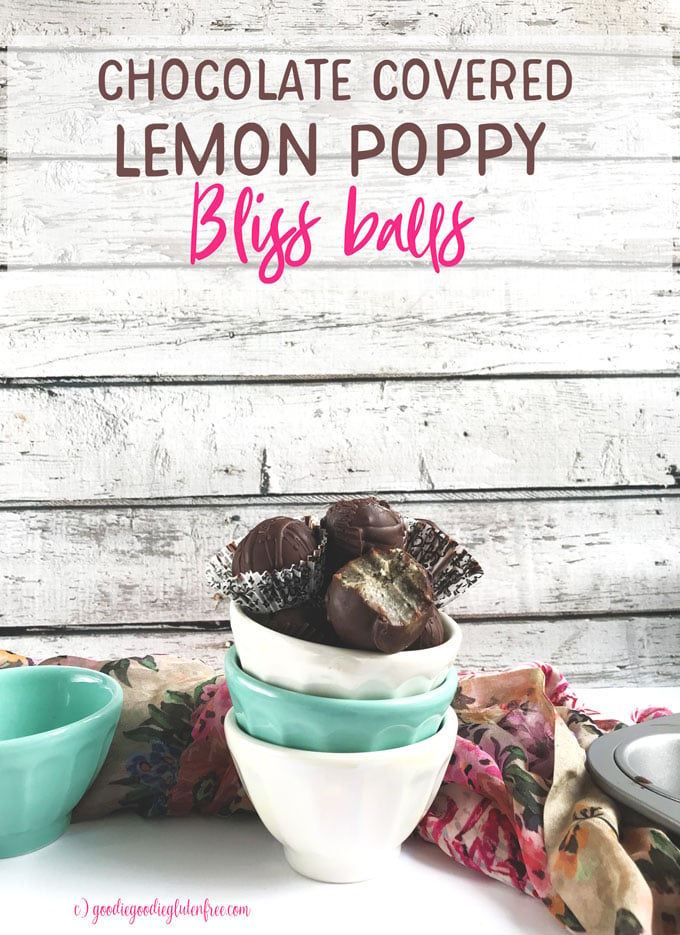 I have a slight obsession with lemon when it comes to desserts.  I'm pretty much starting to think that adding fruit to desserts is a total "adulting" moment.  You'll reach a certain age and then suddenly dessert is fruit alone, or fruit in chocolate or fruit inside desserts.  You'll ask yourself, when did this happen?
I'm thinking it was somewhere in our late 20's to early '30s.
Since then it's been all over for me.  Fruit rules and don't forget it.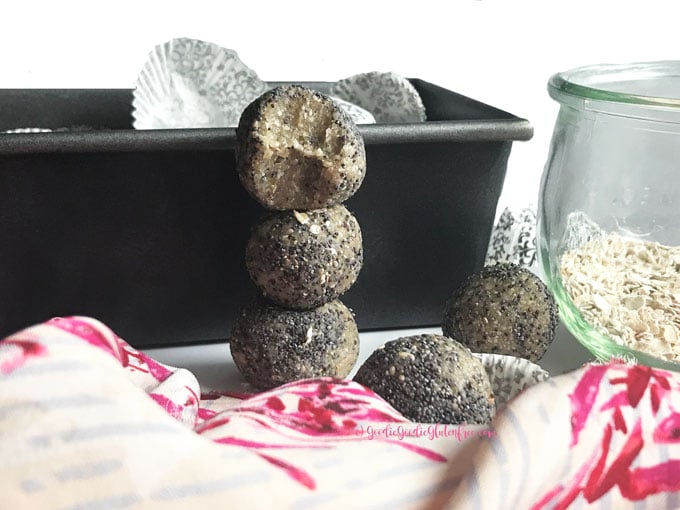 So now that fruit rules it must go into my latest creation of Lemon Poppy Bliss Balls.  Naturally.  Duh.  Of course.  And YASSSS!  Ever since I could add lemon back to my diet after a two-year food sensitivity I've been craving something lemony in desserts.  But what?  OMG, Lemon Poppy!
You see at first I made this bliss ball recipe without the lemon, and I knew something was missing.  Then when I added the lemon it was like a serious game-changing experience!  The missing piece to the puzzle.
So I created two versions.  The second version was just dipped in chocolate, which was obviously another game-changing experience to this already awesome bliss ball dessert.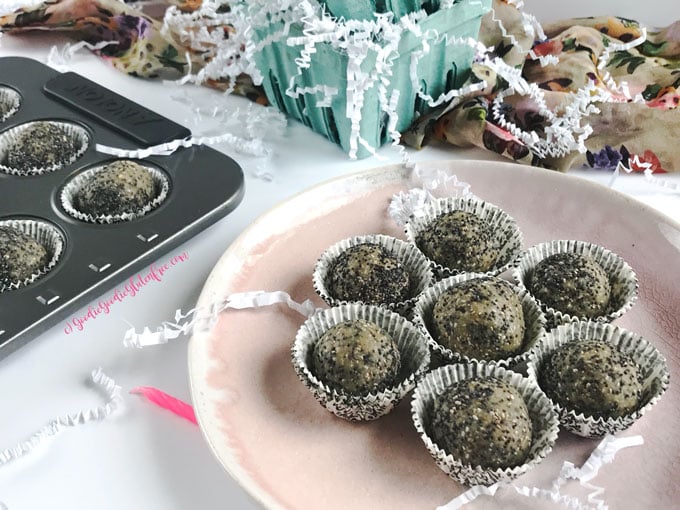 It seemed so natural to have lemon zest inside my bliss balls.  It seemed like perfection.  Like this was the missing ingredient, and I have to tell you?  It totally was.
Lemon zest complimented my ingredients of sunflower seeds, coconut and honey-like they were never meant to be apart.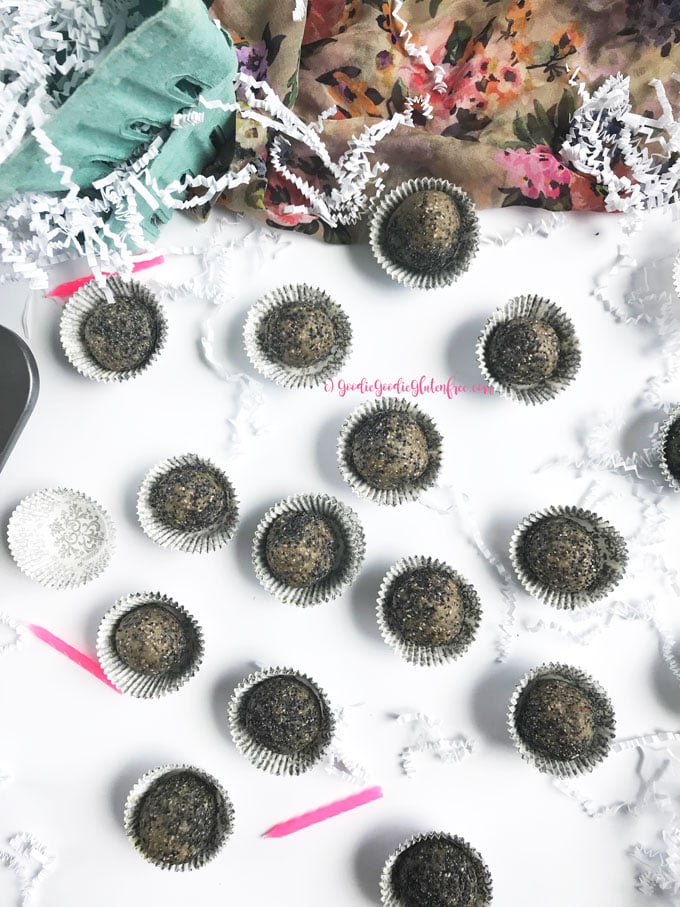 This blend was magical!  I also used gluten-free oats, chia seeds, and poppy seeds.
This magical blend is the best combination on the planet!  It not only tastes like a dream, the consistency feels like one too.  Every bite is a delicious experience.  Who knew lemon poppy coconut bliss balls would ever become a favorite staple!?!?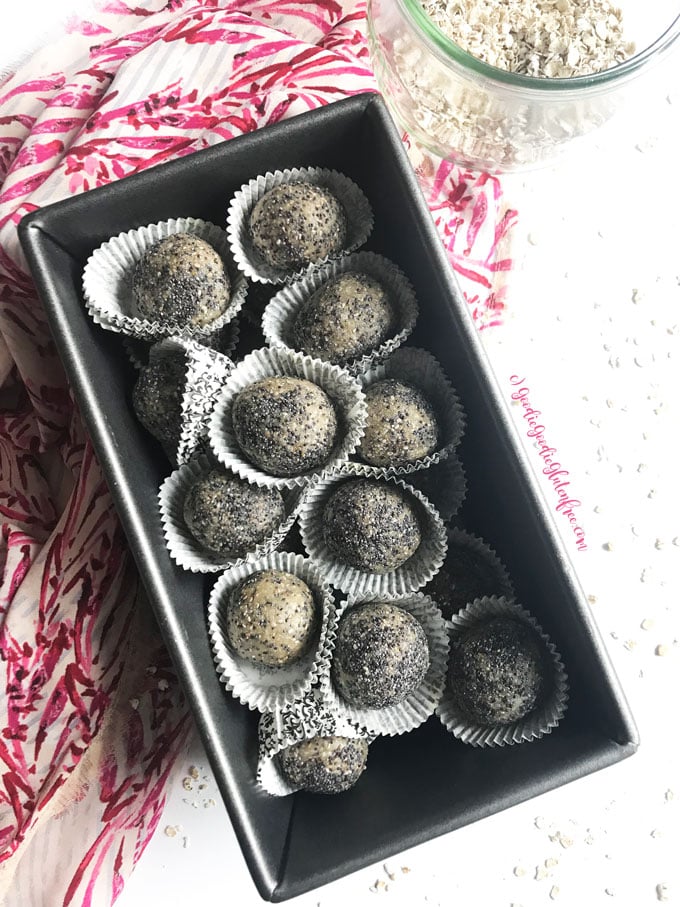 I have never ground up sunflower seeds to use as a flour before and I was delighted to learn it acts like the almond meal for a nut-free substitute.
This batch of Bliss Balls is just a ball of sunshine in each bite!!
And an extra bonus?  Poppy seeds have a natural "relax" component to the seed, the same way dark cherries have natural melatonin inside them as a nutritional benefit and can make you sleepy.  I love this dessert even MORE because of that factor!  I feel so chill when I eat them.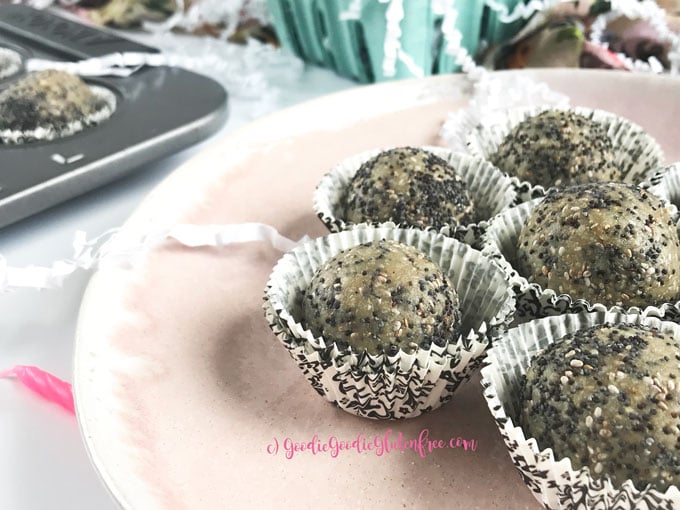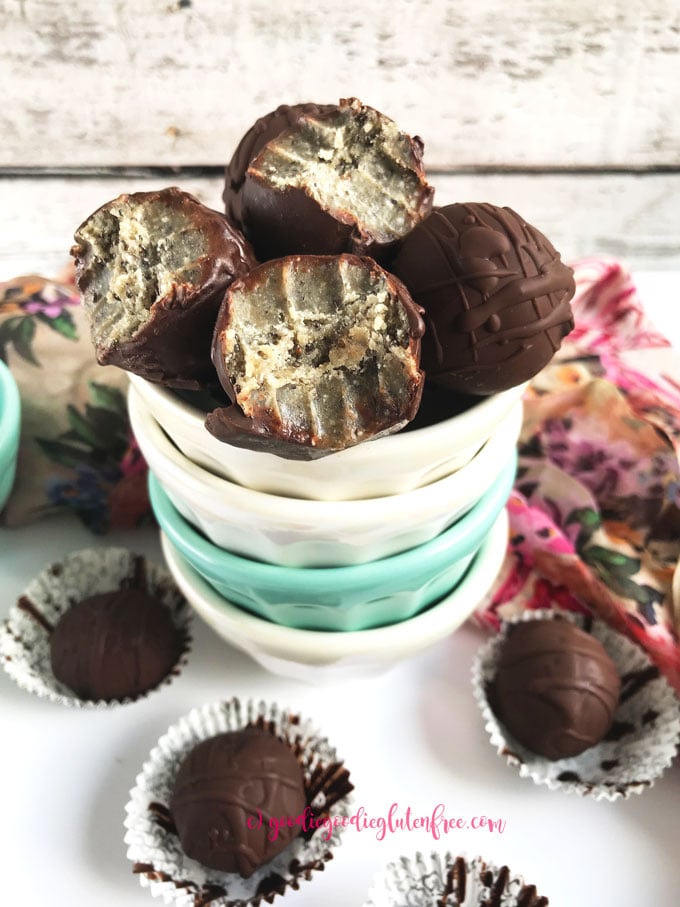 I'm so excited to finally share this recipe because these are SO good!
Welcome to lemon poppy chocolate goodness!
I hope you are prepared to devour the whole batch you make in less than three days.
Ready to make beautiful music together?
Print Recipe
Lemon Poppy Bliss Balls
Easy Lemon Poppy Bliss Balls with the dreamiest sweet lemon taste that you won't be able to resist!  One of the best treats that can be made for breakfast, snack or dessert guilt-free. Gluten-free, dairy-free, refined sugar-free too!
Ingredients
1

cup

unsweetened coconut shreds

packed

3/4

cup

sunflower seeds

raw

2

tbsp

gluten-free oats

certified gluten-free

1 1/2

tsp

fresh lemon zest

organic, use a grater

3/4

tbsp

poppy seeds

1

tbsp

chia seeds

3

tbsp

honey

or maple syrup for vegans

1-2

tbsp

water

spring
Chocolate Sauce
1/2

cup

dark chocolate morsels

1

tbsp

coconut oil

packed, solid
Instructions
Blast sunflower seeds on high in a food processor for 3-4 minutes, occasionally scraping sides and bottom with a spatula or spoon.  You'll want to process these until you get a cookie consistency.

Then add all the other ingredients except the water and blast on high for an additional 2-3 minutes.  Set your timer.

In the meantime prepare to make the chocolate sauce if you want to make your bliss balls chocolate covered.  For the chocolate sauce microwave chocolate chips and coconut oil in a microwavable bowl on 20-second intervals until melted.  Max 1 minute. Mix well in between each interval.  Set aside.

Then add the water to the food processor 1 tablespoon at a time (max 2) until your mixture forms into a ball or is sticky enough to roll into balls.

Prepare a cupcake tin with liners.

Form 12 balls from the mixture.  Roll in poppy seeds and freeze, OR don't roll in poppy seeds and just cover in melted chocolate.

Stores well in the freezer. Keep in the freezer for up to 6 months.
Notes
When rolling the dough your hands will be sticky.  Rinse your hands with warm water in between each roll, it makes the bliss ball smoother.
You can also roll your bliss balls in grated coconut shreds, or chia seeds.
All time frames will differ depending on the power of your food processor.  Plan accordingly.
Gluten-Free oats I used are Bob's Red Mill
I also love to use these poppy seeds that are organic 
I grate my organic lemons myself using this handy cheese grater
TIPS: