This oatmeal recipe is so easy to make, homestyle and comforting, creamy and thick.  Gluten-free, dairy-free, nut-free and vegan with a yummy chocolate center.  Your perfect breakfast has arrived.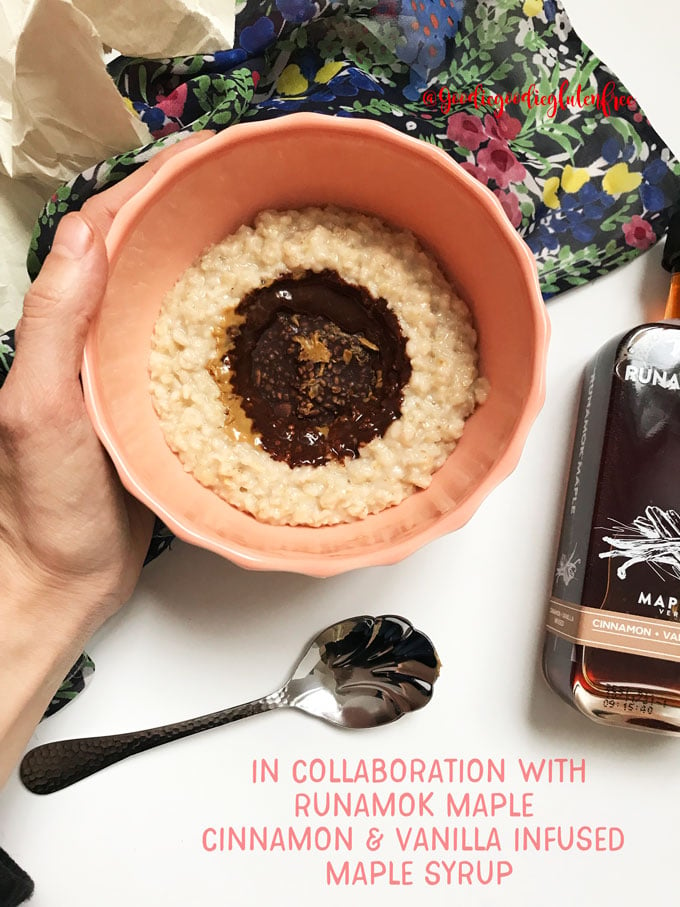 As Celiac oatmeal was pretty much off-limits for most of my life.
And when I was undiagnosed, oatmeal constantly gave me tummy aches along with carbs and pastries, and even pancakes because of wheat, rye, barley, Spelt, or it was contaminated.  Oats are considered not gluten-free unless labeled because of the way they are processed and contaminated in the fields.
However, some Celiac disease patients can easily digest gluten-free oatmeal, and I realized after cleaning out my diet for the last few years and eliminating so many foods and chemicals on top of gluten, I was able to bring back gluten-free oats on the occasion.  Enter my Simple Gluten-Free Cinnamon-Infused Oatmeal.
This makes me all jazzed up because I find that gluten-free oatmeal is one of the easiest and heartiest breakfasts to make, especially when you are in a hurry.  Especially mine because the base is only 3 ingredients.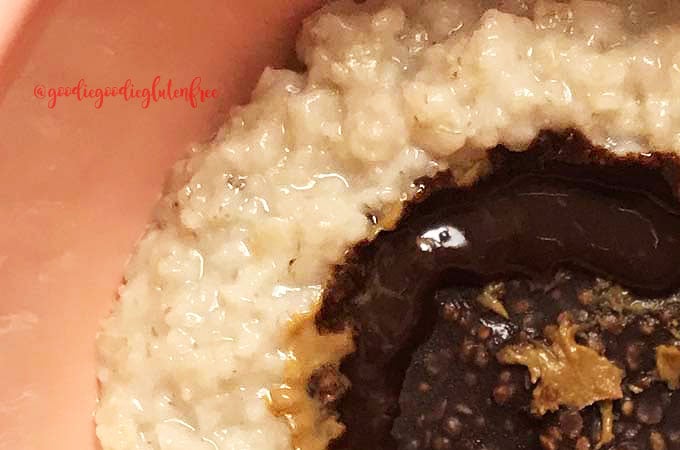 I'll thank Runamok Maple Syrup for that one.  I used their Infused Maple syrups and boom, serious magic in the flavor!  If you like sweet, you'll love this maple syrup.  It's infused with organic vanilla and cinnamon packing a sweet punch to this breakfast.  I didn't even have to add additional cinnamon.  It wasn't needed and it tasted like comfort.
Until that point, I didn't even realize I would like the consistency of rice pudding, but I proved myself wrong when I tasted it.  I definitely like a rice pudding consistency.  It's decadent and delish!
Now you cannot make it alone, because it will not fill you up.  You must add tons of superfoods, nuts, seeds, fruit, and healthy fun stuff to make it a super breakfast.  One that will last in nourishment and fullness.  One that will fuel you.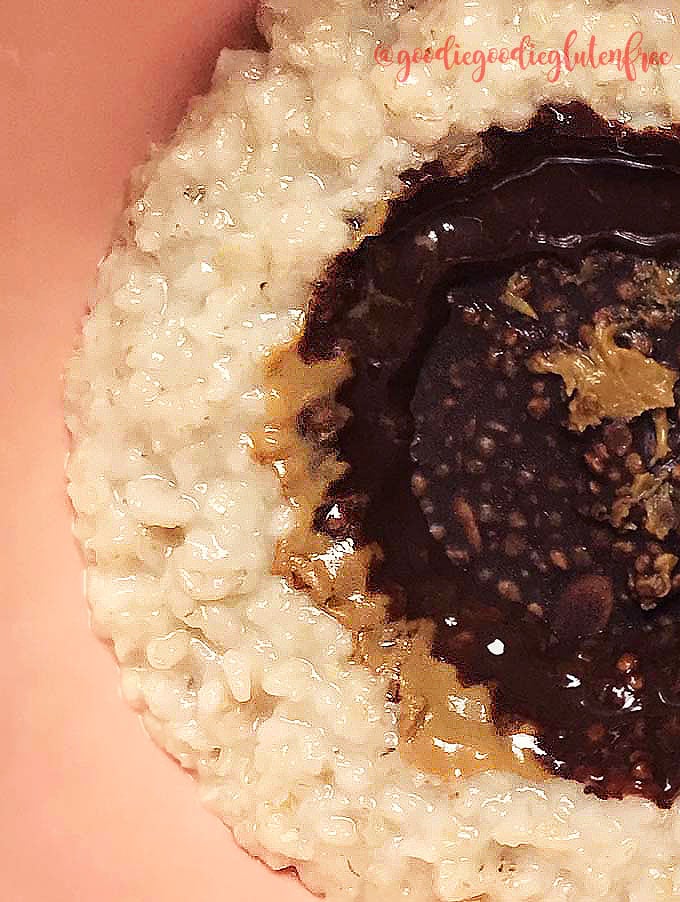 And that chocolate cup in the middle will blow your mind.  It's my OMG Everything Caramel Crunch Cups recipe and they are so divine, you only need one placed smack dab in the middle of your gluten-free oats breakfast and boom.
Watch it melt.
All the superfoods pour out, devoured in dark chocolate.  All you need is that spoon.  Just one mix, and it's a swirl of heaven, plus it's so hearty you'll be set for the entire morning.
But first things first.  The base.
And this gluten-free oatmeal breakfast base is creamy and dreamy, sans dairy, and fully plant-fueled.
Don't follow any box for this one, use my ingredients and my directions to get it like healthy rice pudding.  It's a comfort at a whole other level that won't leave you feeling heavy and tired.
Pretty impressive, I know.  The consistency is ridiculously perfect.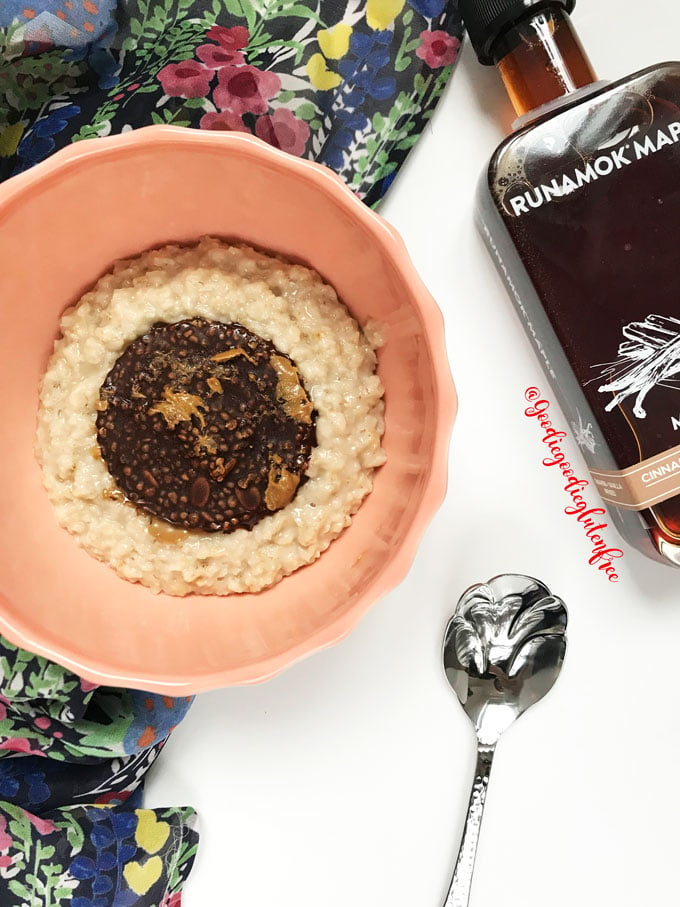 Ready to make beautiful music together?
What is your experience with gluten-free oats?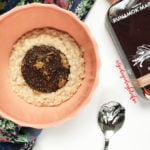 Print Recipe
Simple Gluten-Free Cinnamon Infused Oatmeal
Oats are considered not gluten-free unless labeled because of the way they are processed and contaminated in the fields, so you must always buy gluten-free certified oats. Then you can enjoy this gluten-free, dairy-free, refined sugar-free deliciousness.
Ingredients
3/4

cup

coconut milk

unsweetened

1/3

cup

quick-cooking oats

certified gluten-free

1

tbsp

maple syrup

1

pinch

sea salt or pink salt
Instructions
In a microwaveable bowl add plant-based milk and oats.  Mix once with a fork.

Heat in microwave for 1 1/2 minutes exactly

Remove from microwave, add maple syrup and stir. Then let it cool for 2 minutes to thicken.

Add your superfoods of choice like hemp seeds, flax seeds, chia seeds, and more, or one of my OMG Everything Cups. Mix and enjoy! Or save the chocolate for last. If you don't want to make my OMG Everything Cups use whatever chocolate cup you want.
Notes
So Delicious Coconut Milk is the best, that's the green carton at the market.  The green carton is unsweetened. // For gluten-free oats, I like Nutsdotcom, Purity Protocol and Bob's Red Mill // For a sugar-free version only use 2 teaspoons of maple syrup – that's how I love it! // Please note that Runamok Maple is not a gluten-free company.  They use a shared facility, and yes those lines are clean in between as they take it very seriously.  The infused collection is gluten-free and I highly recommend the one I used for this recipe.  It's fun having different maple syrups from Vermont to try. // Add THIS to the middle of your oats for a superfood boost! // 
Enjoy!