Sunbutter Chocolate Crunch Slice - 2 layers of yum!  Creamy Sunbutter plus a quinoa crunch, and decadent chocolate make this slice the most luscious slice of heaven.  No leftovers will be left in case you are curious.  Made with quinoa, sunflower seeds, coconut oil, cacao, and honey.  Minimal unprocessed ingredients and no refined sugars!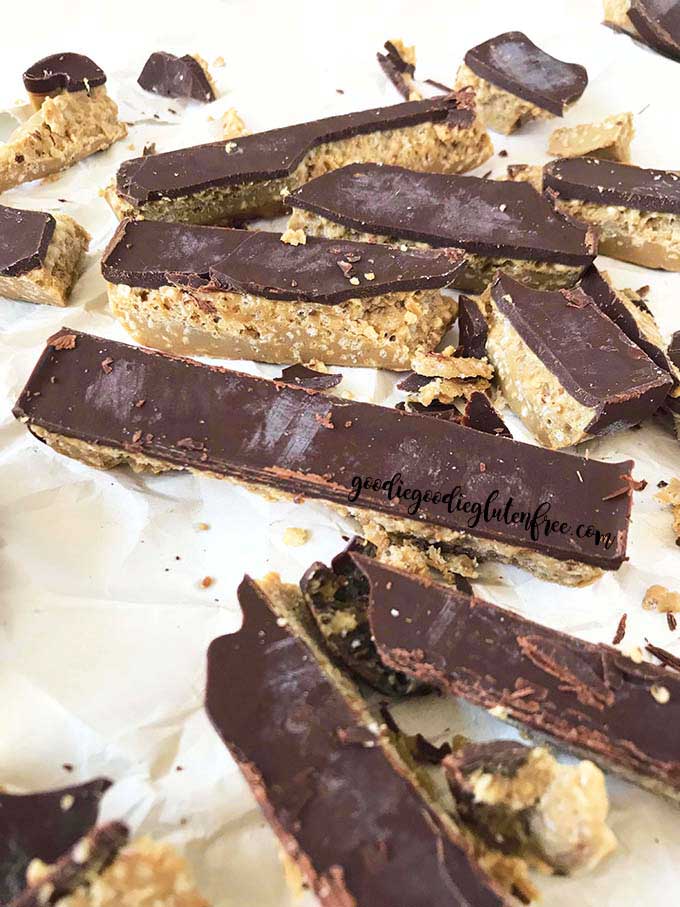 Creamy, decadent, and divine.  This Sunbutter Chocolate Crunch Slice is insanely delicious, a dessertaholics dream!
SUNBUTTER CHOCOLATE CRUNCH SLICE'S HEALTHY INGREDIENT
The secret healthy ingredient? Quinoa! - Say what?
There are many types of foods that can be used as a crunch in chocolate like rice, nuts, seeds, and grains, but none of them compare to quinoa.  Quinoa is a pseudo-grain that is paleo-friendly and a complete protein.  This means that all the protein you need you can get through this one seed slash grain.  Paired with creamy Sunbutter, and fine dark chocolate is a dessert experience you must embark on.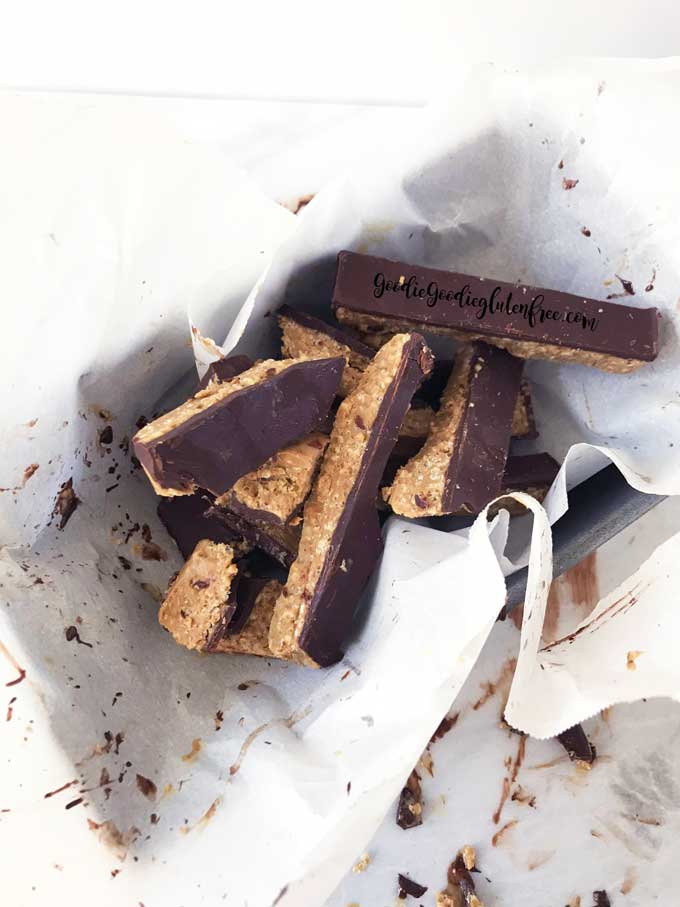 One night a friend of mine and I devoured the whole pan in one sitting!  We didn't even wait for the dessert to freeze, we just ate it with a spoon and I remember oodles of compliments.  It's just THAT good.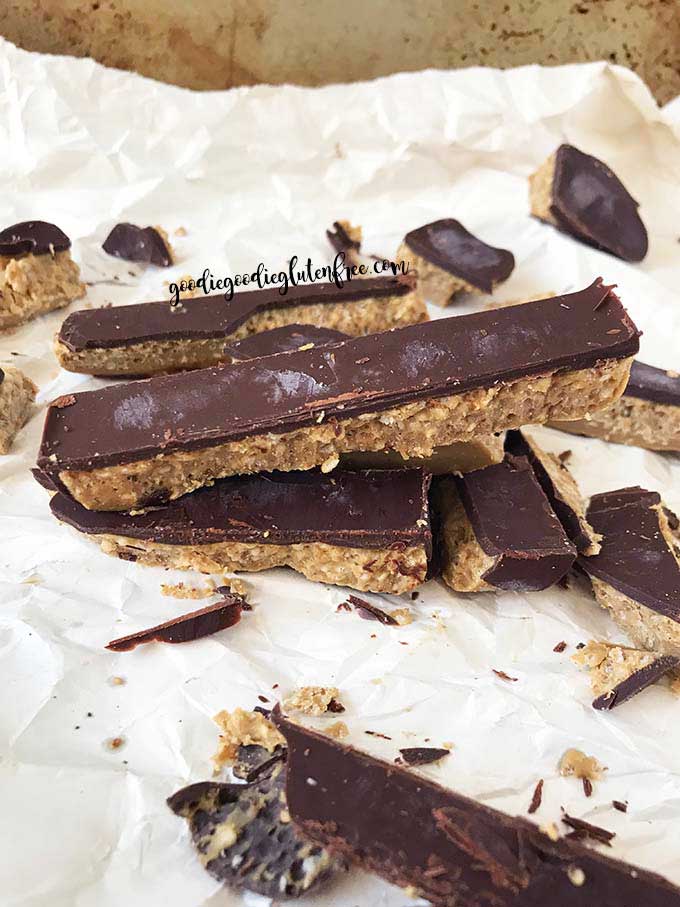 HOW TO STORE YOUR STORE YOUR SUNBUTTER CRUNCH SLICES
Cut the loaf into slices
Store them in the freezer either slice by slice
Or put the whole batch sliced with the pan into the freezer and take slices out as needed
Enjoy daily frozen or slightly defrosted
I adore quinoa puffs in chocolate desserts because of their superior crunch, plus if you cannot have rice or other grains, quinoa can save the day for the crunch factor.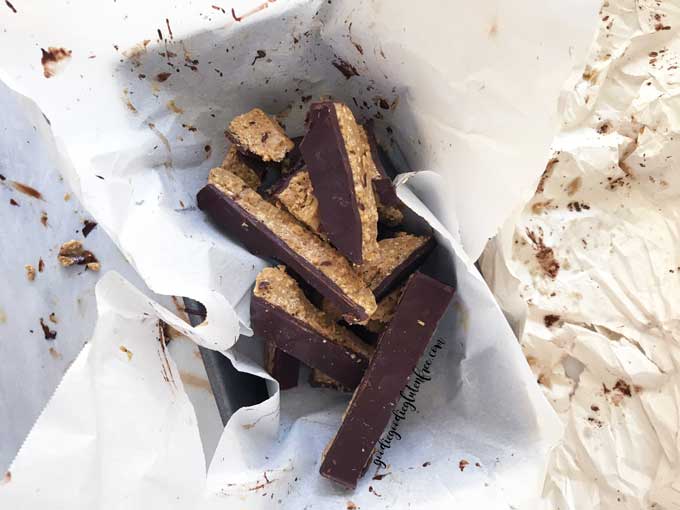 SUNBUTTER CRUNCH SLICE BENEFITS
Sunbutter has a high amount of healthy fats and protein, which will keep you satiated and full
Honey in its raw form has medicinal anti-bacterial benefits
Quinoa is a complete protein that no other plant grain/seed has.
Dark chocolate sweetened with stevia to keep the sugar down in a healthier way, or the use of coconut sugar in chocolate brings down the sugar level drastically.
The darker your chocolate the less sugar it has.  The darker it is the more cacao content is still intact in the chocolate which means more magnesium, iron, and minerals for you.
Coconut butter and Coconut oil are high in healthy fats, lowers cholesterol, and serves you up a dose of anti-bacterial properties.
Plus coconut helps with sugar cravings and actually lowers them.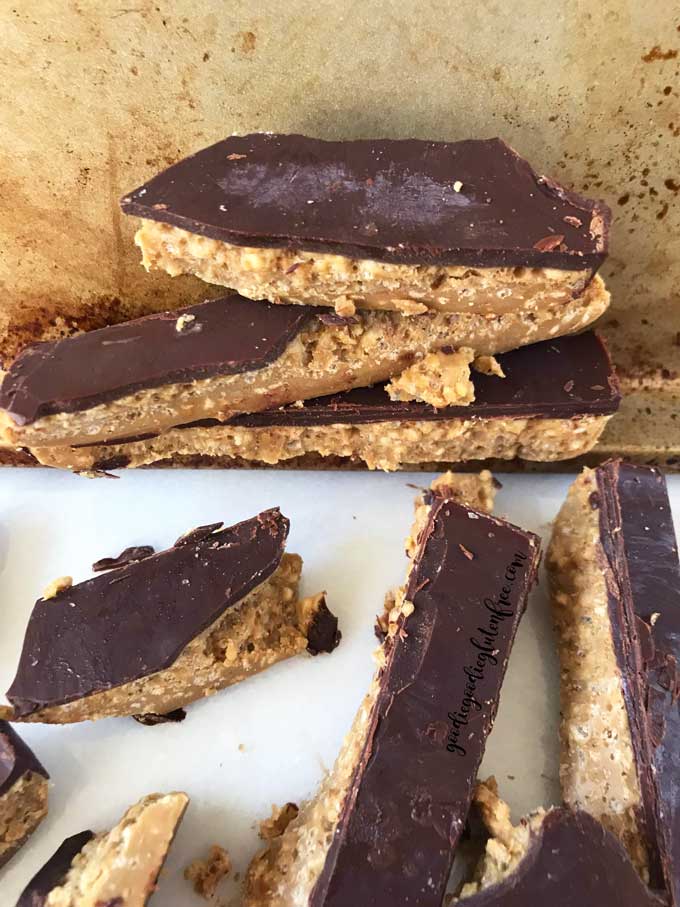 IF YOU LIKE THIS RECIPE, YOU'LL LOVE THESE TOO!

READY TO GATHER YOUR INGREDIENTS?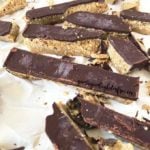 Print Recipe
Sunbutter Chocolate Crunch Slice
2-layer yum!  Creamy Sunbutter plus a quinoa crunch, and decadent chocolate make this slice the most decadent slice of heaven.  This slice is so good there will be no leftovers, trust me!  Gluten-free, Dairy-free and no refined sugar and utterly delish.  Your friends will never know this dessert is diet-friendly.
Ingredients
Bottom Cookie Layer
¼

cup

creamy sunflower seed butter

I use Sunbutter, unsalted, unsweetened

1 ¾

tablespoon

coconut oil

¼

teaspoon

coconut butter

5

tablespoon

quinoa crunchies/puffs

nuts.com

¼

teaspoon

honey

organic

¼

teaspoon

pink Himalayan salt or sea salt
Top Chocolate Layer
⅓

cup

dark chocolate chips

sugar-free, dairy-free, gluten-free

2

teaspoon

coconut oil
Instructions
Cookie Layer
In a medium-size microwaveable-safe bowl combine the sunflower seed butter, coconut oil, coconut butter and melt for 15 seconds.  Mix well.

Add in the honey and quinoa crunchies.  Blend together till well mixed.

Prepare a medium-size bread pan with parchment paper.  No spray.  Add the mixture to the pan and tap the pan on the counter to spread the mixture evenly in the pan. Use a spatula if needed.

Sprinkle the sea salt on top. Then freeze for 2 hours.
Chocolate Top Layer
In a microwaveable safe bowl add the chocolate and the coconut oil and melt for 30 seconds or more mixing at 15-minute intervals.  Once melted pour melted chocolate mixture on top of the crunch layer.  Tap the pan on the counter to spread mixture evenly.  Then freeze again for 4-6 hours or overnight. This chocolate layer should be thin.

Once frozen, lift the sides of the parchment paper up to lift the dessert out of the baking pan.  Place chocolate side on the cutting board, sunflower seed crunch slice up and facing you.

With a sharp knife firmly cut thin slices about ¼ inch wide.  Then store them in the freezer, sliced for up to 2 months or longer.

Enjoy directly out of the freezer, and keep frozen until ready to serve.
Notes
I use the Sunbutter brand because it's completely gluten-free and made in a nut-free facility. // For the chocolate, I used Lilly's – Stevia sweetened chocolate that is gluten-free and vegan.  // I got my Quinoa Puffs at Nuts dot com. // If you don't have a bread pan, you can use a small brownie or cake pan.  Just know that this dessert may be too small to fit in those.  If that happens, totally ok!  Mold the bottom layer into a shape inside the pan.  That will work totally fine.
Health and love,