Soul Talk: Self-Care: 9 Types of Rest! I've been reminded just how much anxiety comes with the Fall season when living gluten-free, celiac, gluten-intolerant, with chronic illness or a health condition and needing to be allergy-free and gluten-free for life.  And I wish we all kept our Summer vibe attitude with us during the Fall and the Winter.  In Manhattan, the fastest city on the planet, rest is considered a luxury and not a necessity.  Here to remind you that REST is the ultimate SELF-CARE.  And SELF-CARE is VITAL so you can handle your free-from lifestyle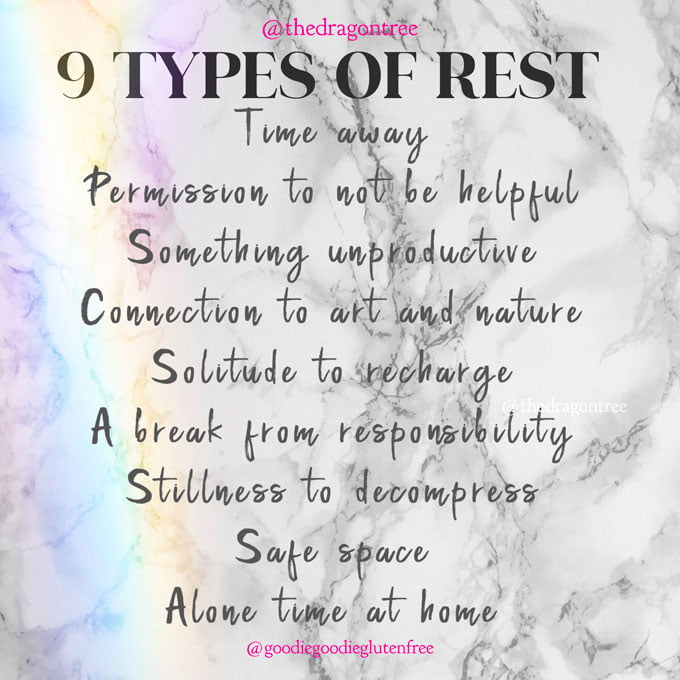 If you know the holidays are going to be hard for you I advise you to prepare yourself ahead of time so that you can float through the Fall season as effortless as possible, with incredible ease, with your conditions.  To feel that peaceful one must do more than a diet.  It's also a mindset, a spiritual experience, a mental experience, and a physical experience.
One must add in rest and self-care tools to help themselves along the journey.  These self-care tools, and rest tools will help you feel more balanced and present while going through these experiences, which will help you respond differently, see differently, feel it differently, and more importantly react differently.
*
Do you allow yourself to rest or are you caught up in the chaos?
Do you allow yourself to rest or do you stay creatively stuck and paralyzed?
There is so much gratitude and abundance in recognizing where you are in your healing is exactly where you need to be.  And with that said you are being reminded by the Universe that you need to rest or rest more.  How are you showing up for your self-care?  Because the diet isn't going to be enough.
Self-Care and rest aren't all massages, green juices, smoothies, cucumber juice, cucumber slices on your eyes, charcoal mask or even JUST the gluten-free diet.  Deep self-care and rest is something that every single one of us needs to be doing WEEKLY, and DAILY, and not monthly.
No one can pour from an empty cup.  And too many of us are.  This can change for you.
Rest is not only necessary but a spiritual experience!  Take the time to rest with these 9 AWESOME TIPS for YOUR PEACEFUL LIFE!
You don't have to sit on a meditation pillow unless you choose.  You don't have to be a yoga queen to take care of yourself.  You don't have to do everything that everyone is doing.  All you have to do is take the time to self-care and take the time to rest.  And that's why I love this quote from thedragontree on Instagram.
9 TYPES OF REST - BEST SELF-CARE EVER!
Time away
Permission to not be helpful
Something unproductive
Connection to art and nature
Solitude to recharge
A break from responsibility
Stillness to decompress
Safe space
Alone time at home
It's not all about diet.  We also need to calm our bodies down and keep calm.  Haven't you ever heard that phrase before?  There are reasons for that.  ; )  Light is The New Black is one of my favorite books for feeling this way!!!  Rebecca Campbell really gets you feeling good and in that high vibe place.  And when you are in that high vibe place rather than that low vibe place you are used to, you can manifest magic, ideas, clarity, solutions, and more.  Grab the link here for the Light is The New Black book which is, by the way, the best book everrrrr!
Sending you loving vibes today!