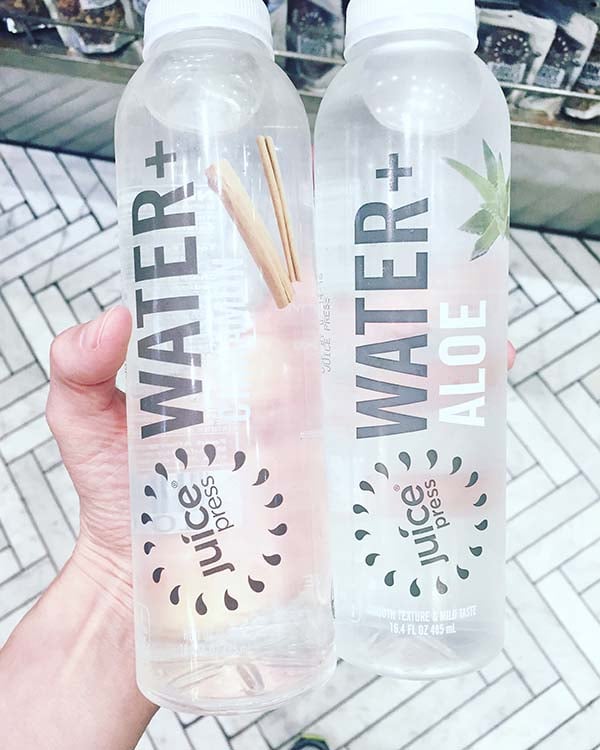 If you haven't had aloe infused water or cinnamon infused water you are missing out!  Lately I have been loving these infused waters.  Lately I have been loving aloe vera gel!
It's all about the hydration factor and the idea of decreasing inflammation while keeping the body more alkaline.  Call it self-care, but really I will always love an infused water that only has fresh organic ingredients, no yucky additives and no frumpy deconstructed fruit or veggie pulp at the bottom.  And I will always love a shot of Aloe Gel knowing that this magical plant can help heal my stomach when it's in discomfort.
Infused Aloe & Cinnamon Water:
As for the infused water, I drink it because I like the taste.  Think of these waters as an upgrade to Spa Water (Cucumber water), minus the muddiness in the water when the cucumbers loose their structure and die at the bottom leaving you with undrinkable mud.  I don't know about you but I was never a fan of Spa water.
Unlike actual Aloe Gel/Juice which is quite bitter, Aloe infused water is light and refreshing with a tiny essence of bitterness.  I happen to like the bitterness because that tells me that there is actual aloe in the water.  If you are the kind of person who likes a flavored water, these may be your jam.  I'm not one to add anything to water, but it's nice to fancy up water on the occasion.  Why not, right? These are also a much better option then drinking flavored waters with chemicals!
Stumbling upon cinnamon water was a total fluke when I went to Juice Press one day seeking water on the hottest day in Manhattan.  At first I saw Aloe Water and was super excited, but then I saw cinnamon water and my interest was peaked.
I think it's kinda fun to be able to experiment with new foods/drinks especially when you are tackling so many food sensitivities.  It makes a naturally flavored water exciting!  And that's exactly how I felt.  It was something new, something healthy and something hydrating.  The lady at the counter said you could barely taste the cinnamon, but I have to admit she was totally wrong.  You can really taste it.  It's actually the perfect amount.  I wouldn't want any less or any more, and over ice it's a total gem.  It was the perfect hydrating water on a hot Summer's day.  And I don't think prior to trying this drink would I ever have said that.  Prior to this drink I thought cinnamon was for baking, smoothies and oatmeal.
Did you know that the cinnamon spice is also anti-inflammatory?  Cinnamon is known to help beat sugar cravings, lower cholesterol, has anti-fungal, anti-bacterial and anti-viral properties that can decrease the ability for sickness, and it also helps with congestion.  Cinnamon is also known in most cases to be a chronic inflammation fighter for the body (but not for Rosacea suffers).
But I do not drink these water in hopes they will heal a medical condition.  These waters at most hydrate the body and provide a small bump of anti-inflammatory properties. Plus they remain crisp no matter how long it takes for you to drink them.
Aloe Gel:
What I love about Aloe is that the fillet (that's the gel inside the plant leaves) is SO healing for the body.  Drinking 2 tablespoons of the gel 3 times a day, usually before meals will help the stomach drastically since Aloe coats the esophagus, helps with indigestion, soothes the tummy and helps with reflux.
It also helps the skin when applied topically by healing or reducing the effects of sunburn, burns, cuts, abrasions, acne and inflammation.  All in all, Aloe is a magical plant.
The reason Aloe helps with your insides is because it alkalizes the entire body and calms it down. When the body is too acidic, it allows infection to creep in.  You never want your body to be too acidic or even too alkaline.  You want that balance.  Aloe helps manage that balance.
Aloe is a great natural aid to use long term as preventative care or to help manage an existing stomach condition. For me the main purpose of using Aloe Gel is for reflux, and stomach related discomfort like nausea or indigestion.  It works like a charm for mild to moderate cases. **But never ween off of a prescription medication and swap it for aloe to heal reflux without a doctor's consent.  I use Aloe gel to complement my reflux medication, not as a replacement.
It's really easy to get aloe shots and aloe infused waters.  My favorite place for aloe water is Juice Press and Gingersnap Organics.  My favorite place for Aloe shots is Juice Generation.  And the only place I know that sells Cinnamon Water is Juice Press.  So whenever I hit up a juice spot and see these waters or shots I am all about them!  Juice Press actually has a line of these infused waters including rose water + water, Ginger water and vitamin C water.  You can also buy aloe juice and gel in health markets.
My favorite brand of Aloe Gel is Lily of The Desert.  I personally like the Inner Fillet gel version with the least amount of added ingredients.  The gel is what creates a coating in your esophagus that heals or aids in the healing of reflux.  Lily of The Desert is certified organic.  If you have a mold allergy, I would advise getting an organic version that uses a mold inhibitor.
What's The Difference Between The Two?
The different between a shot and the water is that the shot is pure aloe.  Pure aloe is extremely bitter.  A shot is a small amount with a powerful impact that actually can help heal stomach related discomfort on the spot or used as a regular long term basis aid.  Where as the infused water is exactly how it sounds.  It's Aloe or the herb/spice mixed with filtered water.  In the infused version they use a lot of filtered water and a small amount of the herb/spice leaving you with a refreshing light taste.  It tastes good, it's light and refreshing but as far as the healing properties go the most it does is it helps alkalize the body with a smaller impact then that of the gel and helps keep you hydrated.
So are you guys ready to try this stuff or what?  Reading for some hydrating, anti-inflammatory healing action?
Love & Plants,