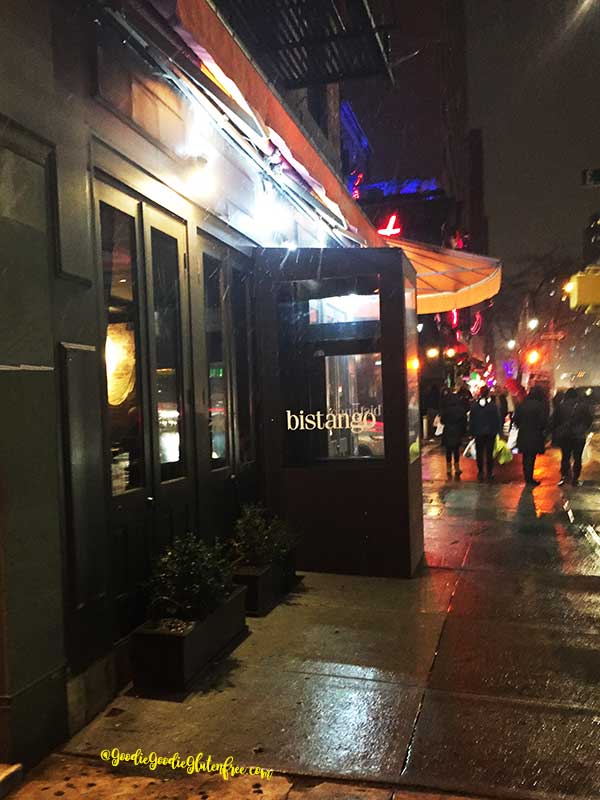 When was the last time you sat at a restaurant, mentioned gluten-free, Celiac Disease plus other food allergies and like the glass slipper that fit Cinderella, you felt like you were eating at a restaurant that was a perfect fit?  This is something I value most these days, because it makes a huge difference.  This NYC Gluten-Free restaurant makes me feel normal and safe when dining as a Celiac!  Bistango located on 29th Street has closed, but luckily Bistango at Kimberly Hotel is still a Manhattan staple.  And I think it's about time that I wrote about it, so that you too can enjoy safe Celiac dining too!
So when I was approached by Bistango to do a review on their restaurant, my words were "OMG YES!  I should be doing a review, and why haven't I done a review sooner?"! Literally why not?  See above paragraph.  I really should have a long time ago, because this is a place I frequent more then often.  A place I call and literally know the owners name when I order, and the owner knows me!  The truth is, is that since early 2014, when dining out I dumb down any meal option to fit all of my food sensitivities, leaving the plate looking very plain, and plain pics don't do a review justice, ya know?  But, Bistango does it differently because they are so used to accommodating their customers.
Even with my garlic, lemon, nuts, dairy, soy, yeast, egg, spinach, kale sensitivities plus about 30 others -  Bistango has ALWAYS taken care of me and creates custom dishes to satisfy my needs.  They really go above and beyond, which in this world of allergies and Celiac Disease is EVERYTHING!  What restaurant do you know that will literally recreate the wheel for you?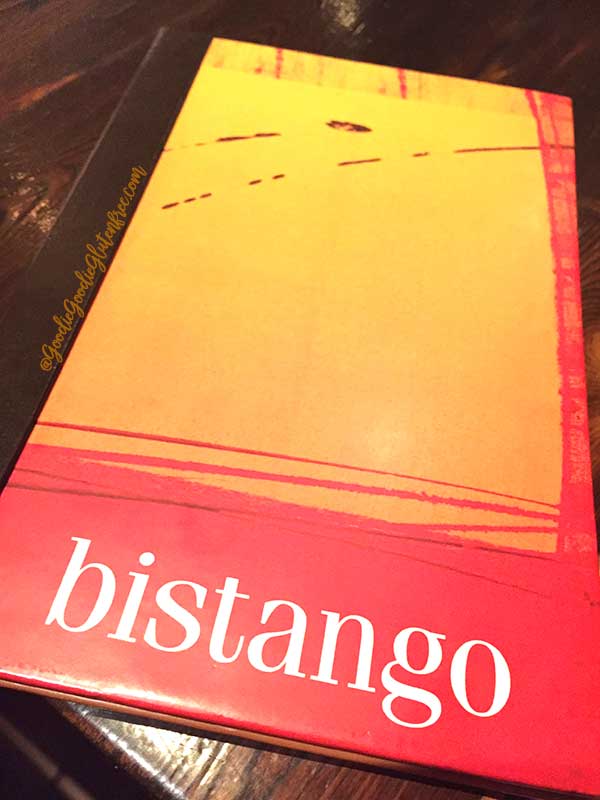 I get a lot of emails from my tribe asking what the best gluten free spots are in New York City especially if my peeps are visiting from far away places or going out on dates!  And my top choice is always Bistango.  So writing a review of this amazing, everyone knows your name neighborhood swanky gluten-free Italian restaurant would really BENEFIT the masses!  At least I think so.
I realized that my reviews could help you guys feel normal and eat safe.
As we all know getting glutened is THE WORST experience EVER!  You're either throwing up for hours, nauseas to the point that it feels like you are on an upside-down rollercoaster, shitting through your pants or it's coming out in other ways like through your skin.  It's pretty damn bad!  And that's just the effects on the outside of your body, let's not go to that place where you have the potential to strip your gut lining, create malabsorption, nutrient deficiencies that deplete your body and at worst case scenario can develop full blow stomach cancer.  So my point is, as I ramble here, is having a few amazing favorite gluten-free spots up your sleeve is a good stash to have.
Lucky for me Bistango is in my hood.  Praise the Lord! Seriously!  That's the Universe looking out for me by providing a Celiac Safe restaurant within walking distance! You'll never get glutened here.  They have been doing gluten-free for decades and it's all because of one lady who once lived in Manhattan in the early '80s, walked into Bistango and said "I have Celiac Disease, can you help me eat here". This lady is the reason that Bistango is gluten-free today.  She taught and inspired this restaurant to become Celiac safe.  Isn't that wild?
The staff at Bistango truly wants you to feel safe, and maybe I used this word a bit much throughout this post, but seriously, Celiac's need to feel safe when dining out, so pardon me if I overused this word.  It is intentional.  Even when you phone in for a delivery order, their first question is, do you have any allergies?  Are you gluten-free?  They are so ON IT.  My favorite person at Bistango is the owner, Anthony.  He is seriously the nicest guy ever! He greets you with "how are you feeling today?"  And he will want to get to know you, if you're into that.  He'll even ask you about your diagnosis and if you feel comfortable, chat away!  It's the type of restaurant when you come back for a second time you will be remembered. Even when I call on the phone Anthony recognizes my voice immediately.
They do an amazing job on all my deliveries and if this restaurant staff can remember my zillion food sensitivities over the phone and deliver the food correctly, then you know you have found a gem!  And this is why I have been eating at Bistango since my Celiac diagnosis in 2006.  There is literally no anxiety eating here, ordering take-out, or even asking questions.  Like I said...They get it!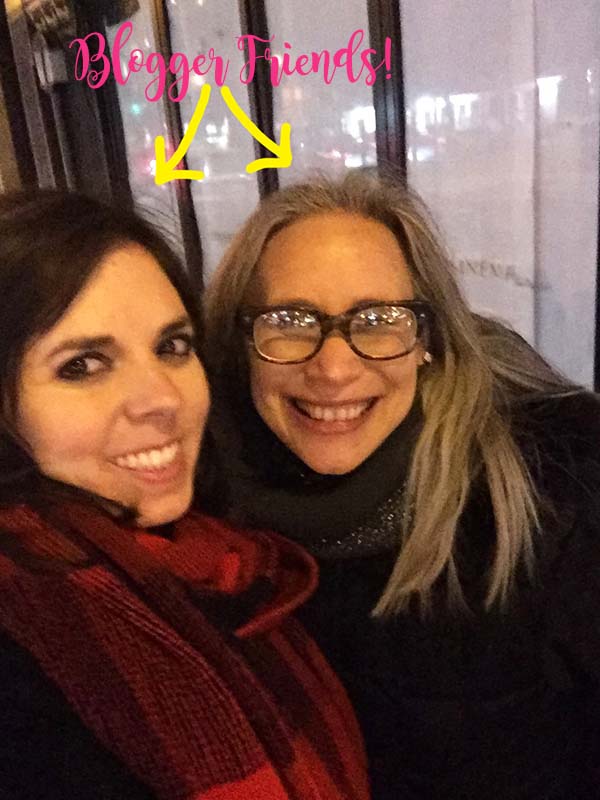 I had the best time eating at Bistango recently with my gluten-free friend Jessica who founded the blog Tasty Meditation - Tales From A Gluten-Free Kitchen.  I can actually say that evening was a night to remember, a highlight of 2016 and the first Manhattan snowfall, so it was kinda epic.  It was such a positive experience, and guess what?!  I was super excited that Anthony was there!  It was like seeing a bestie from college that I hadn't seen in a while (and that's because I order in a lot).
Now that you know I adore their staff, let's talk gluten-free food, because OMG.
Seriously the best bread ever!  Tastes like Italy, but a gluten-free version.  Hey, even my Gluten loving cousin lives for their bread, so you know it's good!  And if you have a dairy allergy?  No problem, they have a version of this bread sans dairy!  I don't miss bread when I eat Bistango's baguettes.  And I get super excited when they throw an extra two into the bag during delivery time.  I used to save them for the week.  Now since I can't have yeast or eggs I give them to my cousin who happily takes them!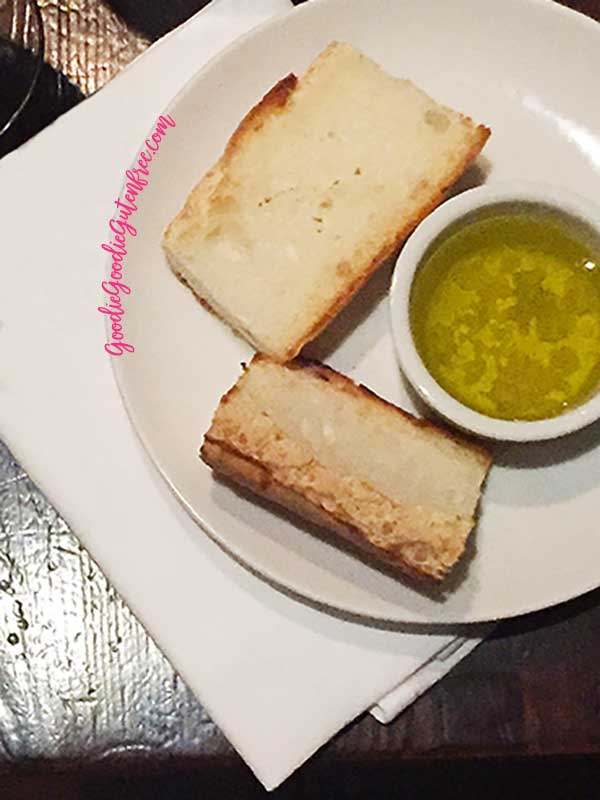 And dessert, because you know I'm a clean treat kinda gal, so you gotta see this first!  The flourless chocolate cake is so decadent, I drool over it.  I used to order this before my sensitivities to nuts.  This used to be my favorite!  Chocolate fans unite!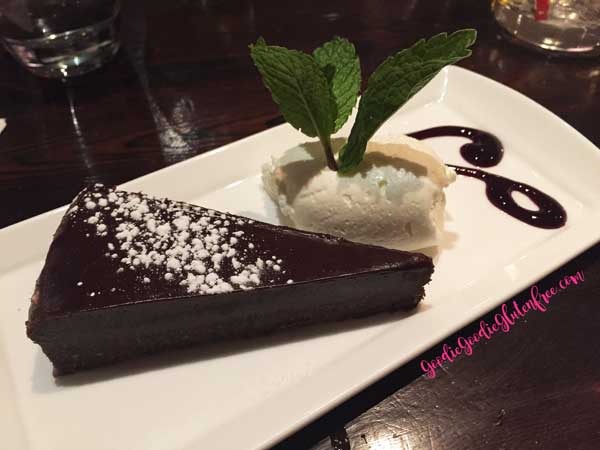 But I had the chocolate sorbet, sans nuts, sans dairy, sans any food sensitivities.  It was divine.  Here's what I like about their sorbets and ice creams (when I used to eat ice creams) - there are no fillers in them, so no gluten.
Isn't this sorbet drool-worthy?  And that basil garnish was spot on!  I'll just tell you I ate the whole bowl.  It's not often I have dessert with refined sugar, so this was a true treat!
Do me a favor, and take a look at this dessert menu.  Because prior to all my sensitivities I pretty much had every single one at some point in time including the carrot cake, and I hate carrot cake!  My cousin, the pickiest eater who is NOT gluten-free will only get her carrot cake from Bistango.  Their desserts are the best! I know when you come here, you will completely agree!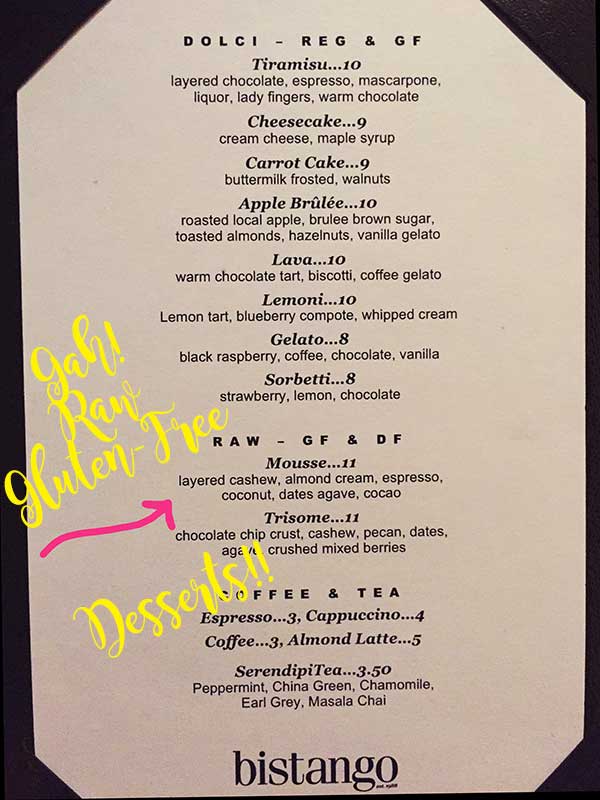 For a Gluten-Free Italian restaurant, this spot has got it all.  If you want healthy, you got it!  If you want wholesome - it's yours!  And if you want decadent goodies that you haven't been able to eat or find that is good since going gluten-free, it's here!  Gluten-Free pizza's, there are quite a few to choose from, 4 different types of Gluten-Free Ravioli's - two of which are dairy-free, lots of gluten-free pasta choices (All Pasta is GMO-FREE.  SOME ARE CORN FREE, WHILE OTHERS ARE RICE FREE), fish dishes, chicken dishes, steak dishes, delish salads, Burrata, appetizers and a ton of fresh veggies.  And their menu is seasonal, so that means new choices when the seasons change.
My past time favs are the Burrata, the Carciofini Alla Romana (which is baby artichokes with parsley, lemon, butter, white wine & Romana cheese) along with the spinach and ricotta cheese ravioli.  Can you tell I used to love dairy?!  It was a love affair.
These days my current favs are the Chianti Chicken with roasted beets and caramelized carrots, but I just nix the carrots and get extra beets!  It's made in a brown sauce that tastes like nutmeg.  The beets are to die for, and it all sits atop of a butternut squash puree.  And of course the grilled salmon and a tri-color salad that they add GF prosciutto on for me because I ask.  Now I love their puree's so much, I usually ask for appetizer portions of the cauliflower puree and the butternut squash puree.  Out of all the amazing things I just listed, Jessica and I went with Grilled Salmon each presented differently ( I know what you're thinking, we are fools for going healthy over all the other amazingness I just spoke about, but we chose cocktails & dessert too, so we went healthier for the entree).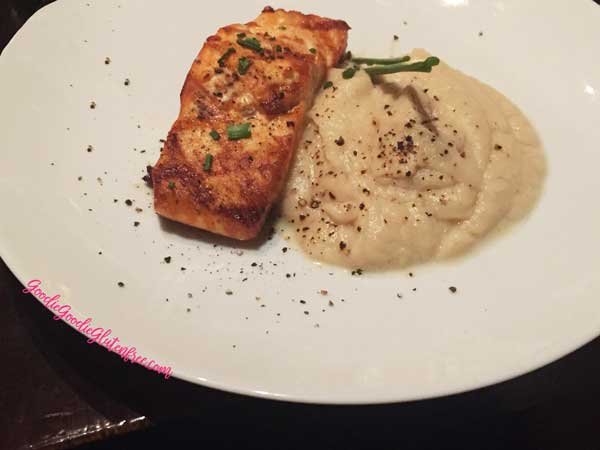 Mine.  Simple. But Delicious. That's the Cauliflower Puree I was speaking of.  Oh, and I like my Salmon super well done!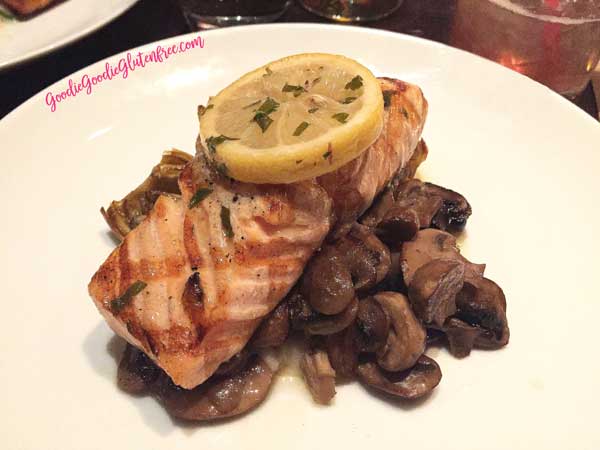 Her's.  Medium rare, with sauteed mushrooms, leeks and artichokes.
YUM!
If you can't find what I have eaten, they can make it for you if the ingredients are in season, as their menu changes seasonally.
Ok let's talk locations.  Bistango has two locations.  Their second location is in the Kimberly Hotel.  And their main hub, original and first location is near me on 415 Third Avenue at East 29th Street.  That's the one that recently closed in 2020 due to the pandemic.  So make sure you go to Bistango at Kimberly hotel!
Love & Bistango NYC,