This creamy and clean superfood chicken salad toast recipe is made with the creamiest dairy-free mayo alternative!  Made with whole and clean ingredients on the best gluten-free sourdough bread of all time!  Tastes like it used to taste before going gluten-free. Superfood ingredients include Indian spice Turmeric, and poppy seeds.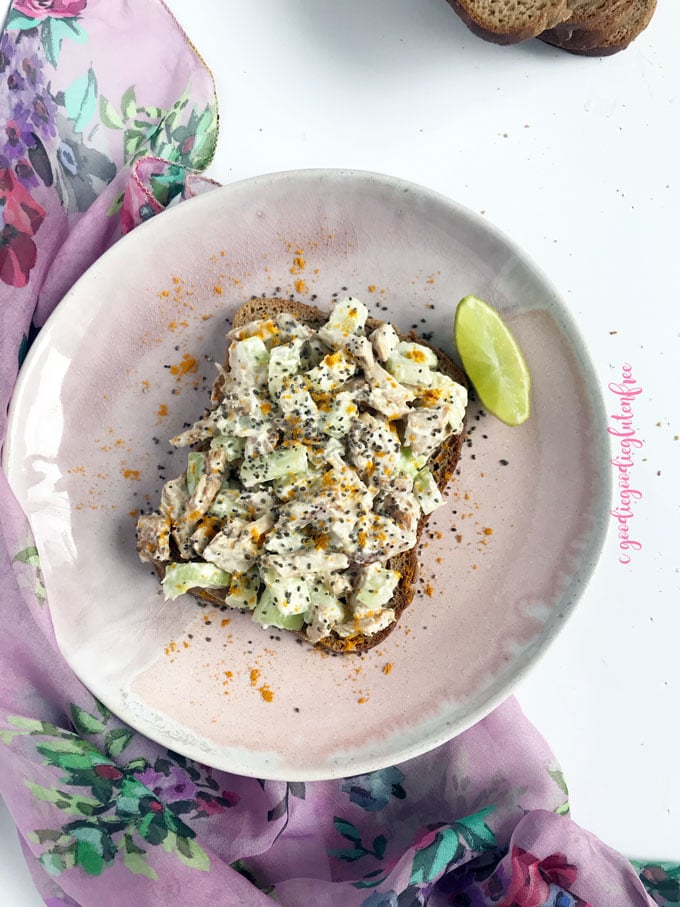 95% of the time I have plenty to prepare in the kitchen.  Almost every single meal prepared by me is made with whole food, good-for-you ingredients that are always stocked in the kitchen.  Except for that one day of the week when I barely have anything left in the house and wonder what to make.  Getting so hungry that I'll eat the wall.  Usually, this day falls right before heading to the supermarket to shop for the week.  Sound familiar?  Does this ever happen to you?  Instead of throwing away your leftovers, use them.  I turned my leftovers into a delightful sandwich that was filling and nutrient dense.  And it was so worth it!  A delicious chicken salad sandwich was born.
WHY YOU'LL LOVE THIS SANDWICH RECIPE IDEA
Made with the best gluten-free sourdough bread
So crunchy from celery
Extra creamy because coconut yogurt instead of mayo was used (loaded with probiotics)
Hearty and nutrient-dense
Full of flavor!
HOW TO MAKE A MEAL WITHOUT A RECIPE
Head to your refrigerator and pull out any leftovers.  Leftovers include take-out and homemade leftovers.
Then open your drawers and see what vegetables, and fruit you have left over.  Don't forget to check your spice rack and condiment section.
Lastly, check your cupboards and freezer.
Use your eye, or your inner compass/intuition to help guide you when it comes to making a meal without a recipe.
My leftovers included some chicken leftovers, celery from the veggie drawer that I ended up chopping into chunks, dairy-free yogurt from the fridge to perform as my mayo, turmeric, sea salt, pepper, parsley, garlic, and poppy seeds from the spice rack, and some gluten-free sourdough bread from the freezer.  Lime for that extra kick, tho grapefruit, and lemon will work too.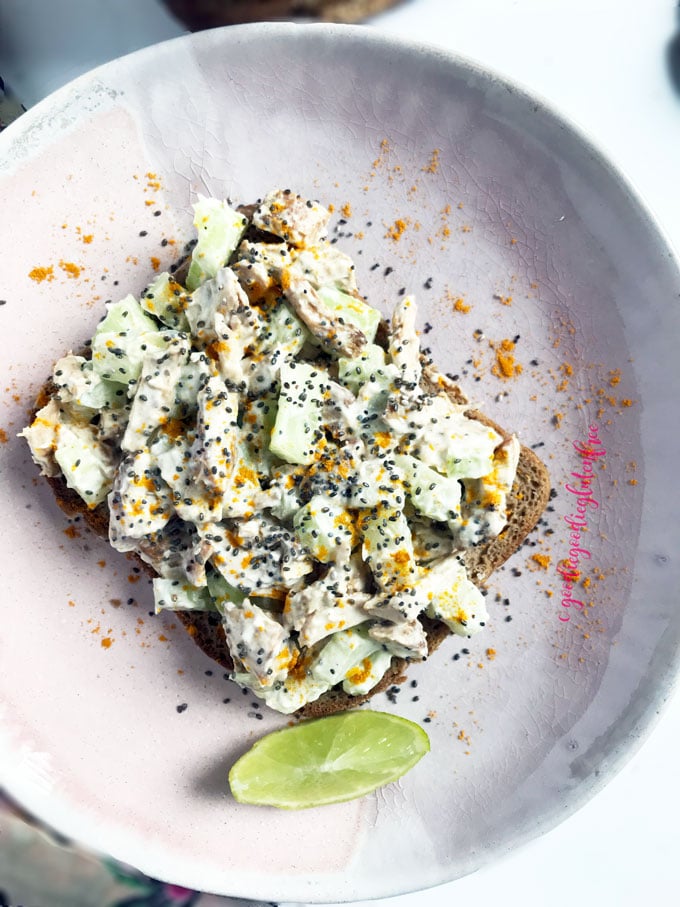 All of these foods in their state of leftover form can be whipped together into your next snack or lunch meal, easily!  While alone each ingredient doesn't have enough to make something nutrient-dense, filling, and hearty, together as a team these ingredients combined make magic and nutrient-dense food.
HOW TO MAKE LEFTOVERS INTO A SANDWICH
Bread from the freezer gets toasted, pan-sauteed, or put in the oven until warm and toasty
In a mixing bowl combine your cooked chicken, a few dollops of dairy-free yogurt (plain and unsweetened), dried spices, crunchy celery, and addins, and fold until well combined.
Serve on your toasted bread, and enjoy!
To make it extra pretty sprinkle a few pinches of the turmeric and poppy on top.
A squeeze of citrus if you have any for an extra kick
Full recipe is below on the recipe card.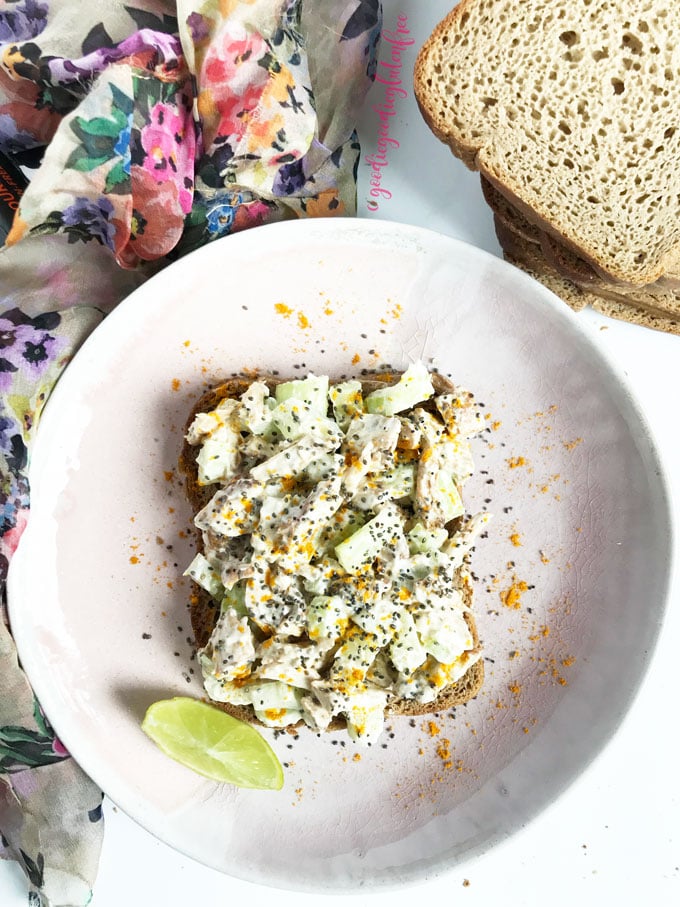 NOT ALL GLUTEN-FREE BREAD IS CREATED EQUAL
Some taste like cardboard, most don't taste like bread at all, many are dense, heavy, and tasteless, while others are fantastic.  You have a taste a lot of bad gluten-free bread before you find your favorites.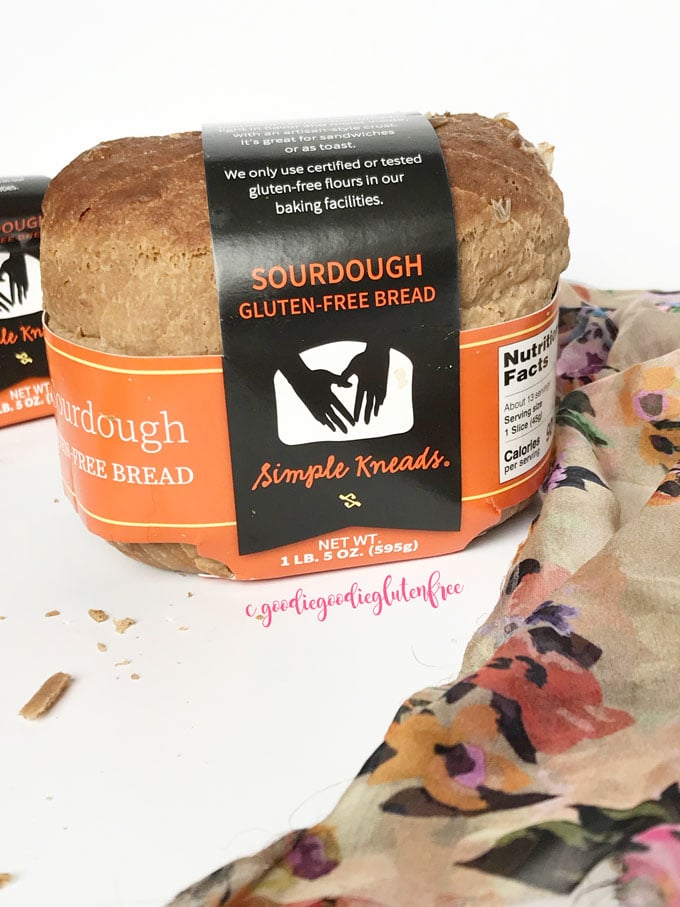 Simple Kneads Bread is a dedicated gluten-free tested bakery, and they have come a long way since first originally showcased at the gluten-free allergy-free food expo years ago.  This dedicated brand happens to be, in my opinion, the best gluten-free sourdough bread in this world!
This bread is the perfect consistency and weight.  It's not too dense, or too squishy either.
No large holes as you see with most gluten-free bread - win right there!
Full of flavor rather than cardboard, nutrient-dense too!
The taste reminds me of a piece of gluten bread, but it's gluten-free and uses minimal better-for-you ingredients.
Gluten-free certified, and vegan too. Simple Kneads really knows how to make bread that tastes like the real deal.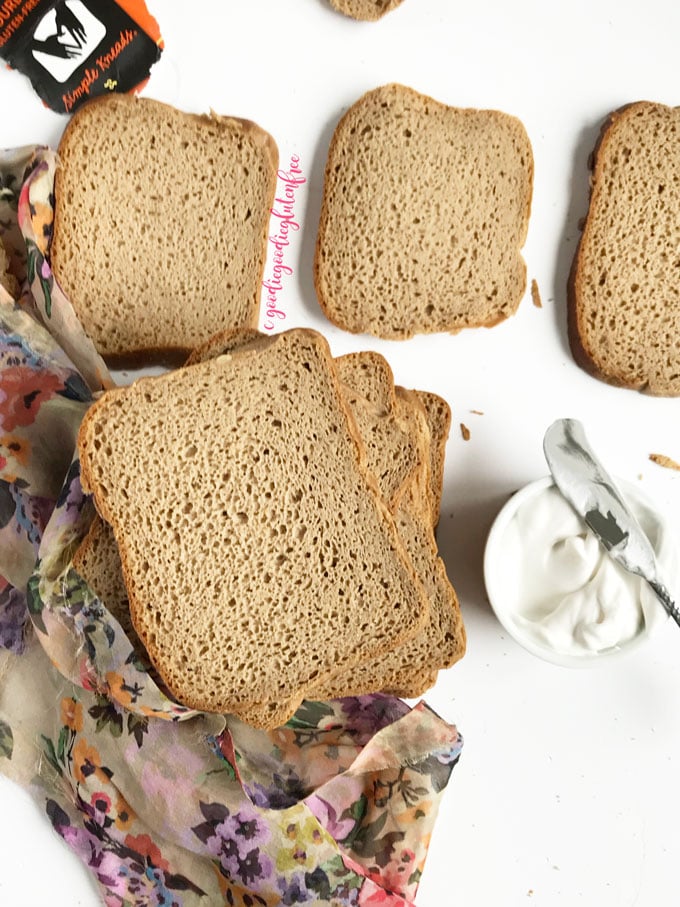 SIMPLE KNEADS GLUTEN-FREE TOAST TIPS
With Simple Kneads Gluten-Free bread you can toast it till its crunchy
Eat it right out of the bag
Pan-fry it with a little butter or coconut oil
Use a conventional oven or regular oven directly on the rack (with a pan below catching crumbs)
HOW TO USE UNSWEETENED YOGURT AS MAYO
Unsweetened yogurt is the best way to keep the chicken bound together, as a coconut yogurt version is thicker than mayo providing that creamy yummy texture
Make sure it's unsweetened and tangy over sweet as this will compliment all the other flavors in the sandwich rather than overpowering them
Chicken leftovers should be grilled or sauteed and then shredded or chopped before going into your chicken salad sandwich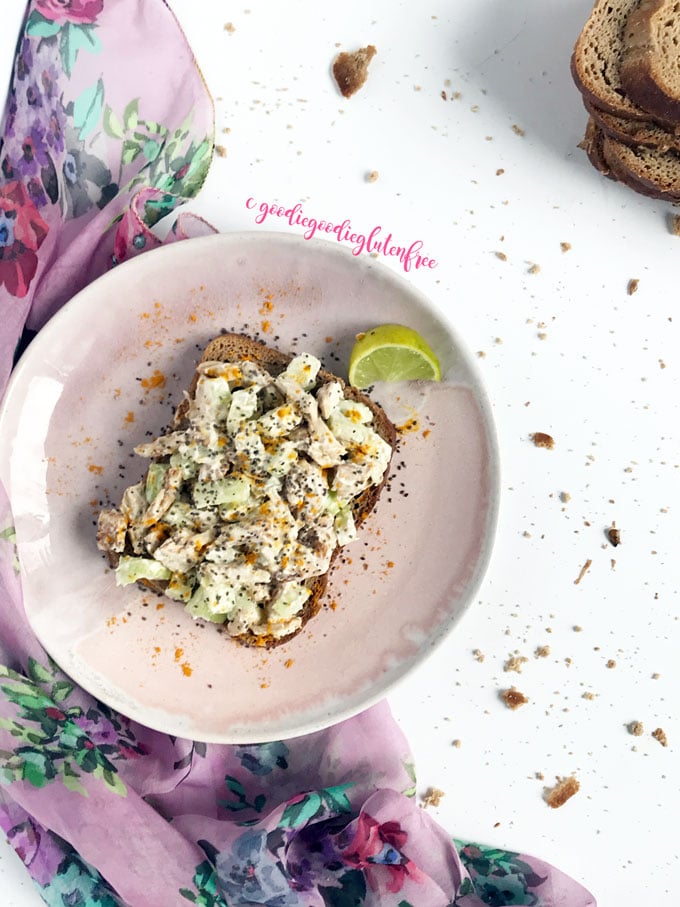 MORE TOAST RECIPES YOU'LL LOVE TOO!
READY TO GATHER YOUR INGREDIENTS?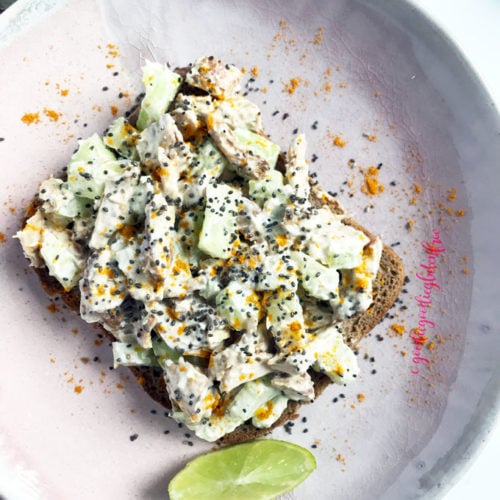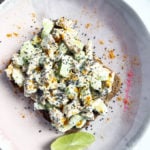 Print Recipe
Creamy and Clean Superfood Chicken Salad Toast
Creamy and Clean Superfood Chicken Salad Toast recipe for the win!  Made with the creamiest gluten-free and dairy-free clean ingredients on the best gluten-free sourdough bread of all time!  Tastes like it used to taste before going gluten-free.  1 slice of Simple Kneads Sourdough, loads of chicken salad with celery, and turmeric.
Equipment
toaster (not mandatory)

microwave

oven or saute pan
Ingredients
⅔

cup

shredded chicken

cooked

½

cup

celery

packed

2-3

tablespoon

tangy coconut yogurt

unsweetened

1

tablespoon

parsley

dried, organic

¼

teaspoon

turmeric

ground, organic

1

pinch

garlic powder

dried

1-2

squeezes

lime juice

fresh

2

teaspoon

poppy seeds

organic

garnish

salt and pepper

to taste

1-2

slices

gluten-free bread

sourdough
Instructions
Make chicken ahead of time to your desire. Shred cooked chicken breasts into a bowl with your hands and get messy if you need to.  Add herbs to the chicken once shredded and mix together so that the herbs are evenly spread into the cooked chicken.

Massage unsweetened coconut yogurt plus the fresh lime juice into the shredded chicken making sure the chicken is covered in the yogurt.

Add the chicken salad to your gluten-free bread (toasted or untoasted).  Then top with a sprinkle of Turmeric and poppy seeds.

Serves one open-faced slice or sandwich.
Notes
The bread I use is a sourdough gluten-free bread that is also free of dairy, eggs, and nuts.  Simple Kneads Sourdough // My favorite yogurts are Culina, Coyo, and Cocojune.  //  Simple Kneads is the best brand in my book for gluten-free bread.  You must check that brand out!  While the other versions have other ingredients the sourdough is free of much more.  Simple ingredients and delicious.  And all of my dried herbs are from  Simply Organic
Health and love,