Honeydew Vanilla Yogurt Popsicles.  Simple, refreshing, creamy, and healthy.  Made with just a few ingredients and a blender.  Low in sugar with just a touch of vanilla, and juicy chunks of honeydew melon.  These popsicles are dairy-free, paleo, and nut-free too!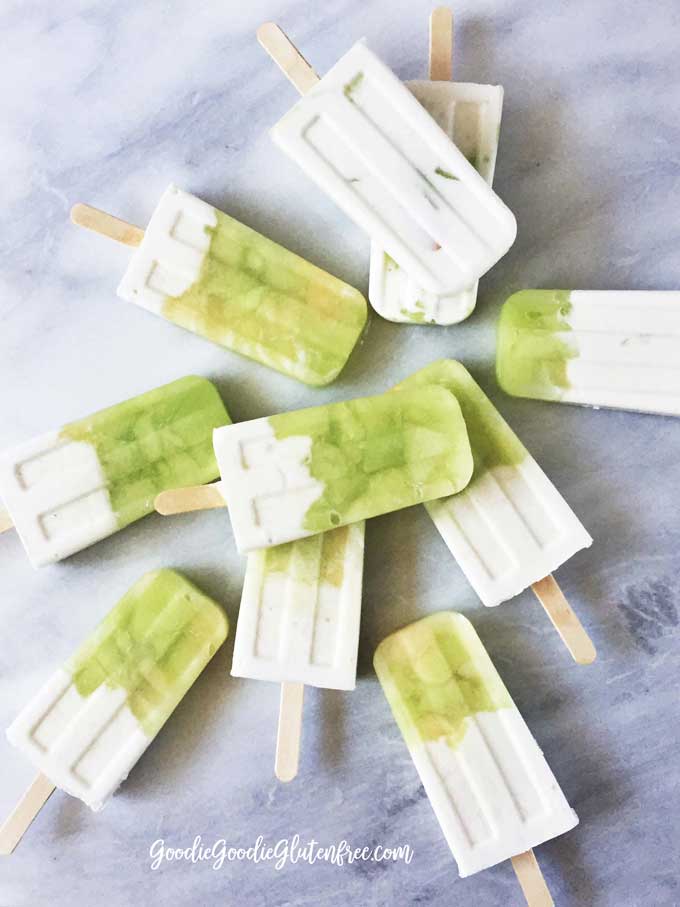 THE DIFFERENCE BETWEEN RIPE HONEYDEW & NONRIPE HONEYDEW
Have you ever bit into a piece of seriously ripe honeydew and thought it tasted like candy?  Most people think honeydew is a bland melon, and heck yeah it is if you eat it out of season.  The best time to use any fruit is when it's in season - Then you KNOW it will have the BEST flavor - It's actually a guarantee.
The difference between ripe honeydew and nonripe honeydew is taste, texture, and consistency.  The riper the melon is the better it will taste, the juicier it will taste, and the softer it will taste.  These three factors change everything, so don't give up on this fabulous fruit quite yet!  When honeydew is ripe it tastes as sweet as a banana.
So here we are in Summer, and it's the melon season - so why not take the juiciest melons and make popsicles with them?  It's so hydrating and in Summertime?  It tastes super sweet without all the sugar which is better for your body, your mind, and your soul PLUS your skin.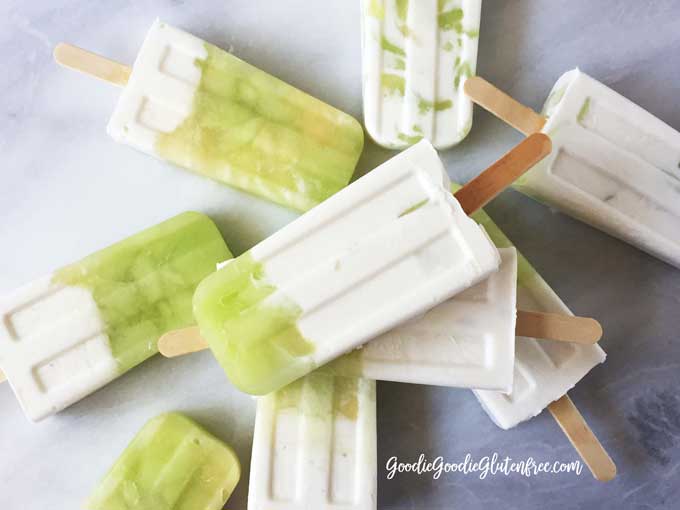 Seasonal honeydew fruit is a game-changer!
Last year I made these Honeydew Popsicles with out-of-season melon, and I thought they were bland.  The importance of eating seasonally is new for me, fairly a recent learning and understanding - so when I remade them with RIPE and IN-SEASON melon they were off the charts sweet as candy and delicious!
Here are some favorite Summer melons I love when ripe:
Cantaloupe (popsicles, juices, and smoothies)
Honeydew (popsicles, juices, and smoothies)
Canary Melon (popsicles, juices, smoothies)
Watermelon (popsicles and juices)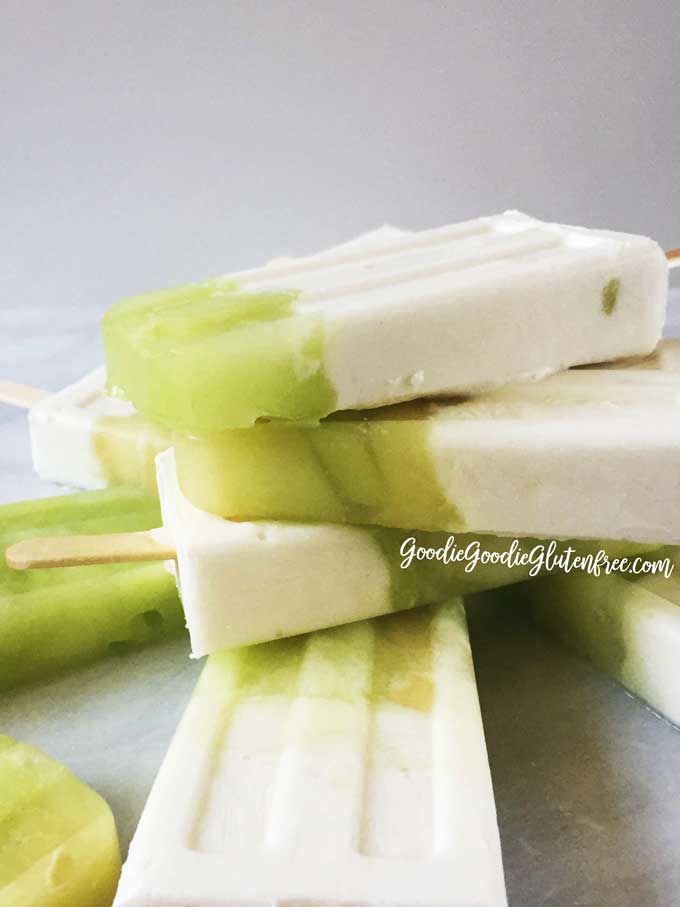 My main reason for creating healthy treats with minimal sugar is because that is the lifestyle I lead.  As a person who has battled chronic candida and SIBO, it is imperative that I make low-sugar fruits part of my lifestyle for good.  Therefore I use my talent for good, and I create naturally colorful and tasty goodies that are GOOD for you.
The beauty of making these popsicles is that you get to decide how much yogurt you want in each one, and how much melon you want.  It's why I photographed them this way.  I want you to feel comfortable in the kitchen.  I don't want you to stress about the exact melon measurement or the exact yogurt measurement that goes into each popsicle.  Each popsicle does not have to be created equal.  You get a lot of control with this recipe, it's really up to you!
THE POPSICLE MOLD I SWEAR BY
I only have one favorite popsicle mold.  And you need it.  It's the one I keep buying.  No other popsicle mold compares.
MORE POPSICLE RECIPE INSPIRATION
READY TO GATHER YOUR INGREDIENTS?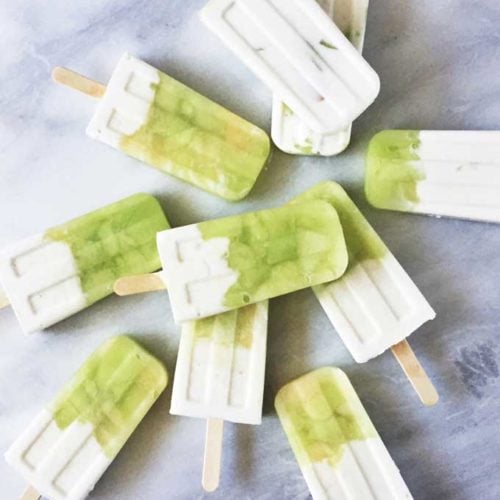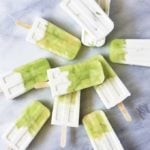 Print Recipe
Honeydew Vanilla Yogurt Popsicles
Honeydew Vanilla Yogurt Popsicles.  Simple, refreshing, creamy and healthy.  Made with just a few ingredients you and your kids will LOVE.  Low in sugar with just a touch of vanilla and chunks of ripe honeydew melon.  
Ingredients
½

whole

Honeydew melon

ripe or overripe

15

ounces

coconut yogurt

unflavored, unsweetened

3

drops

liquid stevia

¼

teaspoon

vanilla extract

¼

cup

spring water
Instructions
In a high-speed blender blast the stevia, vanilla, and coconut yogurt until well blended. Then set aside.

On a cutting board remove the seeds, and cut up the honeydew into tiny chunks.  Then set aside.

Using a measuring cup, pour desired amounts of the yogurt mixture into each popsicle mold.  Then tap the mold on the countertop a few times to even out the yogurt mixture and to reduce holes in your pops.

Then smush the melon into the molds.  Each time you add a small round of melon, add along with it ¼ teaspoon water.  Then smush the mixture together with your fingers.  Do this until you have filled the popsicles to the top.  The water is important.  It binds the melon when it freezes.

Cover the mold.  Add your sticks and put them in the fridge for at least 4-6 hours or overnight.

Once frozen, remove the mold from the freezer and rinse it with warm water to life the lid off.  Rinse the sides and bottom of the mold with warm/hot water to loosen the pops from the molds. Store in the freezer for up to 4 months.
Notes
My favorite unsweetened and unflavored coconut yogurts are Anita's and Coyo.  Both use very little sugar.  If you cannot get access to those try Greek Yogurt or any other plantbased yogurt or regular yogurt of choice.  If you choose to use a sweetened yogurt, eliminate the stevia.  Know that using sweetened yogurt will not be considered workable for a low sugar & Candida diet. //
Health, and love,