These Mixed Berry Watermelon Yogurt Popsicles are made in 3 simple steps and taste like a Jolly Rancher candy. Half of this yogurt popsicle is creamy coconut and the other half is pureed berries.  No added sugar.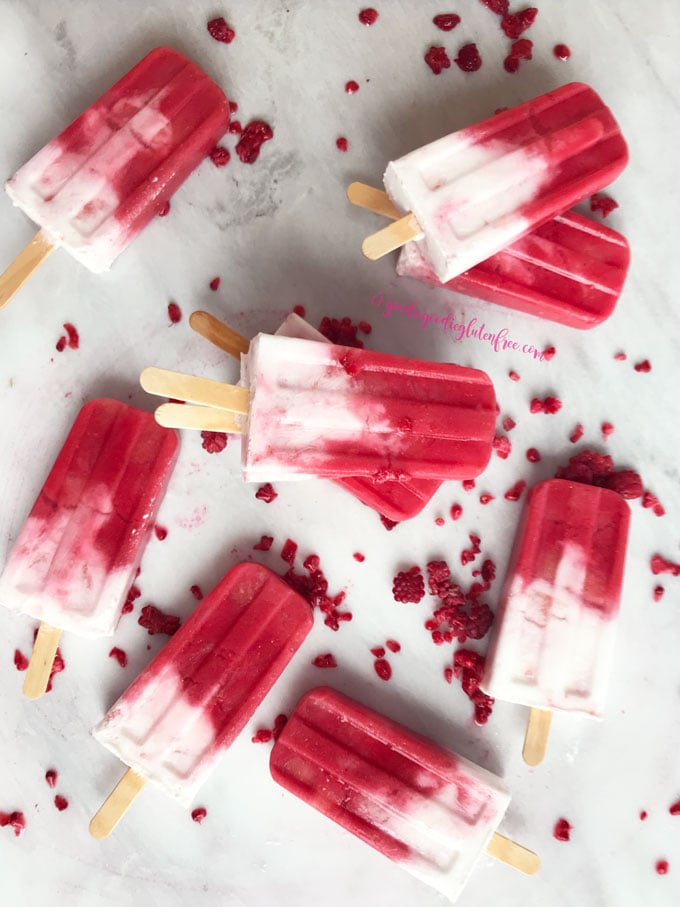 It's an art when you can make a yogurt popsicle that is also nutrient-dense, healthy, and YUMMY.  One where it tastes so good and your nephew has no idea it's healthy and good for you.  Now that's a win!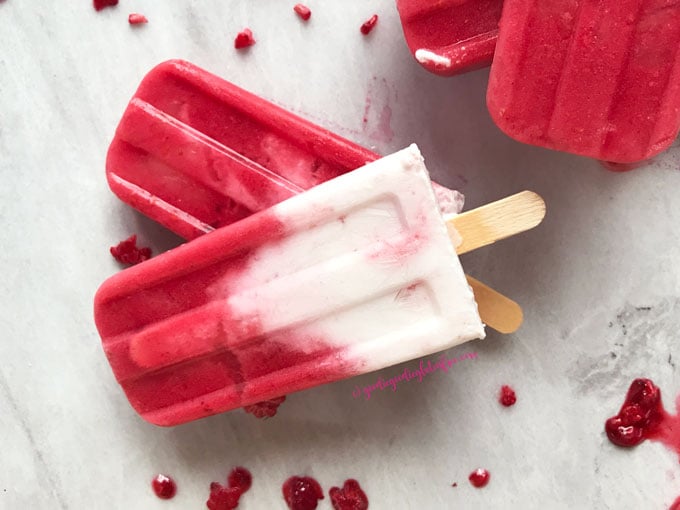 These yogurt popsicles are the sweet, tangy, tart, and creamy type of all-in-one popsicle!  The top portion of the popsicle is made with pureed strawberries and raspberries and tastes like a healthy Jolly Rancher while the bottom half is all creamy tart coconut.  And the surprise?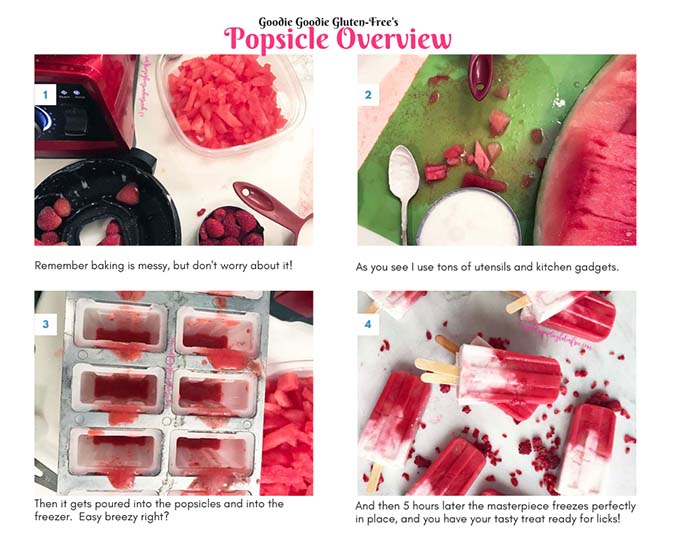 You'll be biting into refreshing watermelon chunks that give these delicious popsicles a SWEET burst of flavor!  These Mixed Berry Watermelon Yogurt Popsicles are the real deal and legit swoon-worthy, and that's what I love so much about this dessert.  It's a popsicle filled with a mix of compatible colorful flavors giving you everything you could ever want in a frozen treat, guilt-free and mom-approved.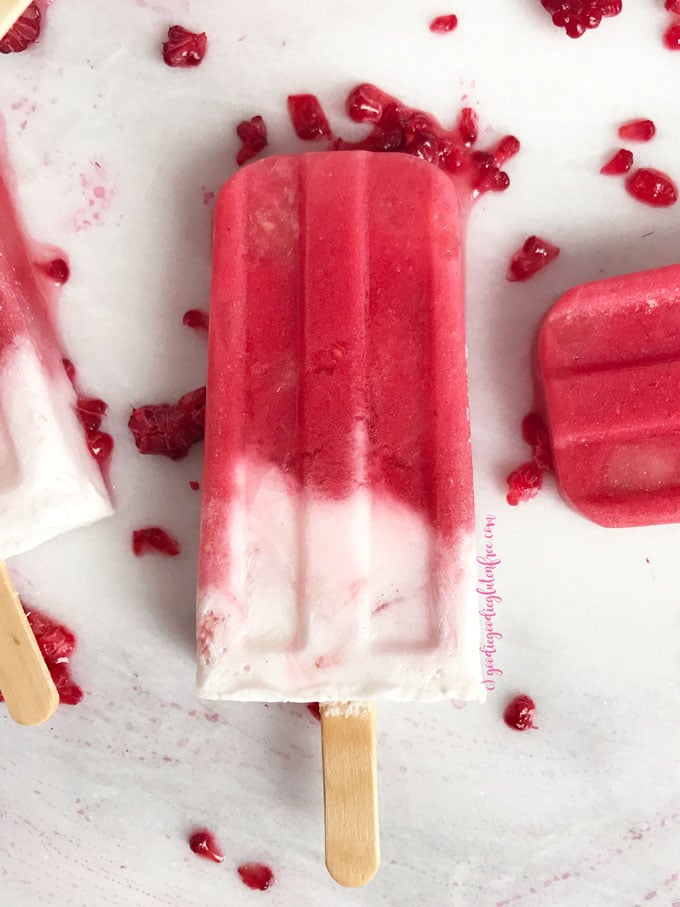 But let's not forget about the fact that berries are a fantastic antioxidant and an immunity booster.  And as a bonus a great way to get kids to eat well, and stay well.  Adults too.
Did you know that berries are loaded with potassium, and vitamin C, and are high in fiber and antioxidants giving your immunity a boost while keeping your healthy gut bacteria alive and flourishing?  Berries can even lower your blood sugar!
AND...
Did you know that coconut yogurt has billions of probiotics and calcium the two main nutrients you get from dairy?  From healthy coconut yogurt (not to be confused with coconut-flavored yogurt) you'll get magnesium, calcium, and vitamin B12.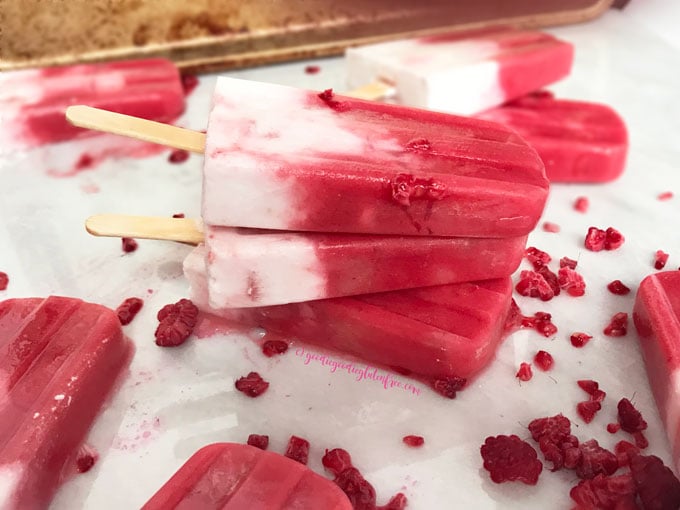 My favorite way to make yogurt popsicles is with paleo-approved yogurt.  That means no sugars, no funny ingredients, just pure wholesome food, and dairy-free.  It has a different taste.  It has a lot of tang which is what makes these SO good and SO next level.
And P.S.  Never tell a four-year-old that if he licks one popsicle and doesn't like it because of the uneven fruit/yogurt ratio he can then have another, because what kid is going to turn down a popsicle?  And before you know it you have been manipulated by a four-year-old.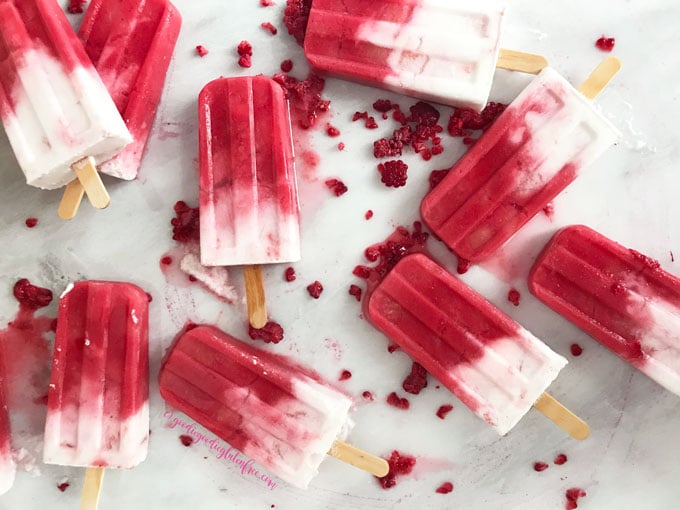 You'll need this equipment to make these yogurt popsicles: My favorite popsicle molds and popsicle sticks.
Print Recipe
Mixed Berry Watermelon Yogurt Popsicles
Mixed Berry Watermelon Yogurt Popsicles! 3 simple steps. No added sugar, just pure whole goodness that tastes like a healthy Jolly Rancher! Kid-approved!Mixed Berry Watermelon Yogurt Popsicles! 3 simple steps. No added sugar, just pure whole goodness that tastes like a healthy Jolly Rancher! Kid-approved!
Ingredients
1

cup

unsweetened coconut yogurt

creamy, like Anita's or Coyo

1

cup

water

filtered, spring

5-6

tablespoon

additional water

filtered, spring

½

cup

frozen strawberries

½

cup

frozen raspberries

2

cups

chopped watermelon

white seeds okay, black seeds removed

1-2

drops

liquid stevia

I love Nu Naturals
Instructions
In a high-speed blender, blend the coconut yogurt, 1 cup water, and stevia until smooth. Pour mixture into a bowl and set aside. Do not wash the blender.

In the same blender add the frozen raspberries, frozen raspberries, and additional 5-6 tablespoons water and blend until smooth.

Fill half of each popsicle mold with the mixed berry mixture.


Add some chunks of watermelon following the berry mixture.

Then fill the rest of the mold with the coconut yogurt mixture.

Add additional watermelon chunks and push them down into the mixture. Clean up any mess with a paper towel.

Cover molds. Insert sticks. Freeze for 5 hours or overnight.

Once ready: Run popsicle mold under warm water until they loosen, and then remove. Makes 10 popsicles. Store extras in the freezer for up to 3 months .
Notes
I used coconut by Coyo, you can also use Anita's.  If you cannot find those I suggest a tangy unsweetened one you can find that suits your fancy, and it doesn't have to be coconut.  // You can also use dairy yogurt if that is your jam, just remember unsweetened is the way to go if you want a sugar-free popsicle or a Greek yogurt.  If you want more sweetness-feel free and use a yogurt that is already sweetened.  // You must use frozen berries otherwise the water ratio will be different and I didn't test it that way.
Want More Yogurt Popsicles?
Have you tried my Honeydew Vanilla Yogurt Popsicles?
Enjoy!