Cantaloupe Strawberry Popsicles!  The "perfect consistency" ice popsicle.  Every bite is the "right bite" filled with all-around sweetness with no added sugar that tastes like healthy cotton candy.  3 ingredients.  It's a win, kiddie and mommy approved.  Gluten-free, dairy-free, vegan, paleo, and nut-free.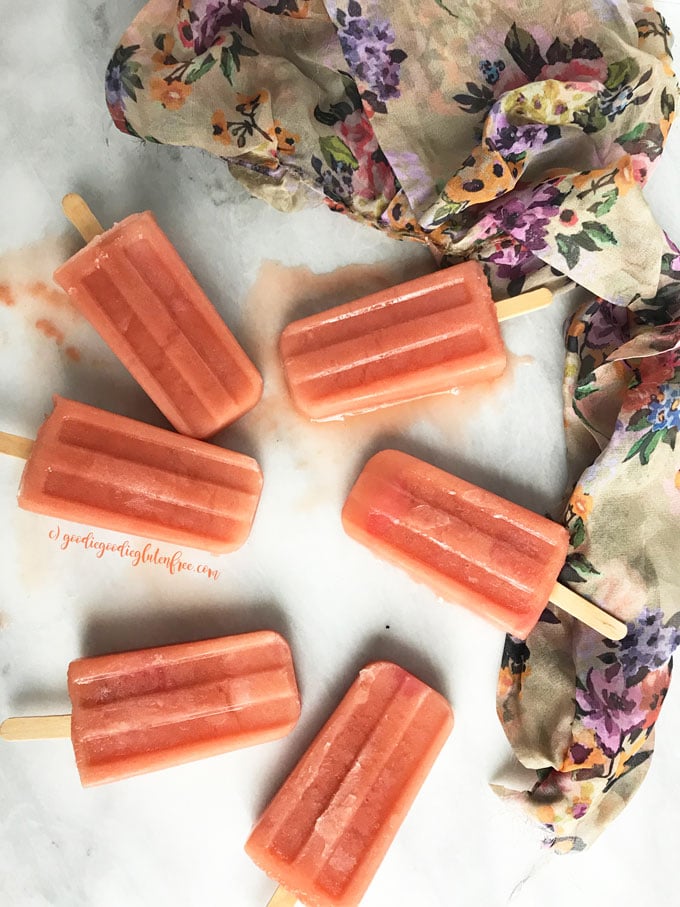 Did you know that cantaloupe makes a super creamy popsicle?  Yup!  Smoothies too.  Cantaloupe is a melon fruit that is often overlooked for more than just a yogurt or cottage cheese bowl.  The unripe fruit they sell at the diner or give at luncheons.  Oh, that.  But don't judge, because melon is wonderful in frozen desserts.
I have found in both desserts and smoothies that cantaloupe makes a really creamy base, and that base is super sweet.  When in season and ripe this melon is wondrous.
Cantaloupe has almost 90% of water.  Making these Cantaloupe Strawberry Popsicles super refreshing and… This is especially important for heart health.  How refreshing is that?  A lower in sugar fruit that tastes high in sugar is the way to go with popsicles.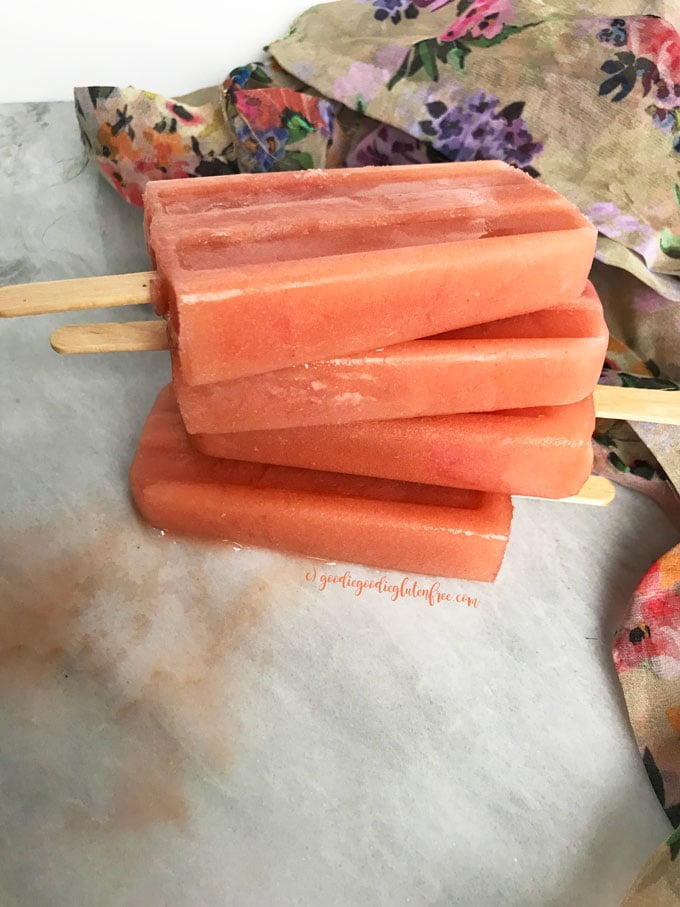 Cantaloupe DEETS:
Cantaloupe is a colorful fruit providing that orange like color to you and your skin – this fruit offers large amounts of vitamin A, vitamin C, Folate, fiber, and beta carotene.
*
Every Summer for the last 2 1/2 years my nephew has requested we make these popsicles.  He remembers them because this was the first popsicle project we ever made together.  This recipe has been a long time coming!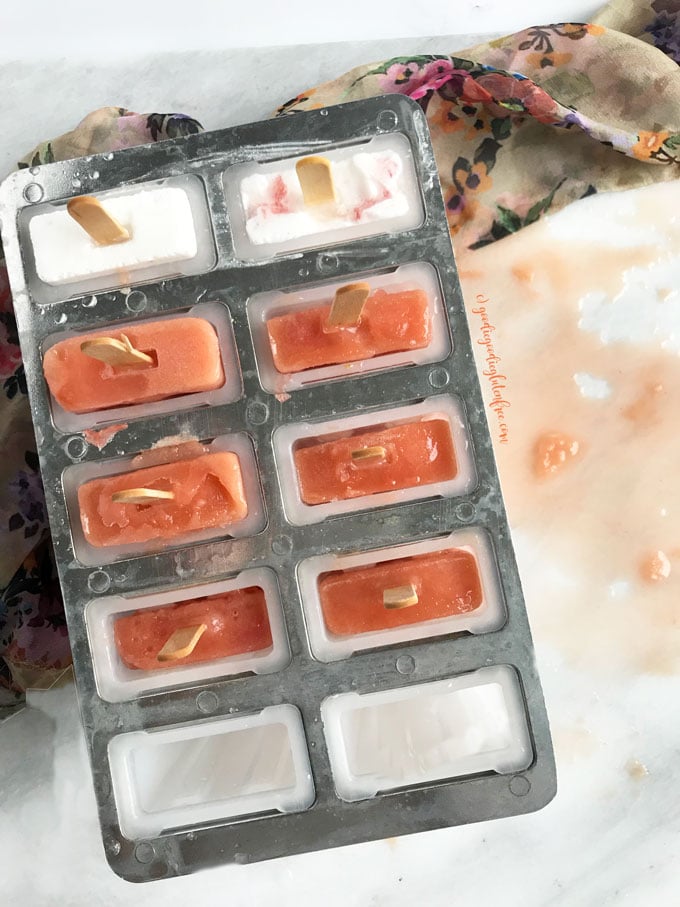 My nephew and I so enjoy our cooking and creating time together he with his chef hat and me with my full body apron because baking is MESSY. (but so fun!)
One of the times we made the popsicles he wouldn't even wait for them to freeze and kept opening the freezer and taking spoonfuls out.  I kept thinking "dude that defeats the purpose, it's meant to be a popsicle", but it didn't matter is what I thought.  He was filled with joy eating a creation he had a hand in making.
This also goes to show how good these are because my nephew eats a very western processed diet filled with lots of sugar.  These popsicles?  Just fruit and a little bit of water.
The compromise?  I chose the cantaloupe, he chose the strawberries.  A win in flavor town.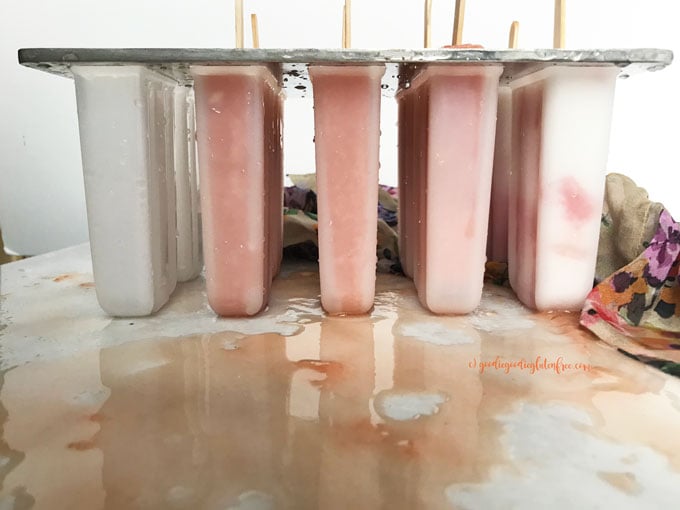 Another time I brought cantaloupe and my nephew strongly explained that he didn't like cantaloupe, and I said but buddy we had cantaloupe in your favorite popsicles that we made last Summer, remember?  From then on after popsicle tasting, of course, he ran around the house telling everyone he now loves cantaloupe.  I love that!  He's learning about flavors and nutrients.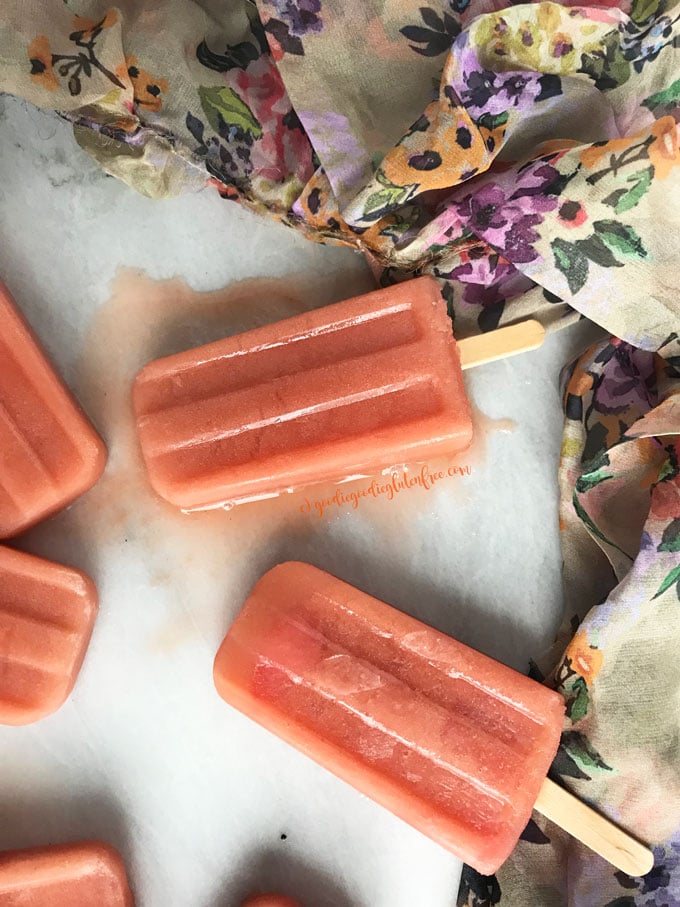 So all the while I was super excited that he loved making these cantaloupe strawberry popsicles, I couldn't help but wonder why he thought these were the best popsicles since sliced bread?  He loves sorbet and ices.  I'm more of a coconut chocolate cream ice cream kind of woman myself.
So when I made them for the blog I had 6 popsicles that I didn't know what to do with sitting in my freezer.  They just sat in my freezer until one day I was desperate (aka ran out of healthy desserts in my apartment) enough to have a sorbet pop and I was like OMGGGGGGGG this is the best tasting popsicle I have ever had!!!!!!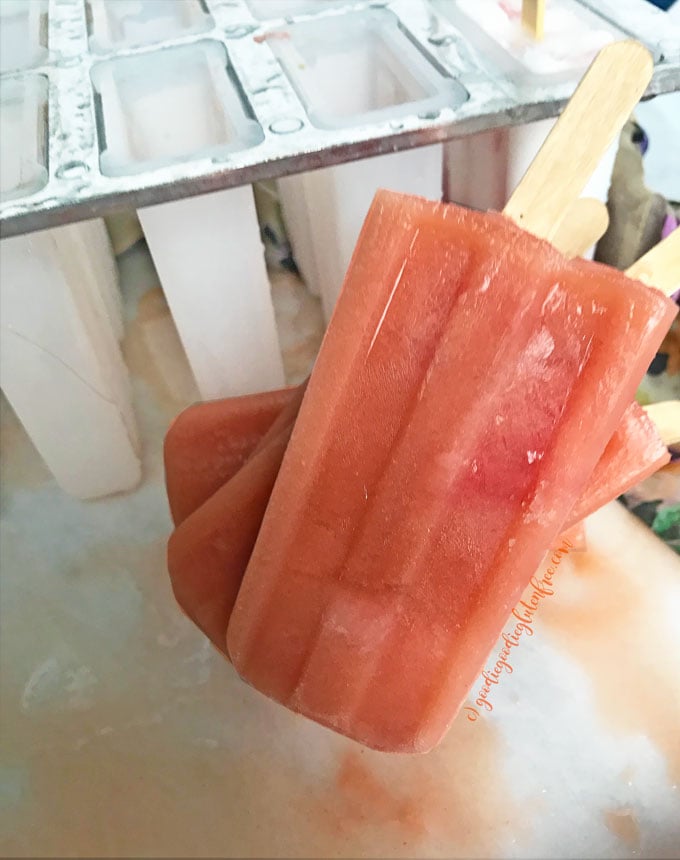 I should have trusted my nephew or at least asked him why he was so obsessed with these.  They are amazing!
Let me tell you they taste like healthy cotton candy.  It's the cantaloupe!  When it's REALLY ripe that is what it tastes like.  After I realized that-my tastebuds became ALIVE.
And in one short week, those popsicles were finished.  GONE.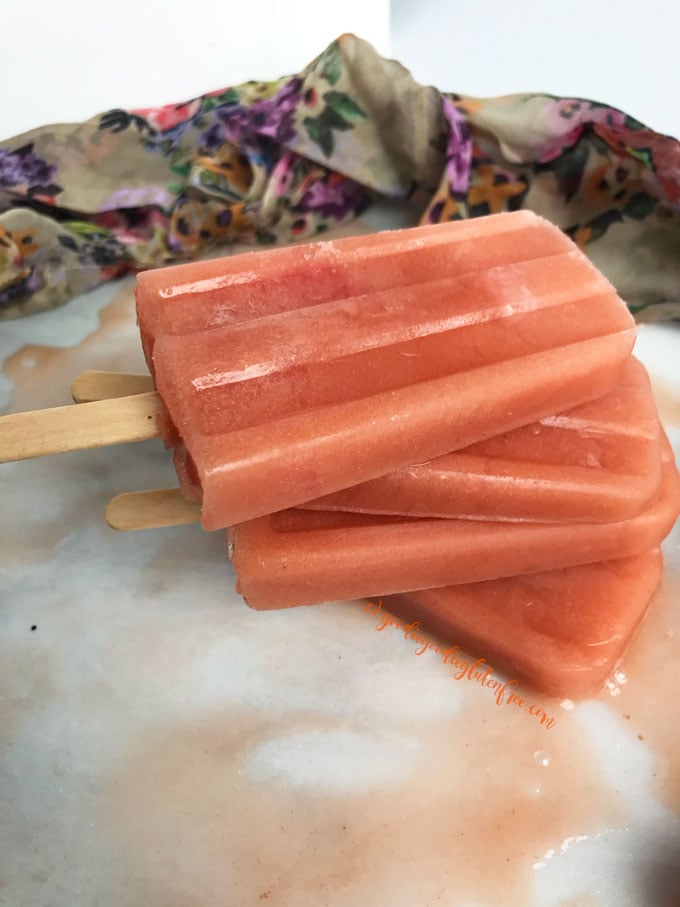 Ready to make beautiful music together?
WHAT YOU WILL NEED:
1 cup packed cantaloupe + 1/8 additional cup cantaloupe chopped
1/2 cup frozen strawberries
2-3 drops liquid stevia
1/2 cup water
DIRECTIONS:
In a high-speed blender or food processor blend the cantaloupe, frozen strawberries, water, and liquid stevia until well blended and smooth.
Pour into popsicle molds.
(Grab popsicle sticks) Cover with lid.  Add sticks and freeze for a minimum of 5 hours.
TIPS:
Not a sorbet girlie?  Need a creamy popsicle?  Something with chocolate maybe?
Check out some of my creamy popsicles below:
Dairy-Free Maple Chocolate Popsicles
Watermelon Papaya Yogurt Popsicles
The Fudgiest Chocolate Popsicle
Enjoy!