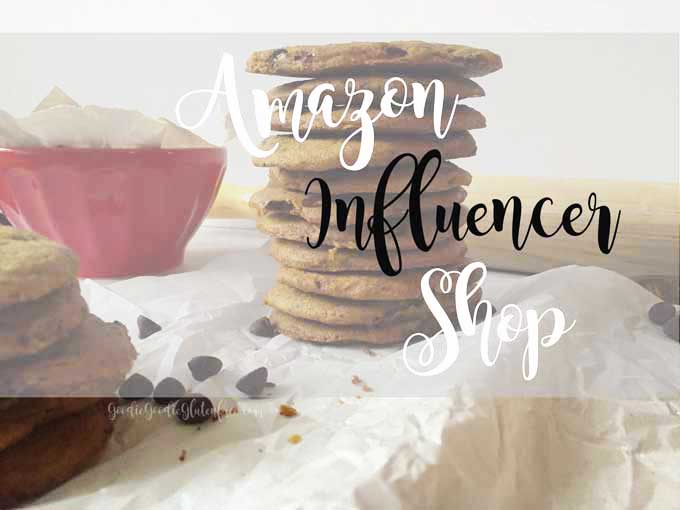 A few months ago I was asked to become an Amazon Influencer.  I was super excited because that meant I had an Influencer page on Amazon where it would showcase my blog name and all of my favorite products!!  !!
Anytime I can set up a page where I direct you to all of my favorite things is actually one of my favorite things to do!
Inspire you.
Help you heal.
Encourage your wellness journey.
Everything in my shop is everything that I cannot live without that I buy on Amazon.
This shop includes delicious gluten, dairy, and free-from ingredients, books I love, healing tools that have helped me, vitamin supplements from clean brands, supplies, and more!  Just all the goodies I love for the mind, body, and soul.
And now without further ado, my shop now has tons of my favorite products and it's time to share.
I'm the kind of gal that loves to browse any health store and that includes Amazon.  It's quite addicting!!  And I know you know what I'm talking about.
But I also know that many do not want to waste time sitting on Amazon.
You'd rather have the direct link.
Make it as easy as possible.
So easy that all you have to do is click and pay.
Amazon heard you.
I heard you too.
I'm so glad I have a page showcasing my favorites for you guys!!!  Now you have easy access to the stuff I love and use.
FOOD FAVORITES.
Siete Cassava Flour Tortilla Chips:  If you cannot have corn or just want a grain-free chip, these are for you!  I adore them and they are often hard to find.  Buy in bulk!
I'm picky when it comes to gluten-free chocolate.   Enjoy Life Dark and Semi-Sweet,  Lily's are my favorite types of chocolate for eating and baking.  I adore Hu Kitchen and Alter Eco Dark Quinoa Chocolate Bar for eating.
My favorite coconut milk for baking is full-fat or reduced-fat coconut milk.  It's thick and can be watered down or made creamy.  I love this for making fudgicles, popsicles, and treats.
And for drinking coconut milk?  Or using it in cereal?  I still love So Delicious, but it's their unsweetened milk I love for every day including smoothies.  Unsweetened is the way I go for as much as I can.  Since we don't need to taste the milk, using unsweetened is a good way to cut back on the sugar.
I cannot live without gluten-free oats!  It's only in the last few years that I have been able to add back oats.  And I'm psyched because there is so much to make with them like overnight oats, oatmeal, chia pudding oatmeal, cookies, cakes, brownies, and everything dessert.  I personally like Bob's Red Mill.
Millet is a forgotten grain.  It's a great gluten-free seed/grain for Candida overgrowth.  It's low-carb and nutritious, especially for gluten-free eaters.  I make it sweet and savory!  Don't forget about this lovely grain, I really like it.  Some would debate it's a seed, it depends on what country you are in.
Alter Eco for Qunioa all the way!  I love all of their quinoa styles like rainbow, black, red, and white.  Quinoa is a total and complete protein so as much as it looks like a carb, it's all protein and so healthy for you!  (If you have Diverticulitis, you may want to steer clear of small seeds like quinoa, chia, and flax).
When it comes to unsweetened Cocoa most will urge you to choose Raw Cacao.  And while that's totally delish it can cause an allergic reaction in some that are super sensitive to the Cacao bean.  Like me, so, therefore, I use Hershey's unsweetened cocoa powder.  It's also certified gluten-free which makes me happy.
And sometimes I use Carob powder by Chatfield's because it's made in a gluten-free facility and it's the perfect gluten-free alternative to chocolate.  I'll admit it doesn't taste the same, but if you cannot have chocolate this is the route I always advise to clients.
I love TigerNut oil by Organic Gemini for baking because it's a sweeter oil allowing you to use less sugar.  It's also a tuber root veggie and is, therefore, whole 30 approved and Paleo.  I personally got into it when I was having my insane food sensitivities, it was one of the only oils I could use besides olive, so it was nice to change it up.  It's also 100% nut-free.
For Gluten-Free baking, the easiest way to go from scratch is to use a baking blend like Bob's Red Mill All-Purpose Gluten-Free Flour or 1:1 Baking Flour.  I love them both!
Ever wonder how I make my TigerNut Milk?  It's one of my favorite plant-based milks and making it from scratch saves lots of money.  It's so delicious and has a sweetness to it.  Totally nut-free and 100% gluten-free.
My latest favorite nut-free seed plant-based protein.  Did you know that watermelon seeds are an excellent source of iron?  Yup!! It's a good snack and I love baking with these babies too.
BOOKS FAVORITES.
Chronic health conditions suck!  Especially if you don't know how to handle them.  Learn why you need to go dairy-free and why you need to implement different ways to heal with Kicking Sick by Amy Kurtz.  She's a fellow IIN Health Coach like me.  One of my clients swears she went dairy-free from this book alone.
The Immune System Recovery Plan by Dr. Susan Blum is a very detailed book that helps you really get to the bottom of your symptoms so you can finally heal.  Dr. Susan Blum is my Integrative Doctor, I was so lucky to have found her.  Her books are amazing.  Her second book Healing Arthritis is all about how to heal more holistically.  Her books really cover diet, nutrition, health, and autoimmune.
Medical Medium by Anthony William is also one of my favorite books!  I take what he says with a grain of salt.  Not all of it is meant for me, but some are.  His chapters on Leaky Gut and Epstein Barr are amazing and really opened up my life in the healing department.  I do not, however, advocate his diet in the book.  I like this book for educational reasons only.  I'm dying to read his second book Life Changing Foods.
Gabby Bernstein's books for me were a game changer!  In a fairly simple 40-day guidebook called May Cause Miracles, you are instructed to complete a task a day furthering your development in learning to love yourself and see life differently.  Spiritual newbies this is for you!  Bored and want to change your life?  This book, babe!  This book.  And her newest NY Times bestseller just hit the stands!  It's called Judgement Detox.  It's mind-blowing.  Do it.
Skin Cleanse by Adina Grigore is another favorite book of mine!  While I couldn't apply this during my serious cystic acne moments, I was able to apply these principles and even learn how to make my own DIY products for my sensitive and acne-prone skin!  This book makes so much sense, it really teaches you natural beauty and how to heal.  She also has a beauty line called SW Basics.  And that brand is amazing using 1-5 organic ingredients.  More about that below.  Another fellow IIN Health Coach too!
One of my favorite and FIRST health books I ever read by Kris Carr called Crazy, Sexy Diet and I'm not a Vegan.  This book is geared to help those transition into the vegan diet.  However, there is so much information and education about plants, pooping, autoimmune disease, chronic illness, juicing, cancer, smoothies, self-care, and more.  And she makes this book fun!  Think lots of color, pop-ups, and fun facts to make the journey fun.  I love Kris Carr's voice.
The Alchemist was a book I was told to read for years and resisted.  I often think back to why I resisted what was going to be the best and most motivationally moving book of my life.  It's a book you can read over and over and still find a different treasure, a different nugget of wisdom you didn't see before because you are in a different place now.  It's also a small book if that helps!
COOKBOOK FAVORITES.
Chocolate Covered Katie is one of the best dessert bloggers I know!  She's totally awesome and creates healthy vegan recipes.  The majority of her recipes have a gluten-free alternative! And her recipes are pretty simple to prepare.
Megan Gilmore of Detoxinista became one of my favorite blogs in 2013.  I stumbled upon her while I was in Nutrition School.  Her blog and recipes literally taught me how to make delicious smoothies.  I started with her recipes and then after a while, I made my own.  But hers are the bomb!  She was once a plant-based blog but now has goat and sheep milk added.  I adore her recipes, also super easy, whole, and clean.  She has two books.  Naturally, I bought both.  No Excuses Detox and Everyday Detox.
Ricki Heller is another blogger and holistic nutritionist I follow all the way in Canada!  She's all about Anti-Candida, sugar substitutes, egg-subs, refined sugar-free, and healthy.  She really teaches you the ins and outs of gluten-free vegan baking.  She mainly focuses on sugar-free, gluten-free, and Anti-Candida.  In her book Naturally Sweet & Gluten-Free, it's just that.  Cupcakes and more!  Allergy-friendly too!
I love the book The Blender Girl Smoothies by Tess Masters for innovative ideas using simple ingredients!
I call this book the smoothie bible.  Superfood Smoothies by Julie Morris.  Super creative recipes that get you used to using all kinds of fruits and veggies.
One of my favorite Bloggers Amie Valpone behind the site The Healthy Apple has a gorgeous book about eating clean and everything you need to learn in order to do it, simply broken down for you with charts and lists.  And then after the massive introduction to this way of eating, you get a ton of gorgeous recipes!
If you have to do an Anti-Candida diet, this book Living Candida-Free is for you.  Ricki Heller is known for her gluten-free and vegan recipes.  I personally LOVE how she outlines how to convert recipes if you have allergies, and how to make vegan egg substitutes.  I also love her Anti-Candida program because she makes it all doable and that is most important on a restrictive diet like this one.
She used to be The Blonde Vegan.  She then became The Balanced Blonde, Jordan Younger is an all-time favorite blogger of mine.  In her book Breaking Vegan, she describes how she left Veganism in order to heal her body and now she's all about balance, yoga, spirituality, and delicious recipes.  That's why I adore her book and blog, plus she tells you all the juicy details of her healing journey with Orthorexia and chronic health conditions.
SUPPLEMENT FAVORITES.
I'm pretty picky when it comes to supplements.  There are only a handful of brands I even like.  These are gluten-free and I trust these brands wholeheartedly:
I use Magnesium to promote muscle relaxation and to keep the intestinal tract healthy.  Magnesium Citrate is used to help promote a healthy bowel.  My brand of choice is Metagenics for this supplement.
Then I also use Magnesium Glycinate.  Out of the two Magnesium Glycinate does not necessarily promote relief of constipation the way Magnesium Citrate does, but it is the better Magnesium to take.  Even if you start with Magnesium Citrate and move over to Magnesium Glycinate.  Check with your doctor to figure out which version will work best for you.  My brand of choice is Metagenics for this supplement.
Dr. Lipman got me off of prescription acid reflux medications and got me on my favorite product Glutagenics.  I use 2 x per day!  This product helps to heal the gut lining and really helps with acid reflux.  It contains Glutamine as well as aloe and licorice roots.  **Do not ever go off of your prescription medications without talking to your doctor first.
Iso-Phos saved me when my cortisol levels were are an all-time high!  It uses natural ingredients, including a b vitamin, but it promotes relaxation.  Taking it in the evening and at bedtime is best.  My brand of choice is Thorne Research for this supplement.
Oil of Oregano is a great NATURAL way to treat a yeast overgrowth such as Candida.  This product should be used under the care of a physician, holistic nutritionist, or health coach.  It should never be used for more than 3 months at a time.  But It has to be on this list because I have been on and off of it and it's been used for yeast overgrowth.  (while under the care of my Integrative Function M.D.)  My brand of choice is Designs for Health for this supplement.
Gluten-Free BEAUTY FAVORITES.
I only use two shampoo and conditioner brands and this is one of them!  Free & Clear is clear of harmful chemicals which is now called Vanicream, for sensitive souls, and is totally gluten-free.  It's also fragrance-free.  I love their conditioner too, it's nice and thick.
My all-time favorite face gel!!  Even through bouts of acne, it was this scar tissue bio-restorative hydrogel that saved the day and still does.  Everyone always asks me about what I use on my face, and this is it!  Make sure you get this one because their other lotions have wheat.  This one does not.
One of my favorite masks to do on my skin is my recipe for a Turmeric Face Mask.  It does wonders for my skin.  When it comes to Turmeric Powder I like two brands: Organic Living Superfoods or Simply Organic which you can buy at the grocery store.
Welcome to the best Cream Scrub on the planet by SW Basics!  I use it, especially on my feet.  It honestly feels like I just walked out of the salon when I use it.  It's the best, with only 3 ingredients, all organic and gluten-free.  I also LOVE their Cream.
MIND / BODY HEALING TOOL FAVORITES.
My favorite yoga mat!  By Gaiam.  It's plush, cushy, and affordable.  I also love their patterns.
The plush yoga blocks I learned on.  You'll need two.  I still have them.  I still use them.
I use this Happy Lamp for getting more Vitamin D exposure, especially during those Winter months.  This is also used for people that have seasonal mood disorders.  I have to admit, as expensive as it is, it's SO WORTH IT.  And it works wonders for me.  I use it in the morning.
It's this gratitude journal that I started using in 2013 when I first learned the practice of gratitude journaling.  I love this one because it's simple and small.
These are the two angel card decks I used when I first learned how to read Angel Cards.  Then I got certified.  My favorites of all time are the Archangel Raphael Angel Card Deck (which is known to help with healing, health, nutrition, and self-care) and the Archangel Michael Angel Card Deck (which is known for cutting ties from fear, the journey of love, and conquering fear).  These are so great when used as a healing tool on your healing journey.  Little cards of hope go a long way.  Feeling supported even if from just a card is magical and powerful.
KITCHEN TOOLS & GADGET FAVORITES.
I cannot live without these Good Cook baking trays!  I buy them in bulk and keep them in my oven.  Food photography tip: save the old, used, beat-up, and tinted trays for your food photography backdrops and even for the tabletop.
This electric hand mixer by Cuisinart is my life!  Most people love that standing mixer, which I have as well, but I grew up baking using an electric hand mixer so for me, I bake everything with that!  And I have had mine for over about 15 years.
Contrary to what I said above all bakers should have a standing mixer, and I do have one.  It's pastel blue, it's super pretty and I'll have it forever.  My mom has had hers since her wedding day.  This one is salmon pink.  Don't go cheap on this one, it needs to be by KitchenAid.  You will at some point need very high peaks in your frosting and the only thing that does that is the standing mixer.
Some people will say it doesn't matter what mixing bowls you use.  I disagree.  I like my mixing bowls to be easily accessible in the cabinet, stack well, is dishwasher safe, and has a grip.  Those are my standards.
These veggie peelers are a must!  The kind you want is the type that effortlessly peels your produce.
I used to think a lemon hand squeezer was the silliest food appliance ever!  I now live for it and travel with it.  It really squeezes those lemons and limes giving you the most juice!  Well worth getting one.  If I had more room in my NYC apartment I'd have at least 10.
Silicone cups are the best for making chocolate cups, and all sorts of chocolate candy making.
The ONLY Nut-Milk bag I'll ever use.  Because it's quality and for no other reason.  This is how you make nut, seed, grain milk, and green juices.
You can never have too many Wilton cupcake & muffin baking trays!  Seriously I have quite a few.
This is the double boiler I use to make/melt down the chocolate in all of my recipes.  It's SO easy to use!  It's by Nordic.
Food processor is life!  Seriously I make everything from raw desserts to dips and it's super easy to use.  And there's always a youtube video to figure out how to use it if you need step-by-step instructions.
The KING of all blenders.  If you're serious about your smoothie game, you need this in your life.
I LOVE my Spiralizer!!  It's the best way to make veggies fun to eat!  You'll lose weight too.  Instead of carbs like pasta, you'll eat zucchini noodles, or squash noodles or even carrot noodles the veggie sky is the limit!  Same with fruits like apples or pears.  It makes veggie pasta cool.
The QUEEN of all Blenders is the Nutribullet.  I also make all of my green juices in my Nutribullet.  It's compact, and also really easy to travel with.  Every juice I created for my eBook Blender Juices was made in a Nutribullet.
I hope these nourishing tools help you on your wellness/healing journey as they have for me!
I love you, Tribe!
Remember, you can see some of my all-time favorite books, ingredients, and healing tools here on my Amazon Influencer Shop Page anytime!  If you ever want direct access to see all the products I love that you can buy, just go to amazon.com/shop/goodiegoodieglutenfree 
Enjoy!
Always check with your doctor on any supplement recommendations.  I am a Board Certified Holistic Health Coach and Certified Holistic Nutritionist, not a medical doctor.
Note that I am an Amazon affiliate.  I may receive a small compensation if you purchase anything through my links.  This is at no additional cost to you.  Thank you for supporting my blog.  I heart you!
Love & fun healing stuff,