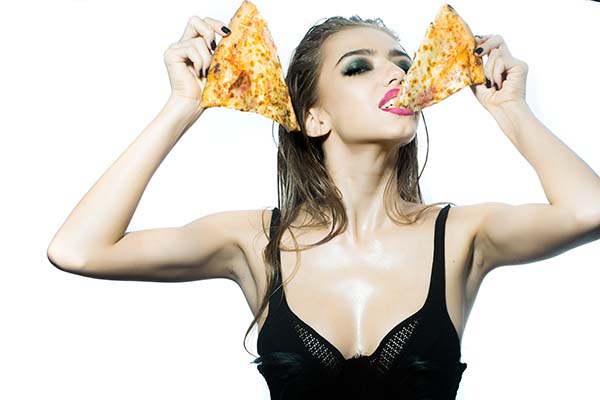 If you can imagine basking your whole body in gluten-free pizza deliciousness then this Manhattan Gluten-Free Pizza Smackdown post is for you!  While I have never dreamed of basking myself in anything, I did at one point think I could invent the brick oven pizza smelling candle because every time I walked by a pizzeria, I nearly fainted from the delish smell I missed so much.  Pizza was ONE of the two things I missed so dearly when I went gluten-free.  Pizza and cake.  Good gluten-free cake was so much easier to find than good gluten-free pizza.
A few years back my friends were in town for the Phish concert and we went to Pizza 33 in Murrah Hill at 2 a.m. where everyone is hungry and will eat just about anything.  They felt bad for me because I couldn't eat it, and didn't want to eat in front of me but I said don't worry about it!  Enjoy it!  And I will enjoy the gorgeous dough smell.  I knew what would happen to me If I ate regular pizza so I never minded if it was flaunted in front of me.  I know that having Celiac Disease is super serious so I would never intentionally jeopardize that by eating it.  It's just not worth it.  I then found out they now serve a gluten-free pie!  I was super stoked until recently when I saw them contaminate the gluten-free pie crust with wheat.
But the smells were like pizza in Italy.  Swoon-worthy.  I resisted, but it got me thinking...
That missing pizza was not something I was ok with, so I set on a journey to find the best pizza in Manhattan that was Celiac friendly so that I wouldn't feel deprived and at the same time would honor my limitations.
I originally wrote this post back in 2010, updated in 2017 after realizing it needed a severe update and then again now, 2018 here we are again.  New year.  New updates.  New closings and new pizza.  Wanna know what's new and relevant to gluten-free pizza in Manhattan?  This is the updated gluten-free pizza post smackdown.  Sharing all that gluten-free pizza love with you guys because I have been there, and I know what it's like to wanna wrap yourself in gluten-free pizza.  Ha!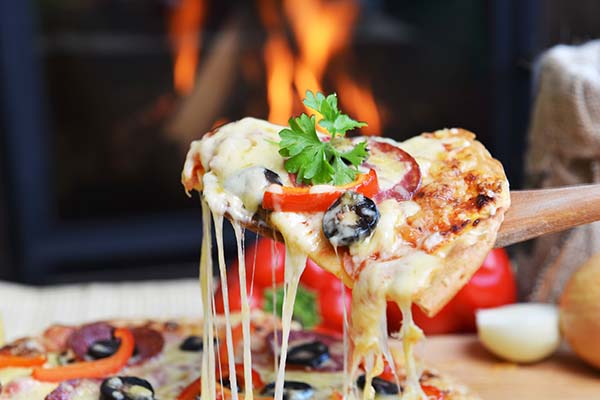 Senza Gluten - is a new favorite!  Rather then a pizza joint it's a small Italian restaurant in Nolita that serves everything gluten-free!  You can't even bring in anything even if it's gluten-free!!  They are that strict!  To walk into a restaurant knowing there is no way you can get sick is an amazing feeling.  But let's talk pizza.  I have NO WORDS for how good this pizza is.  Dairy is a no-no for me but on my birthday (number 40) I devoured it!  I hate to say it, but it was worth it.  I'd never say that with gluten.  but this pizza is beyond amazing.  This pizza is thick.  It has a thick and crunchy crust and tastes like gourmet homemade pizza.
Pie By The Pound - This Pizza is another favorite spot and voted best gluten-free thin crust pizza, but the favorite title goes to my mom's palate.  She's gluten-free too and she finds their thin crust pizza to die for.  Pie pizza is more of a thin flatbread pizza.  The owner of Pie is gluten-intolerant and when he couldn't eat his own pizza?  A new project was born.  He also brought in gluten-free beers, gluten-free sandwiches, and gluten-free desserts all made in a separate facility for his growing gluten-free loving community.  Their crust is also made in an off-site gluten-free facility to lessen cross contamination and at Pie, the employees follow a very strict policy in regards to cleaning, utensils, and storage.  Their employees are also well versed in gluten-free etiquette.  It's a breath of fresh air when the whole staff including the owner has such strict policies regarding the gluten-free lifestyle.  Pie is located in the heart of Union Square on 124 4th Avenue between 12th and 13th street.
Bistango Restaurant - This is not a pizzeria but a lovely neighborhood Italian restaurant in the heart of Murray Hill located on 29th Street and Third Avenue with the second location at The Kimberly Hotel on 50th street between Third and Lexington Avenue in Midtown East.  Aside from their gorgeous menu of homemade Italian eats including gluten-free pasta, gluten & dairy-free ravioli, tortellini, and gluten-free Italian bread!!!  They also make individual pizzas and offer many options.  These can be made for delivery or made for the table when you dine there.  My favorite person in the whole wide world at this restaurant is Anthony!  He's part owner at the 29th Street location.  It's seriously the show Cheers where he always knows my name, my order and even every single crazy food sensitivity I have in addition to having Celiac Disease.  When you call for take-out they immediately ask you if there are any allergies, and they KNOW Celiac and gluten-free very well.  They have been partially gluten-free (separate everything)since 1992.  Even their desserts are all gluten-free and made with real food ingredients.  I feel so safe when I dine at Bistango.  It's places like this that I fully appreciate.
Pala Pizza - Permanently closed!
Pizza by Certe - The gluten-free pies are made in an off-site dedicated gluten-free kitchen and then transported to the pizzeria.  They are then cooked in the same oven but are put on a plate before reaching the oven so that the gluten never touches these pies.  The pies are individual pies, made with chickpea flour and taste like Socca.  You cannot order by the slice.  What's super cool about Pizza By Certe is that they are a Certified Green restaurant which means that all the ingredients are unprocessed, and locally sourced.  This spot is located at 132 E. 56th Street, between Park Avenue and Lexington.
Keste Pizza - This spot dishes up gluten-free pies that are prepared in a separate facility on site, and even have their own gluten-free dedicated pizza oven!  Their sister restaurant Don Antonio serves gluten-free pizza and other gluten-free dining options.  Both restaurants have the same gluten-free food prep and the same way the pizzas are made to avoid cross-contamination.  Keste is located at 271 Bleeker Street and Don Antonio is located at 309 W. 50th Street between the avenues of 8th and 9th.
Nizza - An oldie but goodie!  This spot has a huge gluten-free menu and their waitstaff is super savvy!  I always feel safe when I eat here.  Their pizza is made from chickpea flour and is called Socca.  So the base tastes a little different, more similar to pizza made in France.  It's totally delicious, and it's available by small individual pies.  There are quite a few different options and it's absolutely fantastic.  Besides pizza, this spot has every Italian food dream you could ever have and it's made gluten-free.  It's not a 100% gluten-free restaurant so always advise if you are Celiac or gluten-intolerant.  This is not a pizzeria but a cozy neighborhood Italian restaurant located at 630 9th Avenue near 45th Street.  Good vibe too!
Underground Pizza - This pizzeria serves up pizza, pizza, and pizza.  Their full pies with all the fixings and crust are made off-site in a dedicated gluten-free facility and then transported back to the pizzeria and heated in the same oven.  However, to prevent as much cross-contamination as possible the gluten-free pizza is put on large plates so that the pizza never touches the oven itself.  Pizza is sold by the pie and not the slice.  Underground Pizza is located at 3 Hanover Square at 2A Williams Street all the way downtown in FIDI (Financial District).
Skinny Pizza - I'll be honest, I don't love this pizza, BUT if you are craving pizza and this is all you can find then go for it!  I'll call this my last resort pizza.  Its the type of pizza I would have if no other gluten-free pizza were available.  It's not the type of pizza I am disgusted by, but it's not at the top of my list.  I am NOT a fan of the crust at all.  It's hard.  They have so many locations on the plus side and lots of toppings and variations!  Their crust is super thin and crunch.  Located at 225 Liberty Street near the World Trade Center in the Time Shopping Center in FIDI.  They also have another location in Roslyn Heights, Long Island (where I first had their pizza) and another location in Garden City, Long Island.
Wild - Wild is a spot I have been dying to try!  It's a beautiful restaurant that caters to both regular folk, gluten-free folk and vegan folk.  They source all their food locally and free of antibiotics, hormones, pesticides, additives.  Wild uses organic gluten-free flours and tomato sauces, hormone and antibiotic free cheeses and meats.  This is because the owner had her own set of stomach issues and difficulties, and pinned it down to quite a few allergens, and the fact that the food sources were so contaminated.  At Wild, Farm to Table is the way it goes.  All of their pizza crusts are gluten-free so you can't go wrong there.  In addition to gluten-free pizza, there is also gluten-free chicken parm, and gluten-free spaghetti to name of a few of their fabulous comfort foods served up gourmet style.  Wild is located in the West Village at 535 Hudson Street and Williamsburg, Brooklyn at 340 Bedford Avenue.
Tali Restaurant - Old world recipes turned gluten-free.  Lots of comfort food here.  This is the perfect spot for anyone that thinks gluten-free just doesn't taste the same and they miss their old comfort food recipes.  Go here if that's what you're missing.  This restaurant is not dairy-free or egg-free friendly.  Substituting will be hard here other than gluten-free.  They have everything from mozzarella sticks to pizza to paninis to every breaded thing imaginable, ALL GLUTEN-FREE.  This is the new guy on the block.
I hope you guys LOVE this list and that this list brings you your gluten-free pizza desires!!  I have spoken to every manager at each place I have listed, and dined at almost all of them!  The ones I have not dined at, close friends of mine who are gluten-free have.  But that still didn't stop me from calling every single place and asking all of my questions.

Below are two spots that are NOT friendly to you guys.  Just thought you should know because not all gluten-free pizza is created equal.
Be safe you guys!
NOT CELIAC SAFE OR GLUTEN-INTOLERANT SAFE
Pizza 33 - This is another spot that has amazing pizza, but when it comes to catering for gluten-free - they don't get it.  While they get the gluten-free pies from a dedicated facility there seems to be very little concern about cross-contamination.  In fact, while there recently they took the gluten-free pie out of the non-contaminated area and slapped it naked right on the counter with all the wheat flour.  I almost died!  And then when I said I didn't want that one because I would get ill, they didn't throw it out.  They put it right back on the entire stack that was gluten-free therefore contaminating the entire batch without any regards to how sick someone can get with just a dabble of wheat on their gluten-free pizza.  Scary!
Love and Gluten-Free Pizza!