Healthy Vegan Chocolate Pudding Smoothie! Creamy and decadent loaded with hidden veggies, and a dollop of chocolate pudding on top! Tastes like dessert.  Refined sugar-free, nut-free, gluten-free, and paleo.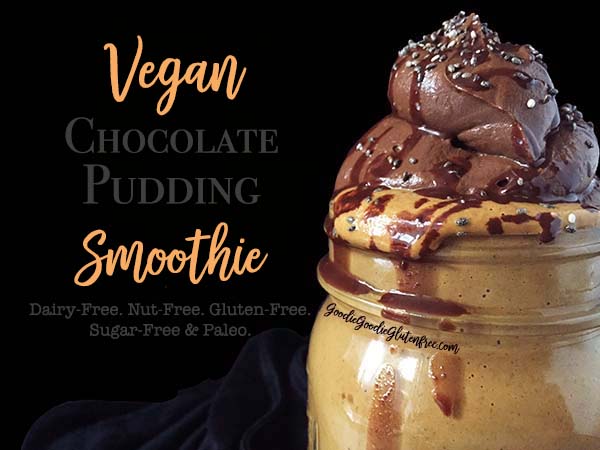 Healthy Vegan Chocolate Pudding Smoothie!  Say what?  If I told you this smoothie was healthy would you believe me?  If I told you this smoothie was sugar, dairy, nut-free, paleo & vegan approved and still tasted like the darn best decadent chocolaty smoothie ever – would you think I was joking?  Because I'm not friends!  This is fo REAL!
This is the type of smoothie you dream about, you know that super guilt-free one that tastes like you should feel guilty? The one that feels like you just ate dessert and kinda feel bad because it's breakfast time…Yeah, that kind.  It's creamy, smooth, decadent and all you can taste is the chocolate with a twist of cinnamon.
And this is the exact point of my treats and sweets.  Deprived?  I think not!  No never! Life can taste pretty sweet and decadent even with allergies, limitations, food sensitivities, chronic illness, autoimmune, and needing or wanting to live a healthy lifestyle. There are some serious diets out there, and I have been on most of them – and had I not (doctor's orders) tried out these diets and made them part of my lifestyle, I NEVER would have been able to learn how to develop recipes THIS creatively.  I always prided myself on my creativity, but since living and eating clean, my creativity has expanded beyond my wildest dreams.  Just don't ever think your life has to be bland, okay?  Because It totally doesn't. Healthy can easily be DELICIOUS!  Don't believe me?  Scroll down a bit, go ahead…drool over this smoothie – and then make it!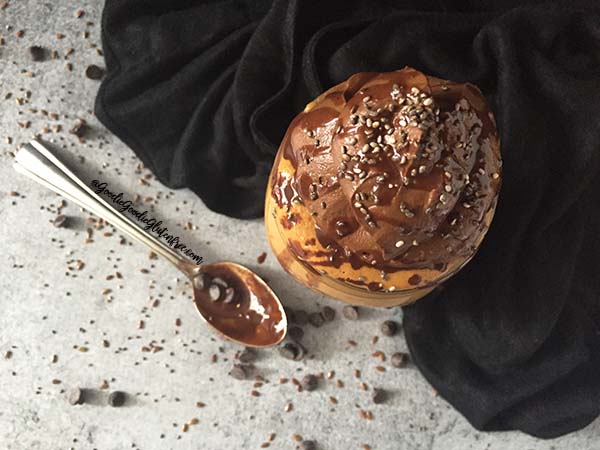 I'll tell you how I eat this divine piece of goodness.  First I use a spoon and eat the chocolate avocado ( yes I said avocado) pudding!  That decadent chocolate pudding is off the hook!  No joke!!  Today I used that same avocado pudding recipe for a raw vegan tartlet I'm developing and I gave it to a few people in my building, ya know to taste test.  Besides saying how amazing it was, they asked me what kind of chocolate I used so they could buy it. I said "avocado".
I can't tell you how many wows, oohs, and ahhs I get when I surprise people with my ingredients…
After I devour the chocolate avocado pudding, I pluck in a straw and drink the rest.  My favorite way to drink a smoothie is ice cold, so when you make this make sure your base is cold.  Unless of course, you are that kind of person that likes warm smoothies.  And if you are, well then, by all means, drink it the way you like!  I'm just telling you how I dig them.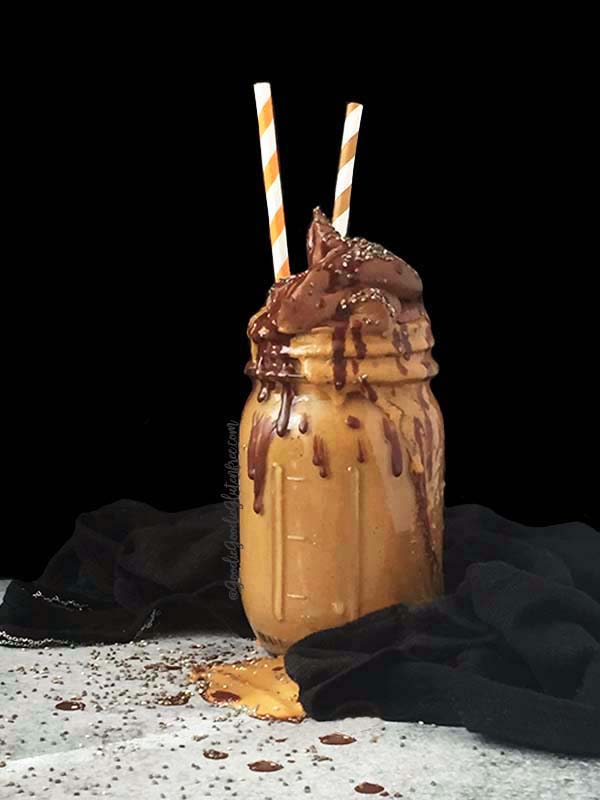 Your call if you wanna eat this for dessert or breakfast.  It's loaded with protein, healthy fats, fiber, and veggies.  And OMG – It's fruitless – unless you count avocado as a fruit (since technically it is one).  But don't worry, you won't miss the non-existing fruit in this smoothie.  It's just so good and so creamy the way it is!
Ready to make beautiful music together?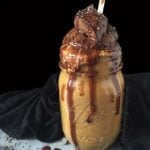 Print Recipe
Vegan Chocolate Pudding Smoothie
Healthy Vegan Chocolate Pudding Smoothie! Creamy and decadent loaded with hidden veggies, and a dollop of chocolate pudding on top! Tastes like dessert.  Refined sugar-free, nut-free, gluten-free, and paleo.
Servings:
1
person or two to share
Equipment
high-speed blender

microwave

food processor
Ingredients
SMOOTHIE BASE INGREDIENTS:
1

cup

frozen sweet potato chunks

cooked + frozen

1/2

cup

frozen cauliflower florets

raw

2

tbsp

hemp seeds

1

tbsp

flax seeds

2

tbsp

chia seeds

1/2

tsp

ground turmeric

1

tsp

cinnamon

2

tsp

pure maple syrup

optional

2

tbsp

raw cacao powder

1 1/2

cups

Tiger Nut milk

or plant milk of choice

1

cup

ice

1/2

cup

optional: additional plant milk if needed

1

tsp

optional: chia seeds for garnish
CHOCOLATE PUDDING INGREDIENTS:
3/4

medium-sized avocado, ripe

1

tbsp

pure maple syrup

1

pinch

pink Himalayan salt
CHOCOLATE DRIZZLE INGREDIENTS:
1/4

cup

gluten-free chocolate chips

1 1/2

tbsp

coconut oil
Instructions
SMOOTHIE BASE INSTRUCTIONS:
In a high-speed blender first blast 1 cup plant milk with the frozen cauliflower till liquid.

Then add the frozen sweet potato and addition 1/2 cup plant milk, and blast until smooth.

Add all remaining smoothie ingredients except the ice and blast until well blended. The texture should NOT be grainy. If it is you'll need to blend longer. You can also add additional milk if it's too thick.

Once blended to your desired consistency add the ice and blast again.

Store in the fridge or freezer while you make the pudding.
CHOCOLATE PUDDING INSTRUCTIONS:
Using a food processor add the avocado flesh, the cocoa powder, maple syrup, and the pink salt. Blend until smooth and creamy.

Process until pudding like consistency and then either put into a disposable pastry bag (get it here), or set aside in a dish.
CHOCOLATE DRIZZLE INSTRUCTIONS:
In a microwave melt 1/4 cup of sugar-free chocolate chips at 15-30 second intervals, mixing each interval with a spoon until it forms into a liquid.

Once the chocolate is melted, then add UP to 1 1/2 tablespoons of coconut oil. Using a spoon add teaspoon by teaspoon till you get the desired drippy consistency.  Mix well.
ASSEMBLY:
Remove the smoothie from the freezer/fridge and using a disposable pastry bag with the bottom cut straight across at the tip or at an angle (for piping purposes) pipe chocolate pudding on top of the smoothie.

Then drizzle melted chocolate on top with a spoon.  Top with additional chia seeds as sprinkles.
Notes
For my superfoods, I used Nuts.com – because they have a certified gluten-free section that measures at 5ppm. // My favorite brand of pink salt is Himalasalt – but you can also use sea salt.  // If you want your avocado pudding to be sugar-free, eliminate the maple syrup and use 4 drops of stevia. // If you cannot get access to TigerNut milk, get my recipe here or feel free using another plant-based milk other then hemp seed milk.
Love & Decadence,