Dark chocolate, black mission figs, coconut oil, and hemp seeds make up these wonderful chocolate-dipped hemp seed figs. Healthy, easy, vegan, and fruity.  Gluten-free, dairy-free, paleo, and vegan.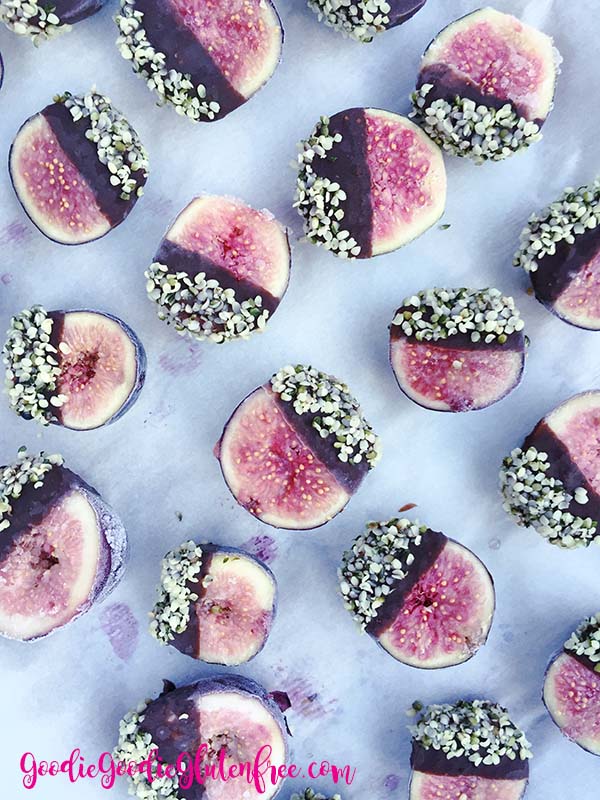 Chocolate dipped hemp seed figs are the best way I can sum up dessert balance.  You have a mix of decadence and a mix of healthy with a boost of nutrients and fiber.  In my book, that's balance!  And I'm in love!  With figs.  Dipped in chocolate.  Then dipped in Hemp Seeds.  Okay, I said it twice.
Dried figs are delicious too, but too high in sugar to enjoy in handfuls.
Fresh figs are also delicious, like the ones I made here.  But once you freeze them, It's another dimension of divine!  And then dipped in chocolate?  OMG, it's a love affair!  And you can't just eat one.  Like potato chips, no one ever said I just had one potato chip.  And no one ever said I just ate one fig.  I have literally never heard anyone say that have you?
I love it when fig season rolls into Manhattan.  I get really excited.  I was waiting all Summer and when they hit Whole Foods I was ready to pounce!  I was like FIGS! Let me take a thousand and one iPhone shots of these beautiful figs!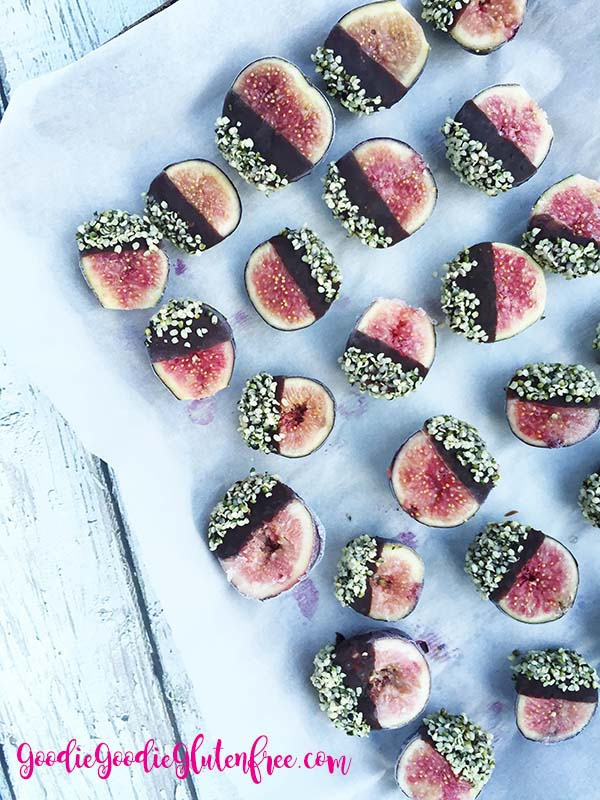 Last Summer I had the pleasure of making chocolate covered figs and I stored them in the freezer and they were so delicious! I called them Dreamy Chocolate Covered Figs because they were so dreamy!  And  I enjoyed them with fresh blackberries.  That combination was wonderful.  This time when figs rolled around, I was thinking superfoods.  I was thinking of coconut.  I was thinking hemp seeds. And then I thought how nice that combination would be together!  I was also thinking Carob but quickly realized after recipe testing (Carob and coconut do not jive together) that Carob did not belong in this recipe at all.  And after a poll on Facebook and Instagram, I got lovely feedback from you guys that this recipe needed to be chocolate all the way.  And you guys were so right!  Chocolate always wins.
Instead of melting down a few dark chocolate candy bars, I used cocoa powder and coconut oil as the base, which is an easier way of making a chocolate coating, and a less expensive one too.  It also makes the chocolate coating softer so when you take a bite it's just a medley of harmonizing textures.  Gosh, figs are so damn good!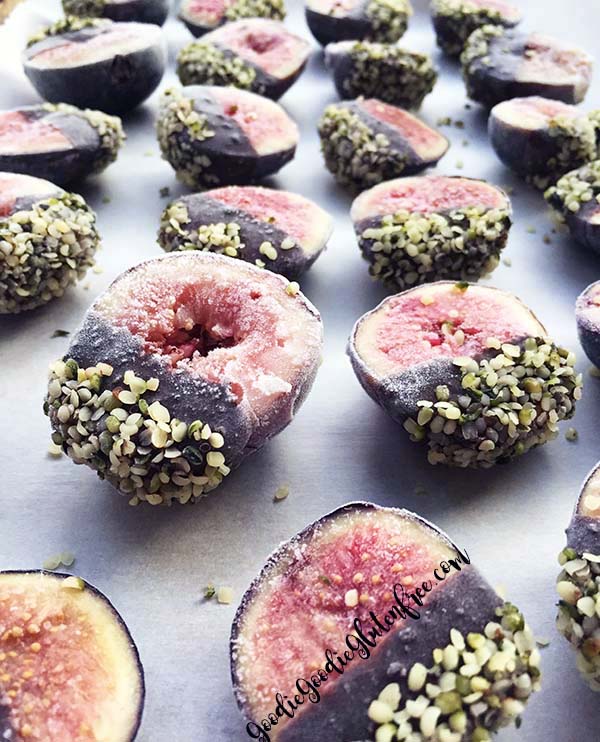 Do you know what another lovely combination is?  Hemp seeds and chocolate. Adding hemp seeds to this recipe was the perfect garnish.  In fact, the remainder of this recipe stares at me daily every time I open the freezer, they literally call my name.  But I cannot be a Figaholic, because everything in balance ya know?
So let's talk benefits, shall we?  When you start eating healthier, bringing in more plants, eating less processed, and eating less sugar your palate changes.  You no longer crave gobs of cane sugar and bad for you eats.  You start allowing your body to make intuitive eating choices that are going to fuel your body in the long run.  Adding hemp seeds to this dessert was a no brainer.  It gave this recipe a little bit of an iron-rich protein crunch with a nutty flavor.  You are not just eating empty calories when you eat a combination of natural sugars and fiber in fruit, protein in hemp seeds, and magnesium in chocolate.  You are getting a medley of super nutrients in something that tastes decadent.  And that is when your body hits the jackpot.  It's when taste, flavor, and good for you all come together.  It's called dessert balance.  Since balance is so hard to strive for, I have done it for you here.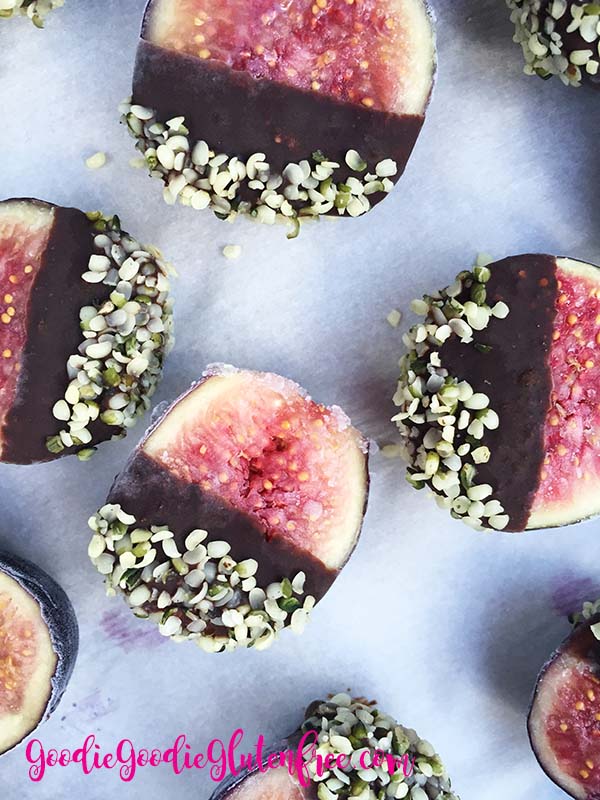 So, are you ready to make beautiful music together?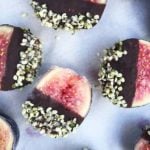 Print Recipe
Chocolate-Dipped Hemp Seed Figs
Dark chocolate, black mission figs, coconut oil, and hemp seeds make up these wonderful chocolate-dipped hemp seed figs. Healthy, easy, vegan, and fruity.  Gluten-free, dairy-free, paleo, and vegan.
Ingredients
13

whole

Black Mission Figs

3

tbsp

raw cacao or cocoa powder

2

tbsp

coconut oil

unrefined

2 1/2

tbsp

hemp seeds

3

drops

liquid stevia

I love Nu Naturals
Instructions
Wash the figs.  Dry the figs.  And halve the figs.  Then freeze the figs while you prepare the chocolate and hemp seeds.

Set up a baking tray lined with parchment paper.  Then add the hemp seeds to a small bowl (for dipping) and set aside.

Set up your double boiler to medium/low heat and add the coconut oil and the liquid stevia. Mix well.  Then add the cacao powder or cocoa powder and keep stirring until you have an even smooth mixture of chocolate.  Mix really, really well until smooth.

Lower the heat to the lowest temperature and one by one dip each fig halve into the chocolate mixture, followed quickly by dipping that fig in the hemp seed mixture and then laying the fig on the parchment paper-lined baking tray.  

Do not worry about it not being perfect, or not drying correctly, because it will.  Do this process with all the figs.  Once all figs are used up, put the tray in the freezer and let the figs set for 15 minutes.  Once set, add the figs to a plastic bag, or glass container and store in the freezer until ready to serve. These figs are delicious frozen and at room temp!
Notes
If the chocolate mixture starts to get lumpy, simply add a teaspoon of coconut oil into the mixture and stir out the lumps. // Letting you know that Hershey's chocolate powder is certified gluten-free in case you don't like cocoa or cacao. // 
Love & Figs,