Chocolate dipped apricots covered in hemp seeds are so delicious they taste nutty with all the tang in the right places.  Super duper protein dark chocolate snack bites for the win!  An easy snack or dessert for any occasion.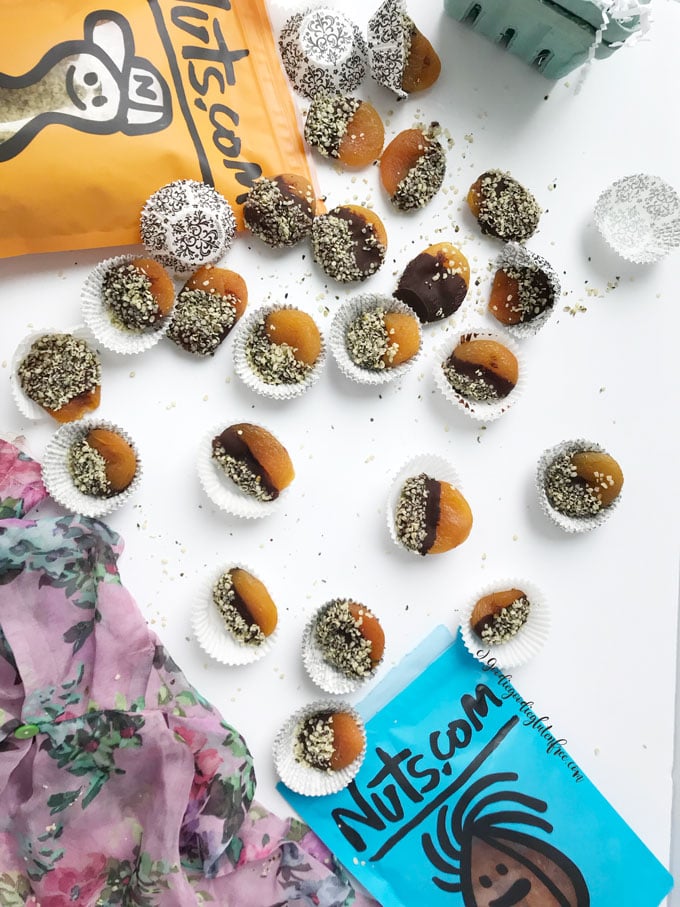 New Recipe you guyyyyysssssss!  Dark Chocolate Dipped Apricots!  Oh my God!  Never in a million years would I ever think the combo of dried apricots, hemp seeds, and chocolate would go together, but life does keep me on my toes, and well a huge shocker?  This combo is a match made in heaven with a nutty like texture with all the tang and sweetness in the right places.  An unlikely trio that you'd never pair!  If you like fruit and nuts then let me introduce you to the allergy-friendly version!  Apricots are definitely under the radar.
FIRST, BENEFIT DEETS!: HEMP SEEDS
And no!  Your drug test will not show up positive for marijuana.  LOL.  Hemp seeds are THC free.  They will not show up on a drug test and are safe to consume and eat on a regular basis.  There are no psychedelic benefits of consuming hemp seeds, but there are nutritional ones!  And that's what makes these sooo superfoodie!  They are filled with protein and…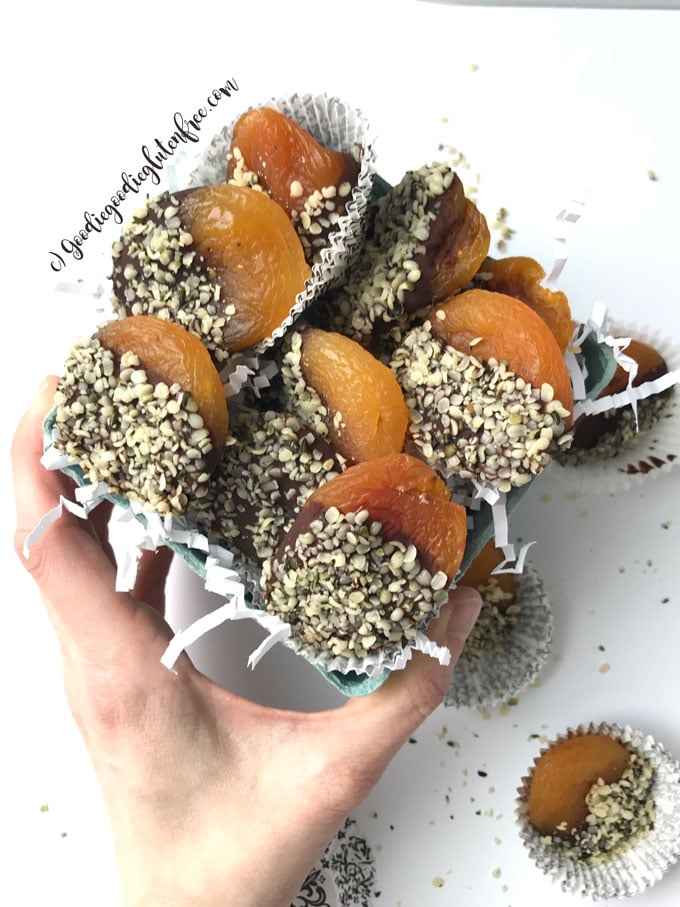 In addition to this superfood hemp seeds being a great plant-based protein, they help fill you up in a good way and store plenty of omega 6 fatty acids, omega 3 fatty acids, vitamin A, potassium, calcium, and fiber.  Just two tablespoons pack a mighty punch!
Nut-free and allergy-free clients say that hemp seeds remind them of nuts so that's their allergy-friendly version.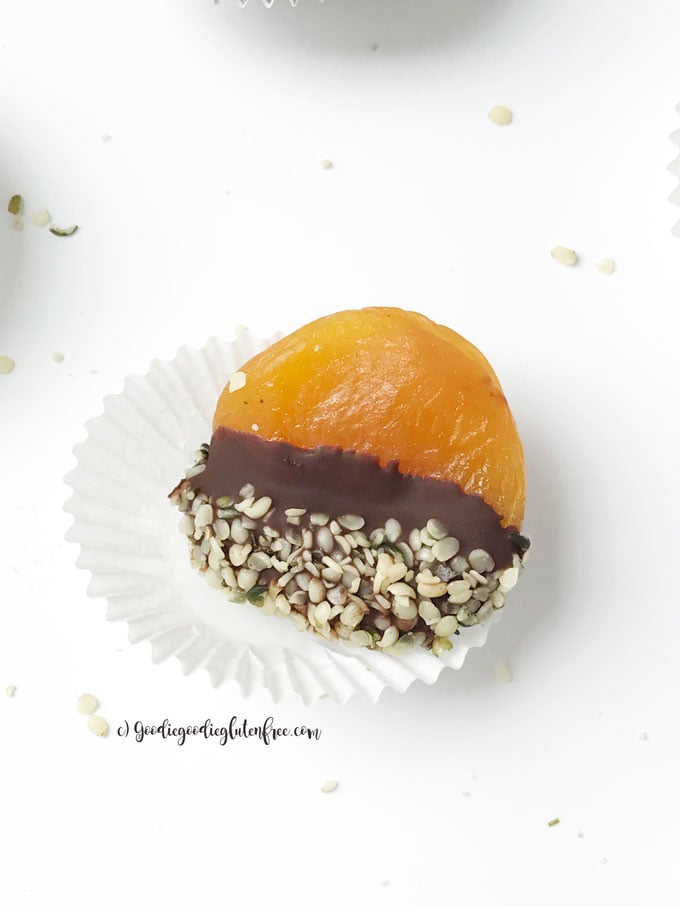 In this chocolate apricot recipe, the trio combo created the perfect harmony when it came to fruit, chocolate, and nutty-like seeds.  Oh the chocolate, I could talk about it for hours.  It was like the perfect bite, the, I can't believe this tastes like this!  It's dried fruit for god's sake!  But it's so darn good.  The chocolate makes it spectacular.  It's kinda dreamy.  Not Ryan Gosling dreamy, but dreamy.
So, are you ready to make beautiful music together?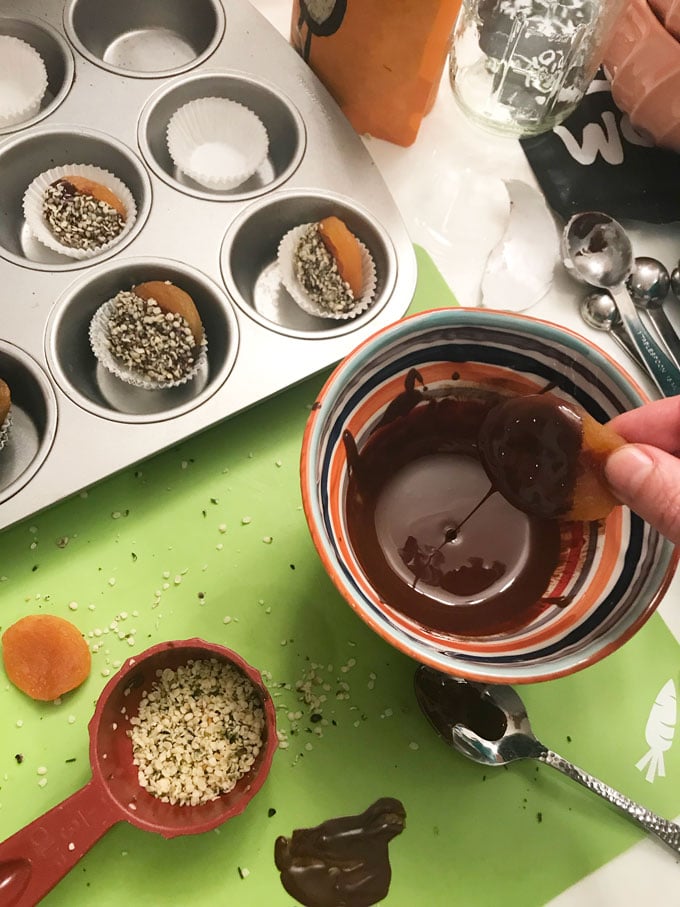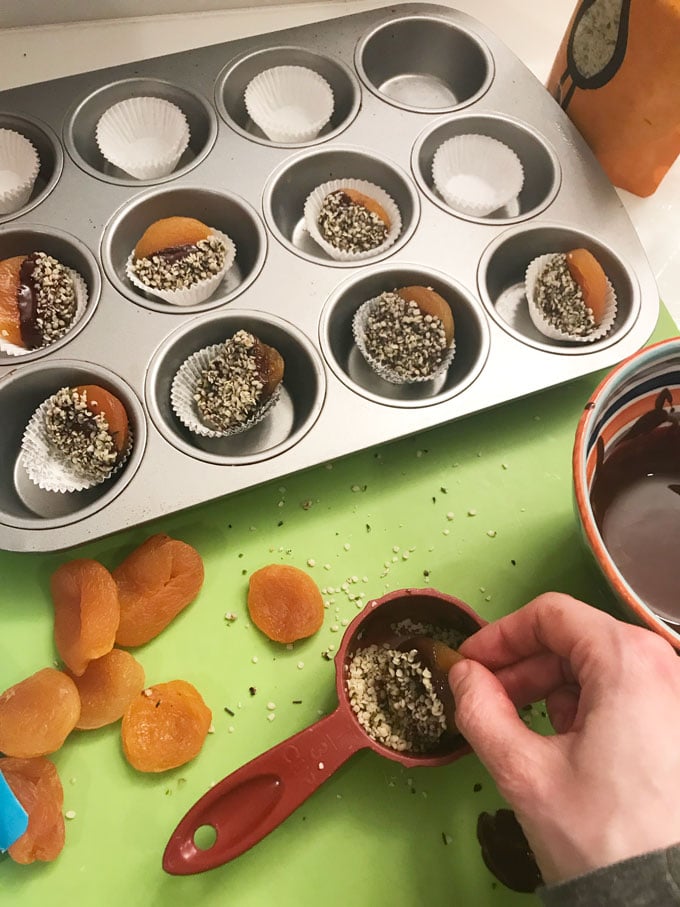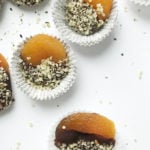 Print Recipe
Dark Chocolate Dipped Apricots
A nut-free nutty-like texture with all the tang & sweetness in the right places.  Super duper protein dark chocolate snack bites for the win! Gluten, dairy, nut and refined sugar-free. A plant-based and vegan treat that your tastebuds will love!
Equipment
double boiler or microwave
Ingredients
24

dried apricots

organic

1/3

cup

dark chocolate chips

gluten-free, vegan

1

tbsp

coconut oil

solid

1/3

cup

hemp seeds

organic if you can
Instructions
Line a cupcake tin with small cupcake liners and set aside. Add hemp seeds to a bowl and set aside.

Melt chocolate in a microwavable bowl at 15-second intervals till almost fully melted or melt chocolate with a double boiler on low to medium heat till fully melted.

Add coconut oil and mix till the mixture is blended and smooth.

Dip each apricot about halfway into the melted chocolate mixture a few times so that the coating is thick, then cover each side in hemp seeds and set each one into a cupcake liner.

Freeze for 4 hours and enjoy it.

Store in the freezer for up to 6 months.
Notes
I use Nuts dot com for all my certified gluten-free seed and product needs!  They have a huge dedicated gluten-free section.  They have certified gluten-free, and also naturally gluten-free.  It's really fantastic, and I've never been disappointed.  Shop Nutsdotcom now! // -I used Enjoy Life Dark Chocolate Chips for this recipe.  They are a fabulous gluten-free company plus top 8 and even 9 allergen-free.  You can always trust this brand.  If you want a total sugar-free brand go with Hu Kitchen Dark Chocolate.  That one is super safe too. // These are delicious at room temp once frozen and totally frozen.  Delicious both ways so you get to choose! // I love using apricots from the gluten-free section of nuts dot com //