Ultra-thin, soft, and tasty tortillas made from cassava flour make grain-free crepes delicious.  Slathered with Sunbutter, raspberries, melted chocolate chips, and hemp make these Sunbutter n Jelly Grain-Free Crepes out of this world!  Gluten-free, nut-free, paleo, and vegan.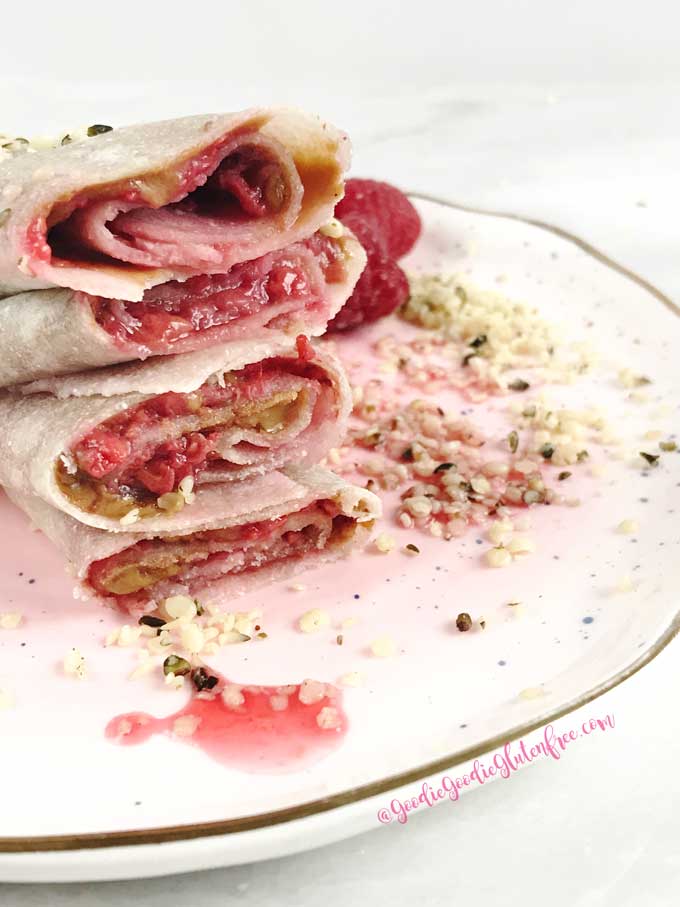 This Sunbutter n Jelly Crepes recipe is the perfect combination and will remind you of a peanut butter and jelly sandwich, but better!  Here's the deal.  If you're going to make something carby then it must be filled with a healthy protein source, healthy fats, whole and fresh ingredients, and of course something healthfully sweet for it to be suitable for your body.
INGREDIENT LIST
Dark bitter chocolate chips
Fresh or frozen raspberries
Creamy unsweetened Sunflower seed butter
Organic Hemp Seeds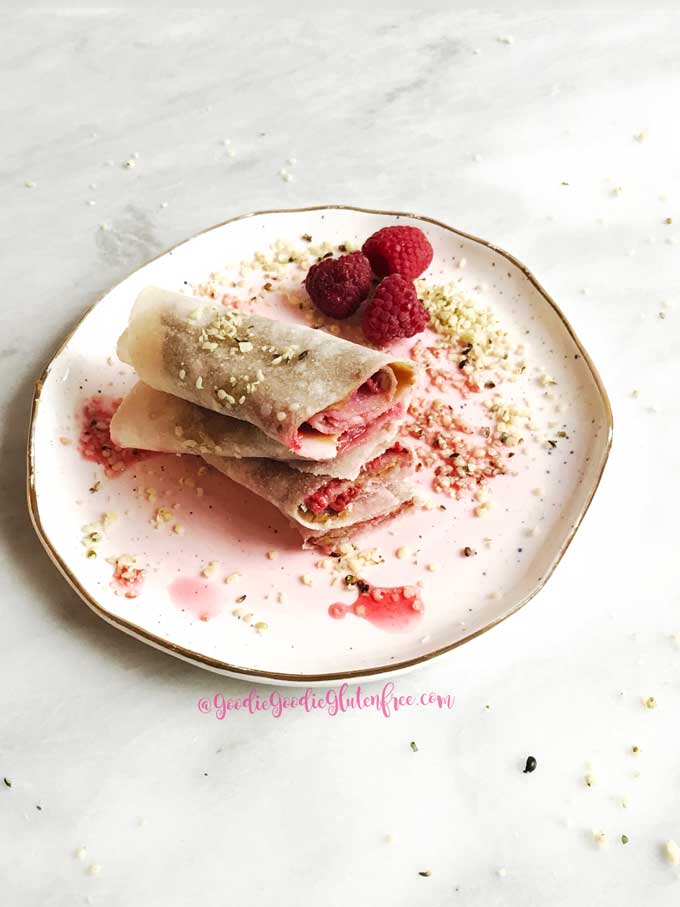 SUPERFOOD DETAILS
Did you know that hemp seeds are a great plant-based protein?  So is Sunflower Seed Butter!  So that's two awesome proteins in your breakfast.  Empty or fluffy and light breakfasts are pointless and do nothing for your body other than add calories and weight.  If your food is not nutrient-dense it will not take you very far as body fuel goes.  So, that is why I love superfoods like hemp seeds.  Add superfoods to everything and make your recipes nutrient-forward!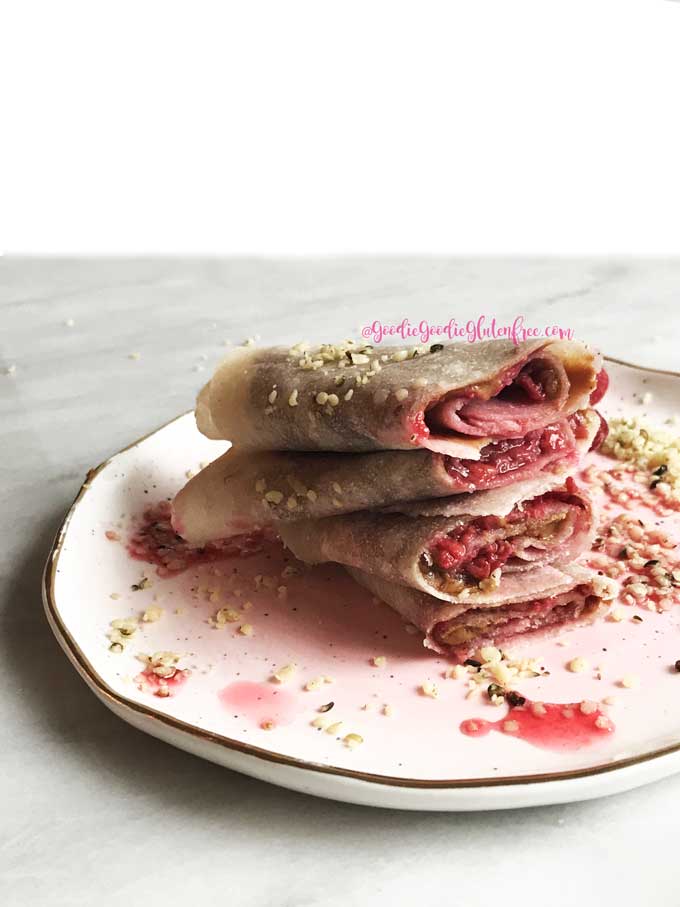 Siete is a Mexican-American food brand that first started with Cassava flour tortilla chips.  It was the first deliciously tasting gluten-free, and grain-free chip that used good ingredients from a family who needed to remove gluten.  Followed by the tortillas making it easy for folks with allergies to create old-fashioned foods they missed the most!  Now, Siete is a full brand from sauces and marinades to chips and sweets!
Standard crepes usually require eggs, gluten, attention to detail, a large pan, and lots of time.  Using a brand like Siete that is packaged is fantastic because the ingredients are so good for you, the ingredient number is low, and they are so easy to make.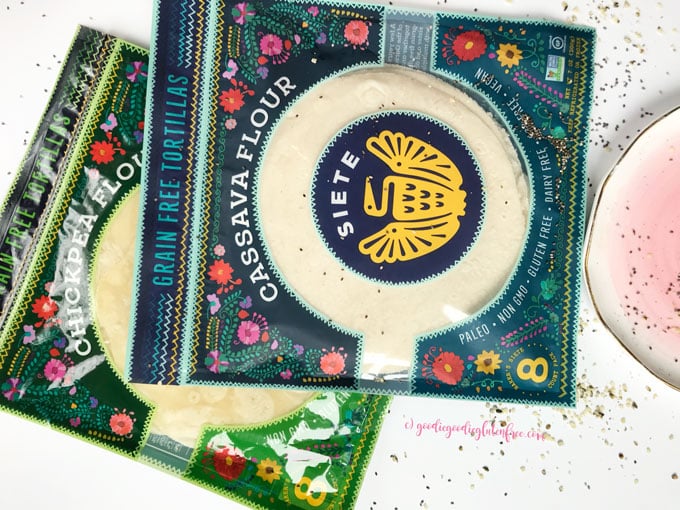 That's why I can always trust Siete grain-free tortillas.  They are super soft, flexible, durable, don't rip, and do not taste rubbery like some actually gluten-free options do.  Light in flavor and use minimal ingredients, allowing the inside to be the center showcase.  I adore using these grain-free tortillas for dessert recipes, savory recipes, and even breakfast recipes like these Sunbutter n Jelly Grain-Free Crepes!  Every bite oozes with sunflower seed butter, warm fruit, and chocolate.
MY FAVORITE SIETE TORTILLAS
Cassava flour tortillas
Chickpea flour tortillas
Coconut, cassava, and chia tortillas
READY TO GATHER YOUR INGREDIENTS?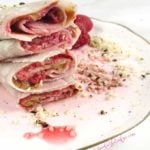 Print Recipe
Sunbutter n Jelly Grain-Free Crepes
Ingredients
2

cassava flour tortillas

Siete Brand

1

small handful

raspberries

frozen, organic

1 ½

tablespoon

sunflower seed butter

Sunbutter brand, organic

1

tablespoon

hemp seeds

¼

cup

dark chocolate chips

sugar-free, vegan

extra garnish

raspberries, hemp seeds, chocolate chips
Instructions
Saute the tortillas as directed according to the back of the package.

Spread about ¾ tablespoon of Sunbutter on each tortilla.

Add a little less of ½ tablespoon hemp seeds for each tortilla – sprinkle them all over.

Use an even amount of raspberries for each tortilla.

Sprinkle chocolate chips on the tortilla and then roll up or fold up.

Warm the tortillas in the microwave for 15-second intervals and max 30 seconds or till warm, gooey and drippy.

Enjoy this messy goodness with a fork and lots of napkins.
Notes
I love using Sunbutter brand because they are made in a dedicated nut and gluten-free facility.  Top 8-9 allergen-free.  This is a Celiac-Safe brand.  I personally like the sodium free version, but they have a creamy and natural that also would work in this recipe.  Other brands that make organic certified gluten-free sunflower seed butter is Once Again which is also celiac safe and made in a dedicated facility. // I also adore these Siete tortillas which I also call crepes because they are certified gluten-free and made safely with beautiful ingredients and quite thin.  From a family team who have dire food allergies and gluten issues, we all know how legit a product like this can be.
MORE BREAKFAST RECIPES
Health and love,