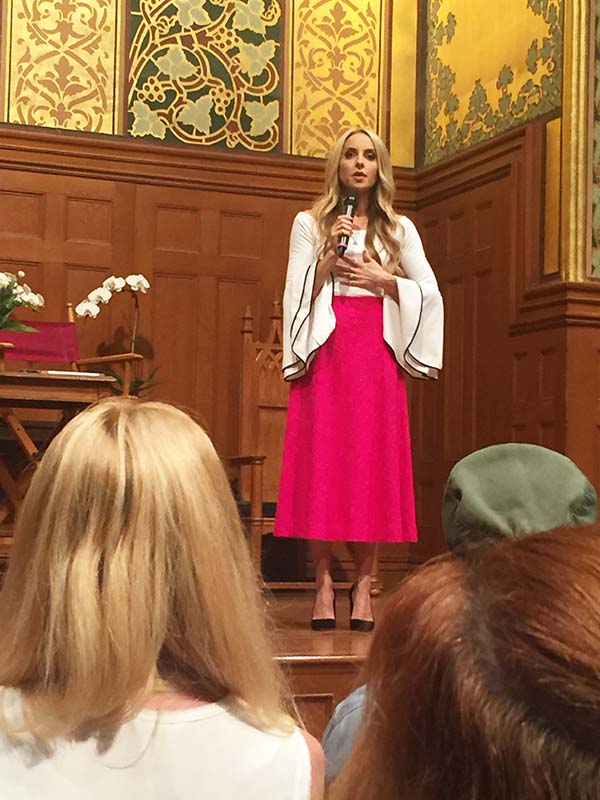 Greetings loves!  This past Tuesday I had the honor to attend Gabby Bernstein's book launch in Manhattan for her newest book; The Universe Has Your Back: Transform Fear to Faith and as usual it was a lovely event filled with support, golden nuggets of wisdom and community.
As I sit here with my Turmeric Face Mask on (that recipe is coming soon), I feel compelled to dish, share and spread the love.  I know that her teachings have saved me, and awakened me onto my spiritual path so I know they can help you too.
While I was on my way to the event, I was rushing and totally forgot my notebook and pen.  How was I going to jot down all her wise words, her advice her teachings if I didn't have my notebook?!  How was I going to inform my tribe (I was thinking of you guys : ) ).  I got in the cab and thought "well I can't go back now". And that statement alone is just so fitting for an event like this where Gabby teaches about progressing and moving forward with the trust and faith from the Universe!  I automatically thought that the Universe didn't want me to have my notebook and pen because maybe I just really needed to listen and be present instead of having my head down the entire time writing.  Besides I had my phone which has a notes app in it, even though it was on 30 percent battery (yikes).
I got there about 45 minutes early, intentionally.  Another word used often in Gabby's teachings "intention".  My intention was to snag a very close to front row seat, because I like to be up front and center at these events.  When I got out of the cab I was like SCORE!  Small line, which meant I got third row which was a golden seat and pretty much center if you saw how the seating arrangement was!  It's worth being in the front for Gabby's events.
The event was PACKED.  I mean super beyond packed.  The back room that we didn't even know existed was packed.  The Live Steam had thousands of people listening and tuning in.
There were MANY more men in the audience this time around and I was actually surprised!  I never see a lot of men at Gabby's events, sometimes 3 or 4 trickle in, but this time a small movement.  This time I saw all kinds of men, just like I see all kinds of women at this event, and I don't mean religion or race - I mean all types of people, with all kinds of careers, all kinds of values from near and far flocking to every word this wonderful woman has to say, resonating, nodding, understanding, getting it because at the end of the day we all just want to learn how to move forward and feel loved and supported at the same time.  Tall order? Maybe, but it doesn't have to be, and that feeling is so epic, it's no wonder the lines go around block just to get in.
At The Universe Has Your Back Book launch event I listened more, since I didn't have my pen and notebook.  Here and there I jotted down on my phone the words I knew you would want to know, and the words I knew I needed to hear.
These nuggets are a taste of what's in store for you in her new book, plus her stories, and her tools to help you transform your fear to faith and move forward getting the life that you want and the support that you need with confidence, with purpose.  You would be surprised that she doesn't teach you to get this from others, she teaches you to actually get it from yourself.
Because Gabby has helped me so much in my life, I am a huge supporter of her work.  And because I am such a supporter of her work I am hosting a little GIVEAWAY here on Goodie Goodie Gluten-Free!!!!  So scroll down after all the nuggets of wisdom and enter into the giveaway!  2 beautiful souls will each win a copy of Gabby's newest book The Universe Has Your Back that just hit the bookstore shelves on September 27th!  But first - gorgeous supportive words of wisdom out of the mouth of Gabby Bernstein herself:
"Recognize what's coming up so it doesn't keep coming up."
"If we don't honor what's up it will keep showing up and coming up situation after situation, angle after angle.  We need to show up towards our resistance to love."
"The Universe can be blocked by you."
"How do you resist love?
Do you act out?
Do you speak poorly of others?
Are you trying to control everything?
Do you play small?
These are the ways we resist the energies of the Universe."
"Let go of the rope.  Allow the Universe to work through you."
"In lack, in self judgement are all ways we resist love."
"When we move so fast we block the path of the Universe.  We move so, so fast that we don't give ourselves time to take it all in.  When we do't allow time to take it all in we block the path of the Universe and our path cannot unfold because we are just pushing through it all.  Take it in."
"The Universe cannot take from you what you will not give away."
"Affirmation:
Thank you for taking the from me and reinterpreting this for me, I surrender."
"Turn over times and turn over outcomes."
"Focus on what is thriving in your life instead of being in comparison.  Release the outcome by focusing on what you got, what is working and let go of time and outcomes on everything else."
"When you think you have surrendered, surrender some more."
"Get into the daily practice of spiritual surrender through meditation."
"Trust that the Universe has your back.  Figure out what that means to you.  Where can you tweak your faith a little more?"
"Let go of the plans."
"When we do what brings us joy, the Universe clears the path.  Being in the presence of joy allows the obstacles to dissolve."
"Whenever we say it has to be done my way, we are blocking universal energies.  We have to be open to creative possibilities."
"It doesn't have to be one way."
"Taking action from a place of force or neediness never works."
"Until we show up for the suffering, the pain, the discomfort - the suffering will continue."
"You may want to tell your story, but first you have to live your story."
I hope you enjoy these golden nuggets as much as I do.  I hope you stop where ever you are and just think about how these words, these statements, this wisdom can help you, impact you and inspire you to do what you need to do.
And if you feel called to snag this book, ENTER my GIVEAWAY where I will choose 2 lucky winners to each receive 1 FREE copy of The Universe Has Your Back book!!
How To Enter:
Gabby's book is all about trusting the Universe and having faith that you are guided.
I'd like to hear about a time in your life when you felt that the Universe had your back and therefore felt guided (Even if it went against what you had hoped for and didn't make sense at that time, but now does.  It doesn't matter how small or how large, just something that you felt was significant in your life).
I LOVE hearing about how the Universe effects each of us, and it's something I talk about all the time, so chime in below (in the comments section of this post) by October 10th, 2016 at midnight and I'll choose my favorite 2 answers from the comments.  TWO winners will be informed and emailed on October , 11th 2016.
GIVEAWAY RULES:
 Leave a comment/story on this post below about a time where you felt the Universe had your back.
Sign up for my blog newsletter. (Sign up is at the top of the site)
As long as you sign up for my newsletter and comment on this post, you are entered into the contest!
RECAP/GIVEAWAY DETAILS:
Leave a comment on this post by October 10th, 2016 about a time where you felt the Universe had your back (even if at the time it wasn't what you had hoped for, or didn't pan out the way you wanted it to, but realize now you were being guided and it was a blessing).
I'll pick my 2 favorites and the two winners will be informed by email on October 11th, 2016.
One winner will will an autographed copy of Gabby's book, and another winner will win a non-signed copy of Gabby's newest book The Universe Has Your Back: Transform Fear To Faith.
The book will be physically sent to two winners through the mail.
If you can't wait for the giveaway to end, and just want to purchase the book now...
Grab a copy of  The Universe Has Your Back Book!
I can't wait to hear your stories!!  I'll go first to get this conversation going...
First story: It was actually after the book launch that something happened and I literally looked up and thought "the Universe".  For most of you that are Celiac's or seriously gluten-intolerant you know that when it comes to any oral medication like a supplement, antibiotic, over the counter or prescription drug - it has to be gluten-free.  And not just gluten-free ingredients, but the concerns of how it's manufactured, where it's manufactured, if cross contamination precautions are taken, if the final product is tested for gluten levels and if there is a certification in place,  ALL have to be researched and confirmed before a pill can touch our tongues or enter our systems. Unfortunately MOST pharmacists will NOT do this leg work, and MOST doctors have No Idea what's gluten-free and what isn't.  So that leaves us having to do this leg work ourselves.  We have to call manufacturers and spend hours (seriously hours) researching and making calls because online information is usually not accurate.  It's a really frustrating experience, especially when you are dealing with Generic drugs. Because when It's a generic drug, you have to find out which generic manufacturer your pharmacy uses, because for one medication alone there can be 30 generic manufacturers.  So you check with your pharmacy and then start the research.  Since the information is not always easy to obtain, this experience can be really time consuming and frustrating.  It's something that most do not have to deal with.  It takes the ease out of ever getting medications.  And if any of you have ever called an insurance company to deal with coverage or anything like that, which is also in itself the most frustrating experience, this is 20 X worse!  So as it turned out my pharmacy used a few of the generic manufacturers so I had to research them all and call them all and that includes finding the phone numbers.  For the most part, it's hard to put a set time frame on getting this done when researching multiple medications, because most of it is so out of your control.  Sometimes they don't know, and they don't have info on hand and have to send out an inquiry. Sometimes it takes time for them to get back to you if they do at all.  Sometimes you end up calling for them to tell you that they cut ties with that medication and then they transfer you elsewhere to the new manufacturer or distributer.  It's a long process and it's frustrating.  After The Universe Has You Back Book Launch, I got up the next day and went back to making calls, and the last manufacturer that I was waiting for a call back from not only called me once, but twice and left voicemails (so unheard of to get a call back) to advise that they were indeed gluten-free and not only was the product made with gluten-free ingredients, but it was made in a gluten-free facility!  It was a Universe has my back moment.  That moment where I was so frustrated and wanted to give up and then the crown jewels were revealed.  The Universe had my back.
Second Story:  A few years ago I was in a relationship that was so toxic to my soul, it literally set my chronic inflammation, and Autoimmune Disease into a tailspin. Emotionally, physically and mentally shit hit the fan in ways I never thought could happen to me.  My AI that I had maintained for so many years took a drastic turn. What was once maintainable became so large that I couldn't maintain it and my whole life had to change.  My medical issues consumed me alive.  The Universe had sent so many signs, but I ignored them.  I ignored that gut feeling, my inner guide.  The way the Universe works, is that when you don't listen or pick up the signs the first time, or the second time, the signs keep getting louder and larger until you have to look at them, listen and take action.  Spirituality teaches us that all relationships are divine assignments, meaning we are meant to experience them so that they teach us what we need to learn, and then we move onward. Not all divine assignments are meant to be long term and when we hear those gut feelings we are supposed to listen - after all they are our guides.  But too often we block the energies of the Universe because we don't listen or we try and control the situation ourselves.  It was my biggest lesson from the Universe.  One of my lessons was to always listen to my intuition.  And this time (and many other times I didn't) I stayed.  And the more I stayed the more I lost myself.  And the more I lost myself the more medical issue surfaced.  I wasn't honoring myself.  The relationship got so toxic, I finally left.  While I had wished I had that happily ever after, the Universe knew this wasn't it.  This relationship NOT WORKING was the blessing, the guidance-the Universe having my back.
So can you recall a time where the Universe had your back?
Tell me your story below in the comments section to win a copy of this book!
And I really cannot wait for you to get your hands on this, it is seriously a book of golden nuggets and tools to help you get the life you want and have faith while doing it!
UPDATE!!!: The TWO winners have been notified by email.  Congratulations Wendy and Rebecca!  Wendy I was so inspired by your story to persevere WITH addiction and seek a more loving life for yourself by asking the Universe for help and in return getting that guidance.  Rebecca I was also inspired by your story to never give up and see your illness as the game changer that got you the life you love so much now.  I was so inspired that both of you were able to use these traumatic parts of your life to get you onto the path you were meant to be on.  This is the Universe having your back in such a BIG way!  Enjoy your book!
Love & Faith,