Jicama and honeydew are one of my favorite combos on my list for green smoothies because you don't taste a thing other then the sweet deliciousness. It's Vegan and it tastes so good!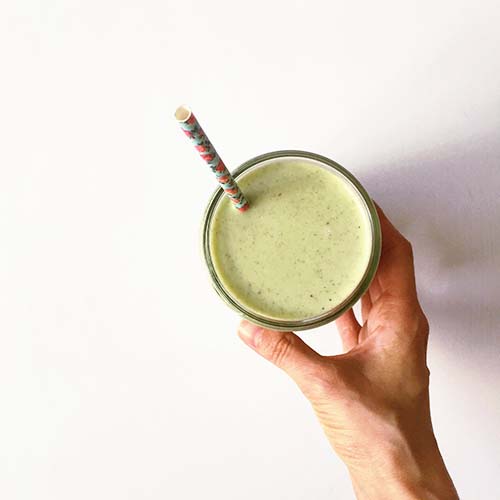 If anyone has ever told you this can't be done, I'm here to prove them wrong!  This is one of the most refreshing smoothies I have ever made, and it is PACKED with nutrients!  I never realized how sweet Honeydew actually was, until I went off sugar.  When I say I went off sugar, I mean I stopped eating all foods that had added sugar, refined sugar and stuck with natural low sugar fruits, and natural Stevia as my sugar source.  WOW.  That's what I can say about that!  Getting off sugar was hard, I won't lie, but after those first two-three weeks of time where you feel you can't do it, suddenly you realize you not only can, but you stop craving sugar all together!  How sweet is that?
And quitting sugar, or reducing it does a few things:
For starters quitting sugar changes your tastebuds and your palate, so you end up wanting more foods that have less sugar.
When you palate is changed, and you realize cutting out sugar and eating a more healthful diet is not a death sentence, you become more grateful for the food you CAN have.
When you go back to the amount of sugar you had before, or the amount of fruit you ate or the types of high sugar fruits you ate in the past, you will realize just how sweet they really were, and most likely you will not want them at that capacity.
And lastly, it makes you realize you don't need to rely on added sugar and you can get it from more natural sources like honeydew!
I adore making smoothies with melon as my fruit source and I actually think melon is a LOT sweeter then we realize.
Honeydew Jicama Green Smoothie
Serves 2
2/3 cup Jicama
5 Butter Lettuce Leaves
3/4 cup Ripe Honeydew
2 T. Hemp Seeds
1 T. Flax Seeds
1/2 tsp. Flax oil
1/4 cup organic raw coconut water (I use Harmless Harvest)
1 cup unsweetened coconut milk (I use So Delicious)
1-2 Tablespoons avocado (add more if you want your smoothie thicker)
Optional healthy gut and skin adds: daily dose probiotic powder, vitamin D drops, 1/2 tsp. cod liver oil
1 large handful ice
DIRECTIONS:
Blend everything together well, except the ice.  Once well blended, add the ice and blend again.  Serve on the rocks (with more ice) and serve.
Tips:  If the smoothie is too thin for your liking add more Avocado.  If the smoothie is too thick for your liking add more liquid, either the coconut milk or the coconut water depending on how sweet you want it.
Honeydew Jicama Green Smoothie
Author:
Prep time:
Cook time:
Total time:
A low sugar dairy free smoothie that tastes like honeydew melon, but it's filled with nutrients!
Ingredients
2/3 cup raw Jicama
5 Butter Lettuce leaves
3/4 cup Honeydew melon
2 Tablespoons hemp seeds
1 Tablespoon flax seeds
1/2 tsp. flax oil
1/4 cup raw organic coconut water
1 cup unsweetened coconut milk
1-2 Tablespoons Avocado
1 large handful ice
Optional adds: 1/2 tsp. Cod Liver Oil, Daily Probiotic powder, Vitamin D drops
Instructions
Blend everything together except the ice in a high speed blender until well blended.
Once well blended to your desire, add the ice and blend again.
Serve on the rocks (with more ice)
Love and Smoothies!