Melon lovers, unite!  These Dairy-free Cantaloupe Honeydew Popsicles are hydrating, refreshing, and full of flavor. Packed, and loaded with fruit, and still taste like dessert!  Ripe chunks of melon and creamy, fresh coconut yogurt all in one popsicle.  Gluten-free, dairy-free, nut-free, and vegan.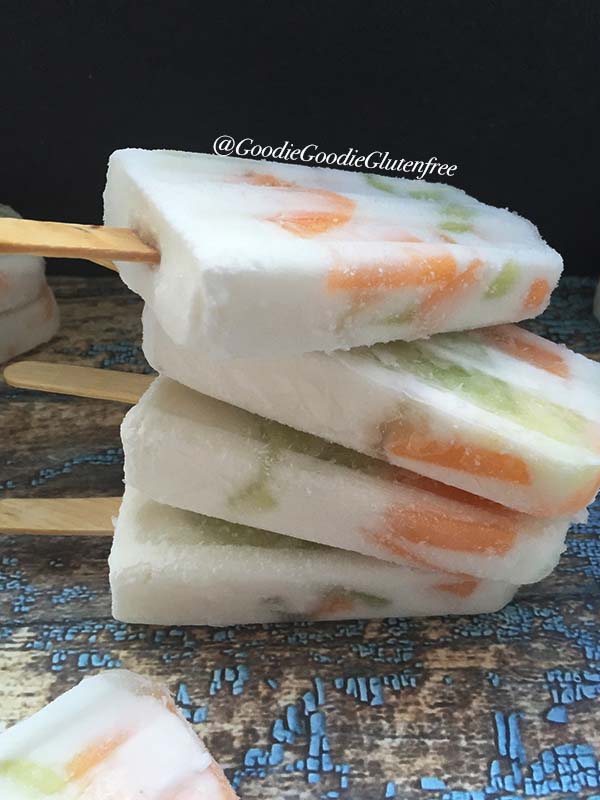 The 5-ingredient popsicle has returned, and if you can't have dairy, don't fret, these Dairy-Free Cantaloupe Honeydew Popsicles use coconut yogurt and it's just as creamy!  Picture a bowl of yogurt with your favorite fruit.  Now imagine that frozen in popsicle form.
There is nothing I love more than finding real food dairy-free and sugar-free treats that don't use chemicals to sweeten.  So many sugar-free treats today use chemicals like Erythinol, and monk fruit.  These ingredients can cause digestive upset for anyone suffering from digestive medical issues such as Leaky Gut, SIBO, candida, Celiac, Chrohn's, and others.  In the end, the dessert isn't worth it.
This is why I prefer using whole foods, and real food to create my recipes.  Especially the dessert recipes.  I think it feels good to know that what we eat is supporting and nourishes our bodies.
Real food and clean eating are just that.  Chemical-free.  Using sweet foods to sweeten, and savory foods to make savory.  When you are healing your body and end up on an elimination diet finding a sweet treat that is "elimination diet approved" is essential.  These Dairy-Free Cantaloupe Honeydew Popsicles are the lightest dessert popsicle I have ever created.  And the only form of sugar used for this recipe is fruit and pure stevia.   Yet this recipe is delicious using just real foods!
REAL FOOD INGREDIENTS IN THIS RECIPE
Cantaloupe
Honeydew
Coconut Yogurt, full fat
Pure stevia from the stevia plant (not the sugar packets you see at the market)
ARE ALL COCONUT YOGURTS OKAY TO USE?
No.  First, you must find a coconut yogurt that is either certified gluten-free, or gluten-free.  You'll need to call the manufacturers and speak about the cross-contamination process, and what else the facility manufactures.
Secondly, you'll want to choose a coconut yogurt that uses 5 or fewer ingredients that you can easily understand and read.
Then check the sugars on the ingredient list.  Ideally under 6 grams of sugar per serving is a good place to start.
Lastly, tangy is the way to go when it comes to these popsicles.  These honeydew popsicles are meant to taste tangy over sweet, which is why you want less sugar in your yogurt.  With less sugar in your yogurt, there is less sugar in your diet and therefore less sugar in your body.
My favorite coconut yogurts to use are Anita's, Coyo, Harmless Harvest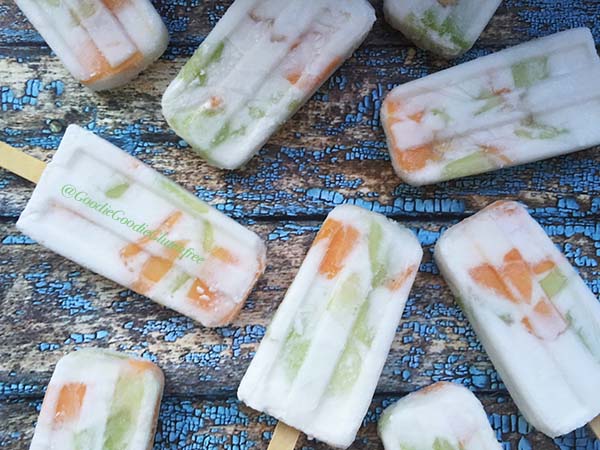 WANT MORE POPSICLE RECIPES?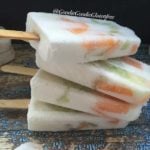 Print Recipe
Dairy-Free Cantaloupe Honeydew Popsicles
These Dairy-Free Cantaloupe Honeydew Popsicles are loaded with coconut yogurt, taste creamy in texture, refreshing and hydrating. Gluten-Free and Vegan.
Equipment
Popsicle Mold and sticks

food processor
Ingredients
1

cup

unsweetened coconut yogurt

1

cup

filtered spring water

1

cup

honeydew

ripe, chopped

1

cup

cataloupe

ripe, chopped

4-6

drops

liquid stevia
Instructions
In a high-speed blender, combine the coconut yogurt, filtered water, and liquid stevia and blend till well combined. Set aside.

Chop the Honeydew melon and the Cantaloupe Melon and set aside.

Pour mixture into a large measuring cup and pour a small (about ¼ cup full) amount of yogurt mixture into each of the 10 molds. Then add a few pieces of each fruit into the mixture, and with your fingers push down until the yogurt mixture covers the fruit.

Then pour another ¼-inch cup of yogurt mixture into the popsicle molds, followed by more fruit. Then push the fruit down with your fingers until the yogurt covers the fruit.

Repeat step 4 until each mold is filled. If you use my favorite popsicle mold, cover the mold with the top cover, and then add the sticks. Freeze overnight or for 6 hours.

After 6 hours freezing time remove the popsicle mold from the freezer and run it under hot water until you can loosely remove the lid with ease. Continue to run the bottom and sides of the mold under hot water until the popsicles are loose enough to pop out.

Store popsicles in the freezer in a ziplock bag or freezer container for 4-6 months.
Notes
My favorite coconut yogurt is by Anita's Creamline and Coyo – They are each made with minimal ingredients and barely any sugar if any.  // My favorite brand of Stevia is from Nu Naturals. It's alcohol-free and bitter-free. //  If you don't want your popsicle to be super fruity, simply reduce each 1 cup to ¾ cup for each fruit.  // If you cannot find Anita's unsweetened coconut yogurt or Coyo, you can try other plant-based alternatives or Greek Yogurt.//
Love, and health,