These Dairy-Free Cantaloupe Honeydew Popsicles are loaded with coconut yogurt, taste creamy in texture, refreshing and hydrating. Gluten-Free and Vegan.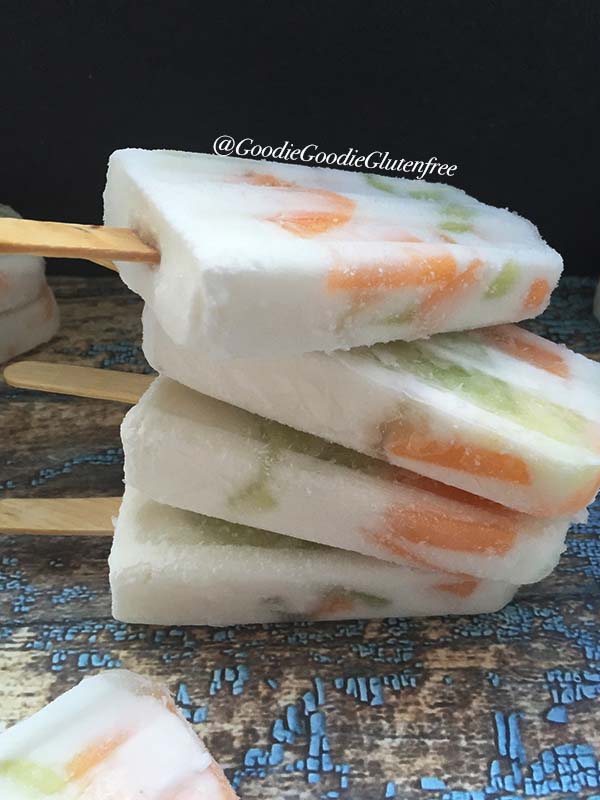 These Dairy-Free Cantaloupe Honeydew Popsicles are the lightest dessert I have ever created.  They are light in taste, hydrating, refreshing, and creamy in texture. The only form of sugar used for this recipe is liquid Stevia.  The type of Stevia that is alcohol-free. So these pops are suitable for so many types of diets.  Plus you and I can eat the whole batch and not even shed a tear of guilt.  Sound good to you?
There is nothing I love more than finding sugar-free treats.  Seriously!  When you end up on some form of an elimination diet on top of gluten-free for more than 2 years (for the health of course), finding a sweet treat that is acceptable or elimination diet-approved is like winning the lottery.  It is a serious jump for joy moment!  I am NOT exaggerating! For anyone that loves dessert or has ever felt deprived, I know you understand.   And these Dairy-Free Cantaloupe Honeydew Popsicles are a huge win! Huge!
When I first started doing different elimination diets, I never thought I would be on them for so long!  In the beginning, it was so tough.  I was so angry I had to eat a certain way and eliminate so much.  At times I would even rebel and binge eat ice cream or crappy processed food like potato chips.  But as time has progressed, I have taken this life journey as a challenge to create deliciously healthy treats in the kitchen for me, and for everyone else suffering.  This is something I know I can do.  Developing recipes in this way is a gift. And gifts are meant to be shared.
When it comes to desserts, I like to do a balance of sugar-free and refined sugar-free (no white sugar) options, mainly because these are the only types of sweet treats I can have. I develop my own recipes, and gosh darn it, I like to taste test my creations before I hand them over to my trusted taste-testing team.   I need to make sure my palate and my taste-testing team's palate like my creations before they even get a shot at making it to the blog.  And what can I say?  These popsicles made it!  Yippie! Because they are really good! Healthy good.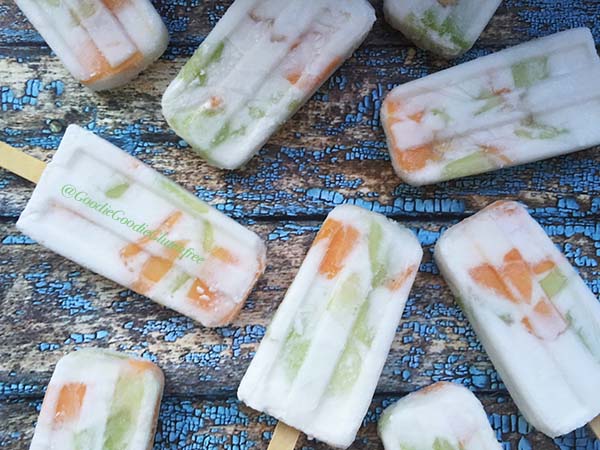 I kind of have this vision of eating popsicles in Manhattan on a hot Summer's day on the rooftop or at a pool party with tons of fun animal shaped floats and fruit infused water drinks. Think about it.  Fun right?!  With these popsicles, there is nothing to feel deprived of.
WANT MORE POPSICLE RECIPES?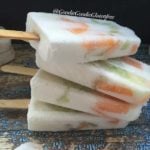 Print Recipe
Dairy-Free Cantaloupe Honeydew Popsicles
These Dairy-Free Cantaloupe Honeydew Popsicles are loaded with coconut yogurt, taste creamy in texture, refreshing and hydrating. Gluten-Free and Vegan.
Equipment
Popsicle Mold and sticks

food processor
Ingredients
1

cup

unsweetened coconut yogurt

1

cup

filtered spring water

1

cup

honeydew

ripe, chopped

1

cup

cataloupe

ripe, chopped

4-6

drops

liquid stevia
Instructions
In a high-speed blender, combine the coconut yogurt, filtered water, and liquid stevia and blend till well combined. Set aside.

Chop the Honeydew melon and the Cantaloupe Melon and set aside.

Pour mixture into a large measuring cup and pour a small (about 1/4 cup full) amount of yogurt mixture into each of the 10 molds. Then add a few pieces of each fruit into the mixture, and with your fingers push down until the yogurt mixture covers the fruit.

Then pour another 1/4-inch cup of yogurt mixture into the popsicle molds, followed by more fruit. Then push the fruit down with your fingers until the yogurt covers the fruit.

Repeat step 4 until each mold is filled. If you use my favorite popsicle mold, cover the mold with the top cover, and then add the sticks. Freeze overnight or for 6 hours.

After 6 hours freezing time remove the popsicle mold from the freezer and run it under hot water until you can loosely remove the lid with ease. Continue to run the bottom and sides of the mold under hot water until the popsicles are loose enough to pop out.

Store popsicles in the freezer in a ziplock bag or freezer container for 4-6 months.
Notes
My favorite coconut yogurt is by Anita's Creamline and Coyo – They are each made with minimal ingredients and barely any sugar if any.  // My favorite brand of Stevia is from Nu Naturals. It's alcohol-free and bitter-free. //  If you don't want your popsicle to be super fruity, simply reduce each 1 cup to 3/4 cup for each fruit.  // If you cannot find Anita's unsweetened coconut yogurt or Coyo, you can try other plant-based alternatives or Greek Yogurt.//
Summer Love,