Dark chocolate, raw quinoa, and coconut oil make up these crunchy Best Ever Gluten-Free Chocolate Quinoa Cups!  Easy, simple, and deliciously healthy.  Paleo, dairy-free, sugar-free, and nut-free deliciousness.  You can't beat that raw quinoa crunch!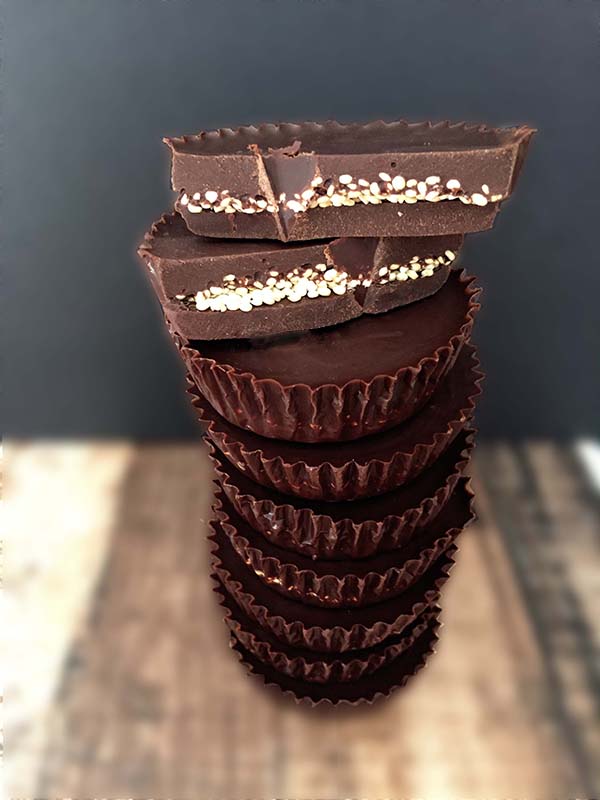 When it comes to chocolate Quinoa cups, I think of Reese's Peanut Butter Cups and Crunch Bars that I used to devour as a child, pre-Celiac.  Once diagnosed I thought I would never ever be able to enjoy a treat like this.  Then I went to Nutrition School and everything changed.  I realized that if I made them homemade I could have what I dreamed of but using real food ingredients instead.
Enter Chocolate Quinoa Crunch Cups.
Now that I make the homemade gluten-free version, I don't ever think I'll go back to a store-bought. The homemade versions of chocolate candy are so decadent.  Learning to use real food and whole food ingredients was the ultimate game-changer.  These ingredients are so easy to find at your local market which makes candy making accessible.  Plus they are so fun to make.
I first introduced my Quinoa cups at my birthday brunch.  I hadn't planned on blogging the recipe, It was just something fun I concocted in the kitchen.  The idea behind them was to create a gluten-free wannabe Crunch Bar like the kind I used to eat pre-Celiac. Really just the crunchy effect dipped in chocolate was what I was going for, and to my surprise (because I wasn't sure how raw quinoa was going to fare in a chocolate cup) my friends LOVED them.  They complimented them.  They asked where I bought them!
LET'S TALK CHOCOLATE QUALITY
Since then I have used different types of high-quality dark chocolate including Belgium chocolate, chocolate sweetened with coconut sugar, and chocolate sweetened with stevia.  And I'm talking the real dark kind of chocolate that is 72 percent or higher.  I even once used 82 percent.  All totally delicious.  All huge hits.
You'll want to choose a high-quality chocolate bar or chip because that will affect the taste and the texture

The darker you go the less sugar they have which is better for your body

If you are on a sugar-free, candida, or SIBO diet you'll want 80% or higher dark chocolate

You'll always want to opt for dairy-free chocolate because it isn't inflammatory

The darker the better because the darker it is the better your heart health

If you are not on a specific diet you can go with dark chocolate that is 69% or higher

You'll also want to make sure your chocolate comes from a dedicated gluten-free facility or is certified gluten-free

The fewer ingredients in the chocolate, the better.  Stick with 3-5 ingredients that you can read
NUTRITIONAL BENEFITS OF QUINOA
Quinoa in case you didn't know is an ancient seed (but considered a grain) that is a naturally gluten-free and an extremely energetic high protein grain that contains all eight amino acids to make up a complete protein.

Quinoa is the only "grain" that is a complete protein

Contains the protein content equal to milk

High in B vitamins, iron, zinc, potassium, calcium, and vitamin E

Easier to digest

Ideal food for endurance

Keeps you full and satiated because of the protein and nutrient content

Quinoa provides energy and fuels your body unlike any other grain

Quinoa is a gluten-free grain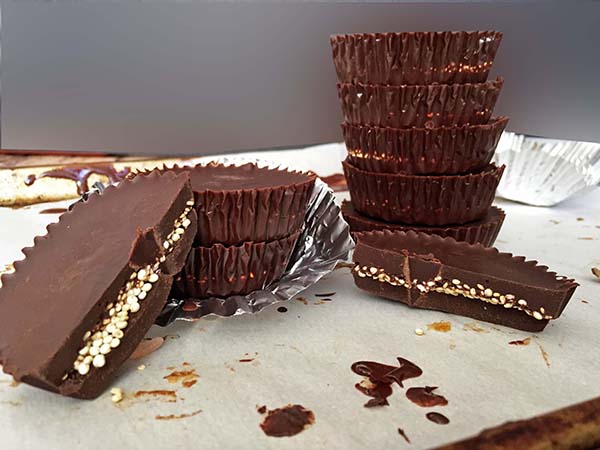 Now, this doesn't mean eat all of the chocolate-covered quinoa cups in one sitting!
Ready to make beautiful music together?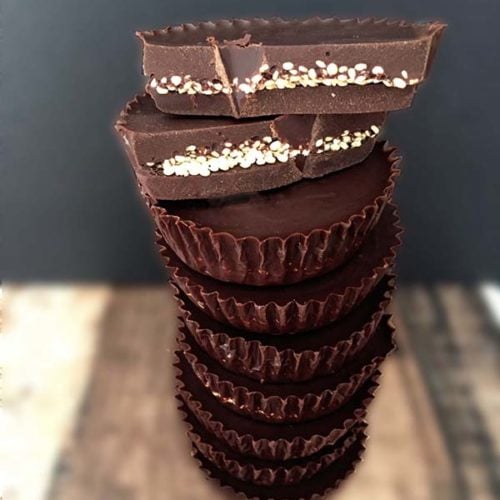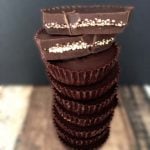 Print Recipe
Best Ever Gluten-Free Chocolate Quinoa Cups
Dark chocolate, raw quinoa, and coconut oil make up these crunchy Best Ever Gluten-Free Chocolate Quinoa Cups!  Easy, simple, and deliciously healthy.  Paleo, dairy-free, sugar-free, and nut-free deliciousness.  You can't beat that raw quinoa crunch!
Ingredients
4

bars

High quality dark chocolate bars

gluten-free, dairy-free

1

cup

white quinoa

raw + unrinsed

up to 2

tablespoon

coconut oil

melted or solid
Instructions
In a double boiler set to low/medium heat melt 2 chocolate bars to chocolate liquid.

Add in coconut oil teaspoon by teaspoon to thin the chocolate mixture. You can use up to ½ tablespoon, but you may not need it. This all depends on how much coconut flavor you want, and how thin you want the mixture to be. This mixture should fill all 9 cupcake liners ¼-inch full. Let that be your guide if you are unsure.

Line a cupcake pan with foil cupcake liners.  Spoon the melted chocolate into the lined cups, filling each about ¼-inch full.  Place in the freezer to set, about 15 minutes.

Continue to melt the remaining chocolate 2 bars with melted coconut oil, and set aside with the double boiler on the lowest setting after it has melted.  

Once the cups in the freezer are set, remove from the freezer and fill each cup with 1 ½ Tablespoons of quinoa. It will go everywhere. That is okay.

Pour remaining chocolate over quinoa so that quinoa is covered and tap the pan on the countertop to even out and smooth the chocolate.  Place in the freezer until set or overnight.

Always store these quinoa cups in a sealed container in the freezer.
Notes
The gluten-free chocolate I trust are:
Lily's dark chocolate (vegan, dairy-free, soy-free, Certified gluten-free)
Enjoy Life (made in a Certified gluten-free, dairy-free, Soy-Free and nut-free facility),
Endangered Species (dairy-free, Certified Gluten-Free)
Vita Organics (dairy-free, vegan, soy-free, gluten-free - made on dedicated gluten-free lines)
Nibmor (Certified gluten-free, dairy-free, vegan)
Hu Kitchen (Dairy-free, paleo, vegan, & Gluten-free but made in a facility with wheat on another floor)
Coconut oil chocolates:
Remember that coconut oil does melt the chocolate outside of the freezer.  That means if you leave them out too long they will melt in your hands and not in your mouth.  Keep this in mind when serving them.
Microwave Method:
If you don't have a double boiler you can always use the microwave method.  Doing it this way you would put the chocolate in a microwaveable cup and melt at 15-minute intervals until melted. 
After melting you'd then add the coconut oil to thin the mixture.
Looking for other crunchy chocolate cup options?  Try these!
Love & Chocolate Quinoa Cups!