Decadently delicious Gluten-Free Chocolate Crunch Cups made to have a silky, rich and smooth finish.  Each bite is better than the next and made with simple dairy-free and nut-free ingredients.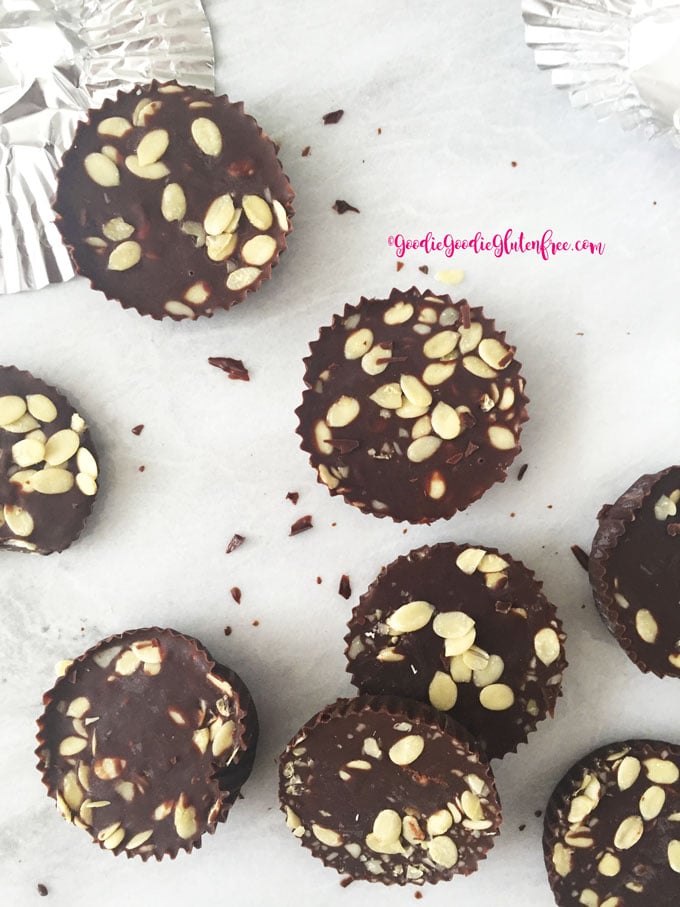 4 ingredients.  Secretly healthy.  Totally decadent.
Easy.  Wholesome ingredients.
These Chocolate Crunch Cups are free of gluten, dairy, and nuts and just happen to be vegan without sacrificing taste!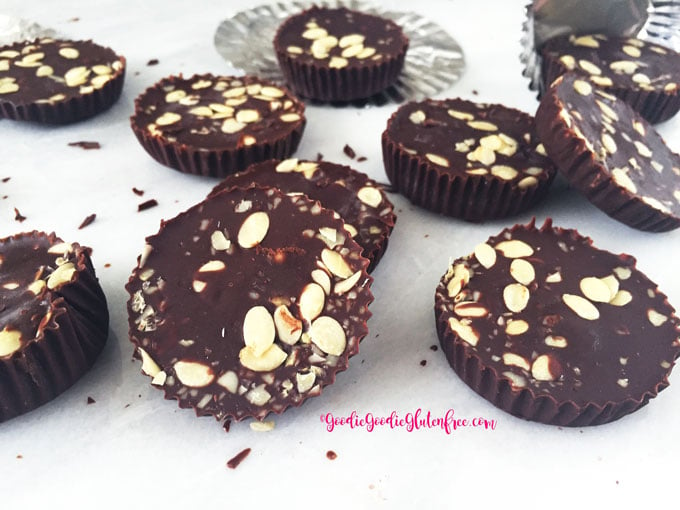 I couldn't decide between Coin or Cup.  Was it going to be like Hanukkah Gelt or a chocolate cup?  I called them coins originally, but I decided today to go with cups.
They really just are decadently delicious Chocolate Crunch Cups with a silky, rich and smooth finish.  They are meant to be decadent. They are even the most perfect PMS treat.  It's that dark decadence we all look for, you know exactly what I'm talking about, and while during this time I could probably house an entire package of sugary Starburst, I'd take my treats any day.  Free of all the nasties!
Though I wanted to call them coins, because how cool would it be if they actually looked like Hanukkah Gelt on Hanukkah?!
But the more I stare at them the more I get that true cup feeling.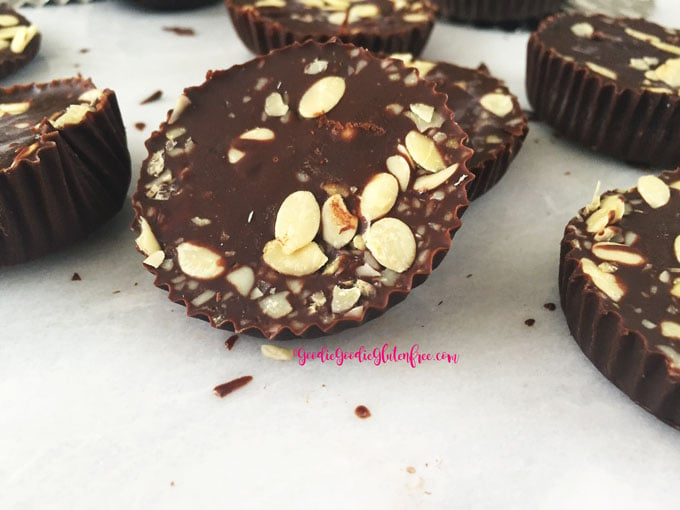 As I sit here staring at my chocolate photos wondering which ones to go with, I realize if these delicious decadent pics were my screen saver on my computer all day long?  Well, I couldn't bear it!  I wouldn't be able to handle seeing that sinful sweetness all day long! I'd be jealous of my computer!!  I hate to be dramatic, but we are talking chocolate.  And these chocolates deserve dramatic.
Earlier this afternoon, I gave out the final recipe to be tested.  I forget it's holiday time and everyone wants a treat.  Chocolate in the office is a MUST this time of year.  The more the merrier indeed.
Candida friends – simply opt out the Agave, use monk fruit or stevia or neither, and go solid dark.
I spoke to Phil, one of my testers to discuss the potential name of this goodie.  I said on the phone earlier, "What do you think?  Can I call them Crunch Cups?" "What did you think of the chocolates?"  "Too decadent or just right?".
He ate them all.
All 3!
In one sitting.
He agreed they were more of a cup then a coin.
And so Crunch Cups over coins was born.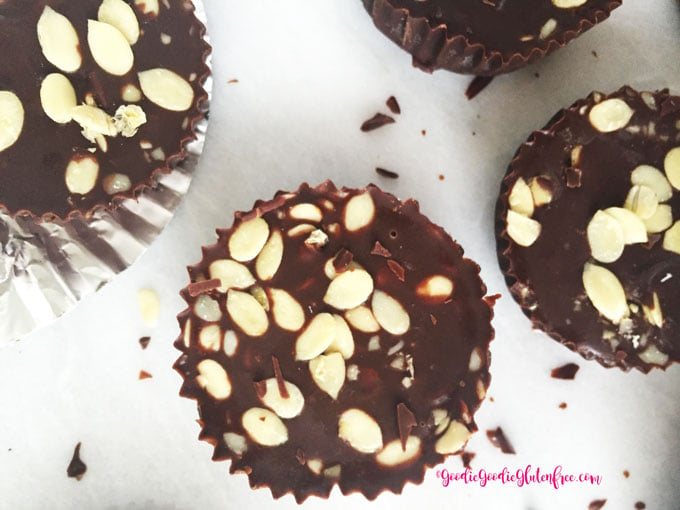 I know you guys think I use really creative ingredients, but I do this because I have so many food sensitivities and allergies.  I find it useful to find ways to make it work, rather than dwelling on what doesn't.  In this case, the watermelon seeds were the bomb!
Can you taste that they are watermelon seeds was a question I'd received earlier?  Nope.  You'll just taste a crunch that tastes like a nut you can't put your finger on.  It's neither here nor there actually, it just tastes like chocolate and crunch in the most delicious way ever!
Watermelon seeds are one of the best nut-free options, in my opinion.
SOME WATERMELON SEED FACTS:
Watermelon seeds have 10 grams of protein per serving
High source of plant-based Iron
Nut-free alternative
Black seeds are toxic, I am speaking of the white seeds
If you haven't heard of watermelon seeds, don't worry!  They have been around for decades, but only recently became popular in the health scene.  My favorite watermelon seeds are from Go Raw.  They are sprouted for easier digestion, and then roasted with Celtic sea salt.  Certified gluten-free and only made in a facility with coconut and sesame.  So no nut cross-contamination.  Picture me doing the happy dance when I find products that are Celiac safe and nut-free safe!
Now I must warn you, these are dark and decadent! Not sweet like my Everything But The Kitchen Sink Cashew Butter Cups (and you can omit the cashew butter if you want, for you nut-free lovers).  These Chocolate Crunch Cups are LUXE, my friend.  LUXE.  RICH.  LUXE.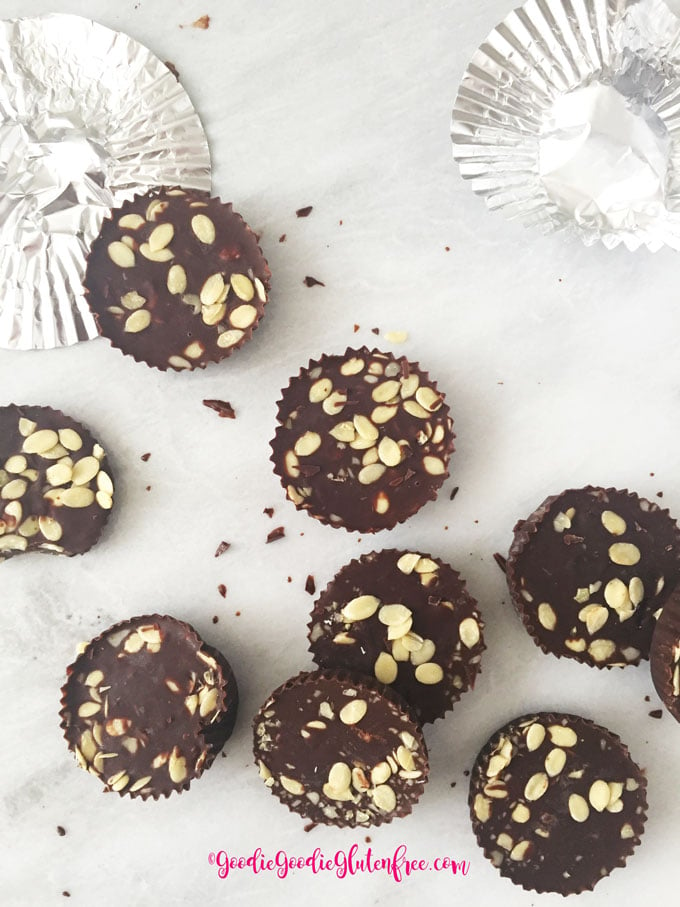 Ready to make beautiful music together?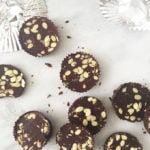 Print Recipe
Gluten-Free Chocolate Crunch Cups
Decadently delicious Gluten-Free Chocolate Crunch Cups made to have a silky, rich and smooth finish.  Each bite is better than the next and made with simple dairy-free and nut-free ingredients.  
Equipment
double boiler or microwave
Ingredients
1 3/4

cup

dark chocolate chips

4

tbsp

coconut oil

1/2

cup

white watermelon seeds

salted

1

tbsp

light agave syrup

1

tsp

light agave syrup
Instructions
Line a muffin pan with 12 foil cupcake liners. Set aside.

In a double boiler set to medium heat, melt down 1¼ cup chocolate chips. Then add 3 tablespoons of solid coconut oil and blend together. It should melt fairly quickly. Bring the heat down to low.

Spoon the melted chocolate mixture into the lined cups, filling each one about ⅛ inch full. You just want a thin layer. Tap the pan on the countertop to even out the chocolate. Add 1 teaspoon watermelon seeds to the mixture, mix lightly and freeze partially for 3 minutes.

Raise the heat back to medium on the double boiler and add remaining ½ cup of chocolate chips and remaining 1 tablespoon solid coconut oil. Blend well, mix and melt.

Remove from heat. Add 1 tablespoon + 1 teaspoon Agave light gold syrup and mix. Add back to low heat. The mixture will become thicker.

Add 1 tablespoon of chocolate mixture to each cup. Then add up to 1 tablespoon watermelon seeds to the top of each cup. Mix again and freeze till set. About ½ hour.

Store these Gluten-Free Chocolate Crunch Cups in the freezer in a sealed bag or container for 8 months.
Notes
For my Candida dieters, use 80 percent or 100 percent dark chocolate. Skip the Agave, and sub for stevia, monk fruit or plain. You can even try to sweeten with pureed pear, pumpkin, applesauce or sweet potato. I haven't tested this recipe with applesauce, pureed pear, pumpkin or sweet potato. //