These decadently delicious Gluten-Free Chocolate Crunch cups taste smooth, silky, and rich with every crunchy bite.  Each nibble is better than the next.  Once you bless your mouth with a bite it will melt in your mouth.  Made with cacao, watermelon seeds, agave syrup, coconut oil.  Dairy-free, and nut-free too.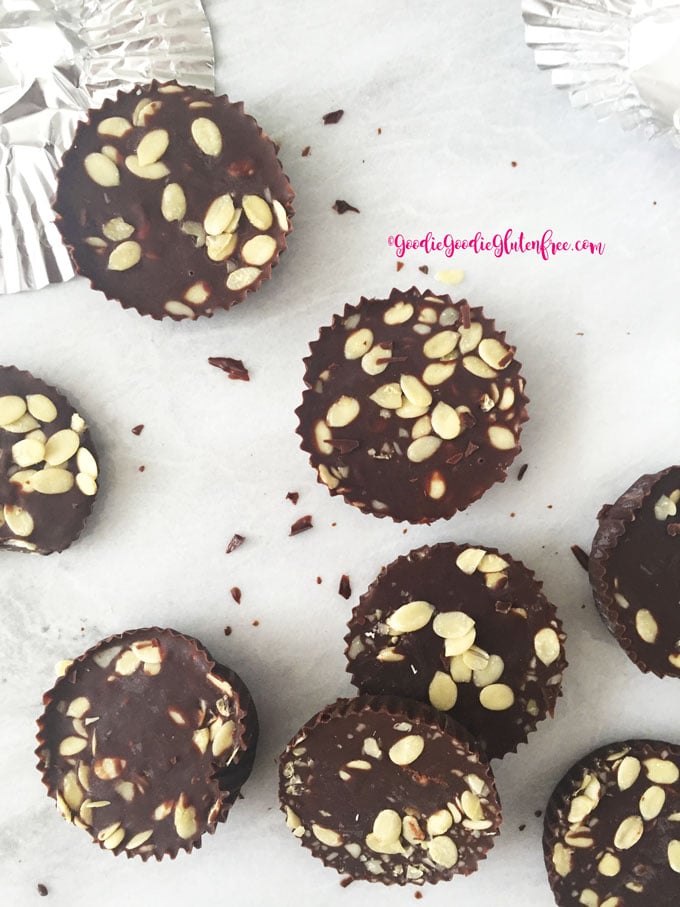 WHAT'S SO GREAT ABOUT CHOCOLATE CRUNCH CUPS?
4 ingredients
Secretly healthy
Totally decadent
Easy
Wholesome ingredients
Free of gluten, dairy, and nuts and just happen to be vegan without sacrificing taste
You can't just have one
Nutrient-dense, which really belongs at the top of this list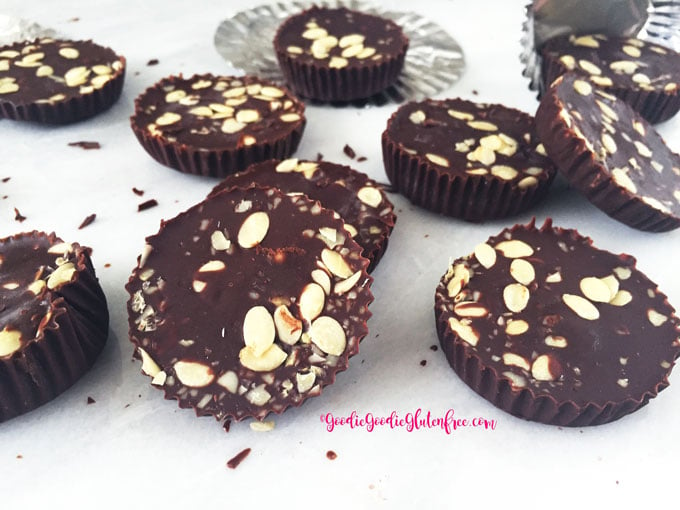 I couldn't decide between coin-shaped chocolate or a dense cup.  Should these treats be paper-thin?  Was it going to be like Hanukkah Gelt a chocolate paper-thin, or a chocolate cup, something really dense and thick?  The first few batches were coins, and the final was a cup.  Cups equal more chocolate and more watermelon seeds.  Naturally, that made my decision easier.  Chocolate Crunch Cups.  What would you have chosen?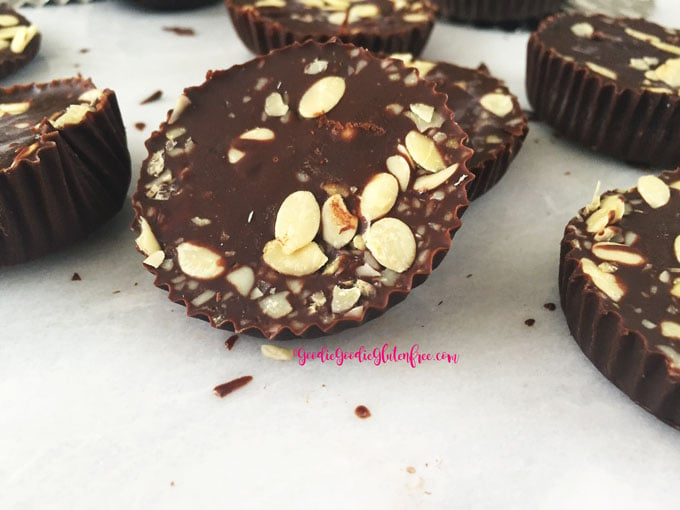 WHY WATERMELON SEEDS OVER ALL OTHER SEEDS?
Due to my many food sensitivities, I am creative in the kitchen.  However you the reader, making this recipe can use whatever you want.  Seeds; pumpkin, sunflower, sesame, or nuts: almond slivers, cashew halves, walnut pieces, pistachios, or grain quinoa.  The sky is the limit in your choice of crunch.
And if you have an allergy, a food sensitivity, or an elimination diet, use what you can use.  Whatever works for you will be perfection.
BENEFITS OF WATERMELON SEEDS 
Watermelon seeds have 10 grams of protein per serving
Loaded with plant-based Iron
A great nut-free alternative
Warning: Black seeds are toxic, white seeds are edible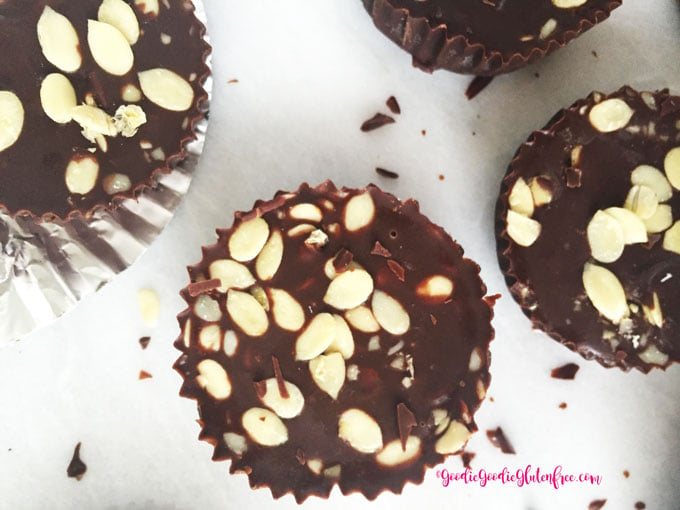 If you haven't heard of watermelon seeds, don't worry!  They have been around for decades, but only recently became popular in the health scene.  My favorite watermelon seeds are from Go Raw.  They are sprouted for easier digestion and then roasted with Celtic sea salt.  Certified gluten-free and only made in a facility with coconut and sesame.  So no nut cross-contamination.  Picture me doing the happy dance when I find products that are Celiac safe and nut-free safe!
Now I must warn you, these are dark and decadent! Not sweet like my Everything But The Kitchen Sink Cashew Butter Cups (and you can omit the cashew butter if you want, for you nut-free lovers).  These Chocolate Crunch Cups are LUXE, my friend.  LUXE.  RICH.  DECADENT.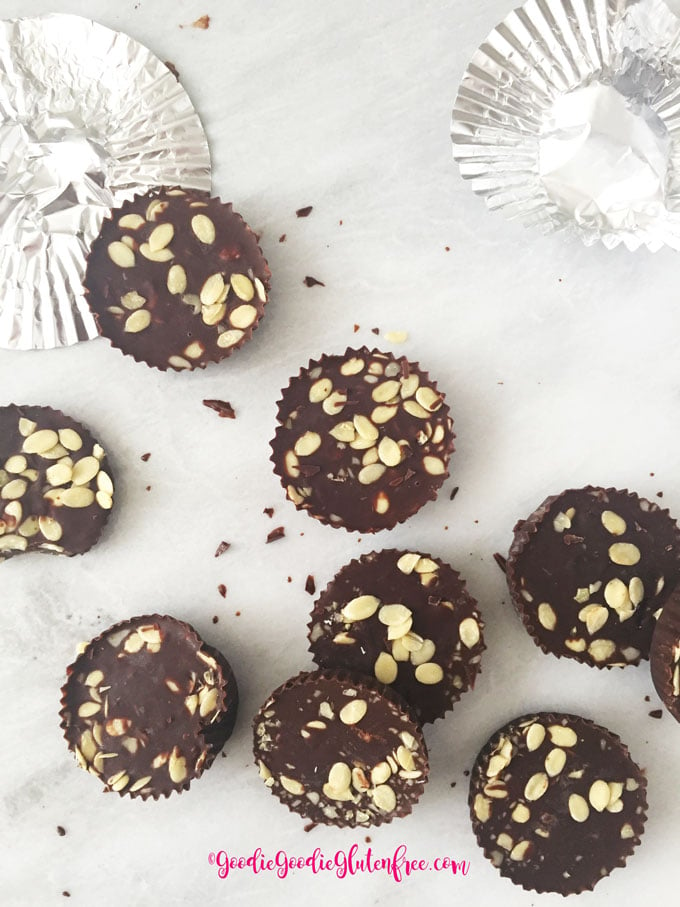 DO THEY TASTE LIKE WATERMELON SEEDS?
While watermelon seeds do have a bitter taste, you don't taste the bitterness in this recipe.  Using various types of sugar, and sea salt can change the taste.  In this recipe, all you will taste is a crunch, but you won't be able to tell from what.  It could be a nut or a seed.  It just tastes really delicious.
READY TO GATHER YOUR INGREDIENTS?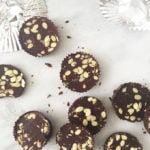 Print Recipe
Gluten-Free Chocolate Crunch Cups
Decadently delicious Gluten-Free Chocolate Crunch Cups made to have a silky, rich and smooth finish.  Each bite is better than the next and made with simple dairy-free and nut-free ingredients.  
Equipment
double boiler or microwave
Ingredients
1 ¾

cup

dark chocolate chips

4

tablespoon

coconut oil

½

cup

white watermelon seeds

salted

1

tablespoon

light agave syrup

1

teaspoon

light agave syrup
Instructions
Line a muffin pan with 12 foil cupcake liners. Set aside.

In a double boiler set to medium heat, melt down 1¼ cup chocolate chips. Then add 3 tablespoons of solid coconut oil and blend together. It should melt fairly quickly. Bring the heat down to low.

Spoon the melted chocolate mixture into the lined cups, filling each one about ⅛ inch full. You just want a thin layer. Tap the pan on the countertop to even out the chocolate. Add 1 teaspoon watermelon seeds to the mixture, mix lightly and freeze partially for 3 minutes.

Raise the heat back to medium on the double boiler and add remaining ½ cup of chocolate chips and remaining 1 tablespoon solid coconut oil. Blend well, mix and melt.

Remove from heat. Add 1 tablespoon + 1 teaspoon Agave light gold syrup and mix. Add back to low heat. The mixture will become thicker.

Add 1 tablespoon of chocolate mixture to each cup. Then add up to 1 tablespoon watermelon seeds to the top of each cup. Mix again and freeze till set. About ½ hour.

Store these Gluten-Free Chocolate Crunch Cups in the freezer in a sealed bag or container for 8 months.
Notes
For my Candida dieters, use 80 percent or 100 percent dark chocolate. Skip the Agave, and sub for stevia, monk fruit or plain. You can even try to sweeten with pureed pear, pumpkin, applesauce or sweet potato. I haven't tested this recipe with applesauce, pureed pear, pumpkin or sweet potato. //
Health and joy,