These Sunflower Seed Chocolate Coins are dark, decadent, and crunchy with the perfect amount of chocolate.  Topped with sea salt and served frozen.  Melts in your mouth kind of chocolate that happens to be paleo, vegan, nut-free, and dairy-free.  That nutty crunch you taste is made from sunflower seeds!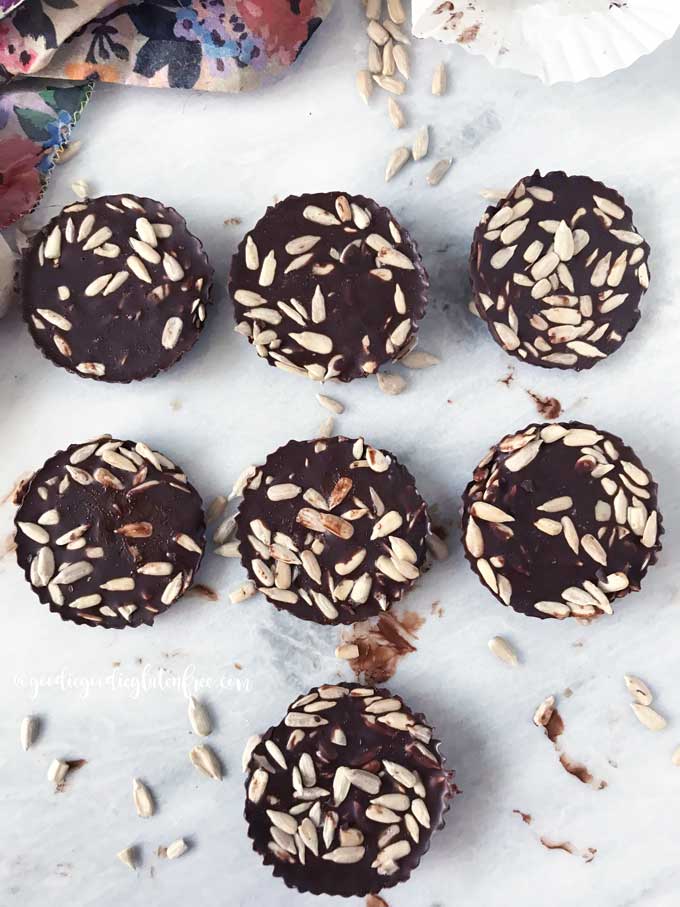 Sunflower Seed Chocolate Coins - because we all deserve a little decadence in our lives.  I also LOVE chocolate.  I've been making chocolate desserts since I was a child baking beside my mom in my childhood kitchen.  The experience lit up my life then, and chocolate making still lights up my life.  Infusing my recipes with my love makes them extra delish.
WHAT ARE THESE CHOCOLATE COINS FREE OF?
Gluten
Grains
Dairy
Peanuts
Tree nuts
Soy
Animal products
Refined sugars
Legumes
WHAT INGREDIENTS ARE LEFT?
Sunflower seeds i/o nuts
Sea salt i/o table salt
Coconut oil i/o dairy
Minimal ingredient dark chocolate such as Hu Kitchen which includes cacao, coconut sugar, cacao butter
Sugar-free, vegan chocolate such as Lily's which is sweetened with stevia
Allergy-friendly and free-from chocolate doesn't mean gross, or tasteless.  My Sunflower Seed Chocolate Coins recipe will melt in your mouth!  The consistency of the chocolate is dark and bitter, but when bitten into, buttery, and so fine.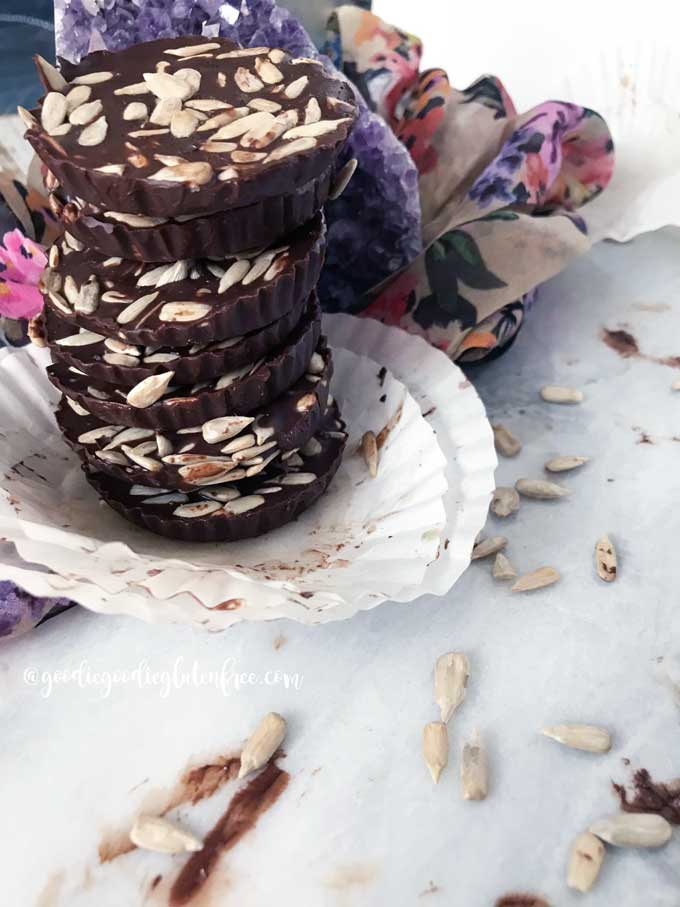 What I love about sunflower seeds is that they are packed with nutrition and protein, so I used them a lot.  And I love adding protein to my sweets because it then turns the treats into functional food.  Once it's functional having a few won't seem so bad.  (Functional food means that it has massive nutritional value)  Every bite is action-packed with a nutritional crunch!
I used raw sunflower seeds in this recipe to make the sunflower seeds easier to digest and brownie points for higher nutrition consumption.  Did you know eating nuts and seeds in their raw state is better for your body and promotes better digestion?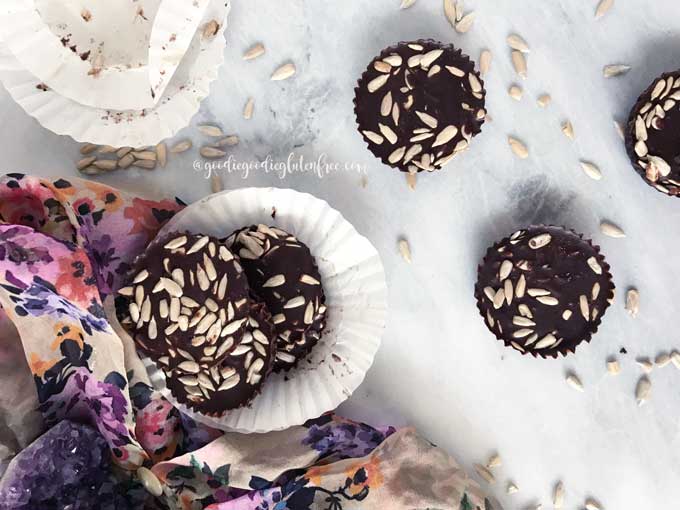 Using coconut oil to replace butter is what makes these chocolate coins so decadent.  Coconut oil also helps to thin out the chocolate so you can make the chocolate last longer.
These are the kind of treats that are easy to make, fast, quick, and easy to grab for a PMS or sweet treat need.  And I know that makes all the difference!
BENEFITS OF USING DARK CHOCOLATE
No mucus
Better for heart health if 70% or higher
Has different flavors
Different aromas
A higher concentration of antioxidants
Different textures
IF YOU LIKE THESE CHOCOLATE COINS, YOU'LL LOVE THESE RECIPES TOO!
READY TO GATHER YOUR INGREDIENTS?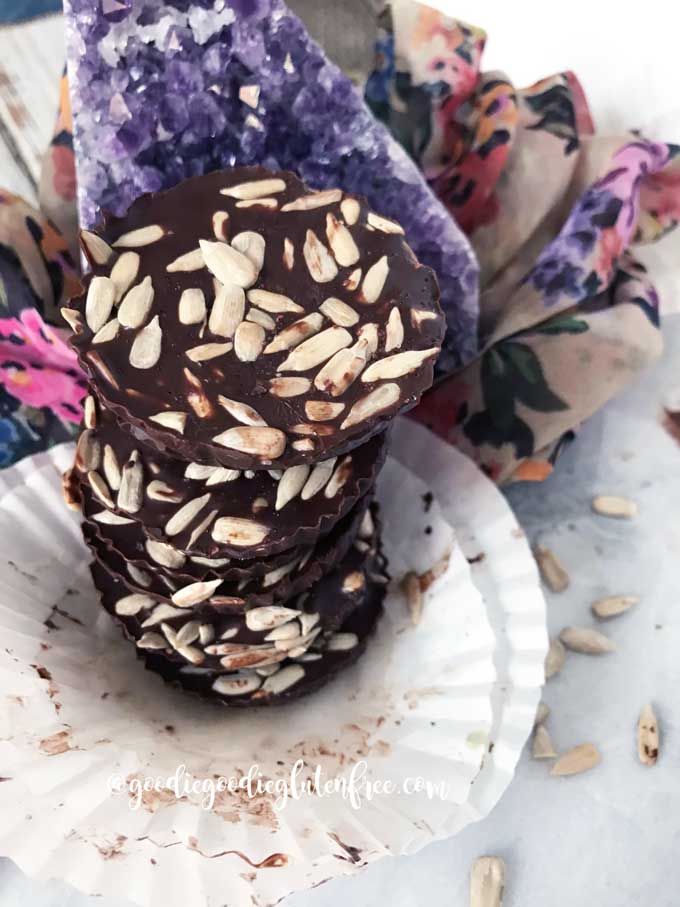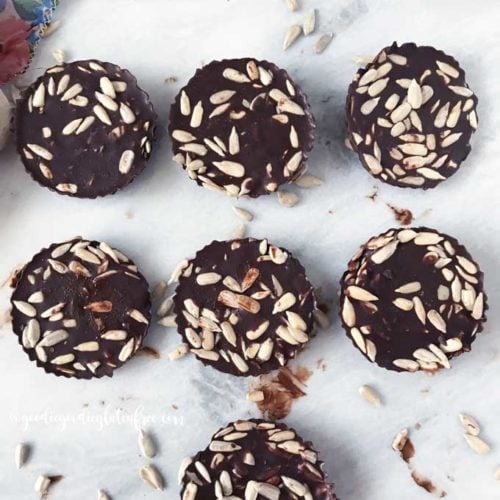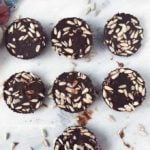 Print Recipe
Sunflower Seed Chocolate Coins
Ingredients
⅔

cup

raw sprouted sunflower seeds

¼

teaspoon

Himalayan pink salt or sea salt

2

teaspoon

coconut oil or ghee

½

cup

dark chocolate chips

I use Lily's
Instructions
In a microwave-safe bowl, melt down the chocolate at 50-second intervals for up to 1.50 – 2 minutes.

Add in coconut oil and mix till blended, thin and creamy.

If it's still not melted, you can add the mixture back to the microwave for another 30 seconds.

Line a cupcake baking pan with cupcake liners.

Layer 1: Add in about ¼ cup of chocolate mixture to each cupcake liner.  Add in a small amount of the seeds to the first layer, mix a little, tap the tin on the counter to make the mix even,  and then freeze for 15 minutes.

Layer 2:  Add the remaining chocolate and sunflower seeds into each cup creating thin coins.  Mix a bit with a spoon so it's evenly distributed.  Also, tap the cupcake pan on the countertop to even out the mixture.

Sprinkle pink or sea salt on top of each cup, then freeze overnight.

Makes about 9-12 clusters. Store in the freezer, and take out when needed. Stores for up to a year in the freezer.
Notes
You can use regular Sunflower seeds too, but not roasted. // You can also use less coconut oil if you want the chocolate to be thicker. // Other gluten-free chocolate brands are: Enjoy Life or Hu Kitchen. // 
Health and nourishment,