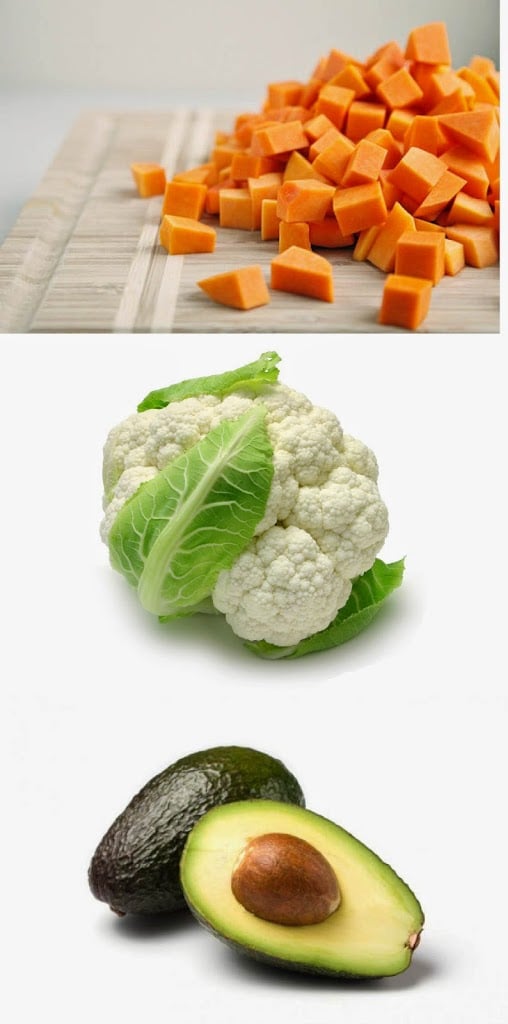 The whole point of a smoothie is the thickness.  Am I right? or Am I right?
It's not a juice.  It's a smoothie.  And further more…a Smoothie bowl is also meant to be thick so it has the consistency of ice cream or fro yo!
But what happens when you don't feel like using a frozen bananas or a chunks of avocado to thicken it up?
You are left with runny soup that tastes like fruit.  So.  Not.  Appealing.
So I did some detective work.  I went through tons of recipes.  I asked around.  I experimented.  I shopped the market and came up with clever ideas.  I went to the experts.
And then I came up with this list.  I can't take all the credit!  I had some help from my fellow health coach friends on their fav's too!
A smoothie is a work of art.  And it takes skill to make it right.  Sometimes throwing something in and seeing how it turns out can actually turn into a smoothie disaster, so it's important to do the research first.  So I did the research for you.  Now go and make your dream smoothie!!
So without further adieu…26 ways...
Here are some really fun, innovative and healthy ways to thicken up your awesome smoothie!
Steamed Cauliflower (You can use a lot here, because steamed Cauliflower is tasteless)
Frozen Banana (½, 1 or even 2)
Frozen fruit ( ½ cup or 1 cup blueberries, raspberries, blackberries, mango, pineapple, cranberries, strawberries, cherries)
Nuts (Just a handful cashews, Brazil nuts, almonds, walnuts, pecans, pistachios, macadamias, peanuts)
Nut Butters (1-2 Tbsp. cashew butter, almond butter, walnut butter, macadamia butter, peanut butter)
Seeds (1-2 Tbsp. or a handful flax, sesame, sunflower, pumpkin, hemp, chia)
Seed Butters (1-2 Tbsp. sunflower seed butter, almond butter, cashew butter, pumpkin butter, hemp butter)
Flax egg (water and flax mixed together and letting it sit till it gets gel like)
Chia egg (water and chia mixed together and letting it sit till it gets gel like)
Avocado (will only need ⅓ to ½ a whole avo for thickness)
Pumpkin Puree (½ cup or ⅔ cup)
Baked Sweet potato (couple of chunks)
cooked zucchini (¼ or ½)
Protein powders ( 1 scoop rice protein, pea protein, hemp protein)
Applesauce (a few Tbsp.)
Greek yogurt (just a tablespoon or two)
Coconut yogurt (a few Tbsp.)
Soy or Almond Yogurt (a few Tbsp.)
Goat Milk Yogurt (a few Tbsp)
Oatmeal (up to ⅓ cup)
Tofu
Ice (and lots of it)
Phylum Husks
Steamed Butternut Squash (a few chunks)
Full Fat coconut milk ( up to 1 cup)
frozen Broccoli ( a couple of florets - goes best with a frozen banana)
Tips:
 Goats Milk/products is easily digested over Cows Milk/products.  It's easier on the tummy and less inflammatory!