Hi Lovebugs!  Are you ready for the holidays?!  This wellness gift guide is perfect for those that love health, wellness, spirituality, mind/body, food, and food gadgets!  The ultimate wellness junkie, health junkie, and spiritual junkie all the gifts that would make a gal happy.  And while I LOVE picking out presents for friends and family, I'd much rather do it online in the comfort of my own home with fuzzy slippers on, sipping hot cocoa.  Everything I have listed below I use on a regular basis.  From fashion to spirituality to wellness to the healthy cook, there is a lot of fun to sort through!  I'm definitely a gal that likes gifts that are fun, functional, and meaningful. I hope these gifts bring you joy on your wellness path into 2020 (updated September 2020).  I seriously love every single item I put in these guides!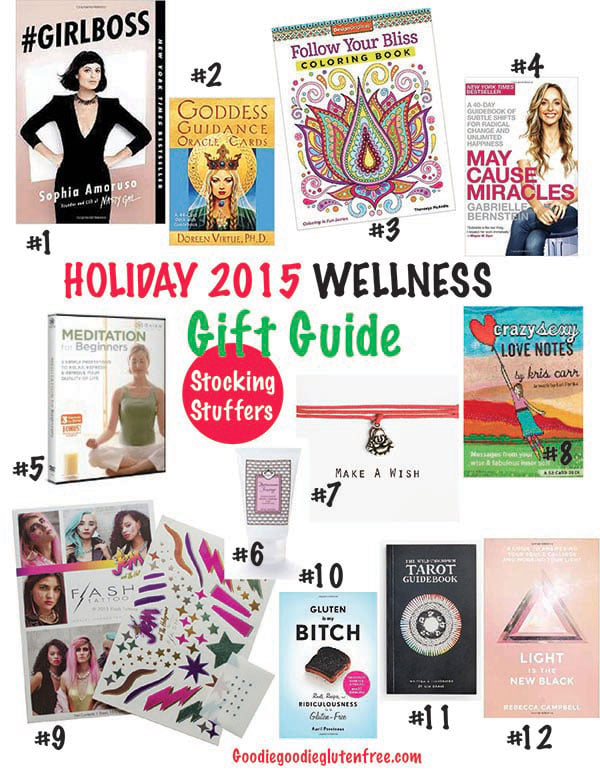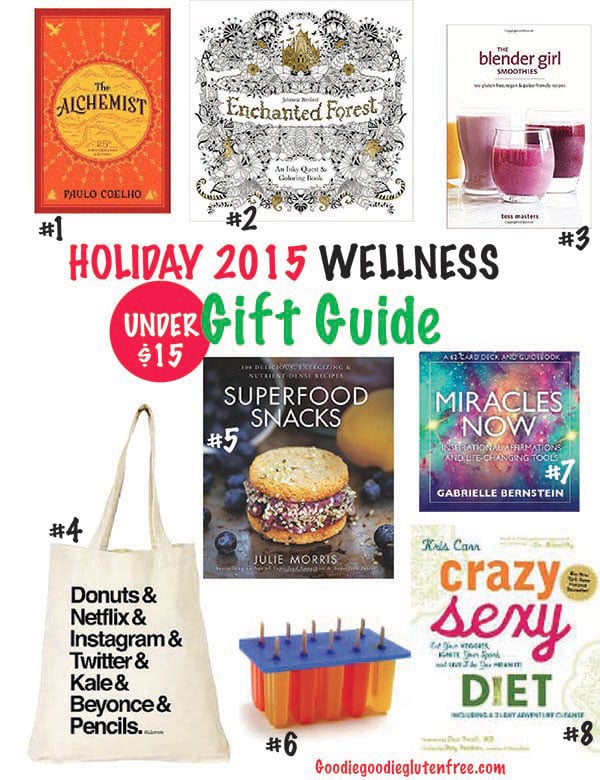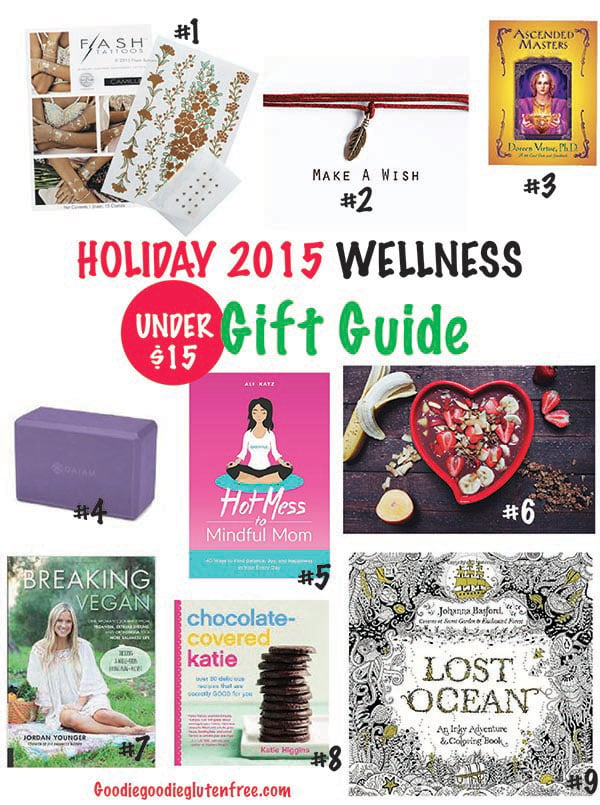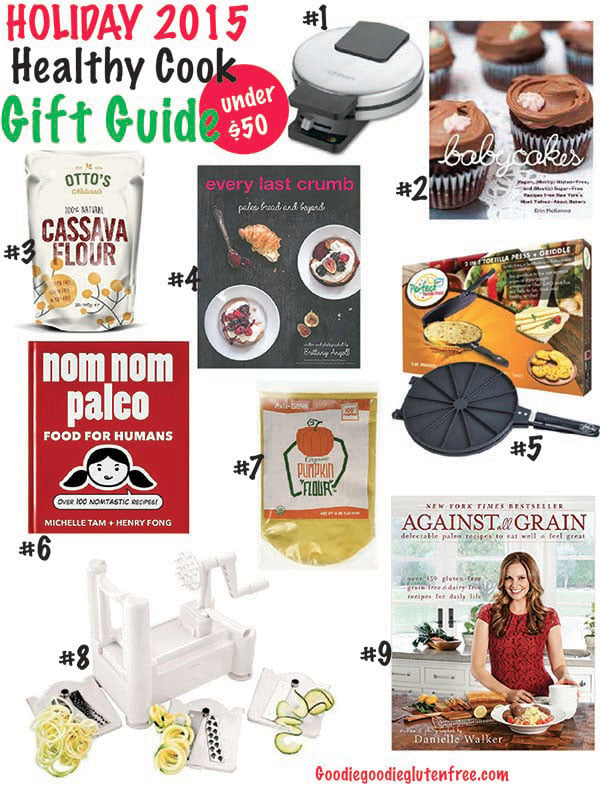 Cuisinart Waffle Maker - I bought this waffle maker after I bought Brittany Angel's Every Last Crumb Cookbook because her waffle recipes were so divine, I had to have a waffle maker!  It's inexpensive, small, easy to store, and really easy to use.  I totally love it.

BabyCakes Bakery Cookbook

- That time I gave BabyCakes Bakery a second chance after being gluten-free for 8 years.  I couldn't believe how good they were!  And I couldn't believe I used to hate them.  What was I thinking?  They are beyond delicious!  Plus, I'm lately into vegan baking due to an egg sensitivity, so I had to get her book.

Otto's Cassava Flour

(Paleo, Nut-Free, Gluten-Free) - This is the new Paleo and gluten-free flour on the block.  It's made from a root veggie similar to the Yucca plant.  But what's also super amazing?  You use this flour in replace of wheat flour.  So get an old recipe you used to love, and just sub in Cassava flour.  No conversion needed.

Every Last Crumb Cookbook by Brittany Angel

- This girl knows how to make food!  Her desserts are mouthwatering.  Her crackers and main dishes are grand!  This girl knows how to bake with multi-allergens.  Her recipes are 80/20 paleo, gluten-free, some are nut-free, coconut-free, and all the other free's you can think of, she can do it.  In fact, I'm getting hungry just thinking about her recipes...
Tortilla Maker - On the back of the Cassava flour bag is the most amazing and easy tortilla recipe ever made.  I literally make it weekly.  But what I don't have is a tortilla maker, so instead, I have to roll each tortilla out before it hits the pan. It's really annoying.  And if you use a tortilla maker, you can make really thin tortillas rather then the thick ones I make, which means MORE.
Nom Nom Paleo Cookbook - When I first went Paleo, it was Nom Nom Paleo Blog that I went to for cooking guidance.  I felt so deprived on this diet because I couldn't eat anything processed, and coming from a processed lifestyle, this was a hard task, but, there is really SO much to make.  Her book is filled with delicious, easy real food recipes and substitutions so you don't have to feel the lack.  Her cookbook is fun, filled with comics, and easy solutions.  A must for the Paleo foodie.
Tigernut Flour - I love trying new gluten-free flours.  At Anti-Grain they make flours from vegetables that are super fresh.  I haven't made anything with this one yet, but I have made recipes with their sweet potato flour and it was delish!  This company is no longer, so definitely try coconut flour or Tigernut flour.
Spiralizer - Hands down my favorite thing to use and give as a gift!  Making noodles out of vegetables is life-changing!  It makes you want to eat more vegetables! Zucchini, Yellow Squash, carrots, cucumbers, celery root, beets, apples, potatoes, sweet potatoes, peppers, and more - all into noodles!  Makes my meals super healthy, and you can eat as much as you want because it's a veggie!
Against All Grain Cookbook - Another Paleo Cookbook author I adore and follow.  Her book has tons of meal-planning menus and ideas for the whole family!  She is the whole package when it comes to Paleo, grain-free cooking for the whole family.  Her recipes are real deal delish!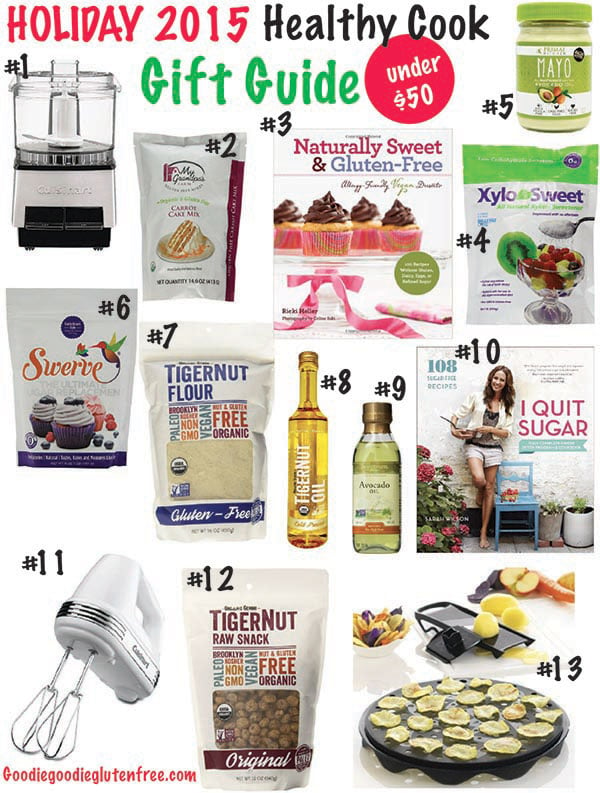 Mini Food Processor by Cuisinart -  I have bought this as a gift for so many friends and family.  It's perfect for those times you don't want to cut everything, and it fits in the cabinets and doesn't take up counter space.  This little nugget slices, dices, chops and makes dips and salsas.

My Grandpa's Farm Carrot Cake Gluten-Free Cake Mix

-  I discovered these mixes at the GFAF Expo.  Words cannot express how good these mixes are. They use real ingredients and are all organic.  So this one is will use actual carrots.  Out of all the gluten-free mixes out there, this one is the bomb!
Naturally Sweet & Gluten-Free Cookbook - One of my favorite sugar-free vegan blogger's cookbooks.  Each recipe only uses natural sugars, which in my book is an awesome alternative!  I learned how to create a bunch of egg substitutes from this book, and am forever grateful.
Xylo Sweet Sugar Replacement (made on Birchwood, not corn) - Ricki Heller the author of the above book uses this sugar replacement for Candida Diets and people who can't have sugar.  Usually, Xylitol is made from corn, whereas this one is made from Birch.  It's a great substitute and can be used as a cup for a cup.
Avocado Oil Mayo - I haven't bought this yet, but it's on my own wish list!  I call this the healthy mayo.  I have heard way too many good things about this mayo.  It's vegan, gluten-free, nut-free, and paleo.

Swerve Sugar Replacement

- Another sugar replacement that can be used a cup for a cup that comes two ways.  Either as a replacement for confections sugar to make the icing, pictured here or as a replacement for granulated sugar.   This brand was also at the GFAF Expo, and I just bought a large package of it and cannot wait to use it.  I have friends who swear by it.
Tigernut Flour - One of the best gluten-free, nut-free, and paleo alternative flours out there.  Once I fell in love with Tigernut Milk (that I make from scratch, but is also sold at Whole Foods), I was all over Tigernut everything.  As a faux nut, it's a healthy snack.  As pre-biotic non-dairy milk, it's perfect for smoothies, coffee, baking, and cookie dipping days.  I have made pancakes with this flour and they taste like cinnamon donuts!
Tigernut Oil -  Read #7 - and know the oil is amazing too.  I use this all the time, in fact, I always stock up, it's my go-to oil for baking, and very hard to get these days.
Avocado Oil - Another oil goodie!  It's really nice with veggies, salads, and animal protein.
I Quit Sugar Cookbook -  One of my favorite cookbooks for getting off refined sugar.  Sara doesn't gear to those gluten-free, but anyone gluten-free or paleo can fully enjoy it.  Her book is fun.  She gives more than just recipes.  She gives inspiration, ideas, her personal story, ways to overcome sugar, and an 8-week detox program.  I love this book!
Cuisinart Hand Mixer - I'm going to say hands down my favorite way to bake.  I have that big mixer too but I confess I never use it.  I grew up watching my mom using a hand mixer.  And to this day, so do I.  The Cuisinart Hand Mixer has 7 speeds, so it works for everything!  I have had mine for ten years, probably more.
Tigernuts Raw Snack - #7 and #8 talk about my love for Tigernuts.  The raw snacks are amazing for making non-dairy milk and adding it to granola recipes, trail mixes, and oatmeal.  The best thing to me is that Tigernuts are made from a tuber root vegetable and completely nut and gluten-free.  I have recommended these to parents that have kids with nut allergies and they love it too.
Potato & Veggie Chip Maker - When you don't have 2 hours to slave in the kitchen waiting for your veggie chips to be ready-use this microwave-safe veggie chip maker.  I got this for my brother who is a zucchini chip lover and he found this so much easier to use.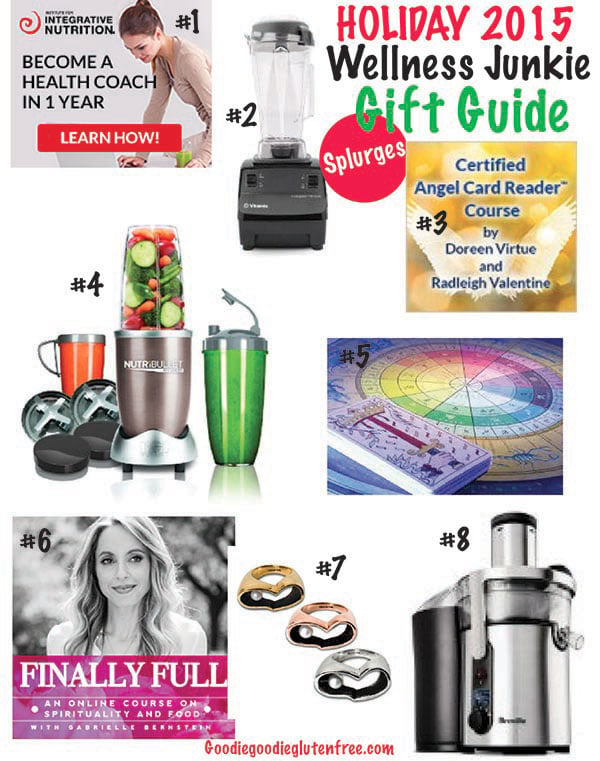 Love & Shopping!