6 magical T.V. series to help you see your inner light and live more purposefully knowing that what you need has been with you all along.  Media and T.V. shows have a way of pointing out our inner magic and light.  Ready to get inspired?
This post on magical T.V. shows has been a long time coming.  I'll be the first to admit I watch a lot of T.V.  No shame here.  Television series inspire me, help me heal, help me find my intuition, gets me through a break-up, a loss of friends and many other life lessons.
You can get these gorgeous messages really through any medium or platform but there's something about your favorite TV show that just gets you.
In the last 7 years of chronic illness, I can literally tell you the series I watched during which phase of chronic illness and why even 7 years later it's important while in healing to find that support anywhere!  Just one head nod of a sense of support is life-changing, even if it comes from a T.V. show.  Media can inspire you if you let it.
With that said, there are so many T.V. shows to share, and long overdue so this is the first of many TV blog posts.  I'll tell you about them, and why I love them so much and why they will benefit YOU.  It's all about being inspired even through the darkest of times so you can still move and not stay too stuck.
Ready to be inspired?!
CHARMED - (The old one from the '90s, NOT the new one yet to be remade.)  3 sisters discover they are witches, have special powers and must combat evil on a daily basis, while still managing their every day lives.  You see they are just like us!  Normal.  They live the daily grind like the rest of us.  It's set in the late '90s and the fashion is so dated but so 90's, it makes the fashion alone worth watching this show.  It was originally on the WB so you know it's a juicy show mixed with some serious woo!  And these 3 sisters happen to be played by Shannon Doherty, Alyssa Milano, and Holly Marie Combs and in the later seasons Rose Mcgowan.  It's a pretty all-star cast!  And the men in this show?!  OMG!  All the hotties from all the shows you used to watch in your life, all in one series!  Serious heart flutters here!
I recently rewatched this entire series that consisted of 8 full seasons!  It was SO binge-worthy!
Key message - Belief in your gifts.  Always have support from others.  Teams have more support than just one person.  Stick together for the power of support from others rather than standing alone.  Also, you are so worthy.
*
ONCE - (Which used to be called Once Upon a Time.)  This magical T.V. tale tells the story of a new world - one where fairytale legends and modern life collide.  It's so full of magic, yet it's relatable due to the modern-day characters that look just like us.  This show is all about love.  How only love is real.  And that love is the most powerful antidote to all evil.  So many good lessons in this show about being yourself, honoring yourself and using your magic.  // Find this on Netflix.
Key Message - Belief in yourself and the power within.
*
LOST - The survivors of a plane crash are forced to work together in order to survive on a seemingly deserted island.  They crash on a deserted island.  While hoping to be saved they must brave the wilderness and everything that comes with it, good and bad!  There is also this full circle life lesson here as well, which you'll see when you watch the series in full down to the series finale.  And you can only piece this puzzle together by watching.  This is a thinking show on many levels.  This show takes you into the past through flashbacks and into the future as well.  You get to see all pieces of every character, helping you learn about why they were chosen to be on this island!  You must pay attention if you want the lesson! // Find on Hulu or buy on Amazon.
I had that series finale saved on my broken DVR for years!  I refused to get rid of my broken DVR so I could save the series finale forever!  I would watch it years later and still cry because of its beauty and connection.
Key Message - You are stronger then you think, you got this!
*
UNBREAKABLE KIMMY SCHMIDT - If you need a dose of some serious magical positivity despite a bad situation then you've GOT to watch this ever so colorful tale about a woman who is rescued from a doomsday cult living underground for the last 10 years with her sister wives.  She finally gets rescued.  Kimmy is determined to have a new outlook on life as if this is her second chance.  She decides to move to the big apple, New York City to start over!  It's a complete comedy, totally hilarious, at times super annoying and a bit too positive, quirky, colorful and plain funny. // Find this on Netflix.
Key Message - It's all about perspective and mindset.  How we choose to see the world is up to us!
*
SAMANTHA WHO - A super light comedy series about a young 20-something real estate exec who is forced to start her life over again when she gets into a car accident suffering from Retrograde Amnesia.  As she reconnects with acquaintances, friends, and family she begins to learn just the kind of person she used to be and it isn't pretty.  New Samantha wants to change that around and do good for the world!  But how?  She doesn't remember who she is or who she was.  // Find this show on Hulu or buy on Amazon.
Key Message - You're always allowed to change.  Who you are right now is not who you'll be days, months, years or even decades from now.  We all grow.
Celiac Celeb - Jennifer Esposito from Jennifer's Way Gluten-Free Bakery!
*
THE OA - Seriously eerie!  Seven years after vanishing from her home, a young woman returns with mysterious new abilities and recruits five strangers for a secret mission filled with magic, but also filled with pain.  The previous blind woman returns home, now older with her sight restored.  Is she a miracle?  And what is she here to do in this world?  And why did she come back?  Who does she want to save?  Or does she? // Find this on Netflix.
Key Message - Your life purpose is your life purpose.  It's meant to be yours.  You have a mission.  You have a purpose.  You always did.  It will find you.  And you'll take flight in ways beyond your imagination or capacity.  This show will touch you differently than all the other shows I've listed here.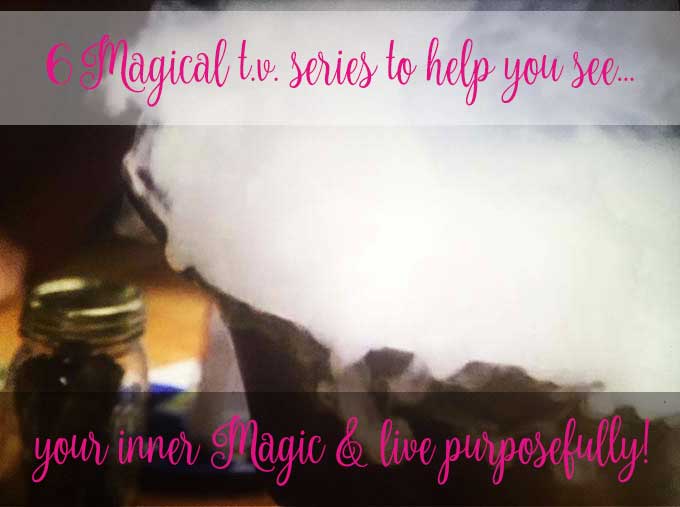 I do hope you enjoy these deliciously magical T.V. shows, and that they get you through your darkest times too.  If not to inspire, then to heal or even to learn.  There's a lesson in every one of these shows.  In fact, there are many.
***Many descriptions of these shows are from IMBD and Netflix along with my own commentary and descriptions.
Okay, go get your superfood popcorn out!  It's time to watch T.V.!