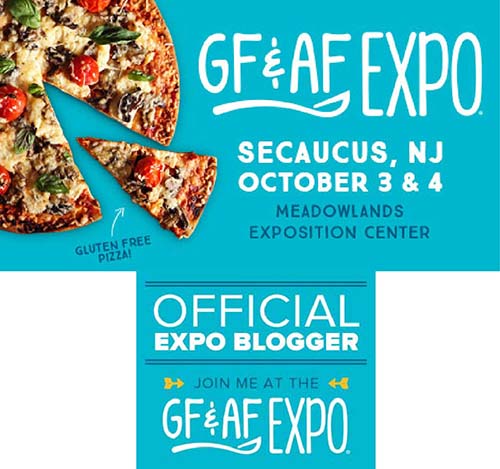 Hello healthy warriors!
I am super excited to announce I have been chosen to be an official Blogger for the GFAF Expo 2015 in New Jersey! The expo is being held on October 3rd & 4th in Secaucus!  I couldn't be more thrilled to get to be a part of the New Jersey Blogger team that gets to review this show, meet all the wonderful vendors that support gluten-free awareness and meet more people from my gluten-free tribe. More importantly, I get to discover new amazing healthy gluten-free and allergy-friendly products and then share my finds with all of you!
If you follow me on Instagram, then you know I have MULTIPLE food sensitivities and Celiac Disease.  So, I not only look for gluten-free products, but I look for all types of products that are free of eggs, nuts, refined sugar, soy, dairy and even grain-free.  I look for lots of frees, but filled with deliciousness!
I would LOVE for you to join me at the show!  Purchase your discounted tickets HERE (promo code: ADVANCE).
WHEN:
October 3rd & 4th, 2015
10:00am-4:00pm
WHERE:
Meadowlands Exposition Center
355 Plaza Drive
Secaucus, NJ 07094
For those that are new to the GFAF Expo, let me tell you what it's all about and what FREEBEE'S you get if you purchase your tickets through me.  : )
The GFAF Expo is one of the largest and fastest growing special diet consumer events in the U.S. that started in 2007.  This show takes place all over the U.S. during different times of the year.  In addition to meeting the needs of people with Celiac Disease, this show also caters to those with Gluten-Sensitivities, Autoimmune Diseases, Inflammatory Diseases and Autism.
At this show you'll get to:
Entry to the show that showcases over 100 brands
Meet all of your favorite Bloggers, Authors and vendors
Attend informative classes related to gluten-free and allergy-friendly lifestyle. (Everything from Gluten-Free 101, to Essential Oils, to making Dairy-Free pasta sauces and more!)
Create relationships with new people from your allergy friendly & gluten-free tribe
Get a free re-useable bag to hold all of the goodies you get
Get valuable coupons for products
Get FREE samples
Get Discounted products
Get to buy products that are not even available in your state, or country!
And if you purchase your tickets through me, you get even MORE FREE STUFF!
First, I have the opportunity to offer a discount on the tickets!  Right now you can get 20% discount on each ticket by entering the promo code

ADVANCE .

 
And by purchasing your tickets through me you will receive a FREE 1 year subscription to 

Delight Gluten-Free Magazine!!!!

How amazing is that?
As an additional added bonus,

I have 5 tickets to give away for FREE!
BOOM! So that means I'll be hosting a giveaway on Instagram. Stay tuned, because the giveaway will be announced shortly!
In case you can't make it to the show, but don't want to miss out on all the fun, I'll have you know, social media is my jam, and there will definitely be a lot of pictures on my Instagram & Facebook (@ goodiegoodieglutenfree), live tweets (handle: goodiegoodiegf) and LIVE broadcasts on Periscope (handle: goodiegoodieglutenfree).
I'll finally need to purchase a selfie stick! Hashtag #GFAFExpo 
Love and Gluten-Free!