Chocolate is life.  Get cozy, eat chocolate, be merry.  It's the holiday season and that means tons of dark chocolate, baking, celebrating and taking the Winter season in as a time of celebration, self-care and chocolate love.  A huge wellness giveaway sponsored by Lily's Chocolate and a care package from me!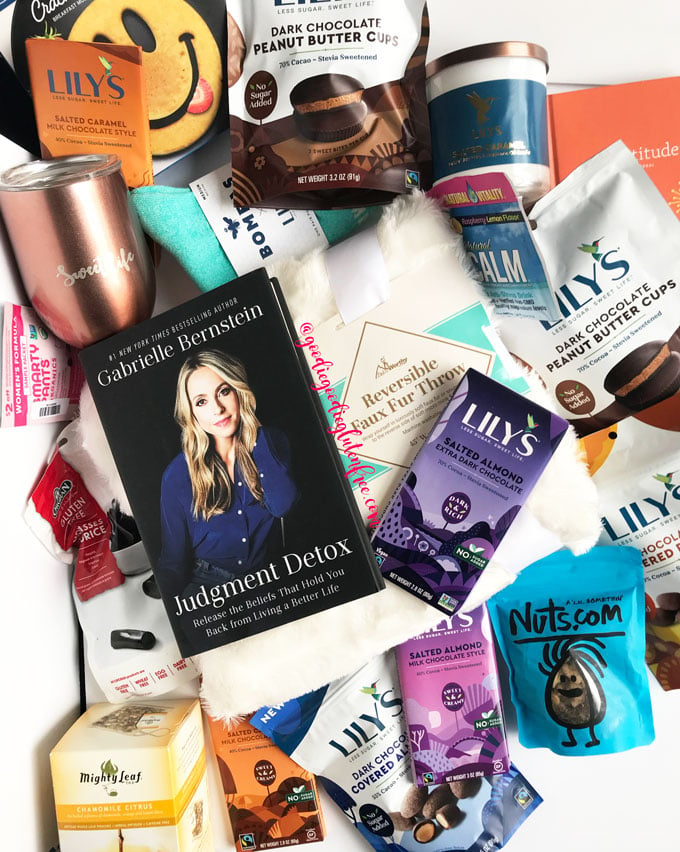 Hey friends!!  Guess what time it is?!  It's time for a holiday giveaway!  ***GIVEAWAY IS CLOSED.  And I am super excited to show you what we have for you today.  I've teamed up with Lily's Chocolate plus a few of my other favorite brands like Gabby Bernstein and Nuts dot com to give you this amazing haul.  BECAUSE this really is a HAUL.  You'll feel like you just got a huge care package and aren't care packages just the best?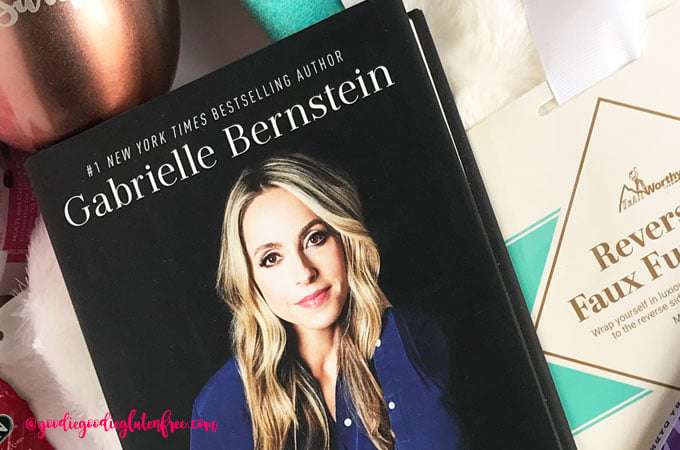 My last giveaway was such fun and a haul just like this that I had to do another one!  Gotta keep up with traditions, ya know?
The best part is that I'm giving away a huge Lily's Chocolate movie box filled with tons of chocolate-covered almonds, peanut butter cups and delicious bars all for you to enjoy while getting cozy for this holiday season.  The chocolate is sweetened with stevia and very low in sugar making this brand perfection!
The intention is to sit down, relax and watch awesome movies that fill your heart up with warmth while you fill your mouth with chocolate.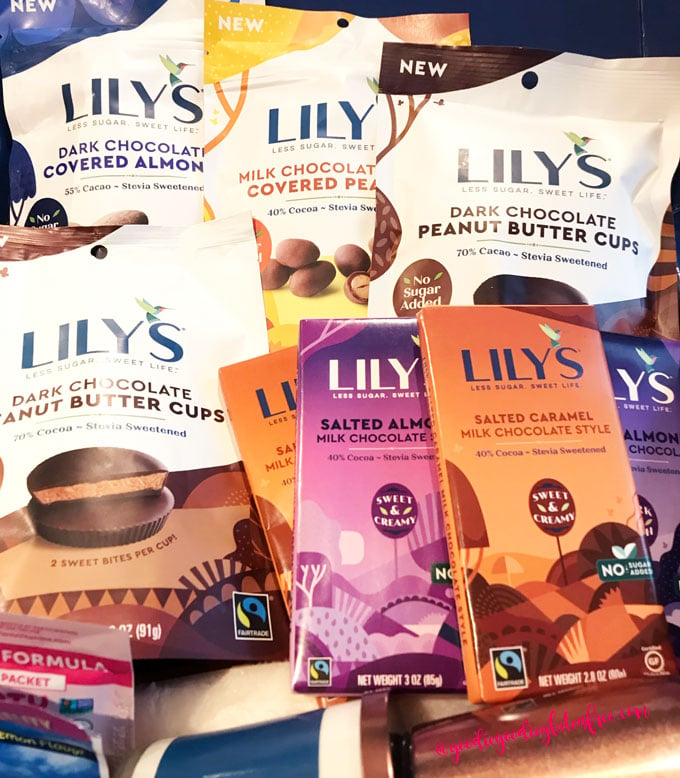 And what would a cozy night be without a reversible faux fur white throw, a yummy dessert candle, a copper cup to keep everything warm, cozy socks to get you in the cozy mood, plus Gabby Bernstein's book Judgement Detox so you can stop judging yourself and enjoy the present moment.
Then on top of that, I have for you a gratitude journal because receiving is just as important as giving and giving gratitude for where you are in life and what you do have is so important on your healing journey.
I love chocolate put it that way.
But I'll only eat chocolate that uses clean ingredients that are either certified gluten-free or gluten-free and manufactured safely.  As a Celiac, I have to be sure that what I am eating and what I am giving away is always safe for you, my friend.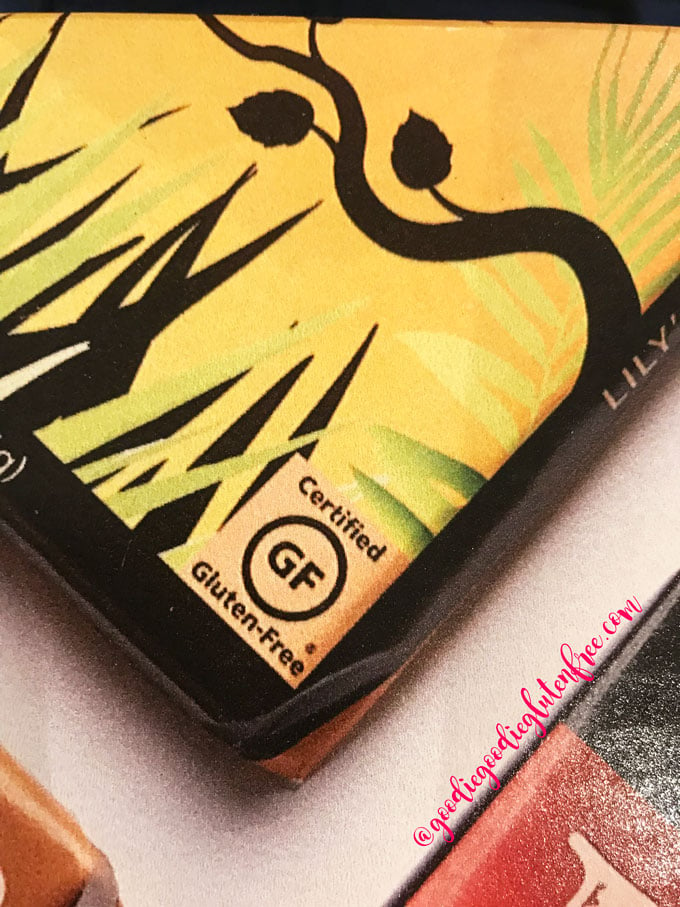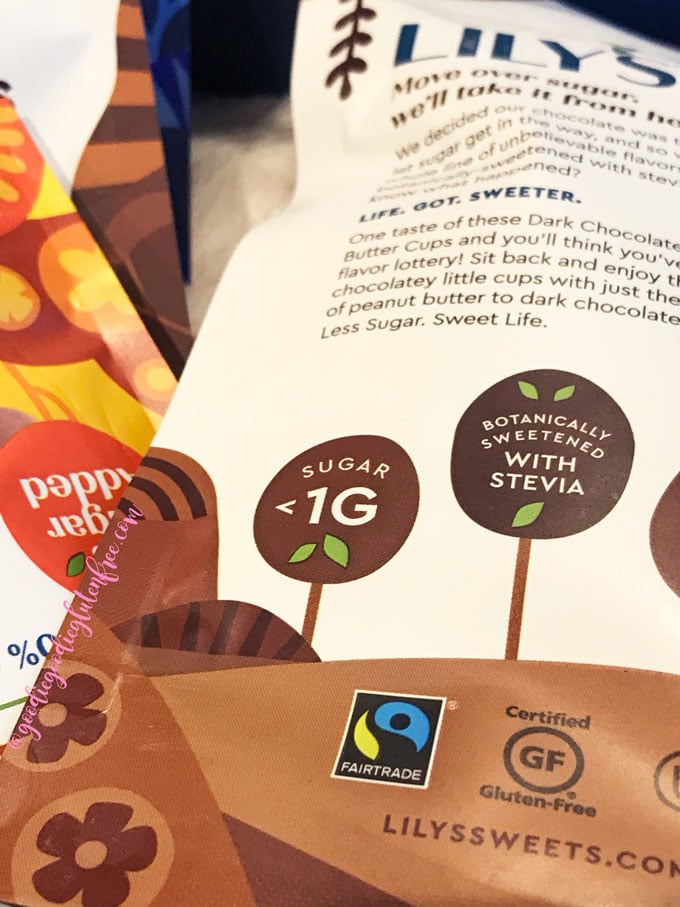 Lily's is all about living that sweet life without the sugar, or at least a lot less of it.  This is considered no sugar-chocolate that is perfect for eating and baking.  Baking this chocolate is the BEST!  The flavor profile is truly unreal and you'll be dying for another treat.  And a super, super hot plus that this chocolate is certified gluten-free and sweetened with stevia.
Stats about Lilys Chocolate is Life, Live the Sweet Life:
Lily's is made with fairtrade ingredients
Lily's is certified gluten-free by GFCO
Lily's offers vegan products
Lily's was created out of the necessity to have chocolate while kicking sugar
No refined or processed sugars
Sweetened with Stevia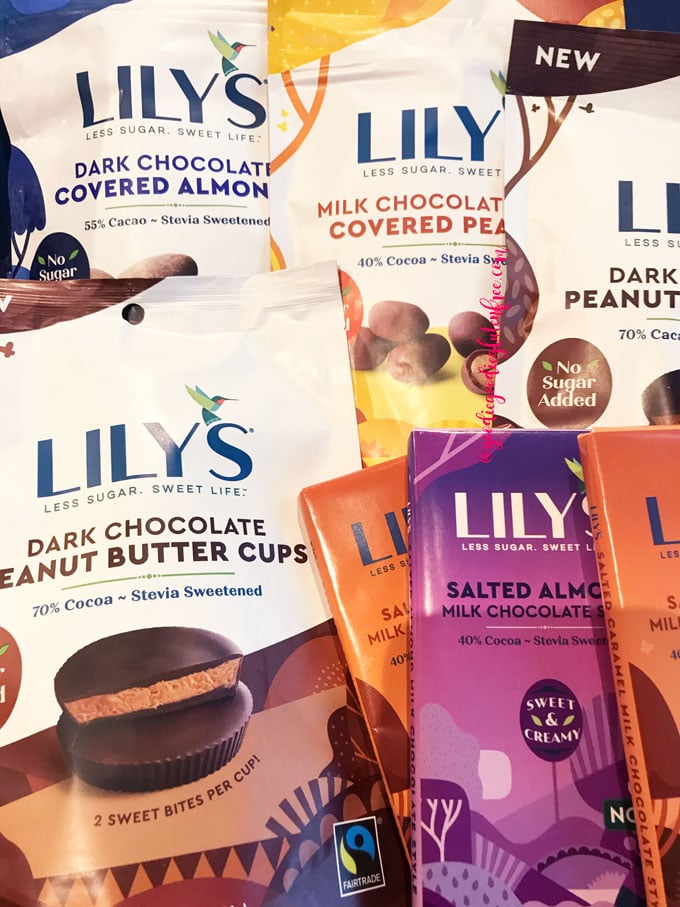 What I love about this chocolate is that it's amazing for baking and eating and that is a double win.  I also love that Lily's takes their ingredients seriously and their sugar seriously.
Last but not least inside this beautiful Chocolate is Life Holiday Wellness Giveaway - my favorite brand of tea: Citrus Chamomile, fresh walnuts from Nuts dot Com, my favorite magnesium drink powder by Magnesium Calm, Gluten-Free licorice from Orgran, SmartyPants vitamins and a few other fun goodies to boot.  Plus candles, a faux fur throw, a journal, a cookbook and so much more!
All in all this delicious wellness care box is meant to warm your heart.  Meant to make you realize that although you may be in healing, you can still enjoy simple things along the way.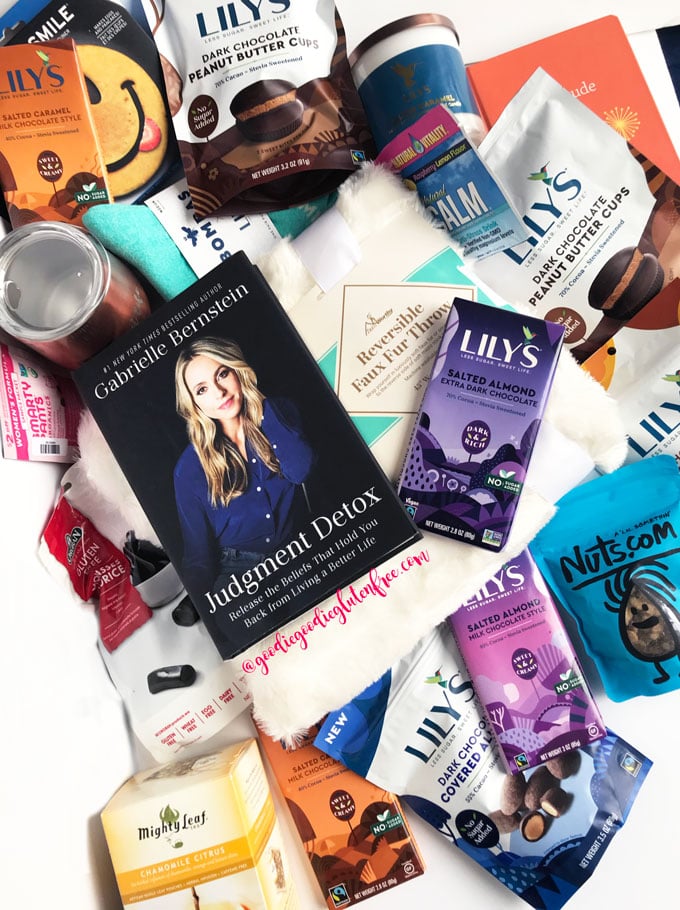 Chocolate is Life Holiday Giveaway Contest Rules:
Add a comment below in the comments section to this blog post and tell me why you want to win this giveaway, if you are a Gabby Bernstein fan, and which chocolate bar/bag you would devour first.  Let's get this conversation going!
Follow me on Instagram and like the giveaway post: instagram.com/goodiegoodieglutenfree and tag two friends and also tell me there why you want to win this giveaway.  If you are not on Instagram, sign up for the coolest party in town because Instagram is pure eye candy, everything will make you drool in a good way.
Comment on Instagram as to why you want to win this haul and what you would devour first!
You must do all in order to win.
A Full List of what you get:
3 x Lily Chocolate Bars (dark vegan and milk)
4 bags of chocolate-covered peanut butter cups, chocolate covered almonds, chocolate-covered peanuts, chocolate peanut butter cups
1 bag of Nuts dot com organic walnuts (certified gluten-free)
1 bag of Orgran gluten-free black molasses licorice
1 sample of SmartyPants vitamins
1 sample of Magnesium Calm Magnesium powder
My favorite Gratitude Journal
1 book by Gabby Bernstein "Judgement Detox"
1 reversible faux fur white throw
1 pair of Bombay socks
1 Lily's cup that keeps your hot drinks hot
1 Lily's soy dessert candle
1 pancake cookie-cutter smile face
1 Lily's linen zippered cosmetics bag
1 gluten-free cookbook "Girlfriend's Organic Gluten-Free Kitchen by Holistic Nutritionist Jessica Wyman
1 month free of Headspace a meditation app
5-year subscription to Thrive Market
15% off coupon CBD gummies
1 x Pure Genius Chickpea Brownie
More chocolate from Lily's
*
That's it!  It's super easy to join this giveaway!!!!!  This giveaway ENDS on December 15th at midnight, 2019.  
Good luck!!!!!  One winner will be picked at random.  The U.S.A. only.
I cannot wait for you to win!
And if Lily's chocolate doesn't suit you?  I've got you chocolate covered with my handy gluten-free chocolate list!