The GFAF Expo 2015 Show was really fun!  I found tons of healthy products!
What I have noticed after being gluten-free for almost 10 years is that the products out there suitable for my lifestyle are filled with sugar, crap, additives and fillers.  It's so rare to see real food based products being promoted and it's a real shame.  So when I agreed to cover this show as a Gluten-Free Blogger, I was a tad worried, because besides being gluten-free I am also a Wellness & Health Blogger and wellness lover and ingredients are really important to me.
What I really liked the most about this show was that I got to talk to every vendor and listen to their story.  That is something I have learned in the last two years.  We all have our struggles, and we all have our own stories.  Some of these companies were born out of a sheer painful health experience that led them down this path, while other's knew of someone else going through a painful experience and now have a growing business.  I also loved meeting fellow gluten-free bloggers, meeting instagram friends and even chatting with Jennifer Esposito about using chickpea water as an egg substitute.  The gluten-free community is so friendly, it's really lovely!  Although, I have always felt positive vibes about my community from the moment I was diagnosed to now, ten years later.  When you start to have health issues that take over your life, there is a certain kind of compassion that grows from within, and this is what you see at this type of show.
The question remained: Would I find products suitable for a healthy clean lifestyle?  The answer is YES!!
Therefore, I am only reviewing the products I fell madly and deeply in love with.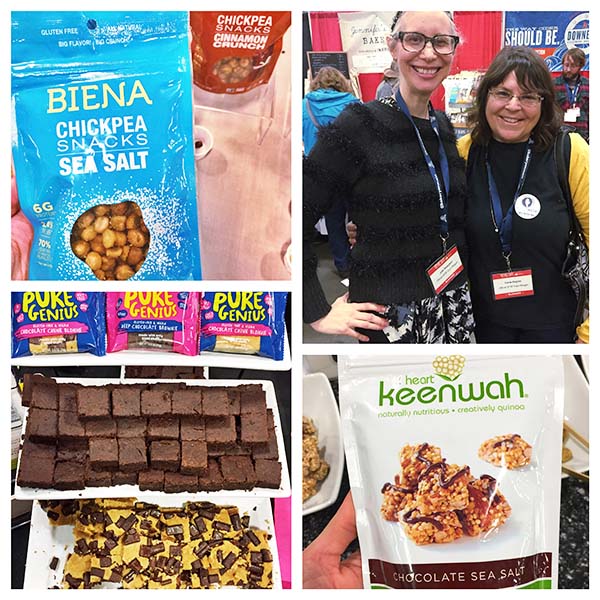 Pure Genius NOW KNOWN AS RULE BREAKER SNACKS- Deep Chocolate Brownie and Chocolate Chunk Blondie.  If you are going to try them for the first time, try both.  If you can only try one, go with the black bean brownie.  If you ever wondered if heaven lived in a brownie, I am here to tell you it does!  Like, O-M-G.  So decadent, dense, thick and heavenly. These brownies and blondies are made from chickpeas and black beans!  I kid you not!  And I have to be honest, I have been totally against trying black bean and chickpea brownies.  So it was a real first.  They were so good, I couldn't believe it!  And they are only sweetened with pure maple syrup!!  Real ingredients, less then 7 - exactly how I like it!  The gal behind this brand is believe it or not, a fellow IIN Grad!  We weren't in the same graduating class, but I really love meeting people who graduated from my nutrition school and have done something wonderful with their certification.  I have to say I would be super content eating these brownies for the rest of my life.  I think that's why they are called Pure Genius.
Stats: Gluten-free and vegan.  Under 200 guilt-free calories.  Nut-free, soy-free, dairy-free, no-gmo's and made in an allergen-free nut-free facility.  Packed with protein & fiber (high protein + high fiber - hello beans!), kid-friendly and school safe (big deal right?!).
Biena Chickpeas - They come in five flavors!  Although, I just stuck with the original flavor which was 2 ingredients.  Chickpeas and sea salt.  For me sugar-free is the way to go.  But for you guys?  Check it: Barbeque, Habanero, Honey Roasted and Cinnamon Crunch.  Wow right?!  Now, I have tried lots of chickpea snacks.  There are so many brands similar to this one found at health food stores and Whole Foods.  But none of those compared to this brand. Julie approved?  Most definitely!
Stats: 5g protein + 6g fiber (great for bowel health and a full tummy!), 70-78% less fat then peanuts (and believe this!  Peanuts are not good for those dealing with Candida, or Candida overgrowth and chickpeas are), Naturally gluten, nut, and soy-free.  No artificial flavors, colors or preservatives (me likey), Non-GMO Verified (score, because I really don't want to eat fake food), and Kosher Certified (score for the religious gluten-free Jews!)
Stats on flavors:  Sea Salt|Lightly dusted with sea salt, Honey Roasted|Real wildflower honey with sea salt, Habanero|Medium spicy habanero with a hint of lemon, Barbeque|Classic BBQ with a kick; tangy, sweet, spicy and smokey, Cinnamon Crunch| Cinnamon with maple syrup.
I Heart Keenwah- These healthified snacks are hitting grocery shelves everywhere! Have you seen them?  As far as healthy goes, they do have a lot of sugar, so be careful.  On the flip side, they are great snacks for travel, office and to satisfy your sweet tooth.  Quinoa, is an ancient grain (that is really a seed) that is a complete protein, containing all 9 amino acids, meaning it's the same amount of protein found in animal meat and dairy.  And it happens to be gluten-free.  The sugars used in these products used to be honey, but then went vegan, so now the sugars are brown rice syrup and tapioca syrup.  All products contain nuts, but nut-free versions are in the works.  The name of the brand I heart Keenwah, is actually how Quinoa is pronounced, making it easier for the customer to actually say the grain/seed. Quinoa = Keenwah.  Neat right?
Stats: Certified Gluten-free, verified non-GMO, Organic, Vegan and dairy-free.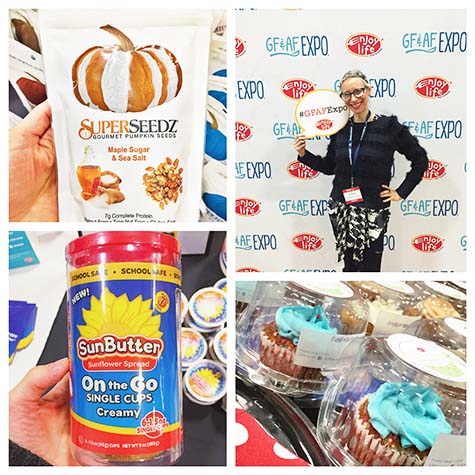 SuperSeedz Gourmet Pumpkin Seeds-Why do I love these?  Because seeds are just as nutritious as nuts and they are allergy-friendly!  Pumpkin seeds are a complete plant based protein, a filling snack loaded with nutrients + they taste good.  I mean have you ever had pumpkin seed butter? That jazz rocks!  Seeds are never promoted as much as nuts, it's almost as if the media forgets about them.  But guess what?  A handful of seeds per day as a snack or in your smoothie, or turned into milk or butter is a great way to utilize your plant based protein!  And again, another totally awesome snack!
Stats:  Gluten-free (except the Curry flavor), Peanut-free, tree-nut free, Vegan and Non-GMO Verified, No-shell, small batch dry roasted, 7-9g complete, plant based protein (that means tons of nutrients and vitamins, and that also means that it contains all nine essential amino acids), 15% RDI (Recommended daily intake) of Iron and Zinc, 0 cholesterol and 0 trans fat.
Stats on flavors: The curry flavor uses non-gmo soy sauce, that means it contains wheat!  Please note this when buying!!.  All other flavors are free of everything listed above.  Flavors include: Maple Sugar & Sea Salt, Sea Salt, Somewhat Spicy, Cinnamon & Sugar, Tomato Italiano, Coco Joe, Super Spicy, Really Naked and Curious Curry.  I always opt for the Really Naked or the Sea Salt version.  For me, the less ingredients the better.
SunButter - Be careful, you can literally eat the entire jar, it's that good. Technically two tablespoons of any nut or seed butter is enough in the healthy fat's department, but who are we kidding?  It's just too good!  Before I got healthy, I only knew of peanut butter.  On the verge of healthy I heard of Almond butter but never actually tried it.  This was two years ago.  When I embarked on my healthy path it was hello nut and seed butters!  And when nuts became a sensitivity, sunflower seed butter saved the day.  What I like about this brand is that it is super creamy and made with natural ingredients.  You have your choice of Organic, Creamy, No-Stir Creamy, Natural and Crunchy. My personal favs? Organic and Natural (which means sugar and sodium free).  Another reason to love this brand?  First they have awesome recipes on their website and Instagram, and it's the perfect tree-nut and peanut-free alternative.
Stats:  Packed with protein, rich in calcium, iron and potassium, peanut and tree-nut free, GMO free, gluten-free and made in a dedicated peanut and tree-nut free facility.  This product is NOT processed on lines that use gluten or wheat, however it is processed on the same lines as soy.  Sunbutter is working on getting a new roasting technique by 2016 that will eliminate processing with soy lines.
Enjoy Life - I was so happy to hear that Enjoy Life would be at this show.  Because I adore their dark chocolate chips ever since I developed a ton of food sensitivities.  I trust this brand. And I know they are so allergy friendly it is ridiculous. Their motto is taste, trust and love.  And I LOVE their 69% dark chocolate chips! They of course have tons of products and offer tons of free recipes on their site, but from a cane sugar standpoint, I don't eat their products with the exception of the dark chocolate chips.  Totally swoon worthy.  I however do not like their semi-sweet chips or chunks, I find they taste really artificial.
Stats: Their products are made in a dedicated gluten-free, peanut-free and treenut-free facility and all products are: gluten-free, peanut-free, treenut-free, soy-free, egg, shellfish, fish, and dairy-free, AND products are made without sesame, casein, potato and sulfites.  This is a brand where you and your family can feel safe from allergies, intolerances and Celiac Disease.  How nice is that?!
Mo Dweeze Bakery - At first when I saw this creator's booth of cupcakes I thought, NEXT.  How many cupcakes can I review?  How much sugar can I taste?  Is it worth it?  But something pulled me in her direction and I had my mom do the tastings (candida diet, like I said earlier), and my mom was dying of deliciousness, she said.  And as I got talking with the owner I found out all of her struggles with her children.  She has an allergy to various fruits and Soy, while one of her eldest son's had 8 top allergies, and has managed to grow out of all but nuts, while her husband is allergic to shellfish and nuts and her youngest son has 19 food allergies and counting!  And yet, she has gorgeous cupcakes that I could seriously devour had I not been on this sugar-free diet. I was blown away.  Do you know how hard that is to deal with?  The struggle, the frustration especially since her son is really young, and having a family of five trying to create suitable dishes for all?  I myself have tons of food sensitivities, plus Celiac and medical issues so I started to understand that we all have struggles, and if we can use our struggles to help others in the world, why not create another cupcake?  They are divine!
Stats: Dairy-free, Egg-free, Gluten-free, Sesame-free, Nut-free, Soy-free, Vegan and customizable.  There are also Diabetic friendly options that can be made, and cupcakes ship nationwide via UPS.  Located in New Jersey.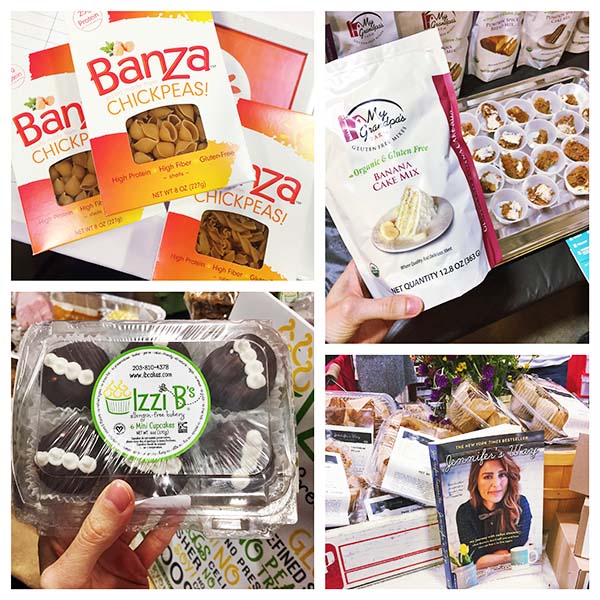 Banza - How about I'm Banza about Chickpea Pasta!  Because after tasting this product, I now totally am.  I would have to say my two favorite things at this show was Pure Genius Black Bean Brownies and Banza Chickpea Pasta, and I don't even like beans!  I was pleasantly surprised when I tried this pasta, I hadn't had any pasta in over 1 year!  So I was super stoked to be able to have this pasta with all of my dietary restrictions and actually fall in love with it.  It is delicious with Rao's Marinara Sauce (FYI).  This duo appeared on a cooking show on the cooking channel trying to get support to build their product and sell it to the masses.  Funny story?  My mom actually recognized the team because she saw them on the cooking channel.  So I came home with one box of Banza, and realized later that I should have stocked up.   Luckily for me they carry Banza at Fairway.  The main ingredients are: Chickpeas, Pea protein and tapioca flour.  And get this 14 grams of protein and 9 grams of fiber.  That's insane!
Stats: loaded with fiber and protein - I will repeat 14 grams of protein and 9 grams of fiber.  So this pasta keeps you full and fueled, while keeping your bowels and digestion healthy.  Gluten-Free, Dairy-Free, Nut-Free, Soy-Free, Non-GMO, low glycemic, Vegan and Grain-free.
My Grandpa's Farm Gluten-Free Baking Mixes-UPDATE-This company is no longer in business.
Jennifer's Way Bakery - Let's be real!  I have supported Jennifer Esposito's bakery since it opened a few years back!  I mean, hello!  I live in New York City.  Having a bakery that doesn't use refined sugar in Manhattan that is pro Celiac - well I'm all over that!  So even though, I have been to Jennifer's bakery way before this show, I will say this - Jennifer is awesome, her bakery staff is fantastic.  It's a humble bakery in the East Village of NYC and it's so worth the trip.  Instead of indulging and getting drunk on cane sugar, you have the option to do right by your body and eat wholesome treats using no refined sugar and wholesome ingredients.  My favorite baked treat from her bakery is the Quinoa Bread and a cookie she used to make a while back called Lemon Rosemary Balls.  Serious swoon!  At the show we chatted about egg substitutes and chickpea meringue. Getting to chat "baking" with Jennifer was ridiculously cool, just like two cooks chatting in the kitchen.
Stats: Ok, this may be tricky, but follow me for a second.  Jennifer's Way Bakery has a dedicated Wholesale facility in Queens that is dedicated gluten-free, wheat-free, dairy-free, egg-free, tree nut and peanut-free and soy-free and that is where all online orders are made.  However, the retail bakery in the East Village, is only currently peanut-free, gluten-free, wheat-free, soy-free, egg-free, dairy-free but NOT tree-nut free as of now.  They are working on wiping out all nuts from the retail kitchen.
Izzi B's Allergen-free bakery - located in Norwalk, Connecticut.  Many of their products are made with Squash puree which I thought was a really cool egg replacement to use, that is wholesome and delicious.  My only CON is that all of their signs at the GFAF Expo claimed they used no refined sugar, but upon looking at the ingredient lists it listed Cane Sugar and Agave.  When I chatted with the owner, she said, well it's healthier then other baked goods.  And yes, that might be true, but it's also misleading.  And those who are not OCD about ingredient labels like me, may pick up a batch of goodness from this bakery thinking it is suitable for their diet, when it isn't.  That really bothered me.  I really don't like false advertising.  Despite the sugar issue, the treats were really good, and I would hate to deprive anyone of a good treat.
Stats: School safe, Gluten-free, Vegan, Peanut and Treenut-free, Casein-free, Dairy-free, Celiac-Friendly, Egg-free, Soy-free and Parve.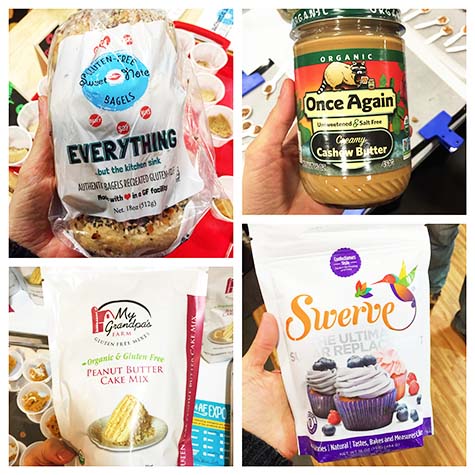 Canyon Bakehouse Bread  - Hello yum!  If anyone is looking for a delicious bagel from the freezer section, your search is over!  My mom walked away with three bags!  And she doesn't usually buy bagels.  They had to be pretty darn good for her to snatch 3 whole bags of carbs.  One of the co-founder's was diagnosed with Celiac Disease in 2007.  Mix that with a love for baking and cooking and a team was born to find a way to love bread again.
Stats: 100% whole grains, gluten-free, nut-free, dairy-free, soy-free, no-GMO's, no need to toast!, dedicated gluten-free bakery and Kosher Parve.
The Greater Knead Bakery AKA Sweet Note Bakery Bagels - Simple ingredients.  Sweet Note Flour Blend + Salt + Sugar + Yeast + Olive Oil + Water + Molasses + Psyllium Husk = this fantastic tasting bagel!  Like seriously, my mom bought 3 bags.  What can I say?  She's saving bagels for next year's Yom Kippur Jewish holiday-Just kidding!  We have a gluten-free family.  So what's the story behind this brand?  Family members getting diagnosed with Celiac Disease and other food allergies, the mission was clear!  To recreate their favorite food: the bagel.  And that bagel made in 6 flavors!  Plain, Pumpkin Spice, Sesame, Everything, Cinnamon Raisin and Poppy, just like those New York Style bagels we once all loved so dearly before Celiac Disease!  I really liked this team.  They were so friendly, so cheerful and so informational.  On a sweet note?  They are really sweet!  Plus you get the perks of a old fashioned bakery with fun recipe cards on making bagel bread pudding, Everything Bagel Stuffing and french toast using their bagels!  How cute?
Stats: gluten-free, soy-free, peanut and tree-nut free, dairy-free, non-gmo, egg-free, vegan, no preservatives, and kosher certified.
Once Again Nut & Seed Butters - Prior to this show I will tell you that Once Again has been my favorite brand for nut and seed butters!  They have both natural and organic versions, and use minimal ingredients.  I always get the no sodium or sugar added versions.  I really trust this brand, and I know there will not be any gluten contamination.  It took me going back to nutrition school to understand that there is a difference in buying organic nut and seed butters as opposed to buying processed nut and seed butters like Jiff and Skippy.  When you are looking to add healthy fats into your diet, it is so important to choose a brand that doesn't use additives, fillers, and processed sugars.  I challenge you to read a label, you will go bonkers when you see the amount of sugar in commercial peanut butter plus all the other odd ingredients!  These are the types of places you don't need added sugar.  And this brand was not affected by the June 2015 nut butter recall!
Stats: Certified gluten-free, natural and organic versions, organic versions do not use pesticides, Aflatoxin on peanuts are tested before and after the product is made; aflatoxin is a chemical produced by mold, the only other ingredient besides the nuts or seeds themselves would be in the case of cashew butter which is sunflower seed oil which helps spread the nuts, Kosher Certified, soy products are also manufactured at Once Again, Once Again takes cross contamination seriously and uses dedicated equipment.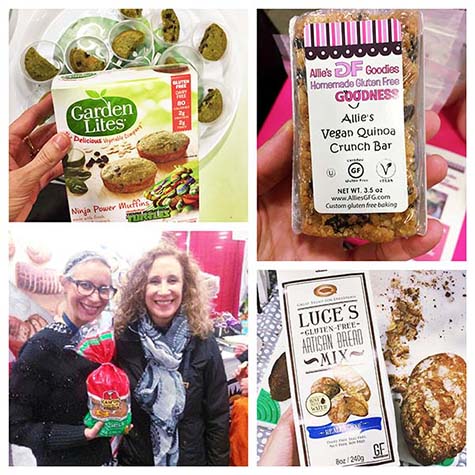 Allie's DF Goodies - Homemade Gluten-Free Goodness - Another noteworthy mention!  Allie was great to chat with because not only was she knowledgable about her product, but also of Autoimmune diseases, their effects and food intolerances.  Allie herself was diagnosed with a lactose intolerance back in the 80's, followed by an Autoimmune diagnosis of Ulcerative Colitis, along with her daughter who also became gluten-intolerant and her son who had a egg allergy.  So much to deal with, so much to handle, and yet she has this amazing bakery filled with delightful treats for  any child.
Stats: Her tasty treats are not just gluten-free and egg-free but are also Certified gluten-free by GIG, nut-free, peanut-free, coconut-free and always Certified Kosher by OU with dairy-free and Vegan items available.  And, because there is always an and…Soy-free, low glycemic and Fod-map options are also available upon request.  But that's not all!!! They do custom orders with other allergies! Allie's kitchen is a dedicated peanut free, tree nut free, coconut free, gluten-free and sesame free facility.  She and her team literally sit around a round table and have a discussion on how a cake or treat can be made to suit the child with the allergy.  Don't forget birthdays and occasions, Allie does these too!  Allie's bakery is located in Long Island and can be reached at (516) 216-1719
Luce's Gluten-Free Artisan Bread - This AMAZING bread company has closed.  These were bread mixes like Rye, Pumpernickel, and Sourdough were UNREAL.  I am sad to see them go.
Garden Lites - The delicious Vegetable Company - Muffins made with actual veggies?  Say what?  Yup!  They had a few different muffins, but in each vegetables were the first in the ingredient list.  It went something like this: zucchini, carrot, egg whites, sugar, gluten-free flour blend (brown rice flour, sorghum flour, potato starch, corn starch, flaxseed meal), unsweetened chocolate, vanilla extract, corn fiber, canola oil.  So I love, LOVE that the first ingredients were veggies, because that means most of that product is veggies.  Are you familiar with the order of an ingredient list?  The first few listed are what the product uses the most, and then descends in order.  So if the first ingredient were sugar, you'd be in trouble!  Here, it's the 4th one down, and I am actually surprised that each muffin which wasn't that large has 11 grams of sugar.  That was con #1.  My secondary cons were were that a lot of corn is used, corn starch, corn fiber and canola oil.
Stats: gluten-free, dairy-free, nut-free, low calorie, rich in whole grains, defrost and enjoy, kid-friendly.
Resources:
GIG: Gluten Intolerance Group - Want to learn more?  This is one of the many reliable sources you can access if you want to learn more about Celiac Disease or a Gluten-Intolerance.  This community has kids groups, Camp and memberships, including Educational Awareness, International Advocacy, Team Leaderships and Mentorships.
Holistic Mom's Network - This network's main mission is to support parents and connect parents  who are interested in holistic health and green living.  This is a non-profit organization that can be found on Twitter, Facebook and online.
Gluten-Free Passport - Trusted since 2005 - Safely travel gluten-free and with Celiac and food allergies.  Get travel translation cards, language guides and ebooks, country travel paks and apps and visit the global website for fast food and ethnic restaurants, bakeries, airlines and products as well as tours, training and consulting.  Winner of 18 Innovation Awards.
Gluten-Free Travel Group - Their motto?  Drink in the sights without worrying about the food.  Cruises, Tours, Villas, and Custom Vacations.
Love and Gluten-Free Food Shows!