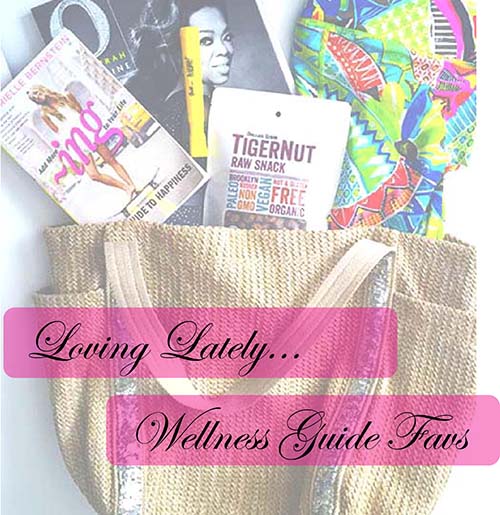 Hello to my first of many Loving Lately Wellness Guide articles.  Because let's face it, the gluten-free lifestyle is not just about food.  It's about everything!  Changing your lifestyle for the better takes work in all areas of your life.  And it has certainly been lots of personal development, work, fun and experimentation on my end to get to where I am today.  The road to happy and healthy, surviving and thriving with an Autoimmune Disease is a journey.  Let's get deep here: All change is a journey.  All redirection is a journey.  All thoughts to become healthier turn into action and are all part of the journey.  And life is all about the journey (hint: that's from my most recently read favorite book The Alchemist).  The journey, the golden path, the road to somewhere, the path to healing, this journey is what makes making these changes all the worth while, because while you are changing you are growing and evolving.  But you can't grow or evolve without tools.  And what I love so much about this wellness journey is the plethora of goodie resources that have blessed me with their presence along my way.   This series is where I will share all of my ultimate favorite tools that I could never live without while leading a healthier lifestyle.
1. Oprah Magazine - You need this magazine!  Why?  Because it's filled with wellness inspiration that will make you smile, make you think and make you WANT to implement changes into your lifestyle.  This magazine simply inspires me to do great things for my life, to plow forward no matter what is going on!  How gorgeous is that? Even if they are the smallest changes.  As my wellness Guru Gabby Bernstein says "small changes daily lead to big results".  Reading Oprah magazine has changed my perspective in just about every aspect of my life.
2. Gabby Bernstein - Books, Audio, Blog, Vlog and Spirit Junkie Master Class.  She teaches A Course in Miracles to our generation.  And if you don't know what A Course in Miracles is, no sweat, until 1 ½ years ago I didn't either.  Once I started to learn about her message, her teachings cracked me wide open and I fell in love with a totally different perspective that has enhanced my life for the better.  It's totally sweet!
If you are looking for a mental shift, life changing tools for less stress, more flow and finding out about your purpose on this planet, why you are here and how to serve your light to the world, this lady is for you!  I started with her youtube videos to see what she was all about and then I went on to her workshop Spirit Junkie MasterClass and her book like Spirit Junkie, Add More Ing To Your Life, Miracles Now & May Cause Miracles.  Don't you want to add more "Ing" to your life?
Spirit Junkie Master Class is a mind-blowing workshop that embodies self-love, spirituality, self-care, yoga, meditation and other various teachings for coaches, healers and teachers with like-minded individuals and awesome guest speakers that teach you how to enhance your craft.  So far these weekend workshops have been held in New York City and Massachusetts.  I completed her Level 1 workshop in September of 2014 and let's just say my mind is blown with creativity, love and light.  I learned SO much about myself and what I am capable of, and I met a gorgeous crew of wonderful people along the way.
3. Trina Turk Activewear - Ok, so while we are all getting healthy, changing our lives and making it better - let's at least do it in style!  I am a former fashion designer, and I have not forgotten my fashion loving roots.  When making healthy living changes, the goal is to feel good inside and out, and that includes extremely bright and beautiful yoga leggings!  I can't take all the credit here. I have to admit I was turned on to these awesome fitting leggings from my friend, personal trainer, creator of BodyByHannah and columnist for Cosmo Magazine, Hannah Davis.  She sported them in a picture on Instagram, and I literally fell in love!  Order those stat!
4.  Tigernuts - Have you heard of these?  Because I am obsessed!  Tigernuts are actually a tuber root vegetable.  Not a nut at all.  100% gluten-free and made in a gluten-free and nut-free facility.  Bonus? Paleo, Vegan, considered a prebiotic, Dairy-Free, Soy-Free.  There are many brands out there and I use two.  But this post is about Tigernuts by Organic Gemini.  I have gotten a lot of questions on what these babies are exactly and what they taste like.
If you can visualize this, they look like a tiny peanut with the shell, but they taste like a sweet cashew nut.  You eat both the shell and the inside.  I eat them whole, I process them into a cookie dough base and I also make milk from them.  The milk is often referred to as Tigernut Horchata and it is unbelievable!  It's an excellent substitute for a plant based milk for those who have dairy, lactose and nut allergies!  The nuts and the Horchata (milk) are sold at select Whole Foods locations, on Organic Gemini's website and on Amazon.com.  The milk comes in a few flavors as well as unsweetened.  I always opt for the unsweetened because I don't want any sugar in my milk, even though the sugar used in their other flavors is from natural Medjool Dates, but still.  And I also make the milk homemade, which is really easy and cost effective.
Ok, so now that you have the basics, I get to tell you what else this awesome brand has in the Tigernut department.  Oil and Flour.  Tigernut Organic Cold Pressed oil which is great for high heat cooking and baking.  My kitchen is ALWAYS stocked with Tigernut Oil and is sold on Amazon.com as well as Organic Gemini's website.  I literally freak when Amazon runs out!  This is the best oil besides olive that I use for baking.  It's an excellent option that is also different. And then there is Tigernut flour that makes my pancakes taste like cinnamon donuts.  I swear!  It has a crystalized texture that you will notice in the taste, and the reason behind that is the shell.  The shell is ground into the flour so you are getting all of the nutrients.
5. Empire of the Sun - Because music is uber important for brain development and stress levels.  Did you know that listening to music actually decreases your stress levels and creates calming, happy vibes?  Yup, it's true.  It's important to listen to the music you love!  The sounds of the instruments playing in the music you listen to can actually help send stress-reducing signals to your brain, so introduce a little music love into your life.  It's all about this album right now.  Sometimes I just want to break out and dance on the sidewalk.
So there you have 5 ultimate favorites!  More to come friends because I find that I am inspired by SO, SO, SO much these days that I just want to share all of my tips, guides and favs with all of you! Loving Lately number 2 is on it's way before you know it!