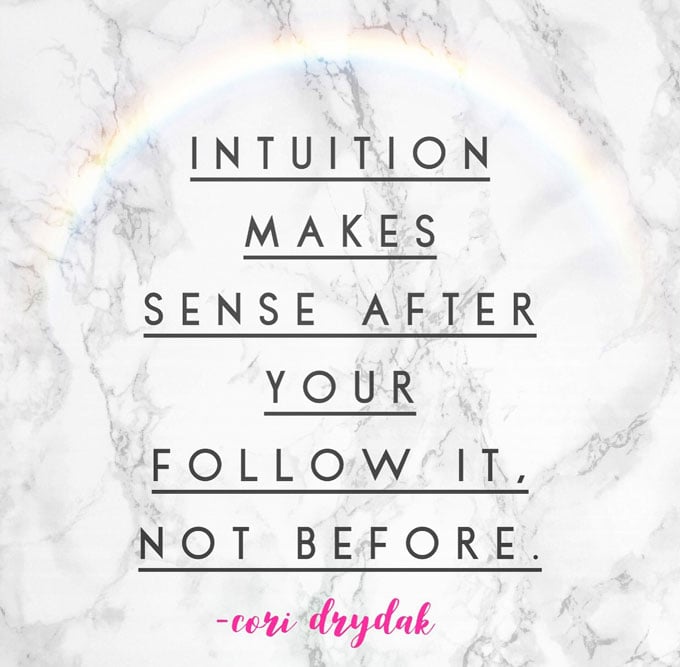 Often we wonder what Intuition is, and does it really exist and how do we recognize it?  The funny thing is, we all have seen it, we all know it, and we all recognize it.  We just don't trust it.  We don't follow it.  We think it's wrong.  It must be something else.  It cannot be that simple.
But it is that simple.
Intuition is like a guide who's always there supporting you.  Intuition is that guide that makes you feel like you're on shaky ground when you are and makes you feel like all is good when it is.  Intuition helps us chose the right decisions on our path.  What's right for each and every one of us is different.  But we all can hone in on our intuition and receive guidance from this guide if we are open to it and allow it.  Our Intuition wants nothing but the best for us.
Intuition is that little nudge.  The one that you feel when you're making a decision or ignoring something you shouldn't.  Besides the bad, your intuition will guide you towards opportunity, love, and light if you choose to walk this world a little bit more enlightened.  Let your intuition be your yellow brick road.  Trust it.  It will not let you stray.  And in the end?  It will make sense.
The problem is like I said, we don't trust it, which basically means on a soul level we don't trust ouselves.  And Hey!  If you've been through the wringer I get it.  It takes time to strengthen that Intuition muscle.  And it takes time to solely trust our Intuition as our one and only guide.
We all doubt ourselves so much our own logic blocks our own intuition, how messed up is that?!  And we block it because we cannot see the end of the road or find that exact answer we need, so we bypass it looking for something else.
Instead, we have to trust, and trust is hard to come by.  While it may be hard to trust others the one person and soul you can always count on is your own.
So, start flexing that muscle and see what it feels like to listen in and lean in.
Let your intuition be your ultimate guide.  Because of that in itself, just deciding that?  That's a huge game changer!  Do you agree?  Yay/Nay below in the comments.  I wanna hear your thoughts!