December is that time of year where all types of presents are welcome, am I right? It's all about feeling good.  In this guide I'm talking spiritual fashion and spiritual decor.  Most people don't realize that fashion makes us feel good by providing confidence and inspiration. Fashion has the ability to give us hope, makes us strive to look better and feel better.  Fashion can give us a sense of identity.  Fashion is our armor.  What we wear shows the world and ourselves who we want to be and who we are for that day.  It's a fact that if you choose an outfit that makes you feel good, you will be more inspired and more confident then if you didn't.
What I love about spiritual fashion is that it can help us manifest abundance for our future, and can inspire us in our present moments.  A necklace that says Wild Spirit when worn not only makes us feel fashionable, and on trend, but it's also a reminder of who we are while we are on our journey. Fashion that helps us express ourselves can help us disassociate ourselves from our Ego, and lean more towards our light.  That necklace can provide years of confidence.  And those yoga leggings by Trina Turk, yeah, they are super fashionable, but maybe, just maybe because they are so colorful, because you love them that much they may just inspire you to get to that yoga class more often.  And if you go to yoga more often you are putting yourself out in the world more often, and your body is reaping mad benefits from all that yoga!  Plus think of all the possibilities that can happen on the way to that yoga class, during that yoga class, who you can meet...Now do you understand why fashion is so important?  It's not just the clothes, the shoes, the bags...there is meaning behind everything you put on your body.  How you feel about yourself speaks volume by how you present yourself.
I'll be honest, there are items in my wardrobe that I wear daily such as my I Love Me Ring by Arielle Haspel which is in my first gift guide.  I wear that ring daily. Without it I feel naked, not because it's fashionable, but because it's blessed with healing energy that I feel daily.  This ring makes me feel like I am on the right path and brings me so much confidence.  Even if I'm just doing laundry in the basement of my apartment building, that ring is getting on my finger.  For you this can be a piece of jewelry, or a piece of clothing or even something else entirely.  I have a Snow Globe Buddha identical to the one below in my living room and it makes me feel like my home is protected.  It may seem silly to put your belief into a piece of clothing or a living room decoration, but these are the types of things that provide spiritual and inspirational function that make us feel good.  As I mentioned in my previous Gift Guide post, I'm definitely a gal that likes gifts that are both fun and meaningful.  I hope these gifts bring you positive vibes on your goddess journey into 2016.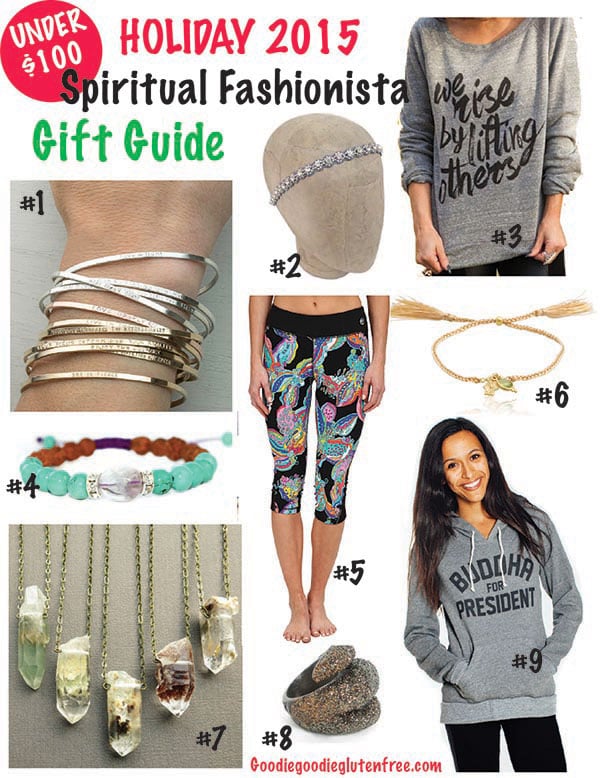 Love and Shopping!