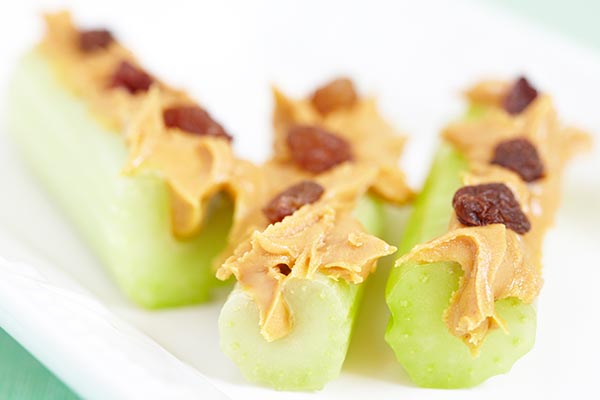 I feel like this is my cutest article ever!  I haven't even had an "Ants On A Log" snack since I was a kid, and I love celery!  For fun, I spent some time concocting some really creative ways to eat celery that I know will be enjoyed that are healthy and allergy-friendly for all of you guys!!
I remember when I used to come home from elementary school in Long Island as a kid and my healthy snack was waiting for me on the kitchen table.  Can you guess what it was? It was celery with cream cheese. Honestly, I hated it.  While all the other kids were eating their fruit roll-ups, I was stuck with celery, which was NOTHING like a fruit roll-up.  If I recall correctly, I would lick the cream cheese out of the log and leave the celery on the plate.  Isn't it funny what we remember from our childhood?
But now in my adult years I LOVE celery!  In fact it was one of my food sensitivities for like a year and I couldn't have it at all.  Once I was able to eat it again, I felt so blessed to have celery in my life!  It's perfect for salads and in green juices.  It's also one of the greatest veggies to use with dip!  Hello perfect snack!  Hello Ants On A Log.
But we have come a LONG way from just peanut butter on celery and cream cheese with raisins on celery, right?  I mean there are SO MANY ways to reinvent this past time snack.  So I have come up with 32 different ways to enjoy this veggie for both adults and kids!
At first I wasn't going to name the logs, thinking that was silly, but sure enough the fun names were pouring out of me and I decided all 31 versions had to have fun names.  It didn't take long, as I said, this was SUCH A FUN POST.
Without further ado, here are 32 ways to add a little jazz to your Ants On A Log:
The Spa Log: Greek yogurt with cucumber slices. (drizzle of honey optional)

The Classic Log:

Creamy Peanut Butter. (or Almond Butter, or Cashew Butter)
The Reinvented Classic Log: Crunchy Peanut Butter and apple slices.

The Sunbutter Log:

Sunflower Seed Butter with sunflower seeds.

The Fall Harvest Log:

Pumpkin Seed Butter with pumpkin seeds and dark chocolate chips.

The Allergy-Friendly Log:

Sunflower Seed butter or Pumpkin Seed Butter with raisins.
The Cookie Log: Pumpkin seed butter with cinnamon, nutmeg, Enjoy Life dark chocolate chips and shavings of gluten-free graham crackers. (graham crackers are optional)
The Oatmeal Cookie Log: Gluten-Free raw oats, dark chocolate chips and raisins.

The Guacamole Log:

Guacamole with black beans.
The Caprese Log: Fresh melted Mozzarella cheese with tomato halves and a drizzle of balsamic vinegar.

The Breakfast Log:

Almond Butter with gluten-free granola, gluten-free oats and dark chocolate chips.
The PB&J Log: Peanut Butter with dried berries (of choice) or fresh blackberries.

The Bloomingdales Log:

Tuna salad with Mayo, chopped carrots and chickpeas.

The Yom Kippur Log:

Egg salad with fresh dill.

The Bagel Log:

Cream cheese with strawberry slices.
The Rosh Hashana Log: Coconut yogurt with sliced apples and a drizzle of honey.

The Fancy Log:

Cream cheese wrapped with Prosciutto.

The Cobb Salad Log:

Avocado slices, turkey meat, corn, tomatoes and bacon (with or without ranch dressing).
The Superbowl Log: Grilled Chicken, buffalo hot sauce and a drizzle of ranch or gluten-free blue cheese dressing.

The Pizza Log:

Warmed Marinara Sauce (Rao's), melted Mozzarella cheese and pepperoni.

The Loaded Nachos Log:

Melted Cheddar cheese, corn, black beans, guacamole, and salsa.

The Mediterranean Log:

Hummus with sun-dried tomatoes.

The Nut Lover's Log:

Your choice of Almond/Hazelnut/Peanut or Cashew butter with dark chocolate chips and crushed nut pieces.

The Waldorf Salad Log:

avocado, bacon, walnuts, chicken salad, red grape halves, dried cranberries and apple slices.
Ladies Who Lunch Log: Tuna salad with diced fresh mango pieces.

The Salty Sweet Tooth Log:

Peanut butter, Pumpkin seeds, Mejool dates, dark chocolate chips and sea salt.

The Vegan Dessert Log:

Cashew cream, dark chocolate chips, shredded almonds and coconut pieces.
The Snob Log: Melted Brie, prosciutto, sliced Medjool dates and a drizzle of raw honey.

The Fruity Lovers Log:

Dried coconut, dried mango, dried apricot, dried cherries, dried cranberries with coconut yogurt or Ricotta cheese and a honey drizzle.

The Tropical Vacation Log:

Coconut yogurt or Coconut Butter with fresh mango or pineapple pieces and shredded coconut.

The Salty Peanut Butter Log:

Peanut Butter with salty peanuts.

The Tahini Log:

Tahini (Sesame Butter) and Hummus with Sesame seeds.
GLUTEN-FREE TIPS:
**Make sure all sweets and treats like dried fruit, chocolate chips and food products are 100% gluten-free.  Here are some brands I trust.
Nuts.com has a certified gluten-free section that tests at up to 10ppm of gluten for nuts, seeds and dried fruit.  They are really helpful over the phone if you get confused on the website. Look for the GF that is surrounded by a Circle.  That means certified.
Bob's Red Mill has a separate dedicated gluten-free facility that tests at 20ppm of gluten for their Oats.  Make sure what you buy from Bob's is gluten-free.  The only seeds that are gluten-free at Bob's are flax and chia.  All other seeds, and coconut shreds are NOT made in the gluten-free facility.
I like Purely Elizabeth for granola.
I like Rao's for Marinara sauce.
I like So Delicious Unsweetened or Anita's for Coconut yogurt.
I hope you enjoyed my creative snack ideas, and if you have any additional ideas that I may have missed, I'd love to hear them in the comments below!
Love & Celery Logs!