Using King Arthur cookie mix these Simple Crispy & Chewy Gluten-Free Chocolate Chunk Cookies are exactly as they sound.  Crispy on the outside and chewy on the inside.  With a few changes, this stack has become a quick way to enjoy cookies that taste homemade at the same time.  Celiac safe too.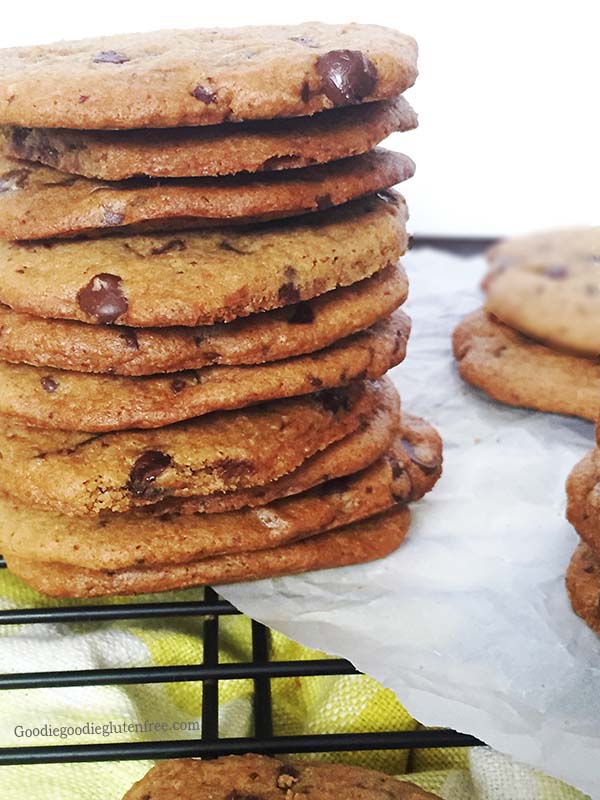 There is a backstory to these unbelievable crispy & chewy Gluten-Free Chocolate Chunk Cookies, and I have no other choice than to share it with you.  In order for you to understand the reason why these have been made now even though they contain ingredients I can no longer eat, and why these Crispy & Chewy Gluten-Free Chocolate Chunk Cookies are making an appearance on the blog.
These cookies are ONLY Gluten-free, Nut-Free & Soy-Free, and made from a cookie mix by King Arthur.
HOW I BECAME NAMED "THE COOKIE GIRL"
In 2013 step-sister and I went to half-brother's pool party.  Pool floats were everywhere, bottles of vodka by the lounge chairs, and me with my famous guacamole and chocolate chunk cookies.
Step-sister brought a crew of friends.  It was a gorgeous weekend, not a cloud in the sky, and I wanted to bake.  Dropped by Whole Foods (my favorite place to be) to grab all essentials like my ultimate go-to for baking mixes: King Arthur, coconut milk, some organic extracts.  Then offered half brother my home-baked treats for his party, and he declined. He was convinced his friends wouldn't need food.
Not one to listen to, I made these chocolate chip cookies anyway.  And while I baked I smiled and poured all of my joy and love into what I was creating.  By swapping a few ingredients I ended up with the best gluten-free cookies on the planet that were the perfect amount of crispy on the outside, and just the right amount of chewy on the inside!  All from a box, with my own twist that served an entire Summertime pool party of gluten loving high school teens.
I remember hearing half-brother's friends say "These are the BEST cookies ever!"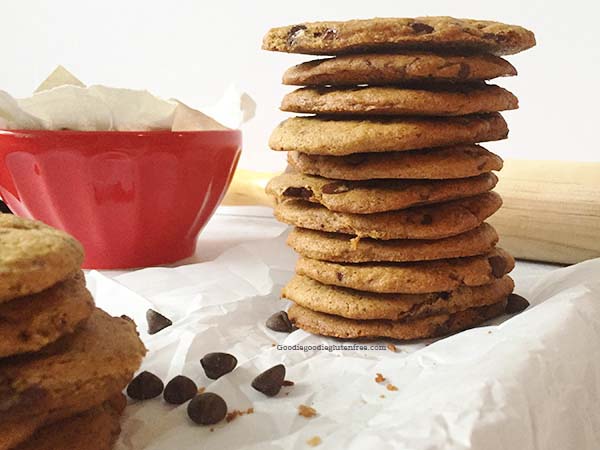 Even though they loved them, there was alcohol involved, so I couldn't know for sure if these were truly the best gluten-free cookies, or if was the alcohol talking.  Little did I know that from there I was coined "The Cookie Girl".
Years later at a restaurant bathroom in Manhattan, I heard someone say:
"O-M-G!! You're the cookie girl!".
"I have been talking about your cookies since you made them years ago!"
"I LOVE your cookies!!".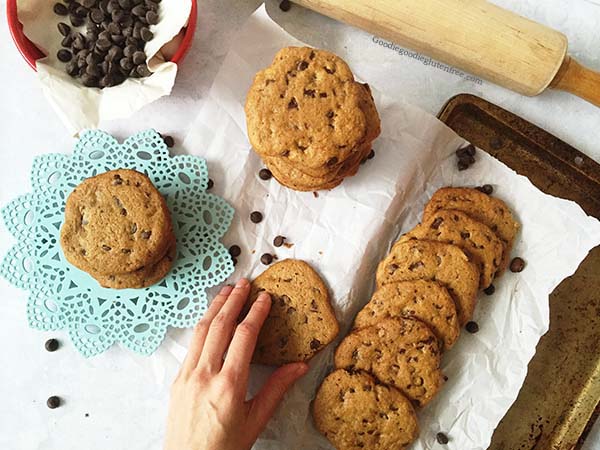 Gluten-free can taste amazing, you just have to know what you are doing in the kitchen. 
Since I haven't baked from a mix in years,  I barely remembered what the mix even called for.  I just remembered swapping ingredients like coconut milk instead of water.  Before I realized what I was doing I was offering her friends a batch of these chocolate chunk cookies made by me.  And here we are.
I made a batch for step-sister's friends in return for tweak critiques for this blog.  I was expecting tweaks and suggestions and in return, they said these cookies were exactly as they remembered, and just the best.
"They don't even taste gluten-free, they just taste amazing!" - Rob 
"Totally crispy and chewy and delicious!" - Dan 
LET'S TALK KING ARTHUR GLUTEN-FREE BAKING MIXES
As far as gluten-free baking mixes go King Arthur is the best of the best.
King Arthur has the greatest taste and texture when it comes to their mixes which makes gluten-free eaters across the globe very happy as this is something that is hard to find.
1790 King Arthur was born as the first flour company ever, using wheat flour in America and only available to select states.
The 1800s-1950s King Arthur becomes the main distributor of flour for all bakers around the globe from pie crusts to chocolate chip cookies, to sourdough bread to pizza dough and banana bread, and eventually cake mixes used by bakers in New York City restaurants.
1960's King Arthur becomes the main bakery supply distributor in New England.
Eventually, after celiac Disease became more widespread King Arthur Baking Company decided to move towards a dedicated gluten-free line of flours, mixes, and recipes because their motto was "Everyone should be baking" and "We are a baking supplier".
What took years to develop has become one of the best brands out there that provide for the Celiac community.  They wanted their mixes to not just be good but be GREAT.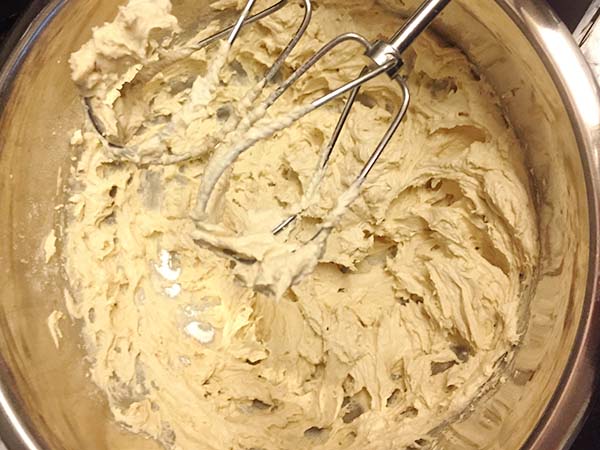 HOW TO SWAP OUT INGREDIENTS FROM A GLUTEN-FREE COOKIE MIX
Stick to the smaller ingredients like extracts
If there aren't any extracts you can omit them, this will not change the texture or consistency of the recipe just the flavor
If the box calls for the water you can choose your own plant-based milk or dairy milk
Little tweaks go a long way
Textures change when you swap the egg, this you will have to play with
No butter?  Use mashed ripe avocado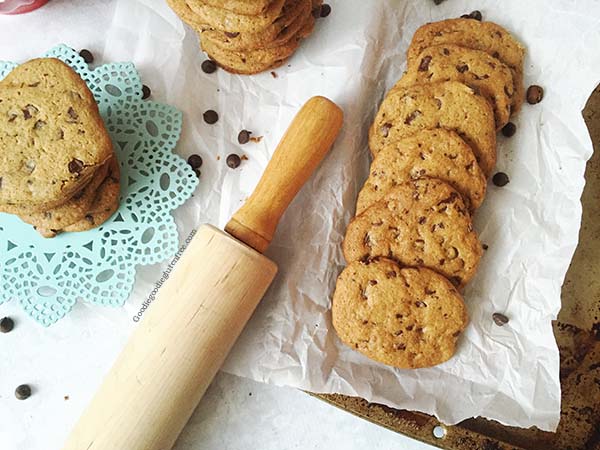 CHOCOLATE CHUNK COOKIE TIPS:
Instead of asking you to follow the King Arthur Cookie Mix directions and ingredient list exactly, I ask that you follow my directions and my ingredients choices to get these Crispy & Chewy Gluten-Free Chocolate Chunk Cookies to look and taste the way I photographed them.
Ready to gather your ingredients?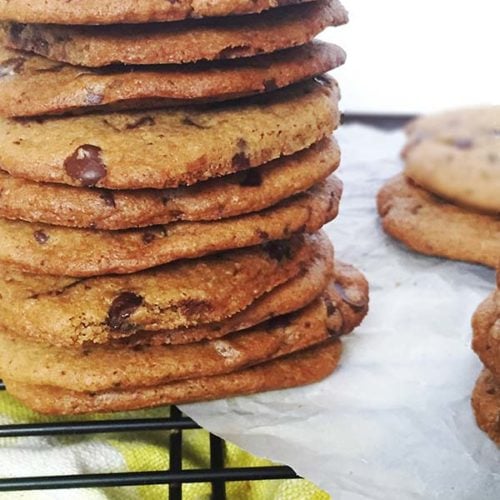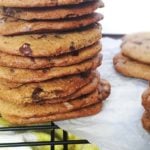 Print Recipe
Crispy & Chewy Gluten-Free Chocolate Chunk Cookies
Using King Arthur cookie mix these Simple Crispy & Chewy Gluten-Free Chocolate Chunk Cookies are exactly as they sound.  Crispy on the outside and chewy on the inside.  A quick way to enjoy cookies that taste homemade.
Ingredients
1

box

King Arthur Gluten-Free Cookie Mix

½

cup

soft unsalted butter

1

large

organic egg

¼

teaspoon

xanthan gum

1

teaspoon

vanilla extract

1

teaspoon

chocolate extract

2

tablespoon

unsweetened coconut milk

1

cup

dark chocolate chips, gluten-free

1

cup

semi-sweet chocolate chunks, gluten-free
Instructions
Preheat oven to 350 degrees F

Put about half the cookie mix in a large bowl, and beat in the butter with an electric mixer.

Beat in the egg, unsweetened coconut milk until the mixture becomes fluffy and turns toward a lighter color. Beat mixture for about 5 minutes or until the batter feels and looks effortlessly light in texture and color.

Add in the remaining cookie mix, xanthan gum, vanilla, and chocolate extract, scraping the sides and the bottom of the bowl while mixing.  Do this for an additional 5 minutes. The batter will change color and form soft peaks, and this is what you want.  It will go from dark to light. Beating your batter for this amount of time, you know the time where you feel like your arm is falling off will be the one factor that makes or breaks your cookie.  

Add in the chocolate crushed chunks and chocolate chips ½ cup at a time and keep mixing until all chocolate is mixed in.

Drop heaping tablespoons of the cookie dough onto ungreased baking sheets lined with foil or parchment paper leaving at least 2-inches of space in between each cookie.

Gently flatten cookies with your hand or spatula to ¼-1/2 thick. If the batter gets too sticky simply run the spatula or your hand under cold water and flatten.

Bake until just browned, 10-12 minutes.  Swap over racks. Let each tray of cookies get time on the bottom rack and on the top rack.  So that means setting your timer for 5 minutes, swapping, and then setting your timer for the remainder of the time.

Remove from oven and let cool for at least 5 minutes before attempting to transfer to a cooling rack.

Store on the kitchen counter in a container.
Notes
If you cannot find chocolate extract, just use double the amount of vanilla extract.
If you cannot get So Delicious unsweetened coconut milk, just find another brand of unsweetened coconut milk or sweetened coconut milk.
Use whatever chocolate chunks and chips you want as long as they are gluten-free and contain no dairy.
Chocolate brands I love: Lily's, Hu Kitchen, Enjoy Life, Endangered Species.
If you cannot find chocolate chunks buy chocolate bars and break them down.
More healthy cookie recipes
Love & Chocolate Chunk Cookies!