Look what time it is again!  Nope, not Halloween.  Nope not football season.  It's GFAF Expo October 2016 season!  Your one stop shop to everything you could ever imagine gluten-free and allergy-friendly in one huge expo for an entire weekend!!!!  It's the one time you don't have to do all your ordering online or supermarket hopping, because it's all here in one place!  And it's the one time you don't have to check labels, consult with a manager to make sure it's gluten-free or call a manufacturer.  This Expo is all about EASE.
I'm actually really excited to attend the show again.  This will be my second year covering the show as a Blogger and I'm looking forward to see some of my old favorite vendors.  I also cannot wait to see what new vendors will be showcasing their products and what the newbies have in store for us gluten-free and allergy-friendly for life eaters!
Last year I went in assuming there would be nothing but processed gluten-free foods, and that most likely I wouldn't find anything for myself.  But I was so wrong. While there are a ton of processed products, there really is something for everyone at this show.  They even have a whole section dedicated to nut, coconut and gluten-free eaters and I even met a ton of wholesome bakers!
So it's a pretty rad show, especially seeing all of the bloggers I communicate with on social media, we actually get to meet again in person which is always fun! And I also love talking with the vendors, hearing their stories and how they ended up with the products they are showcasing because you can really feel the love.
Overall the gluten-free community is so friendly.  We all have one really important thing in common - We cannot consume gluten because it can literally kill us.  That one factor brings tons of people together, because we all understand the struggle. And it is real.  
Some of my favorites from last year's show were:
Enjoy Life Pure Genius Provisions Bean Brownies
My Grandpa's Farm Organic Baking Mixes
Luce's Gluten-Free Artisan Bread Mixes
Banza Chickpea Pasta
Biena Chickpea snacks
Sweet Note Bagels
Otto's Cassava Flour
Check out my GFAF EXPO post review from 2015.  I covered quite a few note worthy brands as well as the above favorites mentioned, included links to buy and wrote about them in length with ingredient information. But before you do that scroll down a bit further to see how you can win a FREE ticket to the show and how much of a discount you can get for non-giveaway tickets!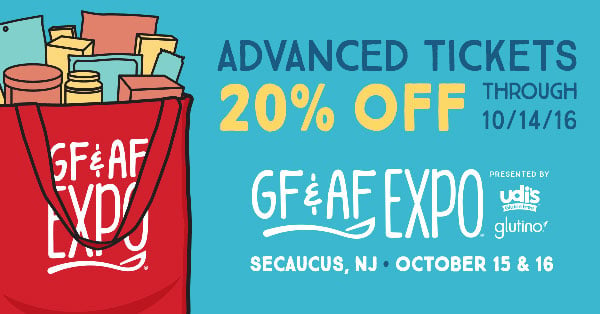 The show is in Secaucus, New Jersey at the Meadowlands Exposition Center. The show runs from 10am - 4pm both Saturday and Sunday.
By attending this show you get a LOT of goodies.  I mean a lot!  First off you are greeted with a huge goodie bag filled with delicious gluten-free foods and a spanking cute tote bag for all your finds.  I do however recommend you bringing extra bags or even a suitcase that rolls since the amount of stuff you are going to haul off is gonna be epic.
You get to meet over 100 exhibiting gluten-free and allergy-friendly brands
You get tons of valuable coupons from many of these brands
Ridiculous amounts of FREE samples from pizza to cake to sunflower butter!
The option to buy your favorite brands at a discounted price!  Cha-ching!
You get to attend (if you want to) FREE informative classes from top doctor's, experts and bloggers in the field of gluten-free & allergy-friendly living
That FREE tote bag I was talking about (you know the one that comes with your goodie bag)
And lastly, you get to meet all of your favorite bloggers, experts, brands and authors in the GF & AF industry
Advanced Special Discount
If you buy your tickets through THIS LINK you can get a whopping 20% off your tickets through October 14th, 2016.  Use the promotional code ADVANCE.
GIVEAWAY IS CLOSED!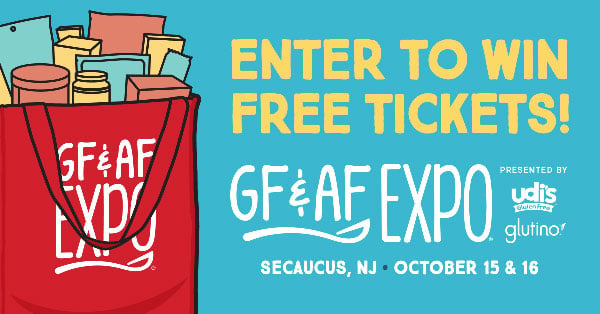 Who doesn't love a giveaway right?  I am happy to announce I am able to give away 4 FREE tickets to my readers!  Last year I did the giveaway only on Instagram, and this year I am opening it up to my blog and Facebook business page as well! I will pick and announce 4 winners and I will get in touch with you as to how you can access your free ticket.  Double and Triple entries are allowed.  Good luck!
Rules on the blog:  To win a FREE ticket to the GFAF Expo on October 15th or October 16th, 2016 all you have to do is :
Comment on this post or as to why you want to win one FREE ticket
Sign up for my newsletter
Rules on Instagram: To win a FREE ticket to the GFAF Expo on October 15th or October 16th, 2016 - all you have to do is:
Follow me on Instagram
Like the picture for the giveaway on Instagram
Tag 2 friends in the comments
Sign up for my newsletter on my blog
Rules on Facebook: To win a FREE ticket to the GFAF Expo on October 15th or October 16th - all you have to do is:
Like my Facebook business page Goodie Goodie Gluten-Free
Like the picture for the Giveaway on Facebook
Tag 2 friends in the comments
Sign up for my newsletter on my blog
Update!!! The winners have been selected!  This time I chose winners from both Instagram and the blog.  Each winner has been emailed personally!  Yay!  So excited for you guys to attend the show!
Make sure you pop on by and say hi to me if you see me and of course introduce yourself!
Love & Gluten-Free Dreams,