Gluten-free chocolate exists and tastes fantastic!  From milk to dark to dairy-free, paleo, and vegan, I've got you covered with this chocolate list. Because we all deserve a little chocolate love in our lives.
*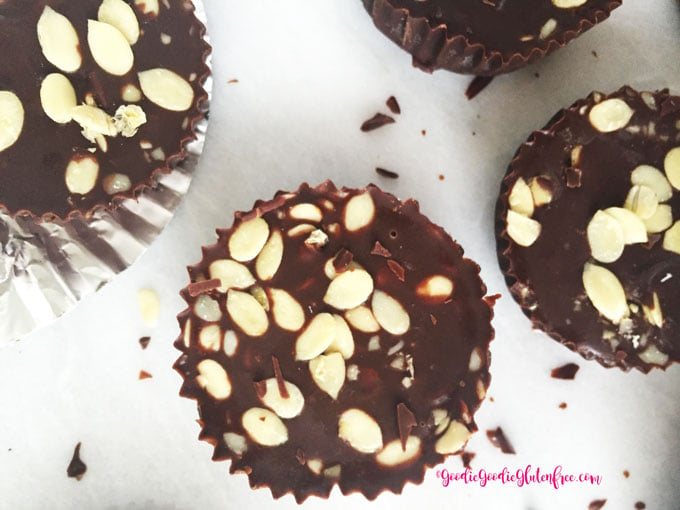 *
So many people tell me they never realize chocolate could have gluten.  Why does chocolate have gluten isn't it just chocolate?  Nope.  Chocolate making requires a variety of ingredients, and in some cases, barley, barley malt, wheat starch, wheat, and gluten additive ingredients are present.  Therefore because it's harder to read ingredient labels these days many of these brands have lots of ingredient names we cannot pronounce making it harder to tell if the product has gluten.
*
Having Celiac Disease requires us to have to always read the ingredient labels, in addition to researching the product ahead of time.  Furthermore, the ingredients may look safe, but in actuality, they are not.  Therefore because it's hard, difficult, and frustrating to have to "research" everything, I've created a must-have chocolate bar list.
*
Consequently along with the list of must-have chocolate brands you will also see the unsuitable chocolate brands for Celiacs.  This list is for you.  Furthermore, it pains me to see a fellow Celiac or a fellow chronic illness warrior feeling deprived because they cannot find a suitable chocolate bar brand that adheres to their Celiac and food sensitivity needs.  There are plenty, and I mean PLENTY of amazing chocolate brands for you to choose from.  Below are tried and true chocolate brands I love, and they make me feel safe.  I know these bars will do the same for you too!
*
7 Acceptable Gluten-Free Chocolate Brands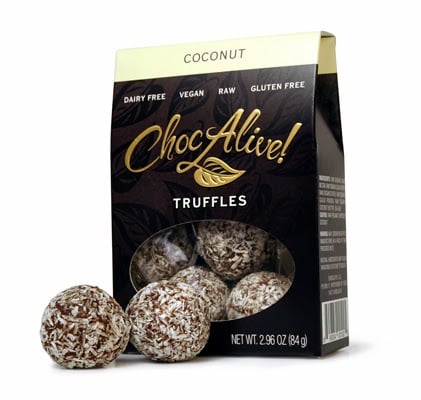 CHOCOALIVE
Chocoalive
Truffles are made with only the finest organic ingredients and no refined sugar.  A small-batch baking company that adheres to ingredient quality and those who are dairy-free, vegan, or raw vegan.  These truffles are gluten-free, dairy-free, and raw vegan.  Raw chocolate means it comes straight from the cocoa bean and is only heated at 118 degrees instead of high heat to retain the nutrients, vitamins, minerals, and antioxidants.
*
ENDANGERED SPECIES
Endangered Species Chocolate has been around for years and got its gluten-free certification years ago.  Their chocolate is really creamy, buttery, and has a smooth finish, even the dairy-free bars taste buttery sans dairy.  Endangered Species caters to both the organic crowd, and the non-organic crowd.  There are dairy-free options, and deeply decadent and dark.  This chocolate brand tests their chocolates at 10ppm.  Ingredients are non-GMO, and no wheat in the facility, and certified gluten-free.


HU KITCHEN
Hu Kitchen is also the name of a restaurant in Manhattan that is dedicated to selling Paleo food also sells their magical chocolate bars with real food ingredients that recently went out of business due to the pandemic, but their chocolate still exists!  The chocolate bars are certified gluten-free and made on a separate floor from anything containing gluten.  Hu Kitchen bars are made with unrefined organic coconut sugar and raw cacao as their base ingredients.  There are no lecithins, no emulsifiers, and no gums.  Like Endangered Species Hu Kitchen has a wide variety of bars to choose from.  Whether you desire almond and fig, crunchy banana, puffed quinoa, crunchy mint, or hazelnut - there is a bar for you.  Not just for eating, baking with these bars is unreal too!  And now this brand has chocolate nibs to bake with, plus chocolate-covered fruit.


Scharffen Berger Chocolate
Scharffen Berger Chocolate is the higher tier chocolate owned by Hershey tests their chocolate at 20ppm.  A smooth, super-rich, with a warming taste of comfort chocolate that melts in your mouth.  Perfect for baking, and eating, plus you have an array of choices from dark to milk and everything in between.   Overall this chocolate has a beautiful finish.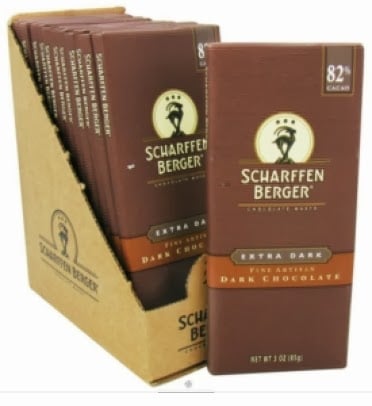 Enjoy Life Chocolate Bars
Enjoy Life Chocolate is the safest chocolate for those with Celiac Disease and top 8 allergies.  Everyone on this gluten-free planet knows the brand Enjoy Life and knows that all products are dedicated gluten-free, and made in a dedicated gluten-free facility.  While the taste of the chocolate isn't top-tier gourmet, Enjoy Life makes its customers feel so safe.  All chocolate rice bars are gluten-free and so are their chocolate baking chips.  Actually, Enjoy Life is Allergen-free and 100% gluten-free, plus free of peanuts, dairy, soy, gluten, Casein, potato, wheat, tree nut, fish, sesame, egg, shellfish, and sulfites.  Their chips are great for baking.


VOSGES HAUT CHOCOLATE
HAUT is the name of the game with this chocolate brand.  Vosges Haut Chocolate bars are gourmet.  The baker takes unconventional ingredients and turns them into wild chocolate bars!  Some bars use bacon, chilies, cheese, and even champagne!  Like most chocolate bars there are dairy-free, and vegan chocolate bar options too.  Tested at 20ppm, and definitely worth a taste.  The facility is not dedicated to gluten-free, but they are tested.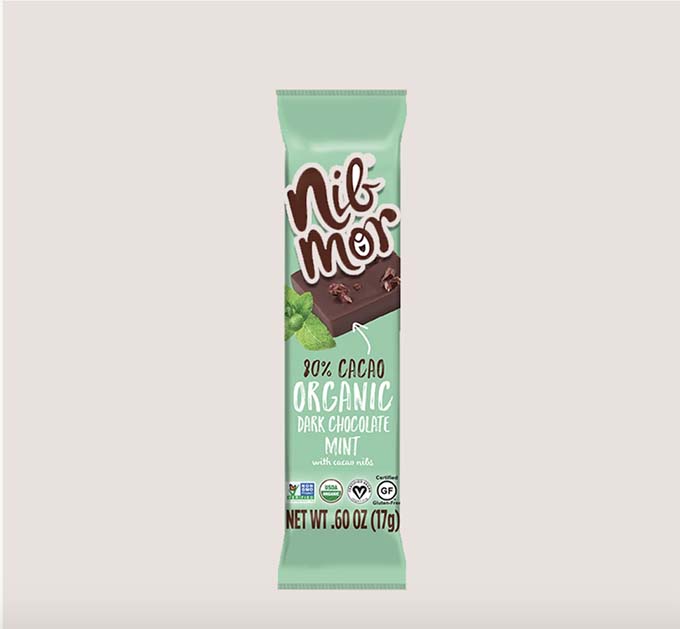 NIBMOR CHOCOLATE
Nibmor Chocolate is the better for you chocolate brand made with organic and real food ingredients.  With bars flavors like blueberry (by adding real blueberries) or cacao nibs, and even tart cherries, and mint!  Sea salt and plain are staples too.  Certified gluten-free, and tested at 20ppm.  Lucky for you this brand has hot cocoa mixes too!  All certified gluten-free and made by a health coach who went to IIN.
MORE GLUTEN-FREE CHOCOLATE BAR BRANDS
Healthy gluten-free chocolate bars I trust
*
UNSUITABLE CHOCOLATE LIST FOR GLUTEN-FREE EATERS
Russell Stover's and Whitman's Chocolates-A whole lot of cross-contamination.  Where the ingredients on the box may not say gluten in obvious forms, their cross-contamination is really great.  So great that their websites cannot confirm 100% gluten-free.  It's risky.  Use your judgment.
Cadbury Chocolate- Not always gluten-free.  Their website clearly states that they cannot guarantee that gluten is 100% absent from the bars they promote to be gluten-free.  Some chocolates are and some are not.  Their websites identify which are and which are not.  PLEASE keep in mind that their regular chocolate plain bars are not gluten-free.
Godiva Chocolate-Not gluten-free.  Their message on gluten-free is that all of their chocolates may contain gluten and anyone with a gluten allergy should not consume their products.
Lindt Chocolate-Not gluten-free.  Lindt states that the form of gluten found in their chocolates is by Barley.  And although some chocolate versions do not contain barley, there are gluten traces in all of their products.  2022 update: Lindt states that their Excellence Line of chocolate 70% and higher does not contain gluten and if sensitive may be able to tolerate some chocolates from this brand.
Love, and chocolate!