5 tips for green juice newbies!  Onto becoming a green juice drinker, without sacrificing taste.  Wait for it!  You'll want these tips...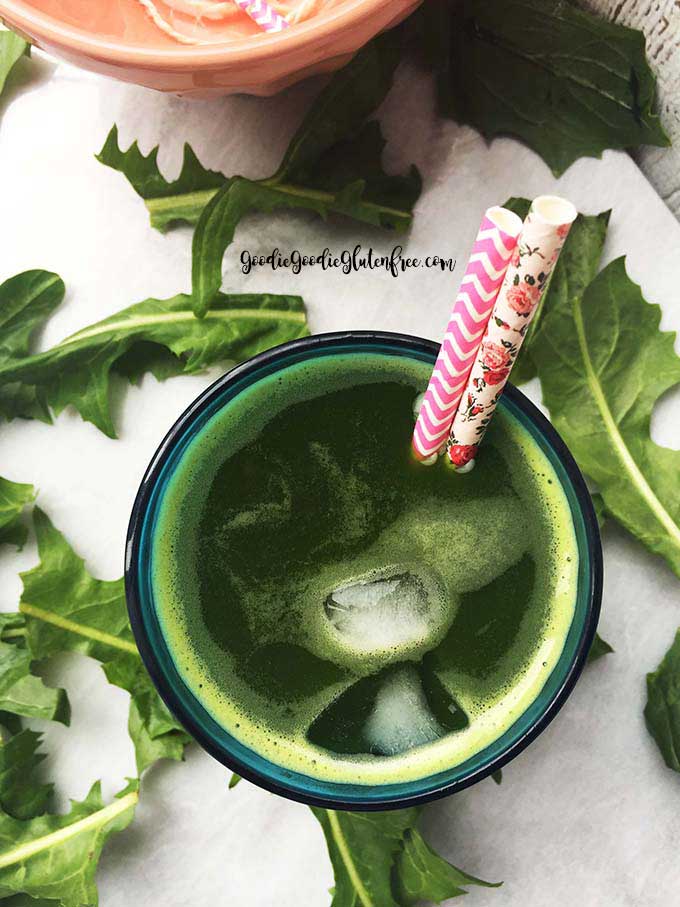 Today I finally got to hang out with my Instagram Biz coach Carla Biesinger and she's just the BEST!  We went to one of my fav NYC gluten-free restaurants Little Beet Table (the fancy sit-down one) with the best farm to table food that just happens to be all 100% gluten-free.  Gluten-free kitchen, gluten-free establishment. BOOM!
And on my way, I haaaaaad to stop at Pressed Juicery down the block for my favorite Greens 1 green juice.  I actually love the celery one too, but its flavor is super SALTY and since that is such an acquired taste for newbies I felt I had to get a different one for Carla given the fact that I knew she was a coffee drinker and not necessarily a green juice drinker.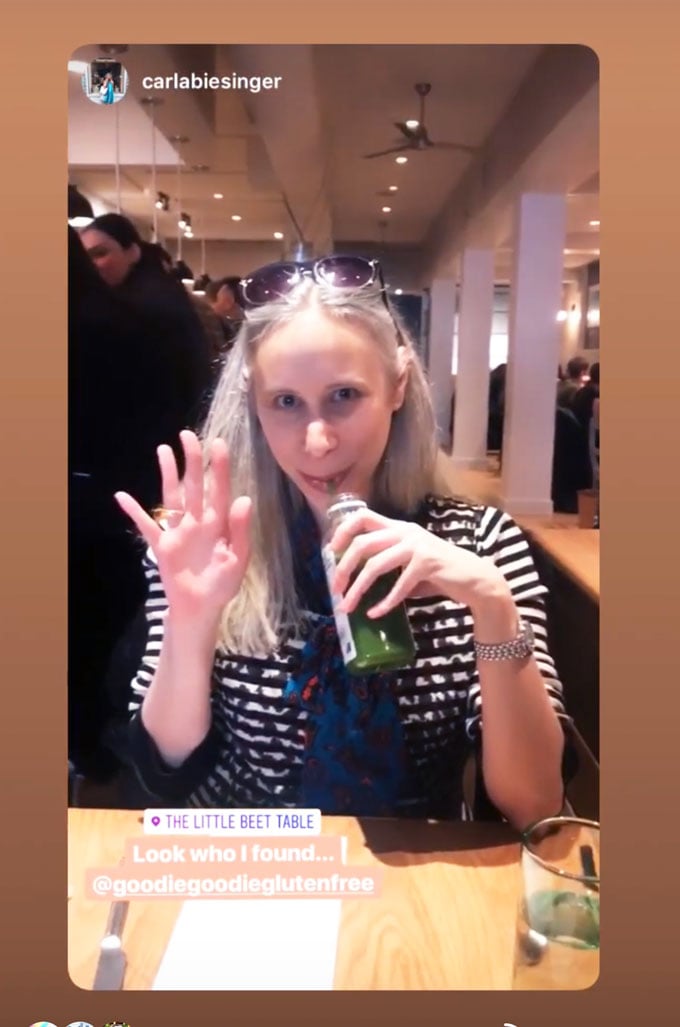 Upon arrival, Carla asked If I really drank these.  And I looked at her the way someone would look at me if I questioned their first cup of coffee.
Green juices keep me alive I said.  They wake me up.  I am not awake until I've had my green juice and I drink them daily.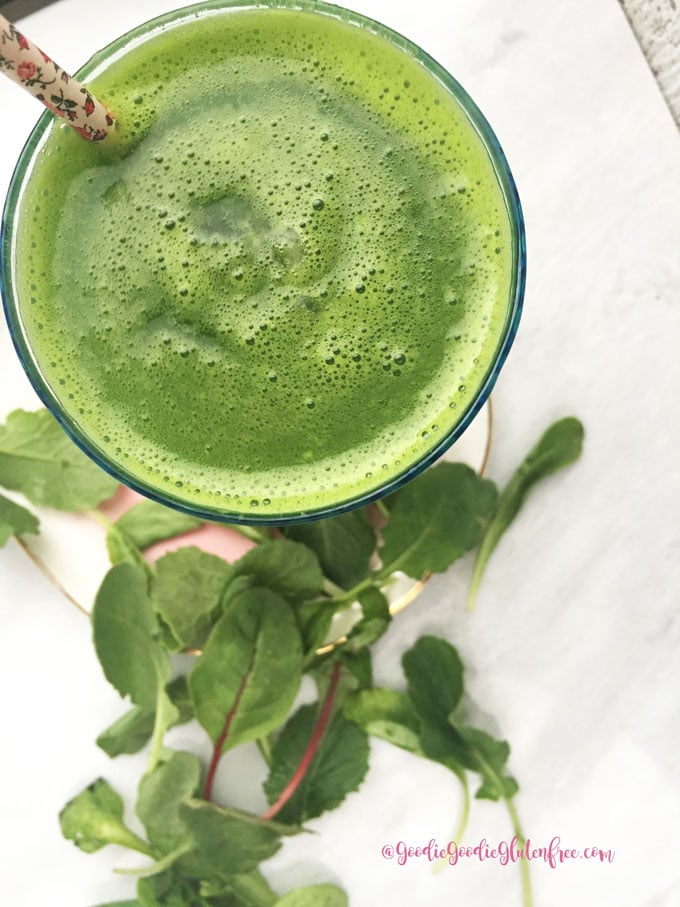 I literally go from zombie to clarity in a nanosecond with green juices in a way that coffee just doesn't do.
Surprisingly, Carla was so open to becoming a green juice warrior, she sucked hers down so much faster then I did!  At first, she wasn't sure and said she didn't drink them and was pretty much a newbie.  As quick as she said that I saw a smile on her face, and she replied: "It's good!".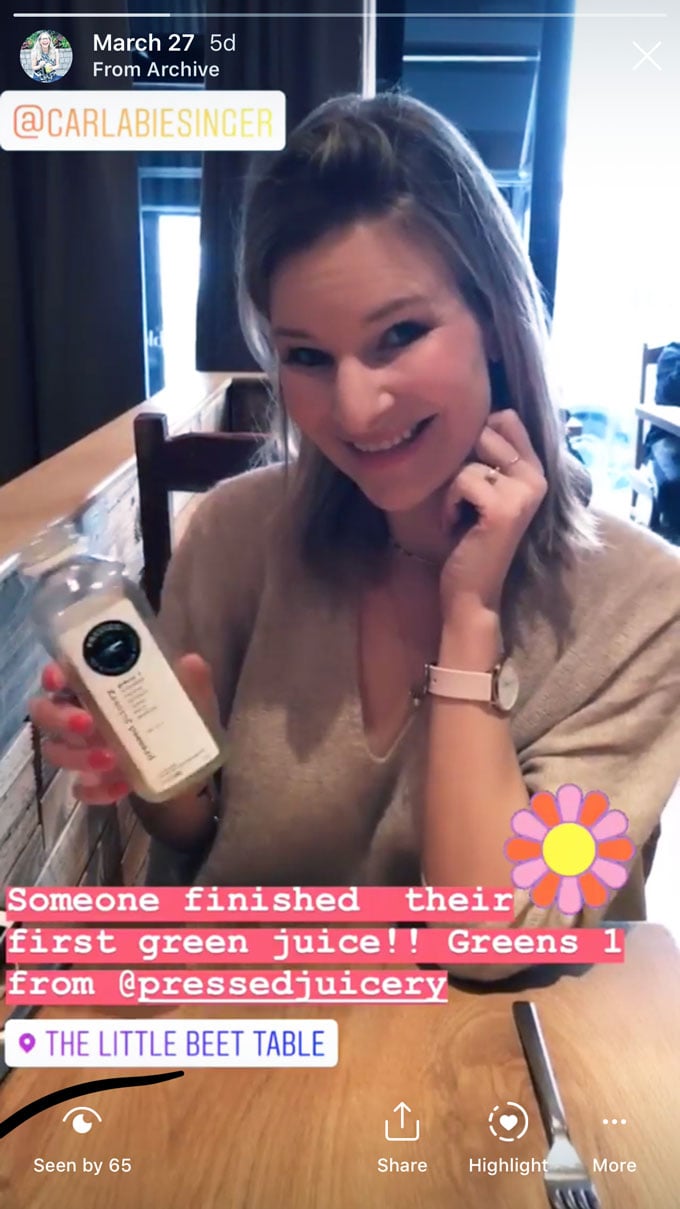 Greens 1 from Pressed Juicery although fully green with no ginger or fruit other than lemon is a super light green juice in both flavor and body because it uses a lot of Romaine lettuce.  This light lettuce should not be thought of as lesser lettuce because it's loaded with vitamin A and vitamin K, but it's not a dark leafy green, so it makes juices naturally lighter in taste and less bitter.
**
Now I LOVE green juices, but I didn't always.  I in fact used to think they were disgusting.  I couldn't understand why on earth people would want to drink what tasted like their backyard.  
This pic below is circa 2014.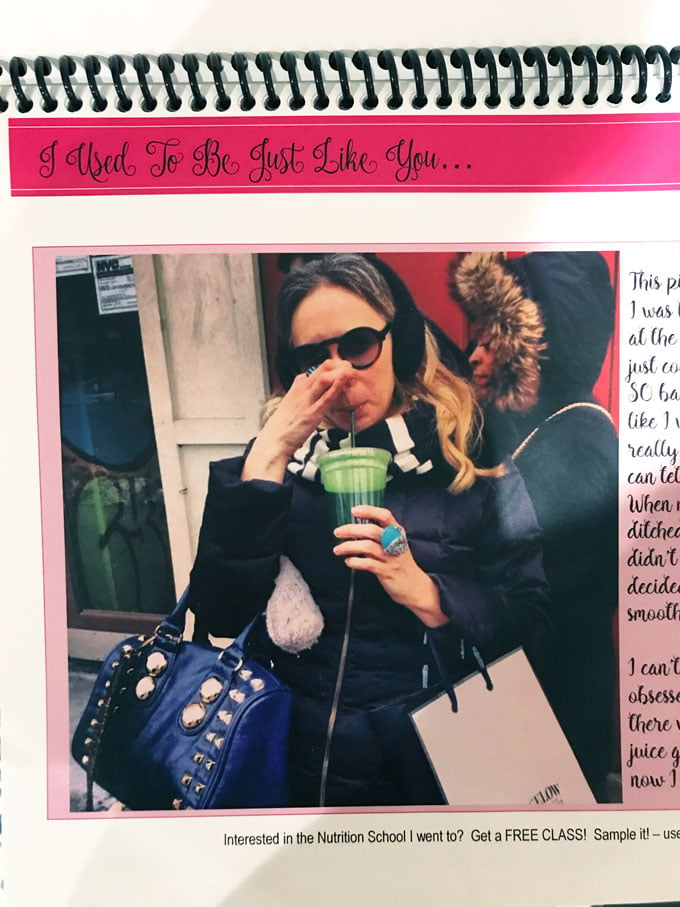 But as the years went by I became a green juice lover and now I adore the taste and even look forward to it!  Fancy that.
I even published a Juice Recipe Ebook with all the juices I swear by!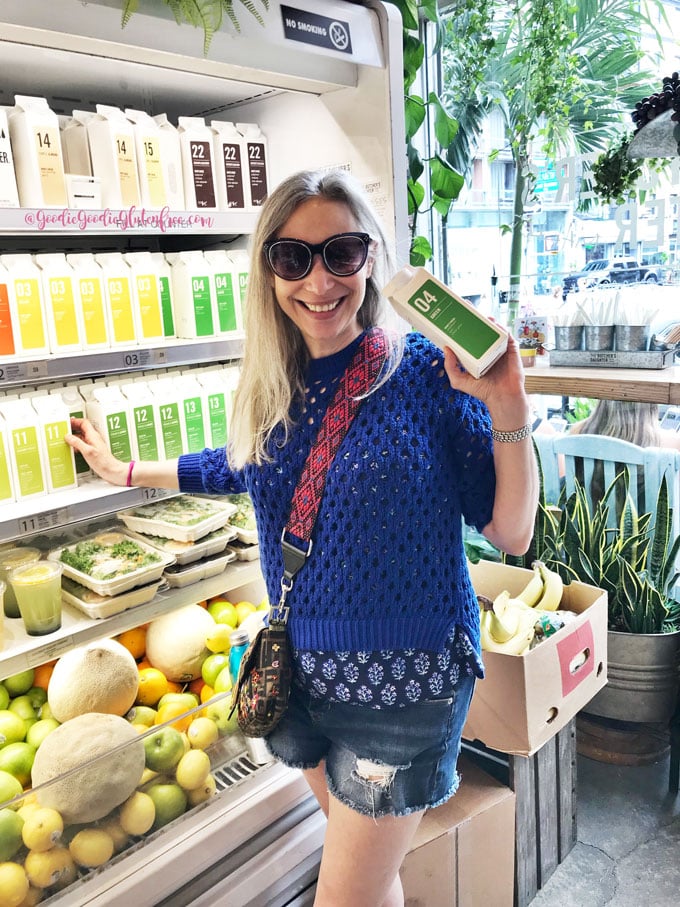 That's how much your palate can change.
But I know not everyone is going to be like myself or Coach Carla and guzzle a green juice sweetened with just lemon.  SO I've decided to share my 5 stellar tips that will send you on your way to green juice land:
Hold your nose!  Just like when you were younger and your mom told you to hold your nose so you wouldn't taste the medicine.  Do the same here.
Start small!  Don't be that person that gets the largest green juice on earth all to realize it's the most disgusting thing you've ever consumed.  Start small.  Give ¼ cup, ½ cup and 1 cup of green juice a try for a bit.
Go light!  Meaning your first green juice may have more fruit in it like apple, lemon or pineapple.  Or maybe (if you're not allergic to ginger like I am), you'll add some ginger.  Look for green juices that have cucumber, zucchini or Romaine lettuce because those ingredients naturally make your green juice taste lighter and less bitter.
Ice? Yes, Please!  Always drink your green juice on the rocks!  ON THE ROCKS means over lots and lots of ice!  It makes them so much more refreshing and awakening.
Use a straw!  Using a straw makes my body feel like it's drinking something fun, something sacred and something special.  Plus using a straw will prevent your teeth from getting that greenish tint the same way drinking iced coffee with a straw prevents teeth staining.  Paper or plastic?  That's your choice, but know the paper straws will literally melt in your mouth.
Reminder:  Green Juices are an acquired taste and you as well will get used to them and then you won't remember when it was that you got hooked on green juices because you won't remember a time when you didn't love them.  Be patient.  Celery juice will happen for you too. Kisses!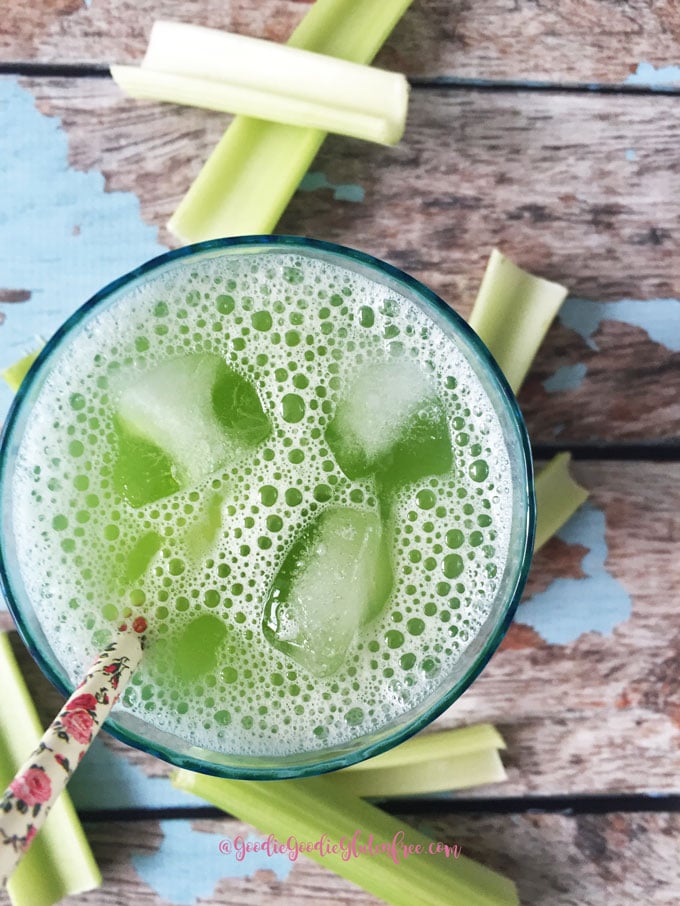 YA FEEL ME?