Snickerdoodle Cookie Green Smoothie!  Tastes like a healthier version of a snickerdoodle cookie blended into a drink!  It's sweet, creamy, and thick the way a shake should be.  This smoothie is healthy with a secret ingredient!  Gluten-free, nut-free, and dairy-free too!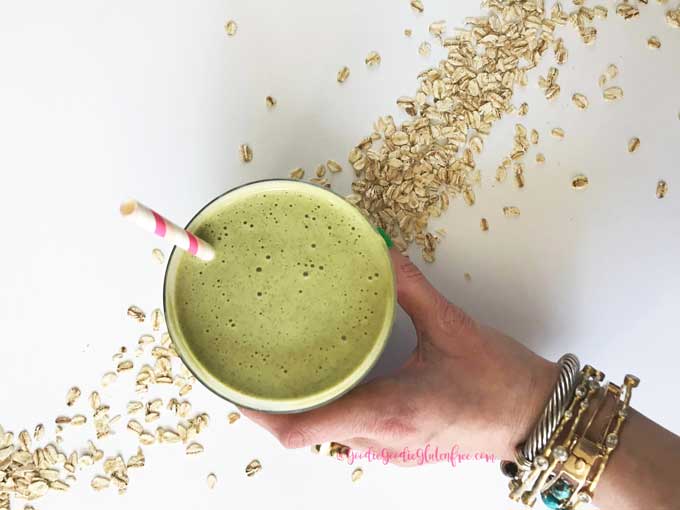 I never start my day without my morning smoothie and my morning rituals.  Creating rituals for your morning in my opinion helps your entire day run more smoothly.  Not only more smooth, but also easier, less controversial, and more loving.  Especially when you greet your body in the A.M. after your nightly slumber to a sweet nutrient-dense Snickerdoodle Cookie Smoothie.  Loaded with greens and tastes so good!
It's crazy how such a small change can create a huge ripple effect in your life.  A morning ritual is a time frame where your body gets your undived attention, where your body can get that undeniable love you have for it, and where you can sit with your body and love the skin you're in just for just a few minutes a day.  When you are in this energy you will only use ingredients that fuel your soul.
WHAT INGREDIENTS ARE IN A SNICKERDOODLE SMOOTHIE?
Loaded with fresh spinach
Full of chia seeds, and gluten-free oats
A dollop of maple syrup, sunflower seed butter, and collagen peptides
Some shakes of ground cinnamon
Calcium-boosting coconut milk
No cookies were used in this smoothie
Nutrient-dense ingredients only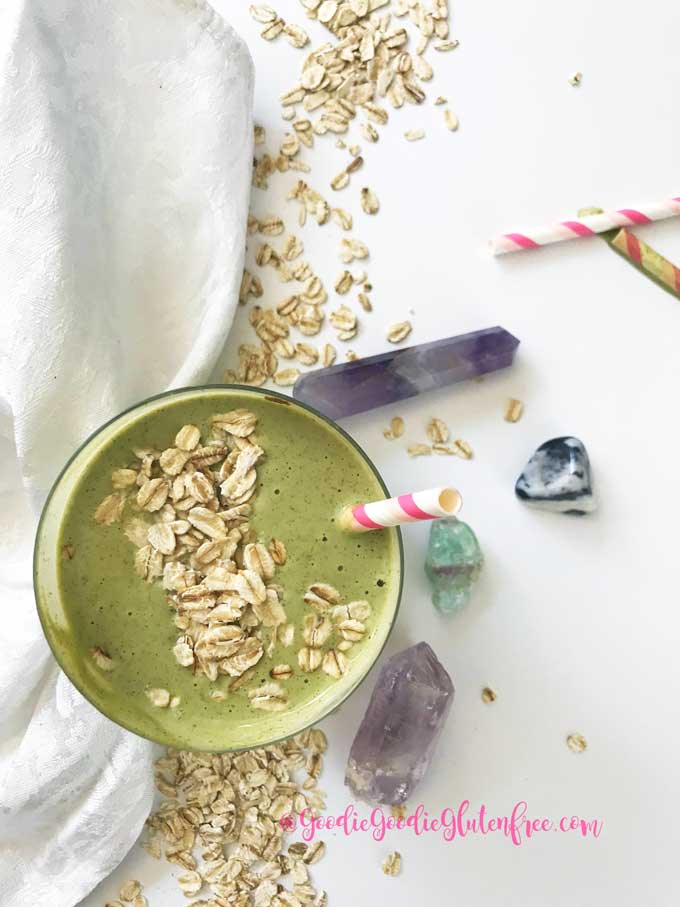 Speaking of nutrient-dense ingredients I must tell you what you put inside your body matters!  Our bodies are sacred vessels and we need to take care of and protects.  So make this smoothie because it's healthy, uses whole food ingredients, supports every inch of your body, and tastes like a cookie.  This cookie smoothie is dairy-free, gluten-free, nut-free, refined sugar-free, and free of all the nasties.  Imagine that?
HOW TO MAKE A SNICKERDOODLE COOKIE SMOOTHIE
It's easier than you think and all you need is a blender.
First, place the liquid in the blender.  That's coconut milk and spring water.
Then add the fresh spinach and blend till all particles are dissolved.
Thirdly, throw in the chia seeds, collagen, and oats and blend again.
Doing the smoothie-making in steps is best for a smoothie creamy smoothie.
Last but not least the sunflower seed butter, cinnamon, and vanilla are added to the smoothie for flavor and blast again.
Ice is up to you.  Though I adore it.  1 cup either blended in at the end or serving your smoothie on the rocks.
That's it!  All you need is a high-speed blender and a few minutes standing in front of the blender watching it turn into a smoothie.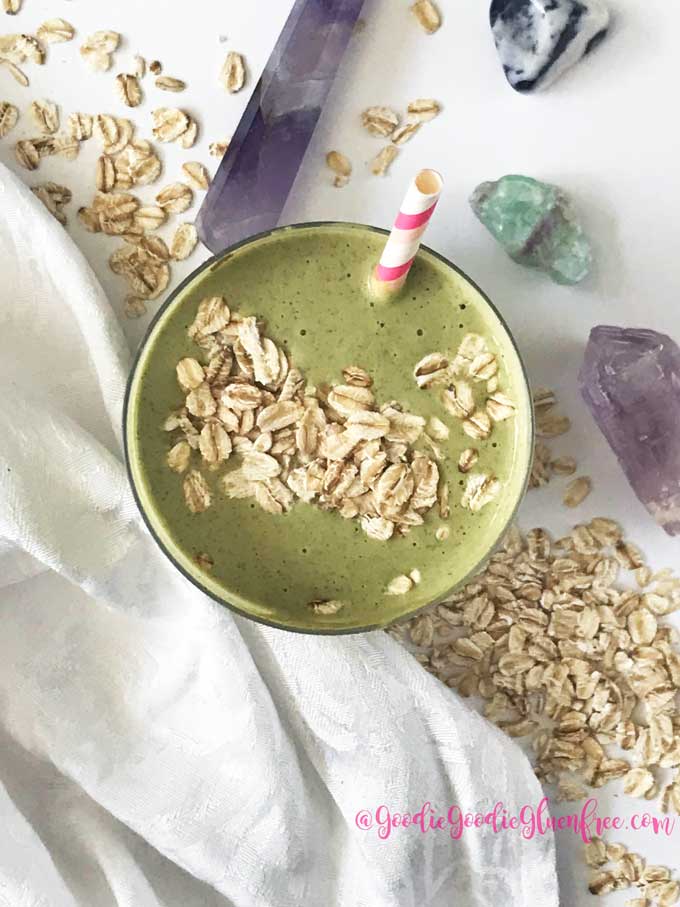 HOW TO CREATE A DAILY MORNING RITUAL
It can be very simple
Drink a full glass of cold water upon awakening to flush out toxins from the day before
Set aside time in the morning to get your self-care morning ritual done
You're looking at an hour in the morning to yourself
That is time for a nourishing meal and a self-care activity
After you tend to your body and treat it with love before you start your day is when you can start your day
A smoothie or green juice is always in my morning ritual, because they awaken my soul, and make me feel alive!
READY TO GATHER YOUR INGREDIENTS?
This smoothie is adapted from Arman the founder of the blog: The Big Man's World.  I created this smoothie from his Vanilla Cake Batter Smoothie recipe.  Both of our recipes are totally divine.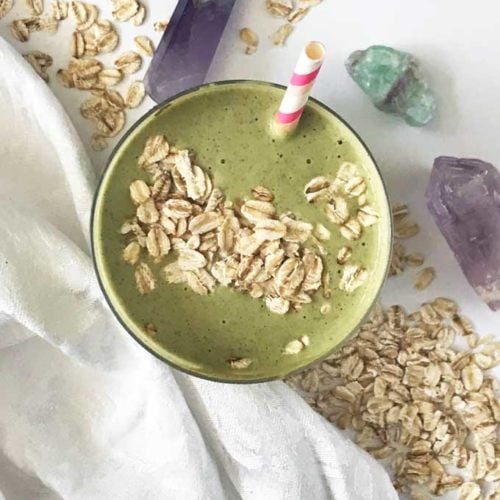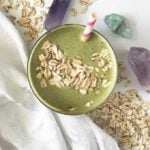 Print Recipe
Snickerdoodle Cookie Green Smoothie
Snickerdoodle Cookie Green Smoothie!  Tastes like a healthier version of a snickerdoodle cookie in a drink!  It's sweet, creamy, thick the way a shake should be and secretly healthy with a secret ingredient!  Gluten-free, Nut-free, and Dairy-free.
Equipment
high-speed blender

Freezer
Ingredients
⅓

cup

culinary coconut milk

full fat, unsweetened

⅓

cup

water

spring

1

tbsp

chia seeds

1

scoop

collagen peptides

I use Vital Proteins

1

tbsp

maple syrup

pure, organic

1

tbsp

gluten-free rolled oats

2

tbsp

sunflower seed butter

I used Sunbutter, organic, unsweetened

¼

tsp

ground cinnamon

¼

tsp

vanilla extract or powder

2

large handfuls

organic spinach

pre-washed

1-2

cups

cubed ice
Instructions
Add all ingredients except the cinnamon, vanilla, sea salt, maple syrup and blast on high till well blended.

Add 1-2 cups ice, cinnamon, vanilla, sea salt and maple syrup to smoothie mixture and blast on medium/high until blended.

Serve with a straw. It can be stored for up to 1 day. Best served super cold. For an extra cold smoothie put in the freezer for up to 15 additional minutes.
Notes
Feel free and swap out the coconut milk for your choice of milk. // Feel free to swap out the SunButter and use your choice of nut or seed butter. // For a sweeter shake use sweetened milk and sweetened nut/seed butter. // I used So Delicious for my Culinary Coconut Milk.  This is not canned, it's in a carton that looks like a juice box. // I used Nutsdotcom for my oats and chia seeds.  Nutsdotcom has an entire gluten-free dedicated section that is tested at 10ppm. // 
Health and love,