These watermelon plum popsicles taste like Summer! Loaded with watermelon flesh, watermelon juice, and plums make this popsicle the perfect Summer treat!  These popsicles are naturally gluten-free, dairy-free, vegan, and paleo.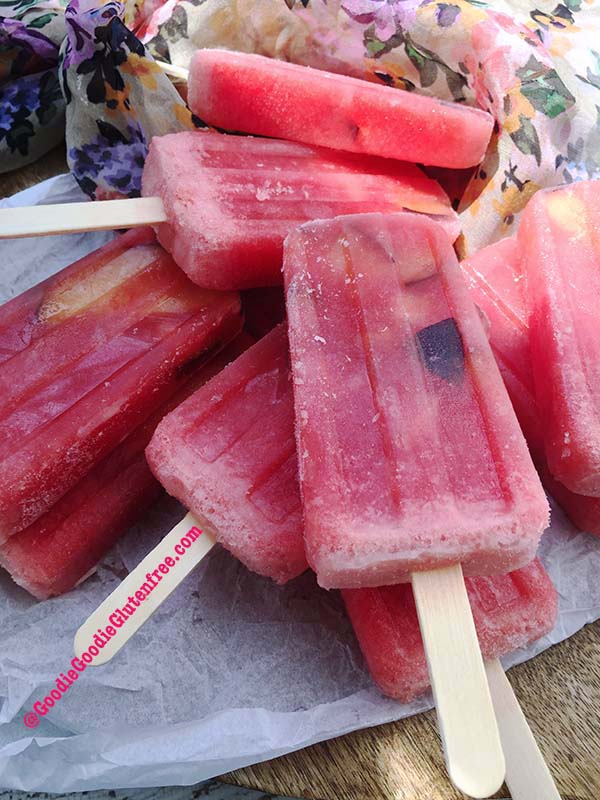 Watermelon and plum compliment each other, and when used together become a power couple.  Where plum usually overpowers something sweeter like watermelon because of its natural tart flavor, this pop allows watermelon to be the star while plum is just a tart accent.
Have you ever bit into a piece of food or listen to a particular song that transports you right back to the moment that memory happened whether it be 30 years ago or just yesterday? While we don't remember everything that happens in our day-to-day lives, we remember the really important moments, the triumphs, and the significant turning points.  Call this popsicle flavor a magical moment.  A summer breeze, a taste that will have you strolling down seasonal summer lane.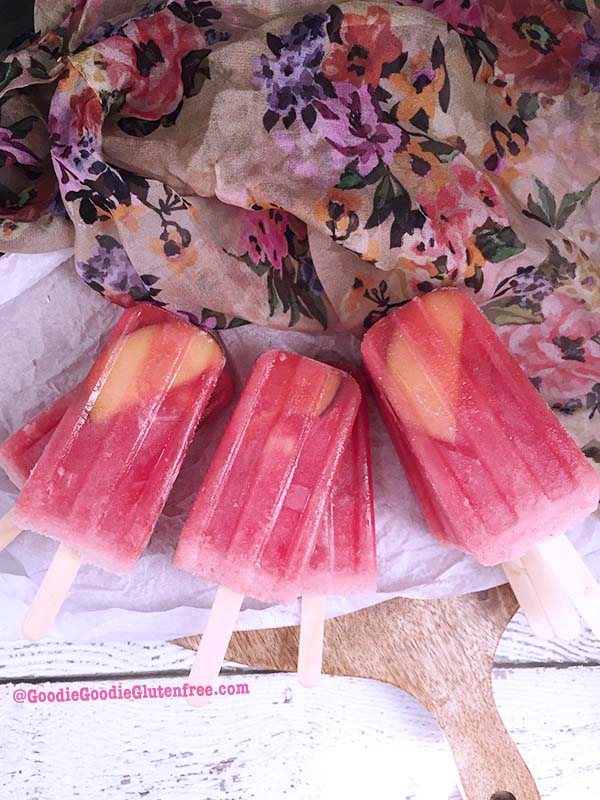 The first round I made of Watermelon popsicles was not sweet enough.  I added raw coconut water and the feedback I got was that the coconut overpowered the watermelon.  Well, dang!  That's not the way it was supposed to go.  How could I possibly mess up watermelon popsicles?  But it's actually possible.  As sweet as watermelon is on its own, once frozen it goes down in sweetness quite a few notches, plus mixing it in abundance with another strong flavor would also downplay the watermelon flavor.  Ah, lesson learned.
When I came up with the idea to create a watermelon popsicle, I wanted it to be lusciously sweet and deliciously hydrating.  So trial two, I eliminated the raw coconut water and made the base just watermelon. I knew from trial 1 that I would need another bump or a droplet of pizazz.
Since frozen watermelon couldn't bring the full-bodied sweetness to peak (like finely aged wine), I gave it a liquid Stevia bump (a plant-based natural sweetener that does not raise insulin levels, making this treat Whole 30 and sugar-free friendly).  Just a few drops because this sweetener is strong!!
But what else?  My creative mind knew it needed something else, something unexpected.  Strawberries & Kiwi's would have been a thought, as I have seen so many popsicle recipes use those with watermelon, but being sensitive to both, they were out of the question.  And that is where Plum came in.  Plum is extremely tart, especially with the skin still on.  I just knew these two fruits would be lovebirds and I was right!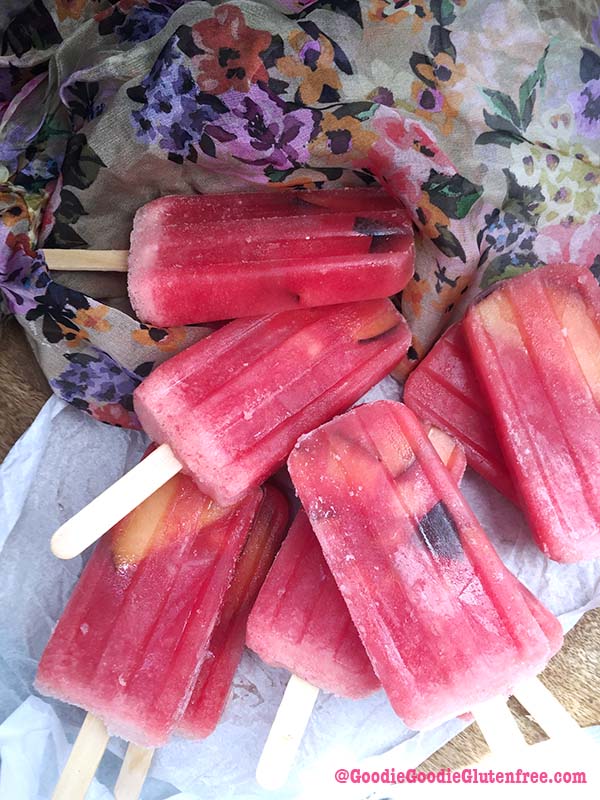 As for easy factors, these are made in a Nutribullet.  All you need is a high-speed blender or even a regular blender.  These are super easy to make, and did I mention my favorite popsicle mold yet?  The one I cannot live without, that puts all other popsicle molds to shame?  YOU need this popsicle mold, like stat.
BENEFITS OF WATERMELON:
Helps with dehydration
Refreshing and hydrating
Loaded with water
1 cup has vitamin C, magnesium, potassium, vitamin A, and a multitude of B vitamins, and antioxidants
Ready to make beautiful music together?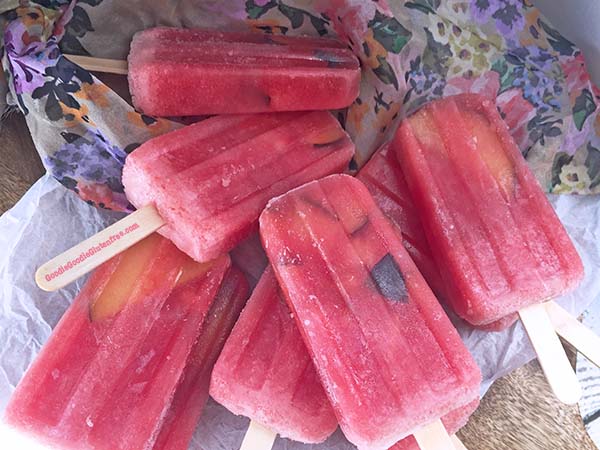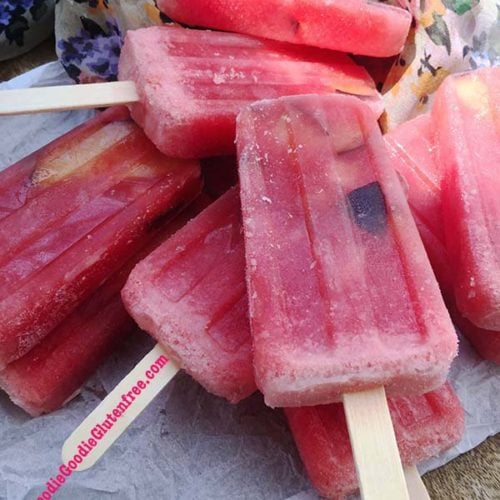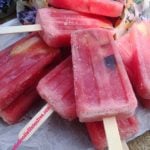 Print Recipe
Watermelon Plum Popsicles
These watermelon plum popsicles taste like Summer! Loaded with watermelon flesh, watermelon juice, and plums make this popsicle the perfect Summer treat!  These popsicles are naturally gluten-free, dairy-free, vegan, and paleo.
Equipment
blender

Popsicle molds and sticks
Ingredients
4

cups

chopped watermelon

white seeds only

4

drops

liquid stevia

1

whole

medium-sized plum, sliced

2

tablespoon

water
Instructions
Add all the watermelon, water and the liquid Stevia to a blender and blend well.  Make sure there are no black pits.  If there are black pits, remove them before blending them.  White pits are fine and edible.  

Blend really well.  Blend until all pieces are liquid.  Then put to the side.

Slice the plum into ⅛-1/4 – inch thick pieces and then halve them.  What you want to end up with is as many half-moons as you can.  Once you are unable to get half moons, just slice, chop or dice the rest.

Break out your popsicle mold.  Before you add the watermelon mixture, add the plum first. Start with the half-moons. Add one half-moon to each mold and push it down.  Then add a few other pieces.  Do not push down the other random pieces, let those fall where they may.  You should have enough plum pieces for all 12 popsicles.  Remember, plum is just a sidekick.

Re-Blend the watermelon mixture again so it doesn't separate.  You will notice like oil and water that the mixture does separate, the juice will fall to the bottom, while pulp rises to the top.  So make sure you re-blend each time you pour into the measuring cup.  

Pour the mixture into a measuring cup and pour into each mold filling it to the top.  Do this for all 12 popsicle molds.  Tap the molds on the table to make sure all air bubbles are released and the mixture is able to bypass the plum.

Cover the mold with the lid, add popsicle sticks and freeze for 6 hours or overnight.

The next day, run the mold under hot water until you are able to remove the lid.  Then continue to run it under hot water until each popsicle is able to be pulled out of the mold. Store in the freezer until ready to serve.  It can be stored for up to 6 months.
Notes
My favorite liquid stevia to use is by Nu Naturals and you can get that at any local health store, whole foods, or amazon.
You'll need two popsicle molds for this recipe.
Watermelon Love,