These guacamole cilantro deviled eggs are made with avocado and whole food ingredients instead of mayo! Gluten-free, dairy-free, and loaded with healthy fats, and protein.  An easy healthy snack that can be whipped up in a matter of minutes.
*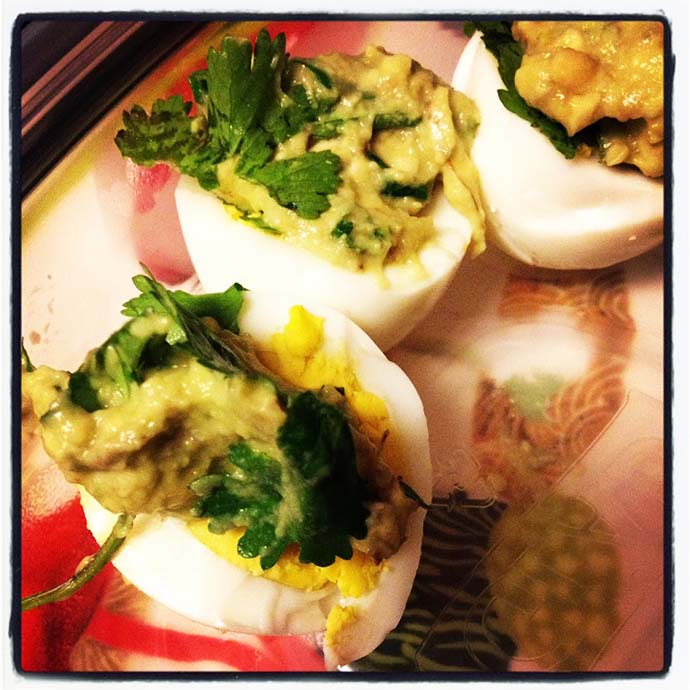 Following a strict Whole 30 or Paleo diet lifestyle can be hard in the beginning as it was for me.  If I didn't have everything that I could eat prepared, I basically couldn't eat on this diet.  As I update this post there is one thing that has drastically changed on the paleo diet.  The allowance of potatoes.  The allowance of potatoes is a huge game-changer when it comes to feeding yourself on this diet.
4 things you need to have on Whole 30 or the Paleo diet
Meals that you can eat already prepared and ready to go.   One-pot meals are great for this diet.
Recipes by your favorite bloggers and recipes from paleo cookbooks printed out and ready on the fly.
Viewing the Whole30 website to get a larger idea of what this diet is, and the list of foods that are allowed versus what isn't allowed.  This will help you prepare for your journey.  The Whole 30 diet is far stricter than a standard Paleo diet.
A creative mind or creative approach to the Paleo diet.  You'll need to think outside the box to fill you up.  No longer with processed foods or bagged snacks.  Having an open and creative approach to this diet is a mindset change that is needed to do this diet long term.  Otherwise, you'll think there is nothing for you to eat.  And then you'll get annoyed, over-hungry, and eat everything in sight.  Followed by feelings of guilt and shame that you couldn't "do it".
The reason you should prepare your food in advance
The night before work I began to prepare my dinner food.  Usually, I would not have to put much thought into a dinner meal.  I could easily order take-out and have a bowl of pasta, or mac n cheese If I didn't feel like cooking.
I didn't know what to make.  I was hungry and I just wanted to eat something.  My next thought was to stare into my fridge for what felt like more than 20 minutes.  Maybe the idea of this meal would just come to me.  This is the type of situation you do not want to get yourself into while on the Paleo diet.  Had I not had an open mind and gotten really creative with this meal I would have already been eating the junk that wasn't allowed on this diet.
How to make deviled eggs dairy-free & Paleo approved?
My mindset allowed me to remember that I had recently seen a magazine article with different variations of deviled eggs.  The article was in the back of my mind.  How would I make deviled eggs paleo if I couldn't have dairy or anything processed like mayo?  Guacamole was the answer.
I grabbed the Cilantro from the Farmer's Market and the avocados, and lemons that had just ripened from the supermarket.  Dried is a staple in my household and so I went into the cupboard and chose my herbs.  That was a really fun part.  Cilantro Guacamole was born.  And the Paleo creative twist?  On eggs.
I mashed up the avocado with a fork, added in chopped cilantro, salt, pepper, and lemon to taste.  Served a dollop on each deviled egg halve.  Probably the best thing I've ever made with eggs.
Why does the Paleo diet focus on healthy fats?
The Paleo diet focuses on whole foods and removes grains of all kinds, dairy, soy, legumes, refined sugars, and processed foods.  Healthy fats are part of the whole foods and therefore it is celebrated in the Paleo community.  Healthy fats keep you full and satiated, help you store vitamins like vitamin D, and vitamin A.  Healthy fats also help curb sugar cravings.  Your body uses healthy fats for fuel so there is no reason to remove them.  The concept behind the Paleo diet is to eat whole foods that were readily available to our hunter-gatherer ancestors thousands of years ago.
Deviled eggs recipe tips
I like using Cage-free, no antibiotics, and organic eggs.
I usually buy non-organic Avocados because they are in a shell and less likely to be harmed by nasty chemicals and fertilizers.
Organic herbs are the best and free of chemicals and fertilizers as well.
With the amount of guacamole made, this could work on approximately 5 eggs cut in half and topped with Guacamole
More Paleo recipe inspiration
Ready to gather your ingredients?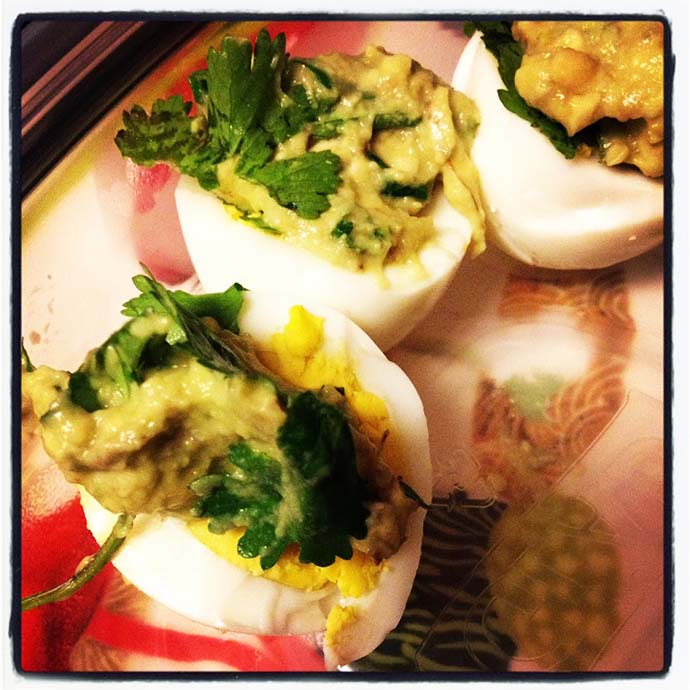 Print Recipe
Guacamole Cilantro Deviled Eggs
These guacamole cilantro deviled eggs are made with avocado and whole food ingredients instead of mayo! Gluten-free, dairy-free, and loaded with healthy fats, and protein.  An easy healthy snack that can be whipped up in a matter of minutes. 
Ingredients
5

large

eggs

1

large

avocado

½

whole

lemon

⅓

cup

fresh Cilantro leaves

pinch

pink salt or sea salt

pinch

black pepper
Instructions
Boiling eggs
Boil eggs on medium heat for about 15-20 minutes.

Once cooked remove from heat and put in a pan of cold water to immediately cool. This step is crucial.

Place eggs on a plate and peel the outer shell once cooled. Cut each egg in half and set aside.
Guacamole
Cut avocado and spoon flesh into a bowl.

Add the juice from half a lemon (or less if you desire)

Sprinkle in the salt and pepper.

Blend the mixture together with a fork until you reach your desired consistency.

Add the fresh cilantro and mix again.

Spoon a dollop of guacamole onto each egg halve and serve.
Health & Paleo!