These healthy rainbow gummy bear popsicles are loaded with raw coconut water and packed with vegan gummy bears making this popsicle a real rainbow treat!  This recipe only uses 3 ingredients and is 100% allergy-friendly, and kid-approved.  Gluten-free, dairy-free, and vegan.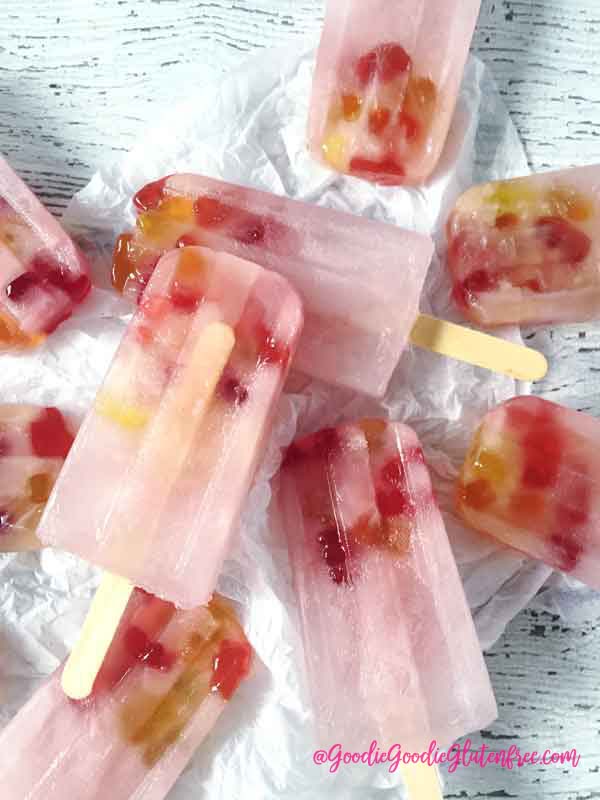 Eating a healthier lifestyle, I thought that the idea of candy or gummy bears, or a popsicle, or gummy bear popsicles was off limits.  How could I eat gummy bears made with so many processed ingredients and still say I eat healthily?  Of course a gummy here and a gummy there wouldn't ruin anyone's diet, but as someone who is healing from chronic health conditions, the idea of making something so sugary wouldn't work.  Naturally, the gummy bear popsicle recipe had to be put on the back burner.
Until one day I was on Instagram, and one of the accounts I follow who's all about gluten-free, dairy-free living, health, and balance posted a picture of Surf Sweet's gummy bears and exactly what they were free of.   Gummy bears that were free from all the nasties?  Could these gummy bears be the answer I have been looking for?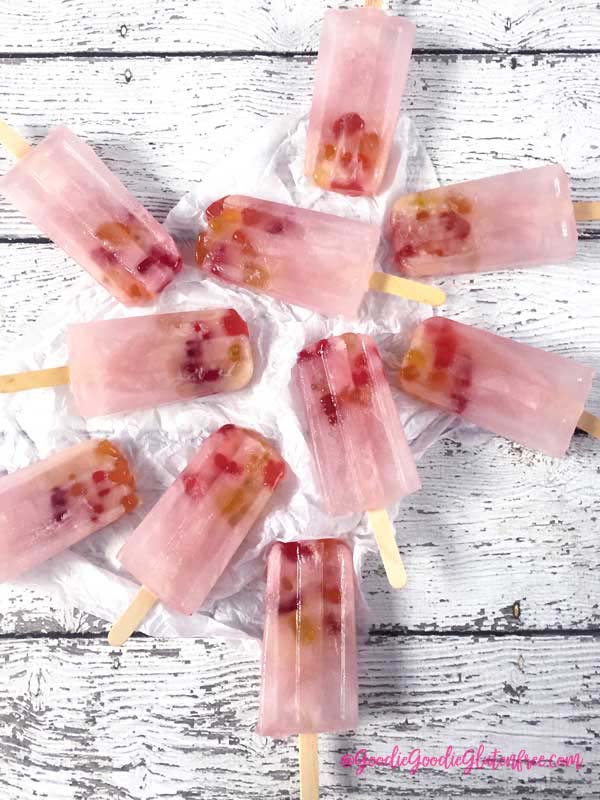 After reading all of their ingredients I decided that this gummy bear would perfectly pair well in my gummy bear popsicles recipe.  I was shocked to see organic black carrot juice, organic grape juice, and organic turmeric as some of the ingredients!  Usually, on the back of a gummy package, you would see unhealthy ingredients like corn syrup, modified wheat starch, a few colorings with numbers attached like blue lake 1, red dye number, artificial colors, gelatin, etc.  Most gummy bear brands use white cane sugar, and other types of sugars to sweeten them.  Surf Sweets uses organic sugar.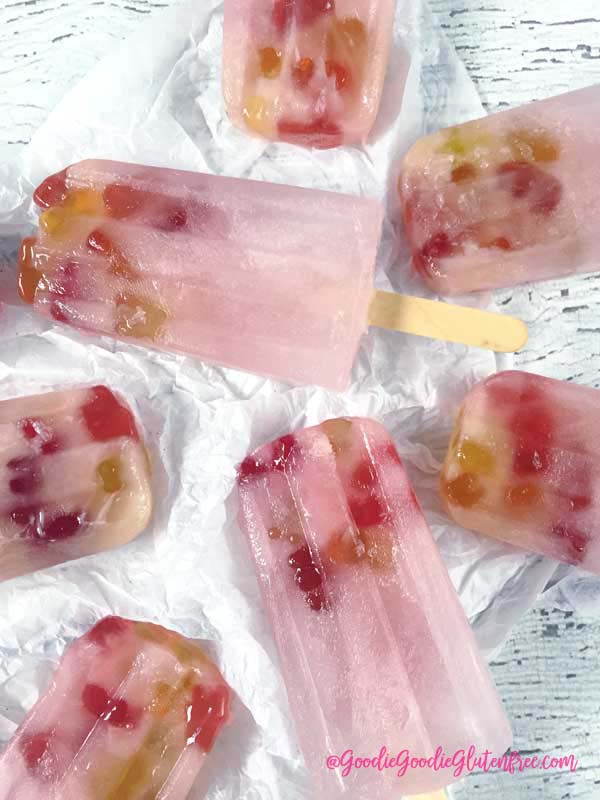 HEALTHY GUMMY BEAR INGREDIENTS
Corn Syrup Free
Soy-Free
Made in a Nut-Free Facility (both tree nut and peanut)
Certified Gluten-Free
Wheat-Free facility - Safe for Celiacs, does testing on the final product to 5ppm and hasn't yet tested positive for even 1ppm.
Certified Organic
Has vegan alternatives
Free of the 10 most common allergens
Dairy-Free / Casein-Free
Made without any artificial colors or flavors
Non-GMO project verified
No MSG
Lightly sugared with Organic cane sugar
Feingold Approved - Which means that the fruit juice and sweeteners have not been exposed to chemical pesticides and fertilizers like many other candies that contain conventional fruit juice.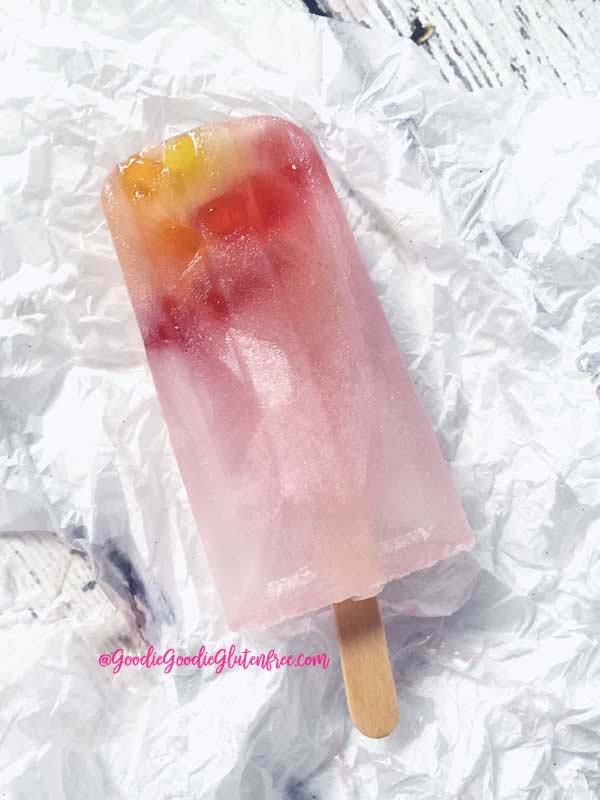 I did a few rounds to test this popsicle recipe because the gummy bears kept sinking to the bottom of the popsicle, which if you were eating would be the top. So it's like a mouthful of gummies and then just a coconut water ice.
I so badly wanted the gummies to float all throughout the inside of the popsicle so that every bite had a gummy, so I kept trying to correct it.  In the end, no matter how many times I tried, the base was too thin to let them float, even if I froze them in rounds.  But then I realized it was so much better this way!  A mouthful of gummies followed by hydrating electrolytes from raw coconut water?  It was genius! Instead of your mouth left with a sugary coating, it's left hydrated due to the refreshing coconut water as the base of the popsicle.
ARE ALL COCONUT WATER DRINKS EQUAL?
In simplest terms, No.  The coconut water drinks I approve of use organic raw ingredients, Harmless Harvest, and Taste Nirvana.  If the coconut water is pink that means when it's made the highest amount of nutrients are intact with the drink, more antioxidants.  The flavor is best when organic and raw.  It is so sweet it tastes like you are drinking directly out of a coconut.
Processed coconut drinks taste fake, and artificial, and are not made with 100% coconut.  Often they are ingredients that say "made from concentrate".
The more natural the product, the better it will taste!
MORE YUMMY POPSICLE RECIPES
READY TO GATHER YOUR INGREDIENTS?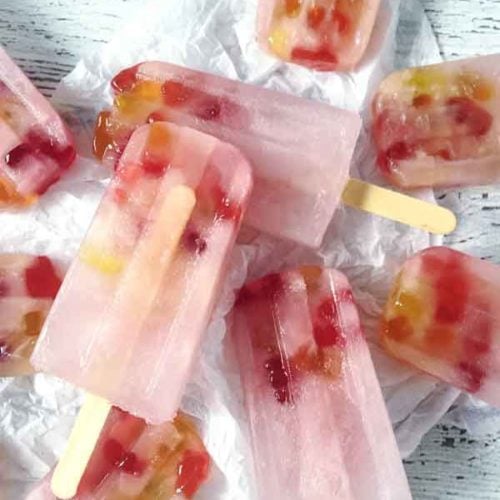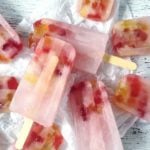 Print Recipe
Healthy Rainbow Gummy Bear Popsicles
These healthy rainbow gummy bear popsicles loaded with raw coconut water and packed with vegan gummy bears make this treat the best Summer dessert.  Using only 3 organic ingredients, kid-friendly, gluten-free, and vegan. 
Ingredients
2

cups

organic coconut water

raw

1

cup

spring water

filtered

3

bags

Surf Sweets fruity gummy bears

or vegan natural gummy bears of choice
Instructions
In a blender mix the coconut water and water till blended. (under 30 seconds)
LAYER 1:
Add about ¼ cup coconut water mixture to each popsicle mold and freeze for 1 hour with the lid off.
LAYER 2:
Then cover those gummy bears with another layer of coconut water mixture about ⅛ – ¼ cup and freeze for another 1 hour.  See picture above for gummy bear placement.

The popsicle sticks will need to be placed halfway in so keep the popsicle sticks in mind when placing the gummy bears into the molds.
LAYER 3:
After 1 hour, remove from freezer and repeat Layer 2 and freeze for another hour.
LAYER 4: FINAL LAYER:
After 1 hour, remove from freezer and add 2 gummy bears to each side of the popsicle mold above the semi-frozen layer and fill the rest of the popsicle mold with the coconut mixture until it's full.  Once full with the coconut water mixture, feel free and add a few more floating gummy bears.  Note that they will sink and that's ok.

Then cover the mold with the lid, and add the popsicle sticks.  You may have to push a bit harder with the sticks in case the gummy bears are in the way, but you will still be able to get them in.

Don't worry if some or most of the bears sink when you add the popsicle stick. The idea of strategically placing them as the instructions show, will help them from all sinking to the bottom.  You will notice when you do this on your own, that the gummy bear placement is hard to control as you can see from my pictures.  They will still taste delicious, no matter how far the gummy bears fall.

The next day, remove mold out of the freezer and run warm water over the top of the lid to loosen it.  Then pull the lid off.  Once the lid is off, run warm water on the sides and bottom of the mold to loosen each pop.  Pull pops out and store in the freezer in a plastic bag for a maximum of 3 months.  You may need to add a layer of parchment paper or wax paper in between each layer of popsicles.  These can get sticky because of the gummies.
Notes
For this recipe, I used vegan healthy gummy bears by Surf Sweets because they use natural food coloring, contain no corn syrup, and are a healthier candy version of the original gummy bears. // I would usually say keep the popsicles up to 3 months. //
I have only made these popsicles with Harmless Harvest Raw Organic Coconut Water, so if you use another brand I cannot advise how the outcome will be or if it will taste the same. // 
Health and love,