Gluten-Free Blueberry Pie Popsicles taste as they sound. A texture that is so creamy with melted blueberries and an oat-crust at the top. Dairy-free, sugar-free, and nut-free.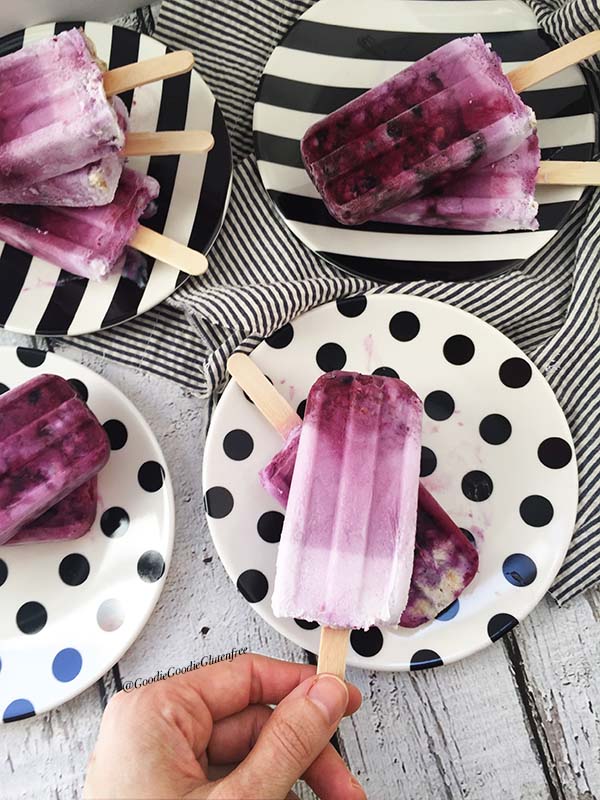 These Gluten-Free Blueberry Pie Popsicles are it!  Creamy and blueberry flavorful. Easy to make and vegan, dairy-free, sugar-free, soy-free, and nut-free.
I remember the days when I used to eat pie.  There was something about melted blueberries that had me swoon.  When melted, blueberries have this sweet thick syrup that alone tastes like pie, even without the crust.  
BLUEBERRY NUTRITION FACTS
Just one cup gives you tons of Vitamin K, Vitamin C, Fiber, the mineral Manganese plus Lutein, and Gallic Acid.

Blueberries are considered anti-viral and anti-fungal.

Blueberries are loaded with antioxidants which are great for your skin, your body, and your health.
On the taste spectrum - it's all about pie.  And blueberry pie reminds me of summer.  A low calorie, low sugar treat that when in season will blow your mind.  And guess what?  This is the season.  Gluten-Free Blueberry Pie Popsicles are a creamy and delicious popsicle that doesn't make you feel left out.  You can still enjoy popsicles on any elimination diet.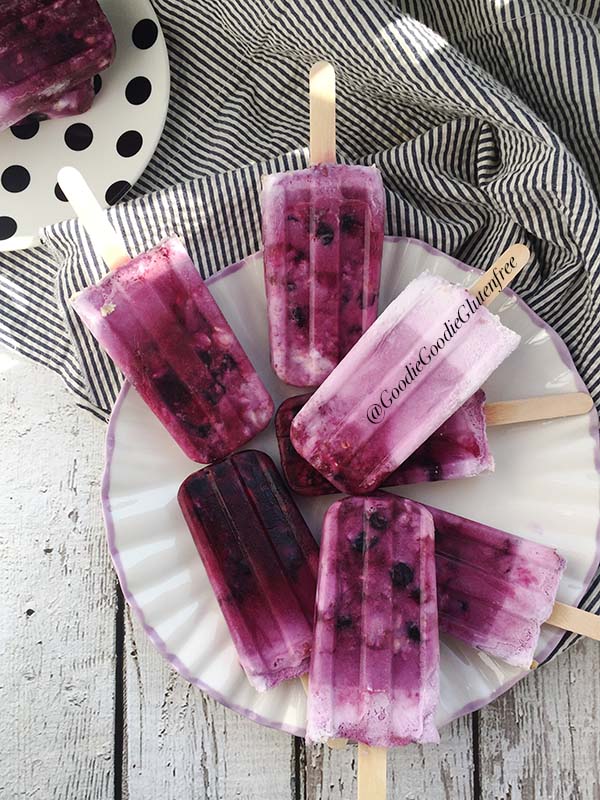 I can't even remember a time where Memorial Day weekend in New York City was so brutally hot that it would force us out to Long Island to get the rays in nothing but a bathing suit, sans shorts, sans tank tops - sans anything that doesn't belong in a swimming pool.
And what is better than eating blueberry pie on a Summer day, frozen?  Gluten-free blueberry pie popsicles are the perfect poolside treat.
Lucky you!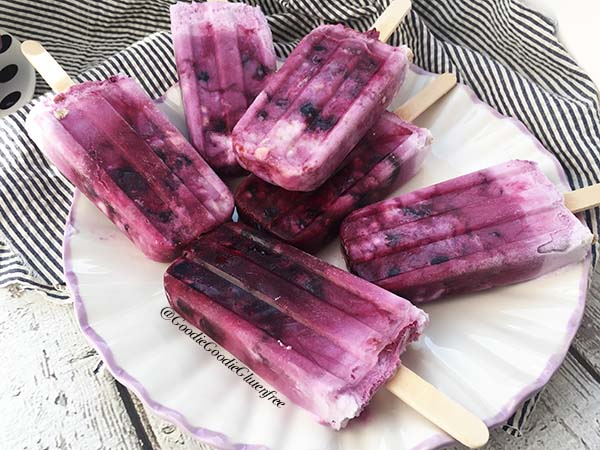 I don't know if I have mentioned this before, but my reason for loving popsicles and making them is because I can control what goes into them. Being on a Candida diet and sugar-free diet - I like everyone else in the world would want something sweet.  So how do you make a popsicle without sugar and have it taste as if it has sugar?
HOW TO CREATE A SUGAR-FREE POPSICLE:
First, if the fruit is involved you stick with a low glycemic fruit.
A candida diet or Whole 30 diet uses Liquid Stevia as a sweetener and the pure form that is alcohol-free goes a LONG way in popsicles.  Just a few drops can really make it sweet enough to call it a guilt-free sweet treat.
Plus the less sugar you consume, the less your body needs it or remembers it, so you can use a LOT less without sacrificing taste.
The use of coconut is a great addition to a Candida or low-sugar diet.  Coconut helps you stay away from sugar and keeps you satiated.
If you were ever to grab frozen yogurt and the flavor was blueberry, it would have a lite taste, and the perfect toppings in my eyes would be oats and actual blueberries and maybe even some coconut shreds. So I turned that vision into a dairy-free popsicle.  This popsicle is a subtle sweetness that is perfect for a hot summer.  I would never want something too tart in the hot summer.  Because something too tart in dead heat would make me feel dehydrated.  I want something refreshing and these were the perfect combination.
Ready to make beautiful music together?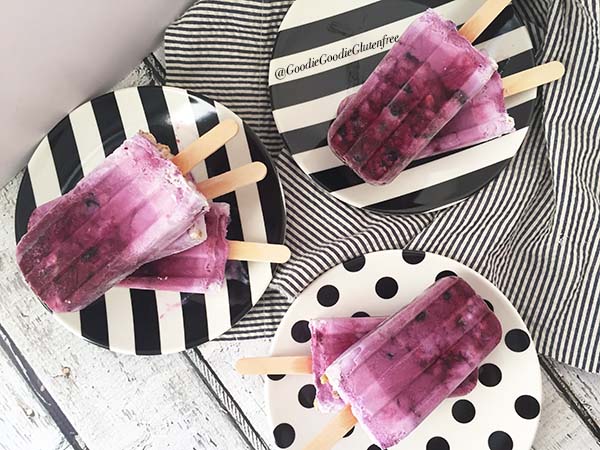 Love popsicles as much as I do?  Check out my other popsicles recipes that are low in sugar: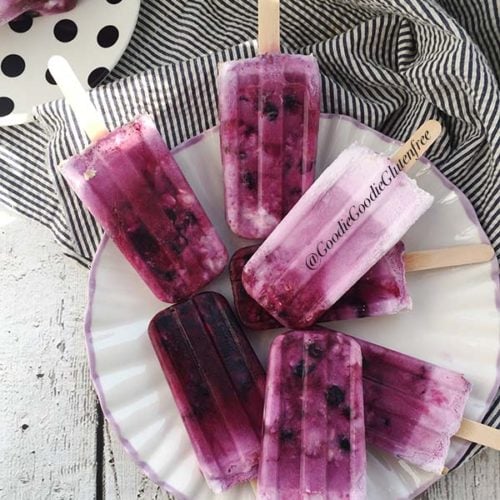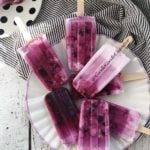 Print Recipe
Gluten-Free Blueberry Pie Popsicles
Gluten-Free Blueberry Pie Popsicles taste as they sound. A texture that is so creamy with melted blueberries and an oat-crust at the top. Dairy-free, sugar-free, and nut-free.
Ingredients
1

cup

unsweetened coconut yogurt

¾

cup

spring water

filtered

4-6

drops

plain liquid stevia or vanilla liquid stevia

alcohol-free

1

cup

fresh blueberries

¾

cup

gluten-free rolled oats
Instructions
In a microwave safe bowl, microwave the blueberries for 30 seconds to 1 minute and then set aside.

In a high-speed blender blend the coconut yogurt, water, and stevia and mix till well blended.  Pour into a measuring cup and set aside.

In layers pour part of the coconut mixture into the mold about ¼ inch full, then add a few pieces of the gluten-free oats and then add a dollop of the blueberry mixture.  Then pour another portion of the coconut yogurt into the mold followed by more oats and more blueberry mixture.  Repeat this until the mold is filled to the top.  Optional: During the second and third round you can push the oats and the berries down with your finger or a spoon.  Do this for all 10 molds.

Cover the mold with the lid, add sticks, and add to the freezer.  Freeze overnight or for 6 hours.

Once frozen run the mold under hot water to loosen the lid.  Remove the lid.  Then run the mold under hot water to loosen the actual pops, and pull the pops out.

Store pops in the freezer in a ziplock bag for up to 4 months.
Notes
If you need to use more water, go by the ⅛ cup.  And use no more than an extra ¼ cup.
Remember, the sweetness that you taste from the stevia is going to be one level less sweet once frozen.  So if you think it's too sweet in the liquid mixture form, remember that level will drop.
My yogurt of choice is Anita's Coconut Creamline Yogurt and Coyo Coconut Yogurt.  Both plain and unsweetened.  If you are allergic to coconut or cannot get Anita's brand or Coyo brand use any other non-dairy unsweetened or sweetened yogurt.  And if dairy doesn't bother you, try using plain Greek yogurt. 
These popsicles have only been tested with Anita's and Coyo.
If you want to make these really Candida friendly, omit the oats and used cooked millet instead.
Get My favorite popsicle mold here.  : )  It's the only one I use, and it also comes with the sticks.  But if you are like me pushing out popsicles by the week, you will want to buy more sticks.  These treats go fast!
Summer love & blueberries!