Remember those Girl Scout cookies?  Reinvented into a no-bake chocolate lollipop!  These Healthy Samoas Chocolate Cups and lollipops are made with 6 whole-food ingredients, including the chocolate.  The nougat center is made with ingredients like pumpkin seeds, dates, and coconut.  Ooey gooey without the yucky ingredients.   Sweetened only with fruit, these chocolate cups are sugar-free, dairy-free, and allergy-friendly.
From frosted cake pops, brownie cake pops, snickerdoodle cake bites, there are a lot of cake pops out in our world, but has there ever been a Girl Scout Cookie no-bake cake pop and cup?  I haven't seen it yet, yet those were the flavors I wanted to play with for this lollipop treat.  Is my rendition a cookie or a candy?  What is it?  Well, it's a no-bake Samoas Girl Scout cookie dough on the inside (nougat) and a hard chocolate shell on the outside, drizzled in gluten-free sprinkles.  Just like the old school Samoas Girl Scout cookies, but a healthier version that adheres to food sensitivities.
The sad truth about Girl Scout cookies
It's hard to resist the temptation to eat an entire box of Girl Scout cookies, with the oozy caramel and coconut combination - I remember those days, then I went gluten-free, and I could no longer indulge in my favorite cookie.  And as usual, the gluten-free version just wasn't the same.  After going gluten-free, I also removed dairy, corn, soy, grains, and a bunch of other ingredients.  With my healthier, free-from version, you don't have to think twice about the ingredients, and you can enjoy a few or even the whole batch without feeling guilty!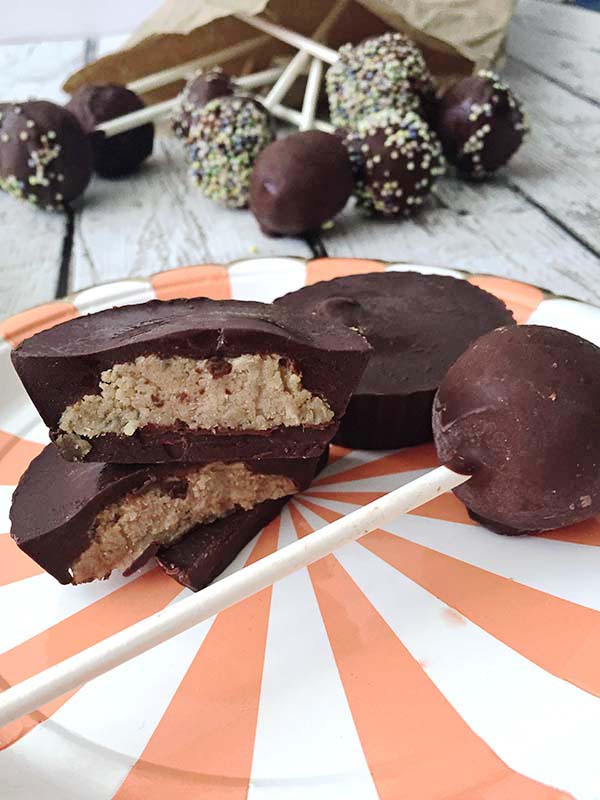 These were super fun to make.  I made 2 versions as a chocolate cup like those Reese's Peanut Butter Cups, only the filling is this no-bake Samoas cookie dough. Those were really divine! (pictured above).  You must try them if you are a chocolate cup lover! However, my favorite way to make these no-bake treats is on a stick in lollipop form.  They are tasty, have a yummy texture, fun to make, and great for kiddies.  I find them easier to handle, make, store, and above all, they use less chocolate so, in turn, they are healthier.  This delicious dessert is only 4 ingredients, and 5 if you count the sea salt.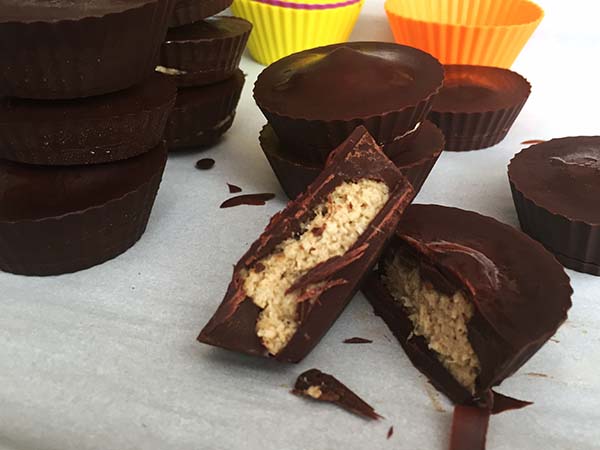 How do you make these no-bake lollipops?  It looks hard.
These are not hard to make, they just LOOK hard
All you need is a food processor and some lollipop sticks
You'll need a double boiler or a microwave
Don't forget your cookie sheet pan
Want a chocolate cup recipe?  Check out these Salted Sunbutter Cups.
Why choose natural ingredients and no added sugar?
Using natural foods helps amp up the nutrient density of what you are eating.  Suppose you eat white processed ingredients?  That won't get you full.  White bread and white sugar have no added benefits for you.  So you'll eat them but you won't get full.  What gets you full are the protein, healthy fats, minerals, fiber, and vitamins found in the whole foods you are eating.  Without all of those things what you are eating is purely for taste.  Here at Goodie Goodie Gluten-Free, we create food that tastes good but is also nutrient-dense for your body.
What are nutrient-dense ingredients?
Coconut, Medjool dates, pumpkin seeds, and cacao.
Coconut can cure or aid in helping cure sugar cravings, lowers blood sugar, sweet all on its own, and is considered a refined sugar-free sweetener.
Dates are delicious natural potassium boosting plant-based fruit sweetener that is full of fiber, and minerals, and tastes like caramel.
Pumpkin seeds are a great source of plant-based protein and minerals such as calcium, phosphorous, zinc, copper, magnesium, iron, and more.
Unsweetened cacao & dark chocolate:
Chocolate comes from the cacao bean and when left without sugar and milk is highly bitter and not tasty.  However, if you use a bar that uses coconut sugar, stevia, honey, or maple syrup it tastes delightful while providing health benefits.  The chocolate you consume must be higher than 69%.  Dark chocolate long time benefits have health benefits from magnesium which promotes healthy sleep and muscle relaxation, to high levels of antioxidants.
The best chocolate bars for baking are enjoy life chocolate chips, hu kitchen chocolate gems, Lily's chocolate bars.
Chocolate cup fan?  No sweat, here are the cups version of these healthy Girl Scout Samoas?
Ready to gather your ingredients?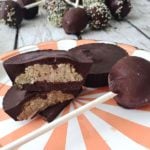 Print Recipe
Healthy Samoas Chocolate Lollipops (paleo)
Remember those Girl Scout cookies?  This is my take and then turned into a no-bake chocolate lollipop!  These Healthy Samoas Chocolate Lollipops are made with 6 whole-food ingredients, including the chocolate.  The best part is the nougat center made with ingredients such as pumpkin seeds, dates, and coconut that you can eat off a stick.   These chocolate cups are sugar-free, allergy-friendly, and only sweetened with fruit, and require no baking!
Equipment
food processor

microwave or double boiler
Ingredients
1

cup

pumpkin seeds

unsalted

22

whole

medjool dates

pitted

½

cup

shredded unsweetened coconut

¼

teaspoon

pink Himalayan salt or sea salt

4

bars

dark chocolate bars

gluten-free, dairy-free

1

tablespoon

coconut oil for melting chocolate

use ghee if you cannot have coconut
Instructions
Ahead of time – pit and soak the pitted dates in warm/hot water for 1 hour at room temp)

Once dates are ready, drain the water and add them to a food processor blending them until they form a soft mixture that will look like a nougat color. (2-3 minutes)

Then in intervals add the pumpkin seeds, coconut, and sea salt into the food processor and blend until all ingredients are broken down and blended well.  This will require you to open it up a few times and scrape the sides. You want a smooth texture, nothing too chunky.

Scoop mixture into a container, cover, and freezer for a half-hour or hour.  If the mixture is still too sticky to form into balls, freeze for a longer period of time.

While the pops are freezing, melt the chocolate in a double boiler on low heat or microwave it in a custard cup at 1-minute intervals until melted.  To thin the chocolate add 1-3 teaspoons of coconut oil to the chocolate and stir.

Remove Samoas mixture from the freezer and roll portions of the mixture into balls.  If it gets too sticky, dab your fingers in the water.  Insert a lollipop stick into each ball and lay pops on parchment paper on a baking tray and put back in the freezer until they harden (approx ½ hour – 1 hour).

Once the lollipops are set, dip the pops into the melted chocolate, and use a spoon to cover the areas that didn't get covered. Cover and set aside on a cookie sheet lined with parchment paper. Do this for all lollipops.

Freeze to set the outter chocolate shell. Serve chilled, and store in the freezer in a bag.
Notes
Lollipops need to be kept frozen.
Coconut oil is an option for thinning out the chocolate and reducing the number of bars you use.  You can also use ghee if you have an allergy.
Sprinkles are optional, and they sell gluten-free ones too.
Love and Girl Scout Chocolate Lollipops!