I used to think Cantaloupe wasn't sweet, can you imagine that?  But once I went Whole 30 and Paleo way back when and focused on lower sugar fruits, my palate changed and suddenly fruits I never deemed sweet were full of flavor (especially cantaloupe)!  And cantaloupe works wonders with pumpkin!  It tastes like sweet magic!  You have to try it!  I'm telling you! It's the best!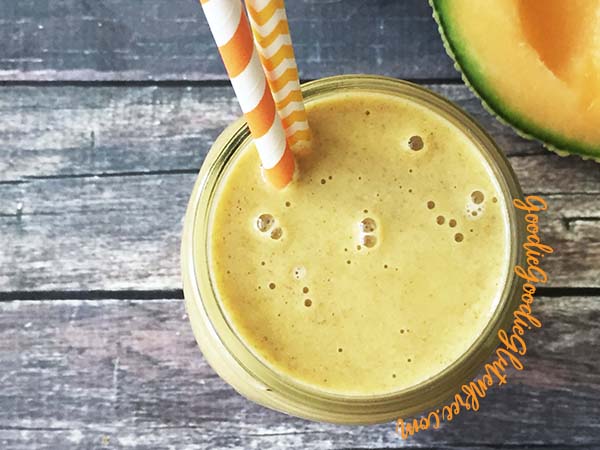 When I posted this recipe on Instagram, I received so many comments that people never thought to pair these too fruits together.  Yep that's me…pairing foods together that don't seem like they could marry, but do.  But guys…I'm super serious here!  Give this combo a chance!  This was my go-to smoothie for a week straight.  I couldn't get enough of it, and just a few drops of liquid stevia really, really bring out the flavor.  Don't make this smoothie without the stevia tho.
So this game changing smoothie happened by accident.  Really.  It wasn't like I woke up and thought, "OMG I must pair these two fruits together like now!". Nope, not like that at all.  It was more like waking up one morning and realizing I needed to step it up and change it up in the smoothie department.  I was sick of the smoothies I had been making, bored actually.  So I sat on my couch with my favorite smoothie and recipe books surfing for inspiration ( My favorite smoothie books are HERE).  And the inspiration I found didn't even involve cantaloupe or pumpkin!  It involved Papaya and orange juice which is definitely not my jam, but believe it or not as a creative soul the colors of papaya and orange juice got me thinking about cantaloupe and I kind of thought well if those too work together then cantaloupe and pumpkin I bet would too. And a star was born.  That's literally how it happened.  However, do not make this unless you have ripe in season cantaloupe, because that makes all the difference!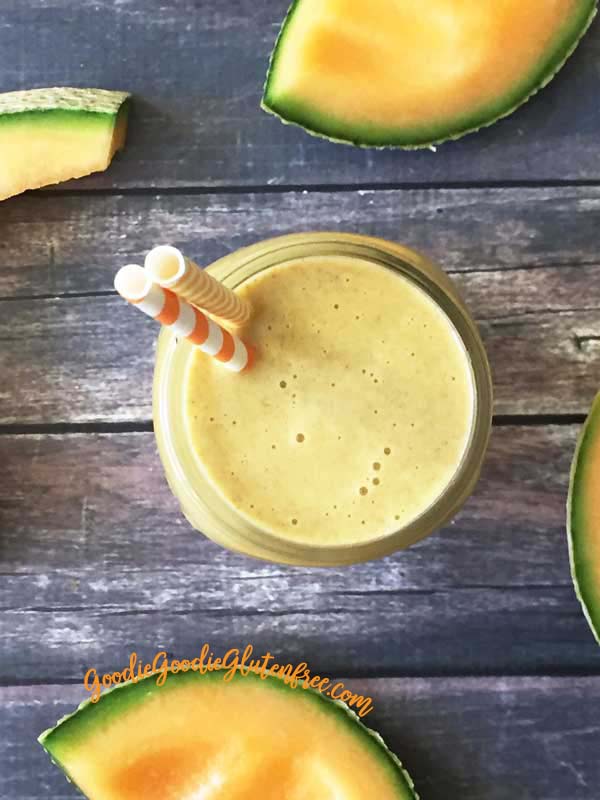 So you know how whole foods have nutrients right?  And most health experts say get your nutrients from your food.  While I can certainly agree you are what you eat, you also are what you absorb!  So getting all of your nutrients from food doesn't always happen for most people with chronic conditions, vitamin deficiencies or Autoimmune Diseases. So I say marry them both!  Eat whole foods that have beautiful nutrients and benefits, and what you can't absorb from food, find in supplement form.
Cantaloupe and Pumpkin are both loaded with Beta Carotene.  Colored veggies and fruits that are orange, yellow and red all contain Beta Carotene.  Beta Carotene then converts into the amount of vitamin A that your body needs.  Both affect your skin, hair and nails and Beta Carotene gives you that fake tan look naturally.  It's so awesome to see what real food can do for your body!!
Ready to make beautiful music together?
WHAT YOU WILL NEED:
1/2 cup pumpkin puree (canned)
1/2 cup frozen cauliflower florets
1 cup chopped (packed) cantaloupe
2 T. ground flax
1 cup unsweetened coconut milk
2 drops liquid stevia (I use Nu Naturals)
1-2 cups of ice
optional: 1 T. ripe avocado for thickness
optionals: additional 1/2 cup of cantaloupe melon for extra sweetness
DIRECTIONS:
-Blend everything in a high speed blender except for the ice till smooth and creamy
-Taste mixture, this is where you will add the optional ingredients and the ice
-Blend again till well blended
-Serve with a straw cold
Serves 1 32 oz. smoothie or 2 16 oz. smoothies
Cantaloupe Pumpkin Vegan Smoothie
Cantaloupe and Pumpkin work wonders together to create a delicious dairy-free, vegan smoothie that will light up your life! Loaded with Vitamin A and Beta Carotene, you're nails, skin and hair are sure to shine. || Gluten, Dairy, Sugar, Soy, Banana, Nut-free and Vegan.
Author:
Julie Rosenthal @ goodiegoodieglutenfree.com
Ingredients
½ cup pumpkin puree (canned)
½ cup frozen cauliflower florets
1 cup chopped (packed) cantaloupe
2 T. ground flax
1 cup unsweetened coconut milk
2 drops liquid stevia (I use Nu Naturals)
1-2 cups of ice
optional: 1 T. ripe avocado for thickness
optionals: additional ½ cup of cantaloupe melon for extra sweetness
Instructions
Blend everything in a high speed blender except for the ice till smooth and creamy
Taste mixture, this is where you will add the optional ingredients and the ice
Blend again till well blended
Serve with a straw, cold
Love & Nourishment,