Easy Chocolate Peppermint Bark.  Melts in your mouth kind of chocolate bark.  Pepperminty.  3 ingredients.  Gluten-free, Vegan, and Nut-free too.  A perfect holiday treat!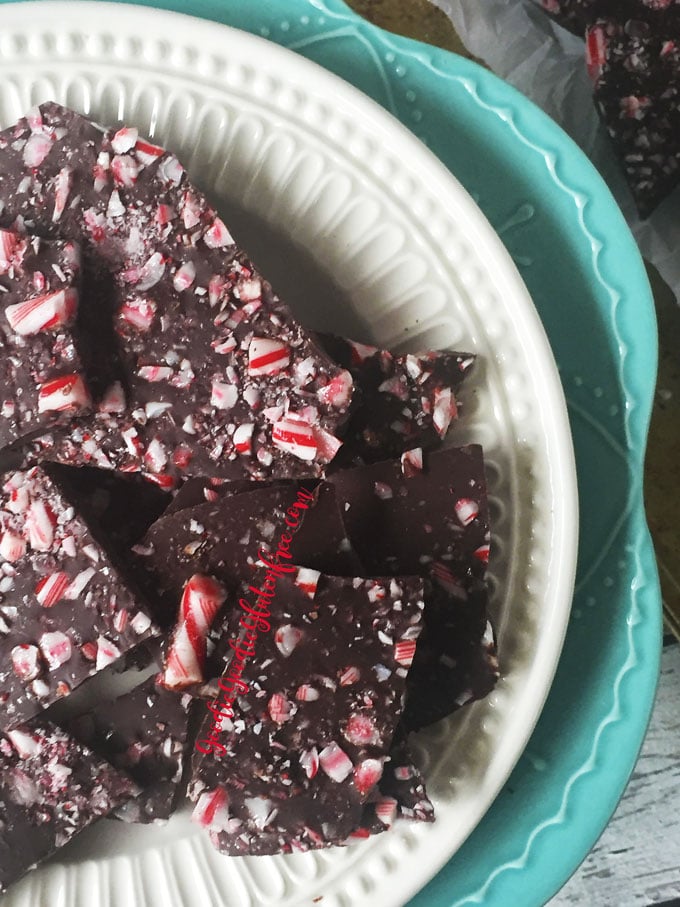 If I knew that peppermint bark could taste so creamy, this would have been on the blog ages ago.  I actually was never a peppermint bark person.  But this recipe happened as a happy accident, a mistake rather, something that didn't turn out quite right and I made a quick judgment call to fix it up.
I said to myself: Julie, You can save this!  You got this.  Haha!  This was rather an easy fix.
You know those right?  Those happy accidents?  The times when you're trying to make something you have this grand idea about.
You saw it on Pinterest or someone else's blog and you think – heck yeah!  I can take that and change it up into a trillion different ways for every food sensitivity I have.  Easy!  So you do.  But you also never write down the recipe and you think to yourself, "Oh, I'll remember."
You don't remember.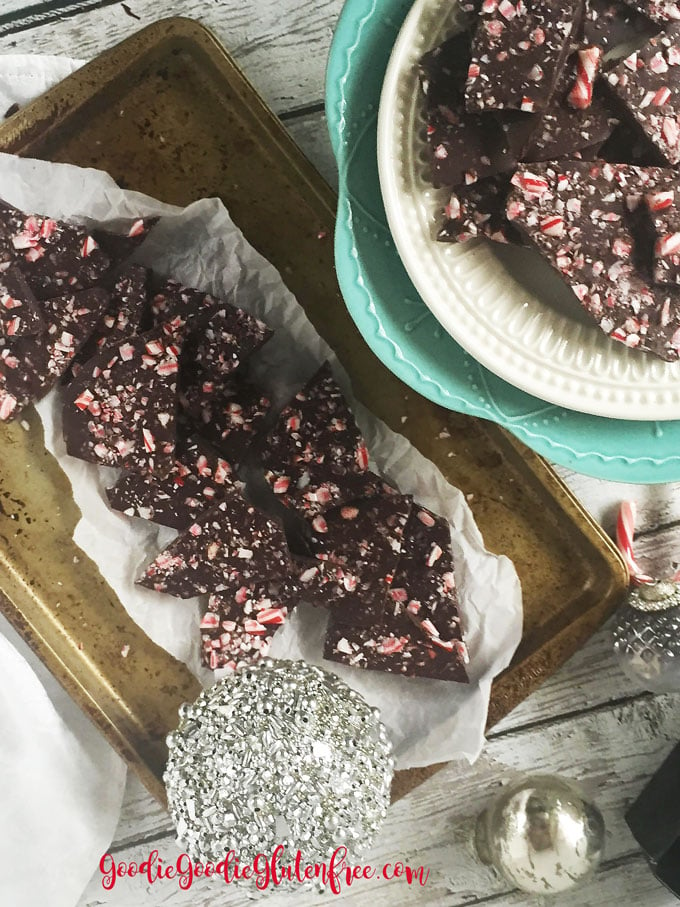 So you decide a year later to make it again because it was that good, it SHOULD be on the blog.  But this time the special ingredient: rice milk chocolate is a total disaster in the melting method making the whole idea of the marble effect not happen.  In fact that rice chocolate went straight to the garbage.  It was a chunky mess!
So what to do with creamy, silky dark chocolate and peppermint pieces?  Join them!
Chocolate.  Coconut oil.  Candy Canes.  = Dreamy.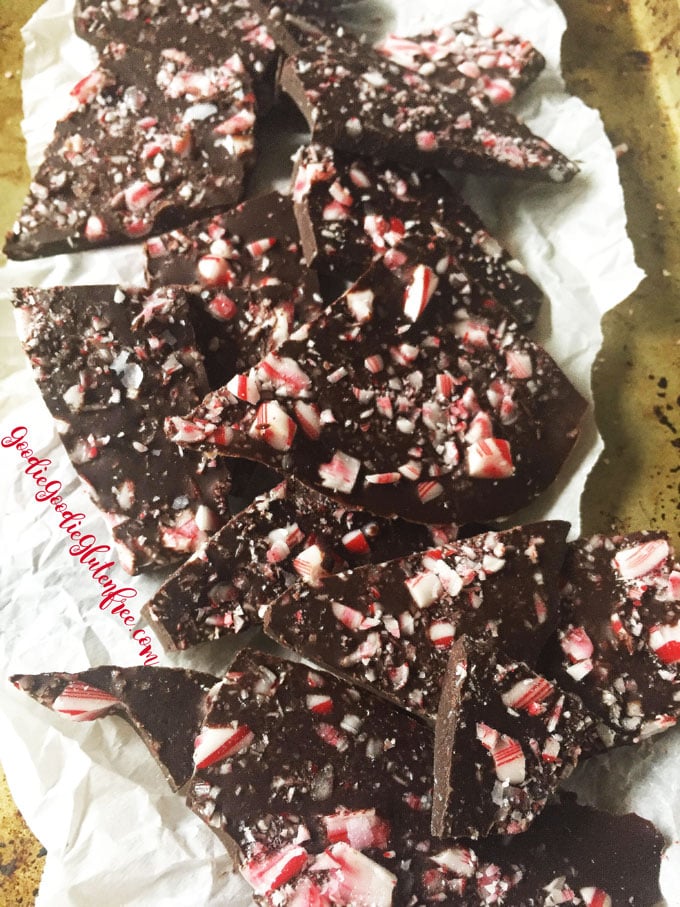 Ready to make beautiful music together?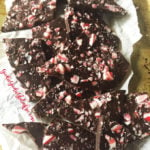 Print Recipe
Easy Peppermint Chocolate Bark
Easy Peppermint Chocolate Bark.  Melts in your mouth kind of chocolate bark.  Pepperminty.  3 ingredients.  Gluten-free, Vegan, and Nut-free too.  A perfect holiday treat!
Equipment
double boiler or microwave
Ingredients
2

cups

sugar-free chocolate chips

I used Lily's

3

tbsp

coconut oil

solid preferred

8-10

certified gluten-free candy canes
Instructions
In a double boiler on low/medium heat melt the chocolate.  Once the chocolate is semi-melted add coconut oil and mix thoroughly.

Once mixed, reduce temperature to low heat. Line a baking tray with parchment paper and grease with coconut oil.

In a ziplock bag add all candy canes without the wrappers.  Close bag and using a hammer crush the candy canes into tiny chunks.  Set aside.

Pour chocolate mixture into the lined pan.  Spread the chocolate into the pan by lifting the tray and moving it from side to side. Then in handfuls add the chunks to the peppermint bark.

Using the bottom of a fork or utensil swirl the peppermint chunks into the chocolate. Freeze bark for 4 hours to set. Store in the fridge for up to 8 months.
Notes
I like to use Lilly's Gluten-free chocolate, Hu Kitchen, or Enjoy Life. // Those are my go-to's. But any brand will do. //  Lilly's is Stevia sweetened and great for those on the candida diet at a later stage.// Enjoy Life and Lilly's are made in dedicated facilities, while Hu Kitchen is made in a shared facility but certified gluten-free.
My favorite chocolate brands that I will always stand by are as follows:
Hu Kitchen – sweetened with coconut sugar // Paleo
Lily's – sweetened with stevia and vanilla // KETO friendly
Enjoy Life – sweetened with cane sugar // Top 8 allergen-free