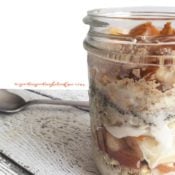 Never Miss a Gluten-Free Recipe!
And get my FREE ebook Healthy Living!
*Medical Disclaimer: All recipes and articles on this site are always 100% gluten-free and Celiac safe.  Always check product ingredient lists, as ingredients can change.  This blog is not intended to be used as professional medical or nutritional advice. Information and statements regarding health claims on this blog are not intended to diagnose, treat, cure, or prevent any disease.  You should always consult a doctor before making any changes to your diet, exercise routine, and vitamin/mineral supplement routine.  You are ultimately responsible for your own health!
*Amazon: We are a participant in the Amazon Services LLC Associates Program,  an affiliate advertising program designed for us to provide a means for us to earn a fee by linking to amazon.com and affiliated sites.  This will cost you nothing.